I recently took the plunge and appeased my curiosities by purchasing the We-Vibe Chorus couples vibrator to use during sex – and as my partner and I galavant around town!
This little C-shaped upgrade to the previous We-Vibe Sync has been on my radar for a while now. I mean, it's a discreet wearable vibrator that's controllable from your phone OR a physical remote. It hits your clit AND your G-spot. Oh, and it's wearable DURING sex. And to echo Julie Andrews – these are a few of my favorite things.
Adding this body-safe sex toy to my collection is good news for both of us. Good for ME for obvious reasons. Good for YOU because I now have some rather expert answers from my experience to questions like:
Is the Chorus worth all the hype?
How does sound level compare to other wearable vibrators – can I use it easily in public?
Is it really comfortable to wear DURING sex too?
What does it mean that this toy has both internal AND external vibes?
And one that sings from my soul: Can you get anything similar for cheaper?
We'll chat about it all in this We-Vibe Chorus review. Let's do it!
We-Vibe Chorus Vibrations
If you've just begun to build your vibrator collection, you should know that not all vibes are equal! I'm sure you seasoned experts can attest.
I find the actual FEEL of the vibes to range between buzzy and rumbly on most sex toys. Besides the vibe "feel", vibration power is super important. AND let's not forget the vibe patterns that are available – or that you can create!
Here's some of my thoughts on how the We-Vibe Chorus handles each of these features in comparison to other vibrators. Complete with some fab visuals of course.
We-Vibe Chorus Vibration Power
POWER! This one's really important because it'll dictate what exactly you can… achieve while you're out and about with your Chorus.
Quick note before we dig in though.
There are actually TWO different motors on the We-Vibe Chorus: The larger part remains outside your body vibing on your clit. The smaller end presses into your g-spot packing a second punch. You can turn both motors on at varying levels together, or just one at a time!
Overall, when I turn both motors up to full-power, the intensity level is right about mid-level when compared to other wearable sex toys. I found it really satisfying – lots of pleasurable waves to ride with this one, and I am READY TO GO by the time my husband and I get home.
Wearable toys in general tend to be a little less powerful than larger toys which can pack stronger motors – but I have found a few wearable toys like the Lovense Ferri or Lush 3 still feel very strong to me.
I was a little surprised the Chorus didn't pack quite the same power. If you're a power queen you may prefer one of the Lovense toys – they all also have a very strong dual vibrator, the Lovense Dolce (previously called Quake) – but it can't be worn during sex.
But if you're someone who enjoys riding the waves of smooth rumbly vibes, the Chorus excels at providing these vibes! They're not overpowering for people who tend to get too much stimulation from strong, somewhat buzzy vibrations.
I should also note that the strongest vibes certainly come from the clitoral motor.
Perfect for people like me who CRAVE clit vibes – one of the reasons I spent months testing all the best vibrating panties. Hands-free clit stimulation during sex is the main reason I use the We-Vibe Chorus, so I'm glad the clit motor is the more powerful of the two.
But vibes coming from the Chorus' arm inside the vagina are pretty low to be honest – they're wonderfully teasey, but they don't do much on their own. They need some extra help from the external arm or my partner inside me to really hit me how I want it.
But once my partner slides in, those G-spot vibes kick into gear!
You know that elementary school science experiment with vibrations/waves? It's the one where the two play off of one another to create higher peaks/stronger waves.
That's when the G-spot motor really comes into play – when it's playing off the stronger vibes of the external motor. It feels stronger and adds to the stimulation! Think of it as a fun bonus, while the clit vibes are the main focus.
I was glad to find the We-Vibe Chorus was designed with the external piece as the main driving force since most women (myself included) orgasm more reliably from clitoral stimulation. It's as if the world is finally starting to understand – GIVE US THE CLIT VIBES!
I would like to also mention that the vibes inside the vagina become a little more noticeable/enjoyable if you're using this toy during sex or with any other sort of penetration. The Chorus gets my G-spot going with the added pressure!
LAST note on vibe intensity: I am a fan of the range on this sex toy's power. It starts low, and you can move continuously through it's range without sudden leaps – REALLY helpful for a nice slow build.
It's not startling when you kick off your journey – I for one need a bit of warm-up. Tease me a little. Make me want more first! And I really enjoyed the lower levels when pairing with any sort of penetration, since sometimes stimulation can become too much for me without some lower levels to fall back to.
I love playing around in the low levels during sex – but you can definitely still kick it up when you want more.
Bottom Line: We-Vibe Chorus Vibration Power
This sex toy is about mid-level intensity. For people who crave power, the Lovense Lush, Ferri, and Lovense Dolce (their dual vibrator) are stronger. But the Chorus's VERY rumbly vibes feel really wonderful – and they prevent the Chorus from becoming over-stimulating so you can enjoy the entire session.
Those who favor external vibrations will be pleased the clitoral arm is the main driving force of the We-Vibe Chorus' power. But if you're a G-spot queen, this one may not hit the "spot"… or at least not hit it hard enough. If you need powerful G-spot vibes, the Lush 3 or We-Vibe Jive are better options. During sex, this toy's power feels just right.
We-Vibe Chorus Vibration Quality
If you've not seen this "rumbly/buzzy" lingo used, here's my best interpretation with words of something that you can really only feel:
In practice, rumbly sex toys tend to affect a wider area for me, whereas buzzy ones are for more pinpoint precision. Rumbly vibes can also prevent toys from becoming overstimulating.
Rumbly vibes always just feel deeper too. When I'm holding a rumbly sex toy in my hand, I can feel it all down my arm. Squeezing it tightly in my hand doesn't really muffle the feel – instead it sends waves deeper down my arm.
When I'm holding buzzy toys in my hand, the tingling stays mostly in my fingers and starts to tickle a little. Squeezing it tightly seems to sort of muffle the feel for me. But a touch of buzziness can add a nice extra kick. I tend to prefer sex toys that are mostly rumbly with a hint of buzz – that's just my personal taste.
Now that we have an idea of rumbly/buzzy – where does the We-Vibe Chorus fall?
The Chorus is VERY rumbly. If you're someone who does not want buzz, the Chorus is a really great option.
It's extremely rumbly on the low to medium-high levels. It does approach the slightest hint of buzziness at the highest level. But at the same power, other toys I've tried would definitely be buzzier than the Chorus.
The Chorus is the most rumbly wearable vibe I've found so far. If you're a fan of rumbles – the Chorus has got you covered.
Bottom Line: We-Vibe Chorus Rumbly or Buzzy?
We-Vibe's toys feel luxurious and rumbly, and the We-Vibe Chorus is no exception.This is one of the most rumbly toys you'll find – especially for its size. If rumbly is your jam, this might be the one for you! If you enjoy the added kick from a bit of buzziness you may prefer the Lovense Ferri instead.
Orgasms with the Chorus
The moment of truth – can you orgasm from this toy?
Obviously, it differs based on the person. But I'll give you my experience. Quick orgasm bio for myself though: I typically can only orgasm if there is clit stimulation involved and I like the high power levels of my toys when I'm teetering on the edge of my O. My environment and freedom to control different muscle movements is also important to me. I like to grind my body a bit into my toys.
So in public when my own body movement is limited, I've not been able to orgasm with this sex toy yet – I need a bit more power to finish if I'm not in a place I can grind a little bit on the toy. I still really enjoy the Chorus as a tease and buildup before we get home – and by then I am WORKED UP after basically having been on the edge of orgasm for the past hour.
I do orgasm from the Chorus when I use it at home and can writhe, wiggle, and just move my body with freedom.
And I definitely orgasm with it during sex which is my absolute FAVORITE way to use the We-Vibe Chorus:
Oh. Yes.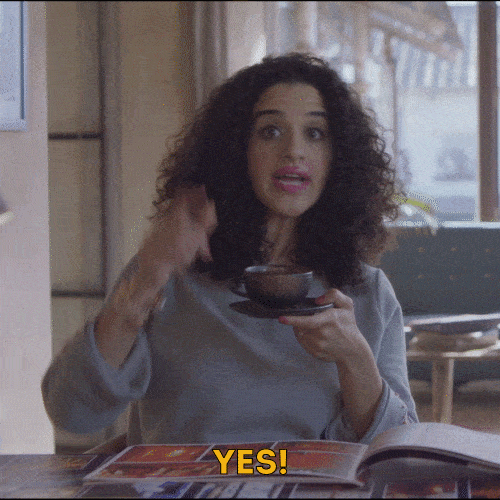 The Chorus couples vibrator makes hands-free orgasms during sex really easy and oh so good.
We-Vibe Chorus During Sex (Where This Sex Toy Shines):
Ok – LET'S TALK ABOUT MY FAVORITE WAY TO USE THE CHORUS.
No We-Vibe Chorus review could be complete without chatting about it's most important feature – This toy can be comfortably worn during sex for some major hands-free clit stimulation. This is HUGE, because penetration alone NEVER cuts it for me.
I know I'm not alone in needing clit stimulation during sex to orgasm. And for those who resonate – the We-Vibe Chorus could be a game changer. Pairing sex with a strong hand-held vibrator (like the Lelo Mona 2) is my usual go-to, but those toys do limit what you can do a bit.
Positions that don't work while holding a vibrator wedged in-between are off the table (off the bed?). Plus the extra work involved in holding the toy AND positioning it just-right AND focusing on the toy's buttons AND not being able to engage with your partner because of all the ANDS. It can just be a bit distracting sometimes so there's occasions that I want hands-free, consistent clitoral stimulation during sex.
And the We-Vibe Chorus delivers that perfectly!
This toy offers AMAZING hands-free vibes to your clit AND g-spot during sex.
The clit stimulation makes all the difference when paired with internal fullness from my partner. And like I mentioned a little earlier – the g-spot vibes on this toy become more intense when joined with penetration.
As far as comfort goes – I was really curious whether adding a little something extra would cause me any pain, but it didn't! My partner is on the higher end of average-sized, and I'm usually fairly tight.
For us, the fit and size of the We-Vibe Chorus added a little extra tightness, but nothing crazy. It took a bit more work to fit him in and you may have to try to find a good position for initial entry. Once he fit, it was easy to change positions and have him slide right in again.
And the extra filling and vibes were worth it!
Positions facing each other felt great, as did any variation of penetration from behind. I found penetration from behind especially pushes the Chorus into my g-spot, and that quickly became my favorite!
I wondered if I might have trouble keeping the We-Vibe Chorus in too. When I first put it in, I really felt like it might just fall out if I got really aggressive with my walking. But even with my enthusiastic gait, I've had no troubles. And more importantly – I've found the Chorus stays put during sex.
Just like on the We-Vibe Sync, there are two different adjustment points on the Chorus (which I'll talk about more later). So if you already have this toy and have not been as lucky as myself in keeping it in place – make sure to adjust these hinge-points so that it stays snug.
If your main goal with this toy is to use it during sex, I really think it might be worth it for you. The We-Vibe Chorus and We-Vibe Sync are the only two wearable couples vibrators that stimulate my clit enough for me to orgasm hands-free during sex.
And the Chorus provides the better stimulation and gets me there more easily than the Sync.
This is absolutely my favorite way to play with the Chorus! I haven't seen many toys that comfortably offer hands-free clit and G-spot stimulation DURING penetration. It has a great range of vibrations to pick your ideal intensity.
Between the control button on the toy itself, the squeeze remote control, AND the app control, the We-Vibe Chorus is very adaptable to your preference!
We-Vibe Chorus Vibration Patterns and Toy Control
Preset patterns are the ideal set-it-and-forget-it situation. So unless you want to spend a bunch of time designing your own perfect pattern (which you CAN do on the app), you want to make sure the toy has some swell built-in options.
There are 11+ different preset patterns available on this toy, so it's likely you'll find SOMETHING you enjoy. There are several constant-buzz options, and then many different pulse or wave patterns.
The patterns on this toy are controllable from an external button on the toy just by clicking the on button to tap through them.
Or take more control of the vibes through the app – pick a pattern and customize the power of each motor separately! Some options even provide different patterns for the external and internal motors. We'll cover controlling the We-Vibe Chorus with the app in the next section.
The squeeze remote control allows you to scroll through patterns with the left/right buttons. It also lets you raise or lower vibe power with the up/down buttons. The Chorus squeeze remote also serves as a sensor to spike your vibes with a quick squeeze.
I will say – you have to squeeze it kind of hard and then HOLD – for however long you want the intensity burst to last!
Like – I work out. I lift weights. I played piano. I would say I have average hand-strength. But clenching the life out of this little squeeze remote control until I see stars did get old. For me – I tend to stick with the app control. Save the squeeze remote for a wrist workout.
But for those who find buttons or apps to be a huge turn-off – the Chorus squeeze remote could be up your alley.
Touch Sense Modes
We-Vibe introduced the all new Touch Sense control with the release of the Chorus. The Touch Sense modes can be activated in the app.
Once Touch Sense is activated, the idea is to let your body movements with your partner control the toy. When your body presses the sensor in the clitoral arm of the toy, the Chorus' vibrations change. Each time your partner's pelvis (or your fingers) bump the clitoral arm, the intensity will change.
That's the idea anyway. In practice, I find the Touch Sense isn't quite sensitive enough to work consistently. You almost have to focus too much on bumping the sensor. So ya, Touch Sense modes are meh for me.
Personally, that's fine with me. I don't think I'd use the Touch Sense modes very much – I don't like the idea of the vibrations changing each time the toy get's pressed. I like to find a pattern or intensity I enjoy and let it roll.
App Patterns:
The app is my preferred way to control the Chorus. I'll dive more into the nitty gritty of using the app to control the We-Vibe Chorus in the next section but I'll touch briefly on it here.
In addition to the patterns controlled by the Chorus squeeze remote, the app has a few "never before seen" patterns to choose from:
The "Bounce" – two quick clit pulses with one g-spot pulse, then repeated.
The "Peak" – several quick clit pulses with several g-spot pulses.
The "Cha-cha" – several assorted pulses from different motors all sort of assorted.
The really great thing about the app is that you can control not just GENERAL intensity of the entire toy, but also the power level of each motor individually! Top section is for the external clit-motor and bottom is for the motor inside the vagina. Just drag each one to your desired level and that particular motor will follow suit.
You can also create your own custom pattern in the app. It's not quite as fully-featured as Lovense's app. For instance, to create a pattern, you have to create it ahead of using it, save the pattern, then select the pattern you just created. In Lovense's app, you can create a completely unique pattern in the moment instantaneously.
Lovense's approach is to let you quickly and easily draw a completely unique pattern for your toy to follow. We-Vibe's approach is to let you choose from a set of pre-designed patterns and customize those patterns' speed and strength. Designing your own pattern in We-Vibe's app is more difficult. But you can still get pretty creative with We-Vibe's app.
As far as We-Vibe vs Lovense app patterns: People who value simplicity and choosing from pre-built patterns may prefer We-Vibe. People who value total control over their vibrations may prefer Lovense.
Bottom Line: Vibration Patterns
LOTS of patterns available for you to choose from. Lots of ways to adjust those patterns to your liking – the squeeze remote, the app, Touch Sense (in theory). I think it would be tricky not to find something enjoyable on the Chorus! And if you still can't, you can make up your own patterns in the app and save them.
We-Connect App Quality
You have three main ways to control the toy in the app: Preset Pattern/Vibes, Touch Mode, or Beat Mode.
In-App Patterns
Here's a quick icon of each of the preset patterns available within the We-Connect app. The top line represents what the clit vibrator will feel like, and the bottom line represents what the internal vibrator will feel like.
I enjoyed almost all of these patterns – but as usual, I tend to pick one or two of the wave patterns and stick mostly with that – just my personal preference.
On Lovense and OhMiBod toys, I end up using the live touch modes a lot – but the preset patterns are my usual go-to with the We-Vibe Chorus.
One of my favorite things about these, is that you can separately control the clit and G-spot vibrator. Dragging the top wave up increases the clitoral motor's power, while dragging the lower wave down increases the internal motor's power.
When I'm not in the mood for internal stimulation, I can just turn the internal motor down a bit. This can also help reduce my husband's stimulation and extend our play during partnered sex, but I still get a lot of good clit stimulation. And when I'm wanting to really bring it home, I'll turn both motors up to full blast!
There are 10 preset patterns to adjust, and moving through the power range of each pattern can really change the feel of the We-Vibe Chorus. I would say finding a satisfying pattern won't be very difficult for most.
This toy also has a create-your-own pattern feature too. It's not as in-the-moment as I would have liked. To save your own pattern, you actually have to create it ahead of time and then select to use it. Personally I prefer Lovense's method of letting you create as you go.
But there are still some really interesting things you can do with the We-Connect app's create your own vibe feature.
You can draw out a vibration pattern for each motor on the screen. Either draw each pattern separately to have the motors follow different patterns. Or draw the pattern for one motor and click the "link" button and the second motor will follow the same pattern you drew for the first.
You can also line up several patterns to play back-to-back in the We-Connect app. The We-Vibe Chorus will roll straight from one pattern to the next. I really enjoy this feature for longer sessions to add a little more variety without needing to keep playing around with the app in the moment.
We-Connect Touch Mode
Next on my app-splorations was the "Touch Mode". I'll be honest – this feature was a let-down for me. I'm used to Touch Modes giving lots of awesome options for a really customized experience that you can create right in the moment. This one is basically just a light-show. Literally.
All you do is swirl your finger around on a colorful screen and watch the design you just drew with your finger. The quicker you move your finger, the more intensely it will buzz. But there's no correlation between your finger placement on the screen – it's not like you're drawing out the wave pattern. And as soon as I lift my finger, the vibration stops.
There's not even anything vibe-related with the little "+" "-" buttons on the bottom of the screen. All this does is change the color of the screen you're drawing on.
So I've dubbed this feature "Bored at Home". It's main purpose seems to be similar to those screen-savers from the early 2000s.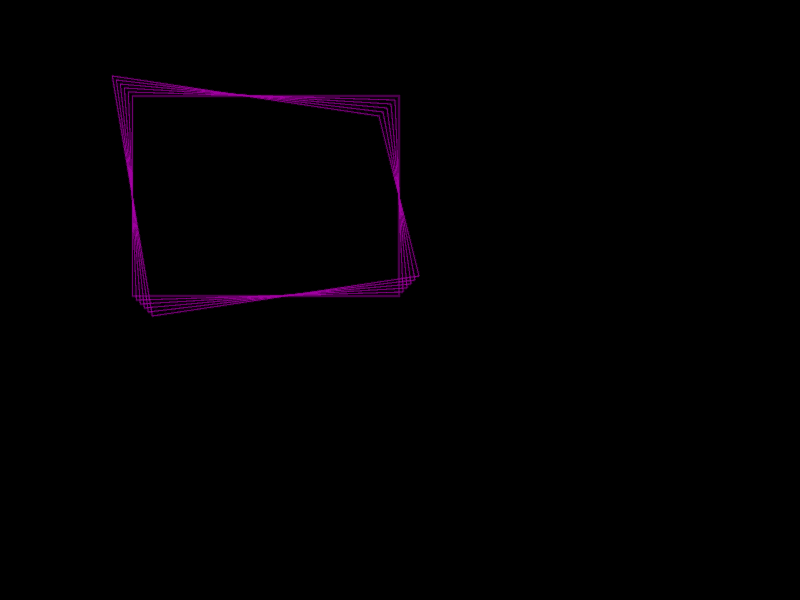 And yeah, I sound a little snarky – but as I mentioned, touch modes are usually my favorite way to control my remote control vibes! So don't be fooled by the name, it's mostly a useless feature, so we'll move on to more enjoyable features.
For the We-Vibe Chorus I definitely stick with modifying the preset patterns and creating my own patterns. These modes give plenty of variation and fit my needs well!
We-Vibe Chorus Beat Mode
Ok TWO main modes to this: Mic Mode or Music Mode.
On Mic Mode, you're setting the vibes to increase and decrease as the sound around you does. It's picking up on the sound from your phone's mic – so make sure you have it out!
You can also choose whether each motor is responding to Base, Midrange, or Treble tones! This is a pretty interesting unique feature of the We-Connect app. Other apps don't let you customize what parts of the music your toy responds to.
I would say Mic Mode is definitely for clubbier environments. Unless you have good speakers at home it's hard to get very consistent vibes – more like little spikes here and there.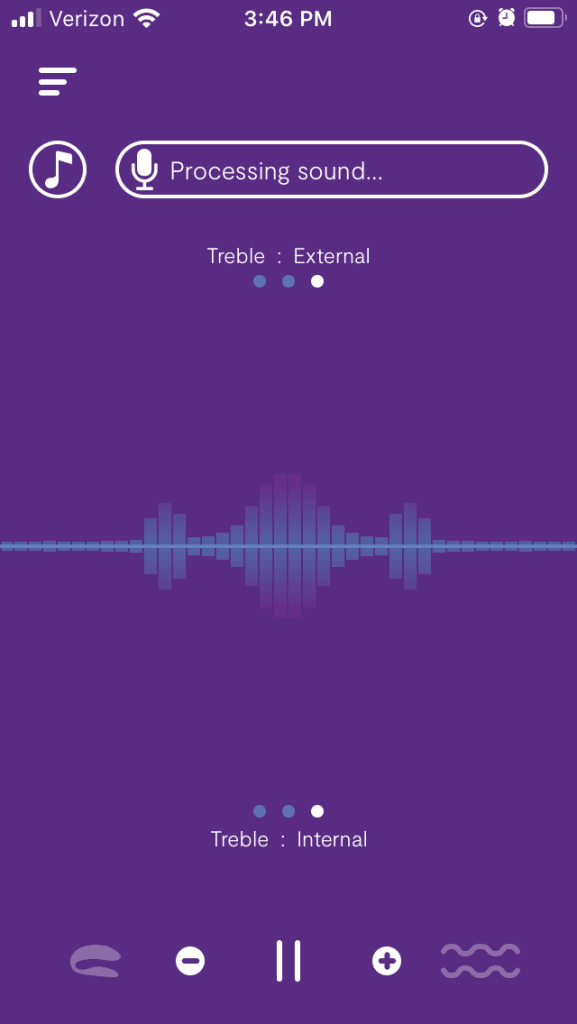 Second option here is to play a song you have stored on your phone. As far as I can see – it only will pull music that you actually have STORED on your device – no streaming services like Spotify.
This is a pretty common feature on app-controlled toys and I really enjoy it! It's a fun way to keep a constant vibe going without really having to do anything. AND it keeps things from getting repetitive. I don't have to switch things up manually – the vibes keep changing with the song.
You can actually choose to play a song and then turn your phone's volume all the way down if you just want to feel the changing vibes without the tune – this is something I do quite a bit as a way to keep the vibrations a bit unpredictable.
The thing that sets this music/beats feature apart from others is that again – you can control which motor is responding to which part of the music – treble, mid or base. I haven't seen this with other toys and it was pretty interesting.
One bummer I've noticed – the song AND vibes stop when your phone locks in this feature.
The We-Connect app does take a bit of playing around to figure out the control system. Modifying preset patterns is super easy, but you don't have as much free-range to customize your vibes in real time as you do with Lovense toys.
As for whether or not that changes your mind – it's up to you! I found working with the preset patterns, creating my own patterns ahead of time, putting together pattern sequences, and using the music modes still provided enough control for me to really enjoy my time with the Chorus.
We-Vibe Chorus Connectivity
Something different about the We-Vibe Chorus compared to other remote control vibrators is that your phone pairs to the Chorus THROUGH the squeeze remote. So no matter where you are, you NEED the remote with you – even if you're not planning to use the remote control at all.
If you're planning on using the Chorus for public play, make sure you've got the squeeze remote along with you in a purse or a pocket.
Initial Connection
Getting your Chorus paired up so you can control via the We-Connect app is fairly straight forward but it can struggle at times. Just open the app, select connect toy, and it will search for and pair with the Chorus. But as I said, there are times that it struggles to find the toy and pair quickly. I'll occasionally have to close the app, turn off the toy, turn it back on, and try again.
In my experience connecting the Chorus is not as reliably quick and easy as I've found connecting Lovense's toys to be. It usually works alright but expect some occasional difficulties.
Reconnecting
Once you get connected, I've found that the We-Vibe Chorus will stay connected well most of the time. Some kickers that may cause a disruption include:
Accidentally closing out of the app
Walking too far away from your phone and the toy's controller
Opening up a different app (this is not always a problem, but it can occasionally cause me to lose connection)
Locking your phone will drop the connection once in a blue moon
I have discovered that the We-Connect app actually provides an option to keep your phone from falling asleep while the toy is in use. For those of you with excellent phone batteries – this may solve your worries.
Usually, if you do lose connection for a moment, the toy will automatically reconnect itself. But sometimes it will require more manual work to re-connect – opening and closing the app, selecting to connect to the Chorus again, trying again if that didn't work.
So far, disconnections have been infrequent enough that I don't face too many disruptions during public play. It's connectivity is definitely better than their We-Vibe Moxie panty vibrator. But it can be annoying when it doesn't quickly reconnect. I've found the Lovense Ferri and Lush reconnect more easily and reliably.
Maintaining Connection in Close-Range Mode: For Nearby Public Play or Playing at Home
The main thing to keep in mind is that the squeeze remote and toy need to stay together. As I mentioned earlier, the app connects to the toy THROUGH the remote – so keep it close.
But besides that, I ran a few tests to see what sort of distance in close-range mode would cause the Chorus to disconnect. (There's also long distance mode which allows you to play together from anywhere in the world – here I'm talking about using the short range bluetooth mode like you would use nearby each other in a restaurant.)
Here's what I tried
Taking the toy and squeeze remote away from my phone
Taking the squeeze remote and phone away from the toy
Taking the phone and toy away from the squeeze remote
In all cases, the toy disconnected when I got about two rooms away which for me was about 35 feet. Mostly when I rounded a corner or other sort of larger obstruction. It's pretty important to keep all three parts of this CLOSE when you're out and about (within about 35 feet from my experience).
If you're sitting together at a restaurant (how I usually enjoy my sneaky public fun) you shouldn't have any worries. But if you want to sneakily control your partner from across the bar – you'll just have to keep in mind that you can't sit too far away from your partner. Or connect through long distance mode if you'll be farther away.
Bottom Line: Close-Range Connectivity
Close-range connectivity is good enough for nearby public play or controlling the toy from home – but there are toys with more reliable connections. If you primarily plan to use the app to control the Chorus in public, be prepared for an occasional interruption or two – not much, but you'll get some disruptions for a moment. During sex I usually use the We-Vibe Chorus' built-in patterns so I don't have to worry about any disruptions.
If easy and reliable connection to the app are very important to you, I've had awesome experiences with Lovense products' connection. For clitoral stimulation I'd recommend the Ferri, or for G-spot stimulation I'd recommend the Lush.
Long Distance Play with the Chorus
If you're looking for a long-distance couples vibrator, this section's for you! Through the We-Vibe Connect app, you can message your partner or video chat with them all while relinquishing control of the We-Vibe Chorus to your partner.
To connect with someone, you first have to enable the connect feature.
You'll be provided with a link in your app's settings, then you just send your link to your partner. Once they've accepted, you'll be able to see your partner's icon, and detect their activity with the below colored dots next to their "profile pic".
The Chorus' app does not require you to set up a profile, make a password, or add any personal details, which makes it conducive for any anonymous play. However, you can only have one partner saved at a time – kind of a bummer, but it's pretty easy to remove and re-add someone.
Included in this app's long-distance perks are a text-chat ability, voice call, OR video chat! You can also send photos. And that's all well and good, but the control-sharing is what REALLY matters.
Your partner can request control of your Chorus, and you'll just need to accept to get things rolling!
They'll be presented with the same control panel you normally have when controlling the toy in close-range mode: patterns, touch-mode or sound activated control.
They can also design their own pattern to play for you, and save it in their arsenal for future use – I enjoy knowing my partner's designed a pattern especially for me. It's just kind of fun, sweet, and naughty all at once 🙂
Chat with your partner while they're displaying their best finger work, OR just set your phone aside while they get busy sending you good vibes.
You can't alter the patterns or the intensity while they're in control, but you're free to take back control of your Chorus any time.
Here's what the view would look like on your partner's end while they're video chatting AND controlling your toy. They can click on the video circle to maximize the video chat again.
We-Vibe Chorus Long Distance Feature Connectivity
The Chorus' long distance connectivity can be a bit hit or miss. We've found it can take some trial and error to connect with your long distance partner. We encountered issues with one partner being online, but the other partner not being to be able to request toy-control.
Another issue we encountered was the DELAY and glitchiness of adjusting the vibe intensity and patterns on BOTH sides when using long-distance mode. From research, it sounds like newer phones can handle this better, but my IPhone SE was really struggling to keep up.
If one of you happens to lock your phone or open up a different app, it can usually jump right back in, but on occasion it would require that my partner and I re-connect.
So again, you can usually have a pretty smooth long distance experience with the Chorus. But be prepared for some mishaps and interruptions. You may have to re-connect a few times in a long distance session. I've found Lovense toys much more reliable for long distance connectivity.
Bottom Line: Long Distance Play with the We-Vibe Chorus
The long distance features do provide what could be an enjoyable experience, but connectivity can be glitchy and unreliable. And you know, troubleshooting can really detract from the dirty-talk: "Oooh babe, yes right there. That's the connect button. Press it. Okay it didn't work. Try it again. Alright we're good to go!"
Overall – it's workable and usually smooth, but definitely not top-rated in the long-distance department. We've had much better success for long distance play with our Lovense Ferri and Lush.
I cover the Lovense app and its long-distance functionality in-depth in my Lush 3 video demo below if you want to see how it looks.
Is the Chorus Comfortable?
Comfort in sex toys, especially wearable toys, is very important to me.
Since you'll probably be walking, dancing, sitting, AND laying with the Chorus, you really need it to be versatile. I've found this toy to be quite high on the "very comfortable spectrum." In fact, the Chorus is the most comfortable insertable toy I own.
One of my favorite things about it is how velvety and soft the silicone is. It just felt so luxurious holding it in my hand when I first opened the box that I felt pretty confident it would feel good nuzzled up against my favorite spots too – and the Chorus proved me right. Besides a smooth texture, there's some extra "squish" on the sides of the insertable portion for extra comfort.
You do notice it certain times more than others. Walking and dancing are probably when you're going to be aware of it the most – but it wasn't uncomfortable for me. When sitting or laying, you could just about forget it's there after a while if it weren't sending out delicious vibes.
Putting the We-Vibe Chorus in is no trouble either – just a bit of lube (bottled OR au natural) and it slid in very easily.
Adjusting Your We-Vibe Chorus
I'm always a little skeptical of the comfort of sex toys with insertable portions, but the insertable part of the We-Vibe Chorus is so sleek, smooth, and it presses neatly against your front wall once you've correctly adjusted it.
Like the We-Vibe Sync, there are TWO hinges on the Chorus to adjust the angles. I found it really easy to get the right fit for my body – both secure and stimulating.
I do feel like the manual didn't explain how to adjust the Chorus well though. So lemme give you the how-to:
First hinge is on top, where the larger portion starts to narrow into the c-shaped loop. The second hinge is on the bottom where the smaller, insertable motor connects. If you adjust them right, you'll feel little clicks when you set it – and then it will stay in place securely. You won't have any issues with it re-adjusting itself while you're wearing it. It's there to stay.
When I first picked mine up, I just loosely held the two arms and flexed them apart. This is NOT adjusting it. Adjusting the hinges involves really getting your fingers in there to press it into place. It's not hard – you just have to know where to press.
If you've successfully found the hinge points, you should be able to get different orientations to find the best fit for your! Here's the Chorus as extended as it can be just for illustration.
Getting the fit just-right is important for comfortability, security, and also for directing better vibes to your g-spot. So play around. I've tried several toy-positions so far, and seem to find a better setup for me the more I play with it.
When I FIRST put it in, I really was trying to get it to fit in this first upright position shown on the left. I quickly learned that it's actually supposed to be worn more like the image on the right with the external arm a bit lower. MUCH more comfortable and effective this way.
Does the We-Vibe Chorus Have a Secure Fit?
I mentioned earlier that after first putting it in, I thought it might easily fall out. I quickly learned that it would not – especially once you figure out how to wear it right.
That being said, I don't think you should pee with the Chorus in. Something about dangling it over a bowl of wet germs just makes me say "no". Not to mention the c-shape really kind of blocks off all points of exit.
If you're a thrill-seeker though, let me know how it goes.
We-Vibe Chorus Visibility
I found the Chorus to be pretty easy to conceal visually, too. There really wasn't any noticeable bump or flashing light to hide in my pants. Totally sneaky 🙂
One quick note is that this toy gets fairly warm during a long use. I am cold EVERY HOUR EVERY DAY, so I'm not gonna lie – I enjoyed my little crotch heater. Could be frustrating to some though. It was definitely a little surprise, but no complaints personally.
This smooth little sally is pretty dang comfortable – the most comfortable insertable toy I've tried so far in fact! If you're new to insertable/wearable toys OR tend to find others too big, this might be a great fit for you.
We-Vibe Chorus Noise Level
A very important section if you want to wear the Chorus out and about – HOW LOUD DOES IT GET? And here it comes: Not only is the Chorus the most comfortable toy I've tried, it's also the quietest wearable toy I've ever tried!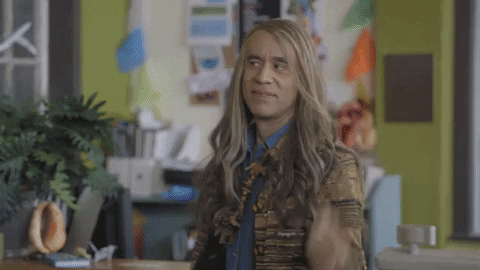 This was quite shocking to me since part of the We-Vibe Chorus is external so my body can't help dampen the clitoral motor. But it didn't need any help. It's very quiet all by itself!
Sound level is a big deal! To venture out wearing one of these guys, I really have to feel comfortable that I won't be heard. Good news: I've DOUBLE tested the levels to make sure I can't hear it AND my partner can't hear it.
Here is my testing journey:
Stop 1:
Took the We-Vibe Chorus out to a quiet local restaurant to kick things off. I started out controlling the vibes so I could build my comfortability. I started at the lowest levels and slowly raised to the highest level. Even at the top power, I couldn't even hear it myself and I confirmed with my partner he couldn't hear it either – silent indeed!
We tested out a couple of the pulsing patterns to see if the quick bursts of vibes would be noticeable, but still – nothing to be detected!
I will say, SOUND is one thing – FEEL is another. If you're sitting on someone's lap, they FOR SURE will be unintentionally in on your vibes.
Quiet restaurants was usually right about at the threshold where I would quit on other sex toys, but I felt confident to move things to location 2.
Stop 2:
Wore the Chorus in our car with NO MUSIC on. Just the sounds of the road beneath us and the engine of our car humming away. Still NOTHING. No audible sounds to my husband or me.
I was 2/2 for the Chorus and couldn't think of a much quieter public place, so I created my very own two-person houseparty.
Stop 3:
My very own home – good for complete silence. This one's for you extra risky folks bringing your toy to church/the library/intimate poetry reading.
Well it turns out that's where the buck stops. If you don't have ANY ambient sounds you can still hear it. Seated in our silent house (we don't have kids) on the couch together, both of us could hear it.
But all you need is a TINY bit of sound and it's completely drowned out. It's seriously amazingly quiet.
The Chorus is easily the quietest wearable toy I've tried. If you're someone who feels very conscious of noise level in your public play, this toy is likely to set your mind at ease. You'll be able to play completely unnoticed in most settings.
We-Vibe Chorus Aesthetic
This is not normally one of my huge talking points on sex toys. I'm mostly about what the toy DOES to me, not how much I enjoy gazing at it.
BUT I LOVE GAZING AT THIS ONE. At least the color that I got. The blue is such a lovely pale blue that I NEVER see on sex toys. It was a great break from the neon pink and purple options I've become accustomed to.
It also has this MAGIC little holding case for the toy and squeeze remote. It suspends the toy upright with the little charging magnets and just charges it IN THE CASE – I just can't get over it. It's such a nice and organized design.
Bottom Line: Really mesmerizing design – 10 thumbs up from me.
We-Vibe Chorus Battery Life
This section will be short and sweet (well, actually maybe a little sour). The We-Vibe Chorus only lasts about an hour for me. I do tend to keep a medium/high level vibration going pretty much the whole time. To get the 90 minutes advertised, I'd have to play on the lower levels more.
It definitely had a shorter battery life than I expected. If you plan on using it out, be conscious you can't make a whole evening out of it, unless you give it some breaks and let it hum along on the low powers occasionally.
You can check the battery levels on the app to keep track of this!
Bottom Line: Battery Life
Fun for about 1-hour if you like to stay around the highest power levels, about 90 minutes if you enjoy the lower levels. For longer nights out, the Lush 3 or Ferri might be a better solution. They last several hours for me.
When it comes to wearable toys for public play, I happen to really value low sound-levels and comfort. The Chorus definitely checks those boxes! If you've been afraid of dipping your toes into public play sex toys for fear of being noticed, the Chorus is the most discreet I've tried yet.
Connectivity can be a little spotty sometimes, and battery life is fairly short – some of the reasons I tend to use my Ferri more often for public play. I've definitely still been able to enjoy many fun evenings with the Chorus despite those two aspects!
I would always PREFER a sex toy with more vibe-power. But seeing as I usually use these sorts of toys for a TEASE only, the mid-level vibes aren't a deal breaker for me. And if you're someone who finds the highest power levels of toys to be too stimulating, I think you'll be delighted with the Chorus' more subtle rumbly vibrations.
I think the We Vibe Chorus is a great toy if you:
Want simultaneous clit and g-spot stimulation
Don't need the most powerful vibrations
Prefer very rumbly vibrations
Want the quietest vibrator for public play
Want really great hands-free stimulation during partnered sex
Want a very comfortable wearable vibe
Don't mind having shorter vibe-sessions (about an hour if you mostly use the high power levels)
I think an alternative bluetooth vibrator may be better if you:
Are looking for very STRONG vibrations – Lovense tends to be more powerful, but they're less rumbly
Don't want to deal with occasional disconnections during public play or long distance play
We-Vibe Chorus Alternatives
The amount that I recommend the Chorus differs based on what your priorities are. Here's a quick Low, Medium and High rated scale based on some features that could be your main goal:
For Use During Sex: High – it gives awesome hands-free stimulation during sex.
For Quiet Public Use: High – easily the quietest I've tried
For G-Spot Stimulation: Low
For Clit Stimulation: Medium
For Comfortability: High
For Ease of Use: Medium
Connectivity: Low/Medium – I've found Lovense toys' connection to be much more consistently reliable
Battery Life: medium
If you're missing a "High" on the feature that's most important to YOU, here's some fab alternatives!
More Powerful, Clit Focused, and Budget-Friendly Alternative – Lovense Ferri
The Lovense Ferri is actually my personal favorite vibrator for public play. It's a clitoral vibe that magnetically secures to any pair of panties to deliver strong vibes right to your clit.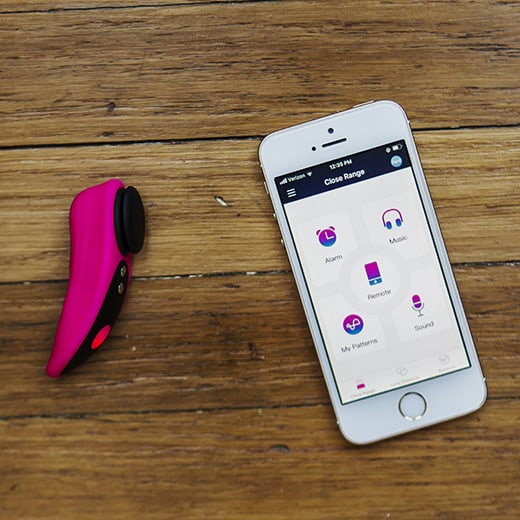 This one is clit-only, but the clit stimulation is definitely more powerful, AND it's much easier to control it with the app! I personally orgasm more easily from the Lovense Ferri's more powerful vibrations.
I find it just as comfortable as the Chorus or even comfier if you don't prefer insertable toys. This one's about half the cost too.
Downsides: It is a bit louder – always a give and take when it comes to balancing power and volume. But I'm still able to use it in most restaurants without drawing suspicion!
It's also not for use during sex.
We've also found the Lovense Ferri to connect easily, quickly, and stay connected reliably to the app. It's one of the best for reliable connection.
For more info, check out our Lovense Ferri review.
We recommend the Lovense Ferri over the We Vibe Chorus if:
You prefer clitoral stimulation over vaginal stimulation
You are looking for a more powerful option
You want something a little more budget-friendly
You want the most reliable app connection for public play or long distance play
More Powerful G-spot Focused and Budget-Friendly Alternative – Lovense Lush
This one is internal only – so NO external vibes. It's got MUCH more powerful g-spot vibes and is just a smidge louder. But your body dampens the sound of internal vibrations really well. I can also use the Lush in our car with no music and my husband won't be able to hear it vibing away between my legs.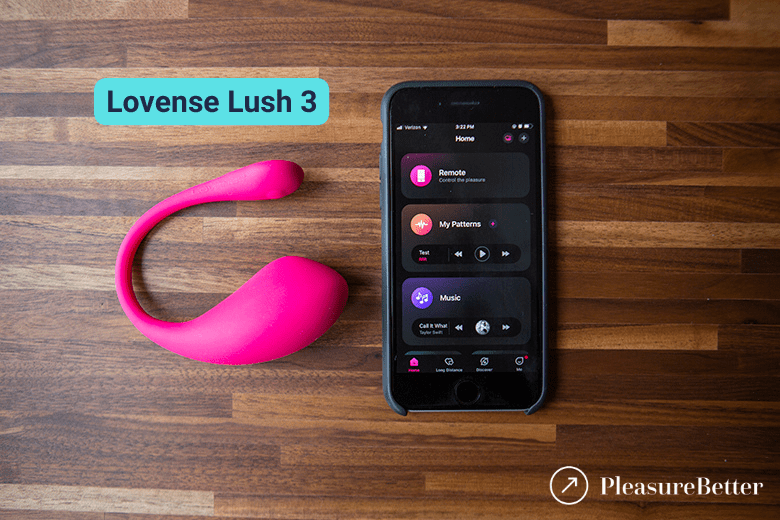 It's not quite as comfortable since it's more filling – unless you're used to a bit of a stretch. But it gives much more substantial G-spot stimulation.
The Lush is SUPER easy to control with the app and connectivity is VERY reliable.
It's not quite as high of a price point as the Chorus. This one is not made to use during sex though. But it's a great public play option for people who want strong internal vibrations and a reliable connection.
Both the Lush 3 and it's less expensive predecessor – the Lush 2 – are excellent options. They provide similar stimulation, but the Lush 3's antenna is more comfortable.
For more info, check out our full Lovense Lush 3 review or for a more budget-friendly option, our Lush 2 review.
We recommend the Lovense Lush 3 over the We Vibe Chorus if:
You prefer stronger G-spot stimulations and don't care as much about clitoral stimulation
You are looking for a more reliable connection
The We-Vibe Unite is meant to serve the same purpose as the We-Vibe Sync and Chorus at a much lower cost. It looks almost exactly the same AND can be used during sex just like the Chorus!
The main trade-offs you're making for the lower price point are that it is NOT adjustable like both the We-Vibe Chorus and the We-Vibe Sync (so you're less likely to find a good fit for your body). There are more reports of it moving around or falling out. It's also a bit less powerful and only is controlled via a physical (non-squeeze) remote control – not the We-Vibe app.
But here's the big sell – it's about half the price!
We recommend the We Vibe Unite over the We Vibe Chorus if:
You're looking for a cheaper Chorus alternative but still want hands-free clit and g-spot stimulation during sex
We-Vibe Chorus Review Final Thoughts
The We Vibe Chorus is a fun toy for out-and-about sessions, but the the really awesome and unique thing about it is that it can be worn during penetrative sex.
On its own, it's enough to get me worked up, but not quite push me over the edge unless I'm using it at home. When worn during sex, it is really a game-changer. Who knew I could have clit-vibes, G-spot vibes, and the filling feeling of my partner all at once – oh AND hands-free!
I find it really comfortable to wear – especially for an insertable toy! It's connectivity is not the BEST, but has still provided lots of fun nights out – and it's whisper quiet.