---
Vibrations: Power And Range
---
Though not as overwhelming as a few wands like the Magic Wand Plus or PalmPower Extreme, the Viben Sultry has excellent power topping out at 7.3 out of 10 – significantly stronger than any of my non-wand vibrators.
Though it has 8 power levels, it begins with a fair amount of power – I can orgasm easily on any setting. The lowest level is 6.5 out of 10 – already close to its top power of 7.3. There's nothing really soft.

Normally with a limited power range, I'd need to use a gentler toy to warm up before switching to a powerful wand. But for me, the Sultry just works! Its power range is at my ideal threshold – I find it intense, but comfortable. And I think the main reason it works for me is because of how the vibrations feel: the vibration frequency.
Learn more about vibration power and range
---
Vibrations: Frequency (Rumbliness)
---
The Viben Sultry is one of the most rumbly wand vibrators we've tested. Its entire power range is on the rumbly side of the spectrum, and it packs excellent strength while remaining rumbly.
The Sultry's lowest 3 levels are extremely rumbly. This makes the wand's powerful start feel impactful but not overwhelming. The rumbly vibrations are more widespread and comfortable while traveling deeper through your body.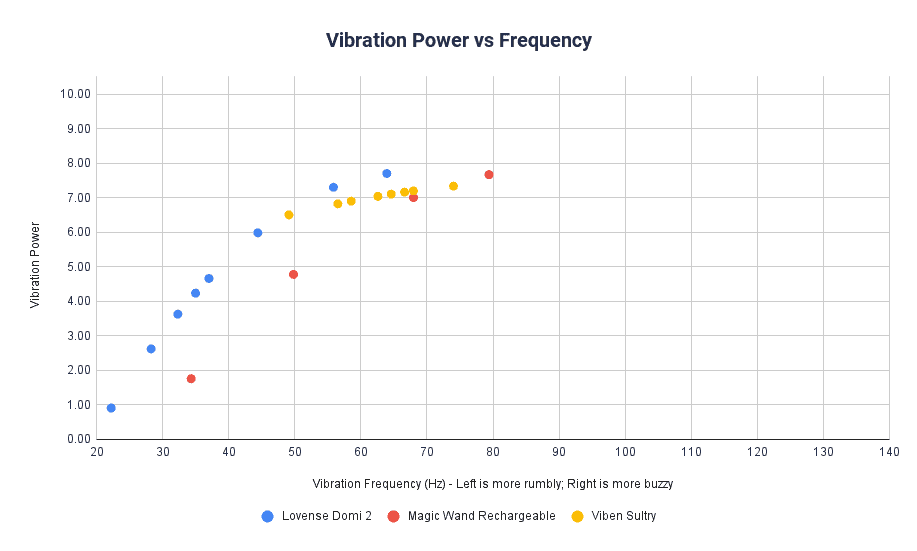 The top 5 power levels remain moderately rumbly, with just a bit more zing that focuses the vibrations in a tighter area. Only a few other wands reach the Sultry's top strength of 7.3 while remaining rumbly as it does.
If you enjoy moderate to strong power and love deep, rumbly vibrations the Viben Sultry will be a good fit.
Learn more about vibration frequency (rumbliness)
---
Comfort & Ease Of Use
---
The Viben Sultry is my most comfortable full-sized wand.
It weighs less than other large wands and has a slim, contoured silicone handle that's comfy to grip. These features make it easier to maneuver and leverage the Sultry for firm pressure – it doesn't feel like you're holding a bulky wand vibrator. The slightly flexible neck also keeps the pressure comfortable without flexing so much that applying pressure becomes difficult.
The tall head provides lovely, broad stimulation. But you can also use the slight lip formed near the top of the head to apply more focused stimulation.
The Sultry's controls are its only downside. It does not have separate buttons to increase and decrease power. You need to cycle through intensity levels using a single button, and they're in reverse order (most powerful to least). While this is mildly annoying, the power levels are so close together that I can live with it. It's still one of the wands I reach for the most.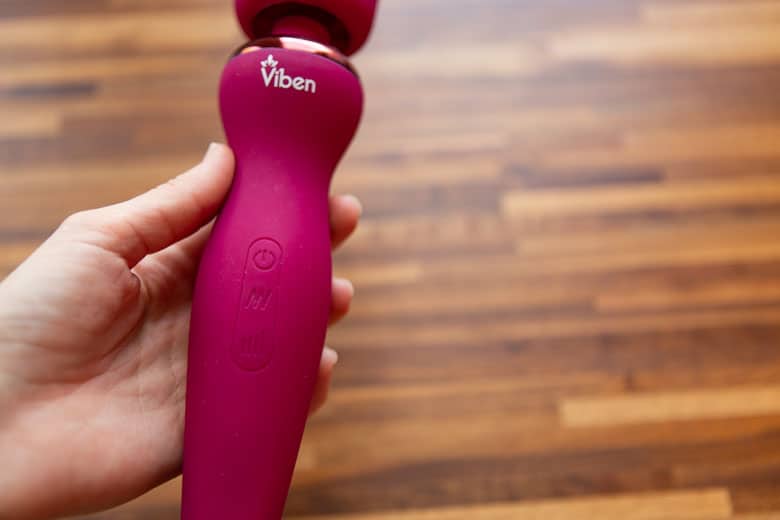 It's also fully IPX7 waterproof, so it's quick and easy to clean.
Learn more about comfort & ease of use
---
Use During Sex
---
The Viben Sulry also works well during sex. Its tall head is still relatively slim, so it fits into tight spaces better than other full-sized wands. You also don't need to position it very precisely because its strong, rumbly vibrations travel deep and feel impactful, even when the head is not placed right near your clit.
Its light weight is even more helpful during sex since you're more often in positions where you're holding the wand up, like in Doggystyle or Spooning. So it doesn't get tiring like heavier wands. Since the Sultry is fairly long, you can also rest the base of its handle on the bed during Doggystyle to further support its weight.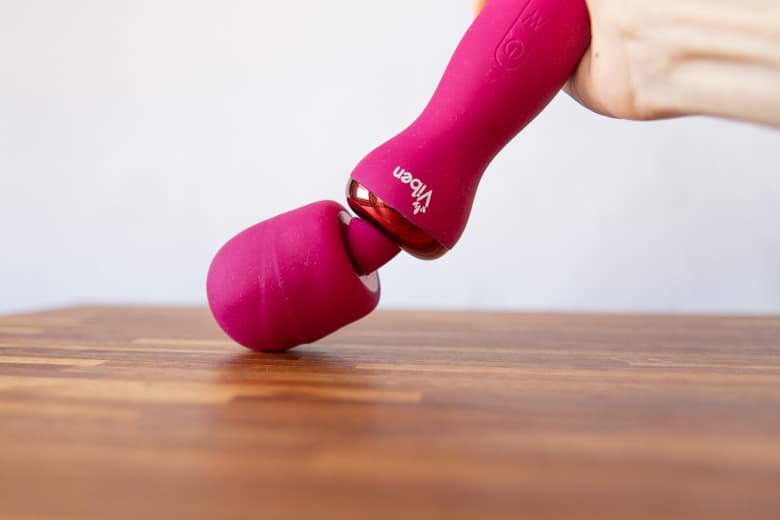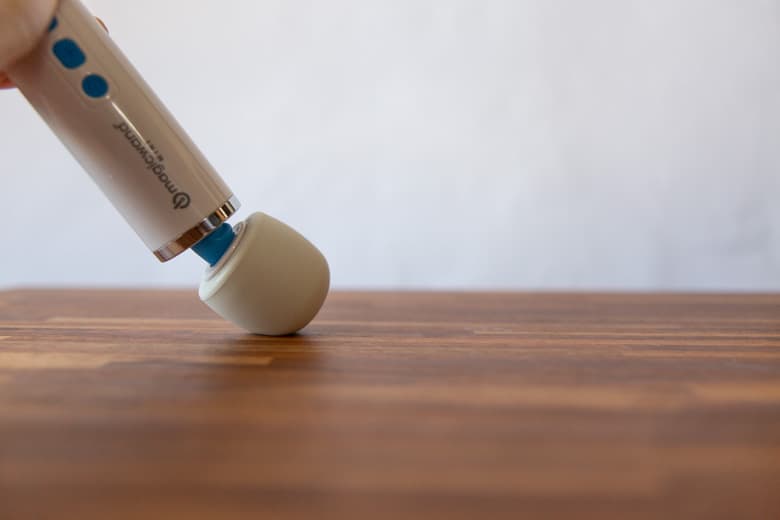 Though the head is firmer than the plush silicone of the Magic Wand Rechargeable or Plus, its flexible neck keeps it comfortable during sex.
If you enjoy the broad, powerful stimulation of full-sized wands, and want something easy to use during sex, this is one of the best options.
Learn more about wand vibrator use during sex
---
Noise
---
The Viben Sultry is one of the quietest wands with this much power. My partner can hear other comparably powerful wands from the other side of a closed bedroom door. But he can't hear the Viben Sultry on any power level.
---
Attachment Compatibility
---
The Viben Sultry's slim head which makes it comfortable and easy to use during sex limits its compatibility with wand attachments. Some attachments designed for full-sized wands like the Magic Wand Rechargeable also fit the Viben Sultry, while others are too loose.
You can still find compatible attachments for a variety of stimulation including penis, anal, G-spot, prostate, and clitoral. But your selection is more limited. See our full wand attachment compatibility table for information on all the attachments we tested for compatibility.
Learn more about wand attachment compatibility
---
Mount Compatibility
---