---
Vibrations: Power And Range
---
The Viben Obsession is significantly stronger than any of my non-wand vibrators, even on its softest setting.
There are three power levels. The lowest starts at 7.7 out of 10 vibration strength, and it goes up to 8.5 on high. It doesn't provide any warm-up, which is a bummer because I typically need softer power when I'm starting out. Otherwise, the vibrations feel too overwhelming.
I can only use the Viben Obsession's lowest power level without feeling irritated. And even then, I need to use it over my clothes.
I find the second and third levels wildly unpleasant. They're extremely buzzy which feels overwhelming and uncomfortable combined with the immense strength. I'll talk more about that in the next section.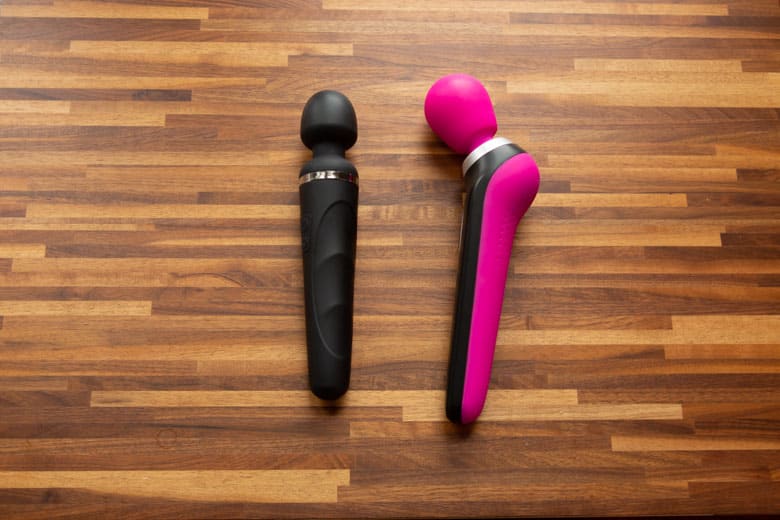 Many wands have a broader power range than the Viben Obsession – packing extreme power on high, but beginning gentler on low. I prefer these wands like the Lovense Domi, BMS PalmPower Extreme, among others.
Learn more about vibration power and range
---
Vibrations: Frequency (Rumbliness)
---
We rate wands with rumbly vibrations more highly than those with buzzy vibrations. Most people prefer rumbliness. But, there is definitely variation in peoples' preferences.
For example – I really enjoy neutral or moderately buzzy vibrations when they're moderately powerful (roughly vibration strengths between 4 and 7). But when vibrations are both extremely buzzy and immensely powerful they become unbearable to me.
And that's the problem with the Viben Obsession – it's extreme in both power and buzziness.
It's one of the few wand vibrators we've tested that is already buzzy on its lowest setting! And on high, it's the buzziest of all our wands. On the second or third power, I don't even like to touch it to any part of my body. And I definitely don't want it near my clit!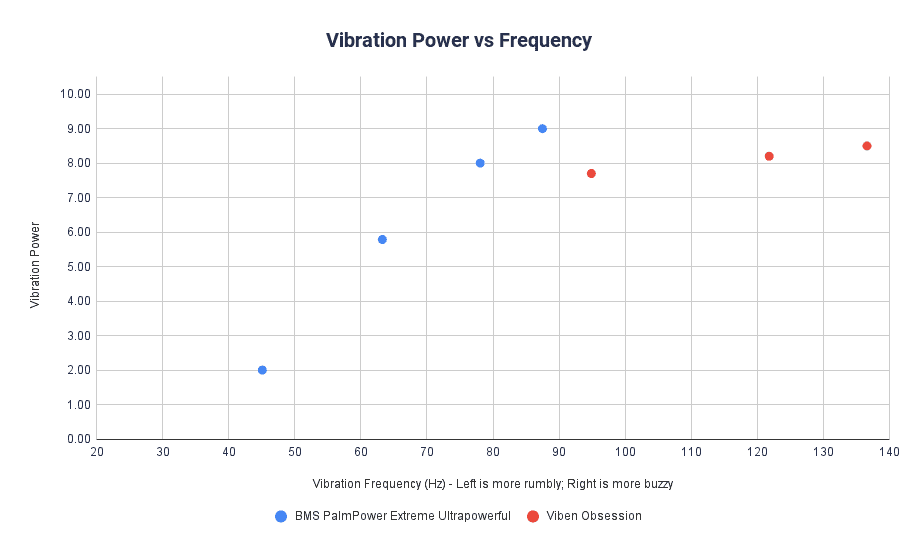 You can find comparably priced, powerful wands with better rumbliness. Whether that's extreme rumbliness, like with the Lovense Domi, moderately rumbly like the Viben Sultry, or more neutral like the BMS PalmPower Extreme. I enjoy each of these wands, and each provides powerful stimulation with deeper, more enjoyable rumbliness.
Learn more about vibration frequency (rumbliness)
---
Comfort & Ease Of Use
---
The Viben Obsession has a comfortable handle that's relatively narrow for a full-sized wand. People with small hands like me will find its slim, silicone handle comfortable and easy to grip. I also don't feel any uncomfortable vibrations in my hands as I do with some wands. This surprised me since the Obsession is extremely powerful.
The head is large, which means you can't fit it into tight areas, but it provides wider stimulation instead. Since the vibrations are so strong, you probably won't need to position its head in a precise spot – it broadly stimulates the entire area. It's also lighter than other full-sized wands so maneuvering it is fairly easy.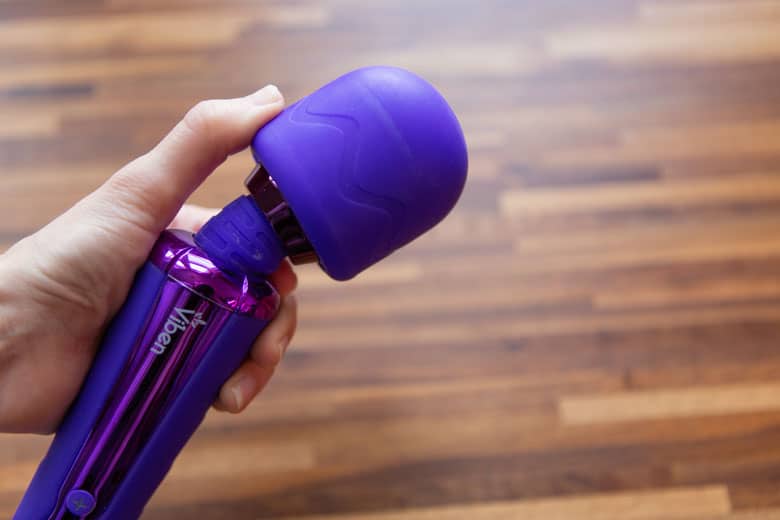 The head is firm, but the neck is extremely flexible which keeps it comfortable.
The controls are great. They're easy to feel without looking, but I don't accidentally press them. And you can both increase or decrease the power, which is necessary since this wand is so strong. You may need to step back down sometimes.
Learn more about comfort & ease of use
---
Use During Sex
---
In this section, I try to rate how easy it is to use the wand during sex. I consider aspects like whether a wand limits how my partner and I can position our bodies and whether maneuvering the wand and keeping it in contact with my clit during sex is easy.
I try to compartmentalize how the vibrations themselves feel. But I experience such discomfort from the Viben Obsession's extremely buzzy vibrations during sex, it's impossible to separate that component out completely.
With all the movement happening during sex, the Viben Obsession's wide head bumps into my legs and other areas that I don't want to be stimulated. And since the vibrations are so powerful and buzzy it feels uncomfortable and distracting.
This is especially the case in positions like Missionary or Spooning where I can't lean back to create more space for the wand's head. The Viben Obsession's firm head also bumps uncomfortably into my pubic bone in Cowgirl.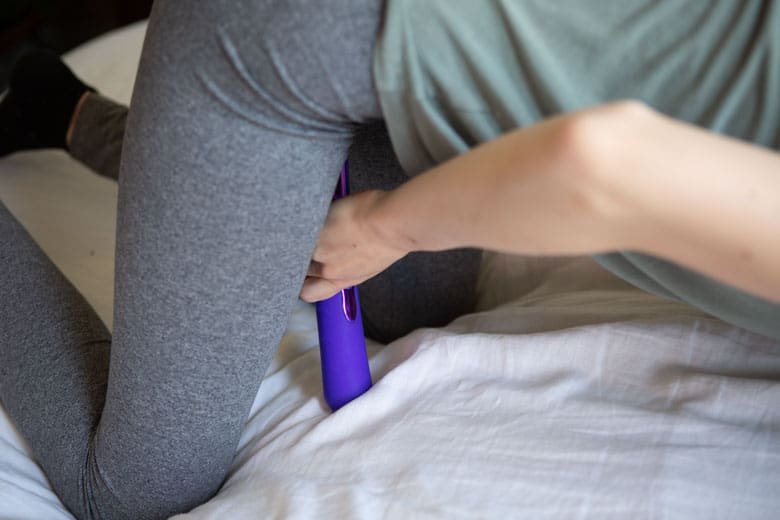 The Obsession's vibrations seem to feel more diffuse in Doggystyle, and I'm able to enjoy the lowest power level a bit. And the Viben Obsession has a long enough handle that I can support its weight by resting the wand's base on the bed. So my arms don't get tired using it in this position.
Learn more about wand vibrator use during sex
---
Noise
---
The Viben Obsession is my loudest wand vibrator. I find its noise distracting, and it's certainly not discreet.
My partner can hear it from the other side of our closed bedroom door on all power levels. And it's the only wand that was not drowned out by playing music in the bedroom. My partner could still hear it on the other side of the door!
The Viben Sultry and Magic Wand Rechargeable are comparably powerful, but much quieter (and more rumbly too!)
---
Attachment Compatibility
---
The Viben Obsession has excellent compatibility with wand attachments. As a full-sized wand, the majority of attachments are designed for heads this size.
There are compatible attachments for a range of stimulation including G-spot, prostate, anal, penis, clitoral, and dual-stimulation. Below are the wand attachments we've tested for compatibility with the Viben Obsession.
Learn more about wand attachment compatibility
---
Mount Compatibility
---