---
Vibrations: Power And Range
---
The VeDO Wanda has three power levels which cover a decent range from low to moderate power.
The top power is a smidge stronger than my favorite non-wand vibrators (bullets, G-spot vibrators, rabbit vibrators). I can easily orgasm with the Wanda pressed to my clit. So if you enjoy the more moderate vibration strength of other types of vibrators, but prefer the way broad wands spread the vibrations out – the Wanda will likely do the trick for you.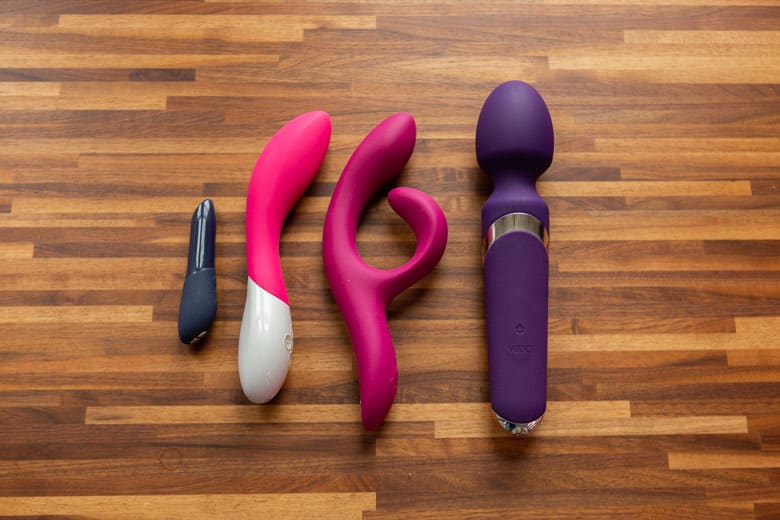 But there are cheaper wand vibrators with a similar power range like the Maia Zoe Dual-Ended Wand. And other comparably priced wands like the Magic Wand Mini and Dame Com have a similar power range with better performance in other areas.
And if you're looking for exceptional power, the Magic Wand Plus will be a better fit in the same price range.
Learn more about vibration power and range
---
Vibrations: Frequency (Rumbliness)
---
Because most people prefer low-frequency, rumbly vibrations, I rate more rumbly wand vibrators higher than buzzy wands in this performance metric. However, vibration frequency is a personal preference. And some people enjoy vibrations more toward the middle or the buzzy (high-frequency) side of the spectrum.
So consider what you enjoy!
The VeDO Wanda's vibrations range from extremely rumbly on low power, to neutral on high power. But because the first power level is fairly soft, you'll likely use the top two power levels most often.
As a result, you can expect the VeDO Wanda to feel moderately rumbly to neutral most of the time. So it's best if you enjoy vibrations more toward the middle of the spectrum. If you're not sure what you enjoy it can also be good since it's not too far to one side.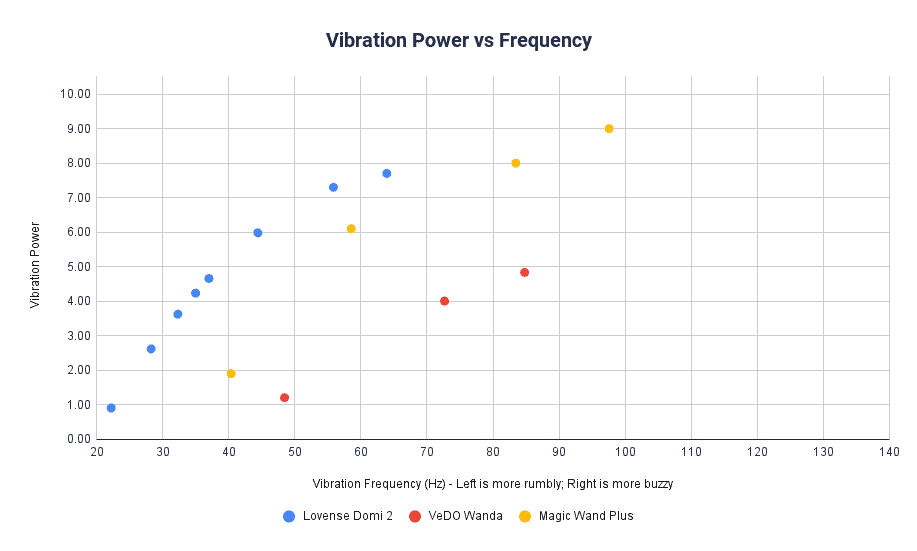 Or consider something like the Magic Wand Plus which spans a broad range from extremely rumbly to moderately buzzy with ample power at each level.
If you're in the majority and prefer mostly rumbly vibrations, you may want to invest the extra $10-$20 for the Lovense Domi. With a compact size like the Wanda, it has a much greater power range, and 90% of its power levels are extremely rumbly.
Learn more about vibration frequency (rumbliness)
---
Comfort & Ease Of Use
---
The VeDO Wanda is fairly easy to use. The handle has a comfortably smooth, but grippy silicone which means it doesn't slip around. The wand is fairly compact, so it's easier to maneuver and adjust the Wanda's position than it is with full-sized wands.
Plus it's waterproof, which makes it very easy to clean. And you can take it into the tub with you.
But the VeDO Wanda has its downsides.
While a firm head is not always uncomfortable, I do think the VeDO Wanda would benefit from some squishiness. The Wanda's pressure against my body gets a little uncomfortable over time.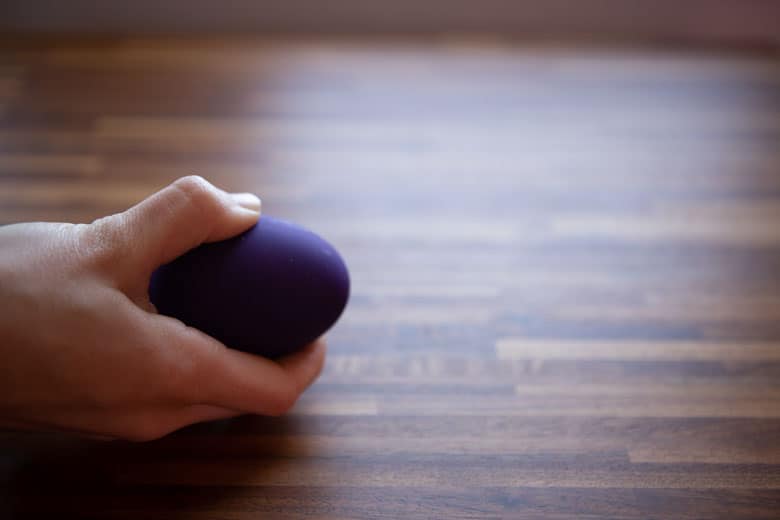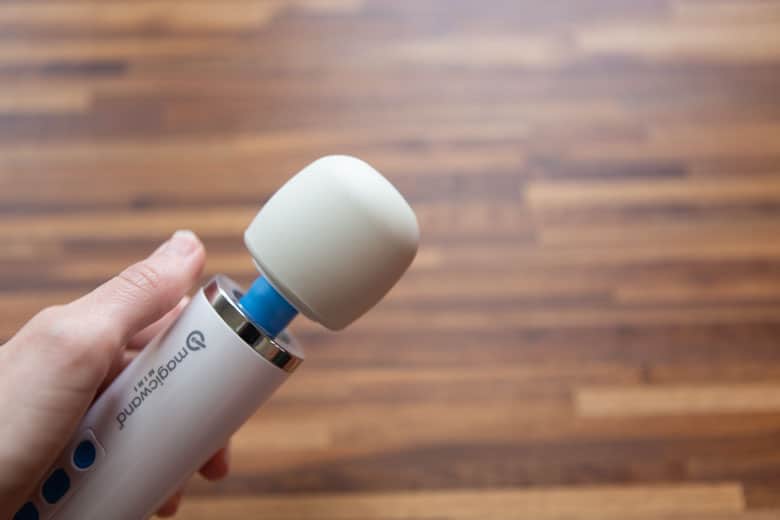 And I don't enjoy the tapered shape of the VeDO Wanda's head. Though in theory, it could help you get more pinpoint precision, I found the taper made it difficult to press the vibes into my body. I prefer the more cylindrical shape and slightly squishy texture of wands like the Magic Wand Mini and Magic Wand Plus.
Learn more about comfort & ease of use
---
Use During Sex
---
The Wanda works okay but not great during sex.
Its best performance is in the cowgirl position because the tapered head can slide into the right spots without getting in the way. And the smaller handle is easy to move around.
My main complaint that prevents it from scoring higher in all positions is that the head is a little too hard. Which can be fine for some wands. But the Wanda's neck also has only a slight flex to it. So the combination of a stiff neck and hard head make it bump uncomfortably against my body with a lot of movement during sex.
While the tapered head helps the Wanda in Cowgirl, it actually hurts the score in Missionary. In order to get good clitoral contact from the tapered head, you have to angle the handle upward. And in Missionary, there is not enough room to do this.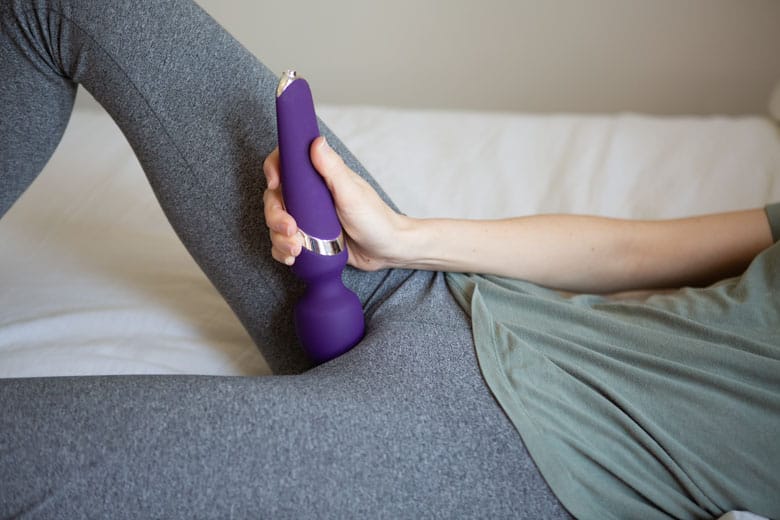 If your main goal is to find a good wand to use during sex, here are a few better recommendations:
Lovense Domi 2 – A medium-sized handle with a smaller head that can get into tight places and apply firm pressure.
BMS PalmPower Extreme – A larger wand that still works incredibly well during sex due to the way its head is angled from the handle.
Blush Noje W4 – A cheaper option that's a little smaller than the Wanda with comparable strength. It has some downsides compared to the other two wands above, but it's inexpensive and easy to use during sex!
Learn more about wand vibrator use during sex
---
Noise
---
The Wanda has an excellent, discreet sound level – good news if you live with others or noise distracts you.
Both its low and high powers are quiet. And during our testing, my partner could not hear any of the Wanda's power levels from behind a closed bedroom door.
Part of the reason the VeDO Wanda is quiet is that it's more moderately powered than some wands. Though it still packs a reasonable punch.
If you want more power while remaining discreet, the Viben Sultry has 1.5 times the power of the VeDO Wanda – and my partner could not hear it behind a closed door either.
---
Attachment Compatibility
---
The VeDO Wanda is compatible with a few wand attachments including the Vixen Wanderer, Vixen Gee Whiz, and LuzArte Bubbles. Le Wand attachments also fit the VeDO Wanda – though there is excess room at the top because of the Wanda's tapered head shape.
The attachments that fit best are all insertable (for G-spot, anal, or prostate stimulation). So only a limited range is available to you.
If you want a wand vibrator compatible with a broad range of attachments, full-sized wands are best. Several score a 10 for attachment compatibility including the comparably-priced Magic Wand Plus!
Learn more about wand attachment compatibility
---
Mount Compatibility
---