---
Build Quality
---
This wand feels cheap. I'm currently on my second Romp Flip – the first one stopped vibrating within the first 5 months of testing it. And while I haven't experienced issues with its replacement, this toy does not feel like it was made to last.
The plastic construction feels especially thin and delicate. And the extremely flexible neck feels flimsy. I'm worried it will break if you apply much pressure – I suspect this is why my first one stopped working.
At a comparable price, the Blush Noje W4 feels like a higher-quality wand.
---
Vibrations: Power And Range
---
The Romp Flip is one of my weakest wand vibrators. Its top strength is closer to the middle power levels of my bullet vibrators. And all 6 intensity levels are so close together that they essentially feel the same.
The Romp Flip is only a good option for people who are very easily overstimulated.
But if you're looking for power, like people considering wand vibrators usually are, you have a few options.
First – if you're here because the Romp Flip is budget-friendly, you should check out the Blush Noje W4 instead. This wand is around the same cost, but has 3x the vibration strength of the Romp Flip.
If you've got a bit more budget, you can find several wands under $100 (or less) that provide a more traditional wand vibrator feel.
If you prefer moderate power, the Magic Wand Mini or Dame Com are stronger than my non-wand vibrators (like G-spot vibes, rabbit vibrators, etc.). But they don't have the extreme upper levels some wands reach. They're great if you like some strength, but find too much power overwhelming.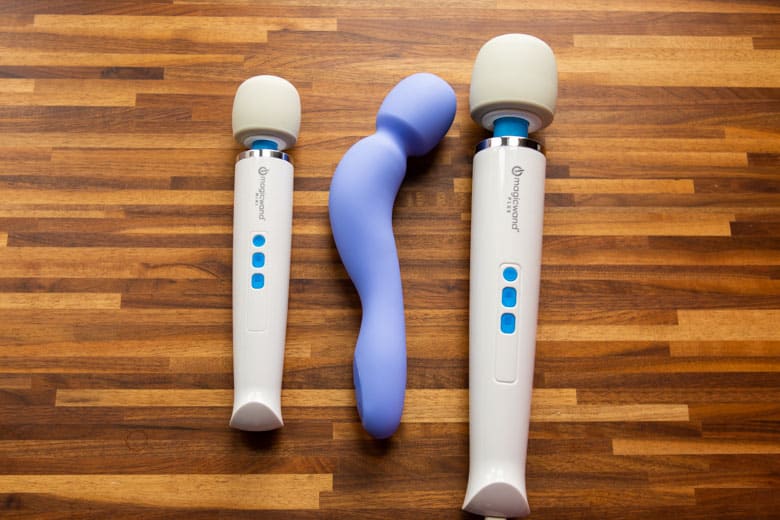 And if you want those immense upper levels, the Magic Wand Plus is one of the strongest wand vibrators available, and it is the most powerful wand under $100.
Learn more about vibration power and range
---
Vibrations: Frequency (Rumbliness)
---
We rate wands with rumbly vibrations higher than wands with buzzy vibes. The frequency you enjoy is completely a personal preference… But most people prefer vibrations somewhere on the rumbly side of the spectrum, so we rate those higher.
The Romp Flip's vibrations feel rumbly, but they are very weak.
Our rumbliness rating has two components. The first component considers what part of the frequency spectrum the wand's power levels are in. All 6 of the Romp Flip's power levels are in the low-frequency, extremely rumbly range.
But our second component takes into account how much power the wand has for its amount of rumbliness. And here the Romp Flip significantly underperforms. In other words, there are wands with a lot more power while remaining just as low-frequency (rumbly).
Most people will want one of these more powerful, rumbly wands.
For instance, the Dame Com's frequencies range from 36 Hz (extremely rumbly) on low power to 56 Hz (extremely rumbly) on high power. This is nearly identical to the Romp Flip's frequency range, but the Dame Com has about 3 times the vibration strength. It's one of my favorite rumbly wand vibrators.
Learn more about vibration frequency (rumbliness)
---
Comfort & Ease Of Use
---
While the Romp Flip isn't uncomfortable, it's not as easy to use as many of my wand vibrators.
It only has a one-button to control the vibrations. This means you'll need to cycle through the vibration power levels – you cannot move up and down. The button is also positioned in a way that I need to shift my hand when I want to adjust the power.
And I just find it a little awkward to hold due to the tapering handle. The material is less grippy than I usually like, and the handle is surprisingly wide for how short the wand is. Overall it just makes it feel strange in my hand.
But the small head size and flexible neck help the Romp Flip feel comfortable against my body. However, since the neck is so flexible, it also diminishes the pressure you can apply. And since the vibes are weak, I need to press this wand firmly to my vulva.
If you like the size of the Romp Flip there are comparable options with better overall performance. On a tight budget, I'd consider the Blush Noje W4. It's a touch smaller, very easy to maneuver and use, and has better vibrations.
If you've got a bit more budget, the Magic Wand Mini is another compact wand and one of my personal favorites. It has a better power range, good rumbliness, and is very comfy and easy to use.
Learn more about comfort & ease of use
---
Use During Sex
---
Even though the Romp Flip is small, I don't enjoy it during sex – mostly because it's so dang weak!
A wand with this little power becomes an inconvenience during sex. I hardly notice the vibrations, so I'm stuck holding a wand with none of the benefits. And since the Flip's neck is so flexible, the vibrations feel even less impactful without the ability to apply pressure.
Again – the Blush Noje W4 is a more powerful, inexpensive wand that's very easy to use during sex. It's a better option if you need to stick in the Romp Flip's price range.
But if you can increase your budget a bit, the Magic Wand Mini is only about $30 more and works extremely well during sex. It's small in size to easily fit in tight spaces. It has a plush head to avoid uncomfortable pressure on your pubic bone. And it has power buttons that allow you to toggle up or down!
Learn more about wand vibrator use during sex
---
Noise
---
The Romp Flip is one of our quietest wands. But it's so quiet because its vibrations are weak.
The Blush Noje W4 has 3x the power and is also very discreet. My partner can't hear its vibrations from the other side of the bedroom door. And even some of the extremely powerful wands like the Viben Sultry remain inaudible behind a closed door.
---
Attachment Compatibility
---
The Romp Flip has limited compatibility with attachments.
Its head is about the same size as the Lovense Domi 2. So both the Domi's attachments fit the Romp Flip as well. These two attachments cover a decent range of stimulation (G-spot, prostate, anal, penis, and clitoral texture). But you have few options beyond that.
If you value a broad range of attachment compatibility, your best options are full-sized wands like the Magic Wand Rechargeable or Magic Wand Plus among others.
Learn more about wand attachment compatibility
---
Mount Compatibility
---