---
Vibrations: Power And Range
---
As a mini wand, the Maia Zoe reaches a moderate top vibration strength of 5 out of 10 – slightly stronger than my favorite non-wand vibrators like the Lovense Hyphy, Lelo Mona 2, and others. With three power levels, its lowest setting measures at 1.7 out of 10, providing a broad range and good warm-up levels.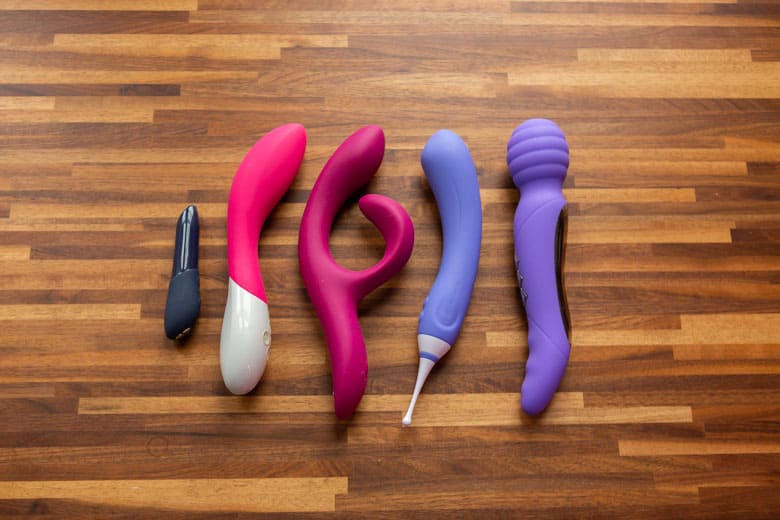 It does not reach the extreme upper levels of full-sized wands, but not everyone needs or wants that much power. I personally can orgasm with this wand on high. If you want more power in this price range, the Satisfyer Wand-er Woman is worth considering.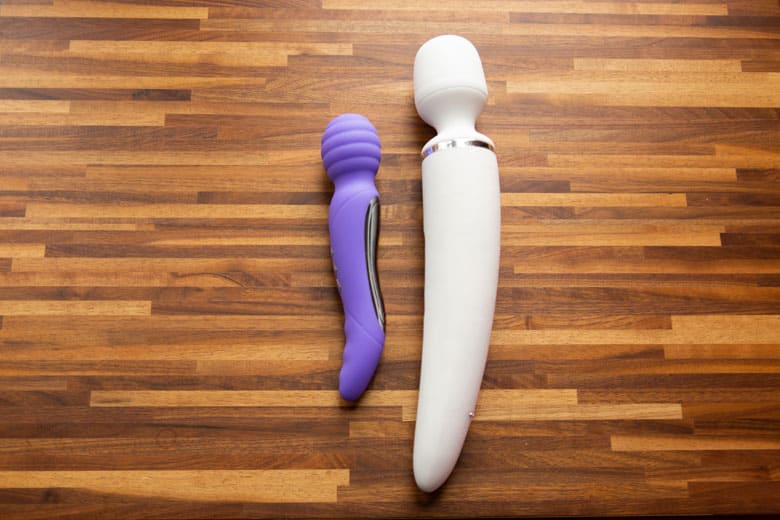 The Maia Zoe features a dual-ended design, with the other end intended for clitoral or G-spot stimulation. But the vibrations on this side are weak and buzzy, so I never use it. It's best to view the Maia Zoe as an ordinary wand vibrator.
Learn more about vibration power and range
---
Vibrations: Frequency (Rumbliness)
---
While the Maia Zoe's vibes are only moderately strong, they have good rumbliness! All three of the wand end's settings land within the rumbly range, with the first two being extremely so. They're not quite as rumbly as the Lovense Domi, a higher end mini wand, but good for the price.
On the other hand, the G-spot end is extremely buzzy and I don't use it.
Learn more about vibration frequency (rumbliness)
---
Comfort & Ease Of Use
---
The Maia Zoe is a compact, lightweight wand so it's easy to grip and maneuver. While the vibrations do travel slightly into the handle, it's not too distracting due to their rumbly nature. But I prefer the more affordable Blush Noje W4, which doesn't vibrate my hand at all.
With a small, firm head and minimal neck flexibility, the Maia Zoe allows for precise placement and firm pressure. The head's small size makes its firmness less uncomfortable since I typically press it into fleshier areas, but it's not as luxurious as plush options like the Magic Wand Mini.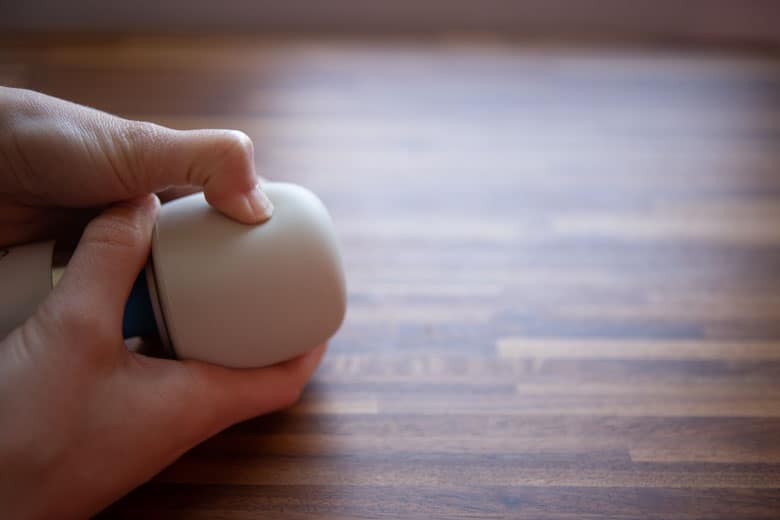 I prefer wands that allow me to increase or decrease power, instead of cycling through intensities with a single button like the Maia Zoe. But it's not a huge issue since there are only three levels.
Learn more about comfort & ease of use
---
Use During Sex
---
The small size, light weight, and more rigid neck of the Maia Zoe make it easy to use during sex. Its small head fits easily between bodies. And the handle itself takes up minimal space, so you can easily leverage it for good pressure. While the firm head can occasionally cause discomfort during sex when movement presses it too hard against my body, this is rare.
Overall, the Maia Zoe provides good clit stimulation in all positions, as you can easily position it exactly where you want it.
Learn more about wand vibrator use during sex
---
Noise
---
The Maia Zoe is a discreet wand with low decibel levels, making it inaudible from the other side of a closed door at any power. This isn't surprising since it's only moderately powerful. If you want something discreet with more power, you can also consider the Viben Sultry.
---
Attachment Compatibility
---
As a mini wand, the Maia Zoe is not compatible with the majority of attachments which are designed for full-sized wands like the Magic Wand Rechargeable. But there are some options available.
Lovense's attachments designed for the Domi also fit on the Maia Zoe's head. These provide G-spot, anal, prostate, penis, and clit stimulation. Attachments designed for the Le Wand Petite also fit the Maia Zoe reasonably well. They're a bit loose, but definitely still get the job done.
Learn more about wand attachment compatibility
---
Mount Compatibility
---