---
Vibrations: Power And Range
---
Though the Magic Wand Rechargeable has about 85% of the power of its corded version, it's still one of the strongest wands in my collection, with a top power of 7.67 out of 10.
With four power levels, the lowest setting starts at 1.75 out of 10, providing an enjoyable warm-up without overwhelming. The second level is slightly stronger than my favorite non-wand vibrators, and the third is substantially more powerful – I usually finish on the second setting, but occasionally want the extra oomph of the third level (often over my clothes)! I can rarely use the top strength because it's too intense for me but is excellent if you crave immense power.
Together, these four settings provide a wide range to enjoy. If you typically prefer gentle stimulation, you might consider the Magic Wand Mini instead. But the Rechargeable is best for those who enjoy moderate to extreme strength.
Learn more about vibration power and range
---
Vibrations: Frequency (Rumbliness)
---
We rate wands with rumbly vibrations higher than those with buzzy vibrations since most people prefer rumbliness. The Magic Wand Rechargeable is one of the most rumbly wands I've tested. While a few wands are more rumbly, they underperform in other aspects.
Three of its four power levels are in the rumbly range, with the first two feeling extremely rumbly! I love these vibrations because they travel deeper into my body without being overwhelming or ticklish, unlike buzzy ones.
Since I typically only use the first three power levels, most of my experiences with the Magic Wand Rechargeable are rumbly. Though if you expect you'll need the extreme power of the fourth level, the vibrations start to feel more neutral.
Personally, I don't mind an occasional neutral-feeling vibration. And overall, this wand delivers high-quality rumbly vibrations at an impressive strength.
Learn more about vibration frequency (rumbliness)
---
Comfort & Ease Of Use
---
The Magic Wand Rechargeable is a larger wand, so it takes a bit more effort to maneuver or leverage than smaller, lighter toys. But overall, it's comfortable and easy to use.
The plush silicone head is softer than other wands, making it comfortable when pressed firmly against your body. And the neck is flexible, but solid so I can apply considerable pressure without worry. The wide head is great for broad, diffuse pressure. And rather than the round head many wands have, this wand's head is cylindrical, creating a lip at the top that I can use for more direct pressure and focused stimulation.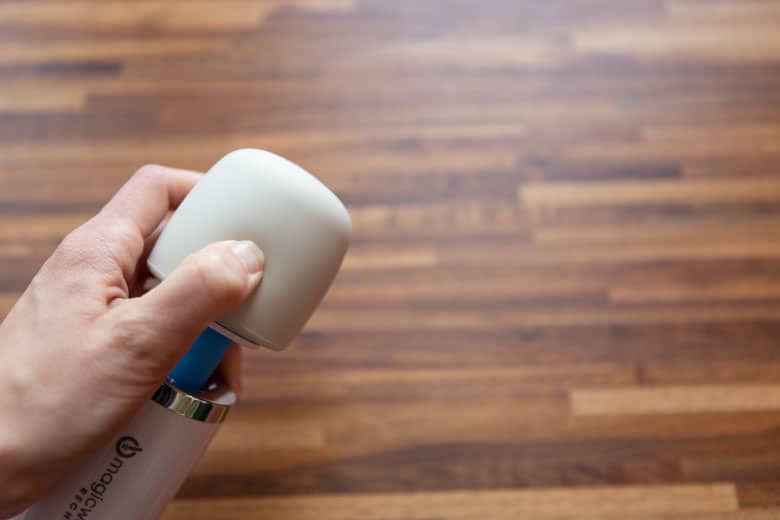 Vibrations do transfer minimally through the handle, primarily on lower power levels. But since the vibrations are rumbly, I don't find it uncomfortable or distracting as I do with buzzy wands like the Doxy 3R.
The Rechargeable's controls differ from the Magic Wand Plus's, since the cordless version offers vibration patterns. One button cycles through four steady power levels, and a separate button cycles through its four patterns. While I prefer a setup with separate buttons to increase and decrease power, it's not a big deal since there are only 4 power levels to cycle through.
The button placement is good – I don't accidentally press the buttons. And it's easy to feel them, so I can make adjustments without looking or disrupting the stimulation.
And since this wand is rechargeable, you won't have to deal with cords getting in the way – part of why I use it more than the Magic Wand Plus.
Learn more about comfort & ease of use
---
Use During Sex
---
The Magic Wand Rechargeable is my favorite full-sized wand to use during sex, and I enjoy it in a wide range of positions.
It's a long wand with a large head, and it's on the heavier side – all traits you don't expect to make a great wand for sex. But the rumbly, powerful vibrations and plush, cylindrical head make it work very well.
With my weaker vibrators, I spend more time precisely positioning the toy and leveraging it to get the pressure just right. But since the Magic Wand Rechargeable is extremely powerful and rumbly, I don't need to place the head in an exact spot with tons of pressure, so its large head isn't an issue. Its length also makes it easier to use in positions like Doggystyle where I can rest the base against the bed so my arm doesn't get tired.
The silicone head's plushness keeps it comfortable, even in movement-heavy positions like Cowgirl. Whereas firm wands like the Satisfyer Wand-er Woman press uncomfortably into my pubic bone in this position.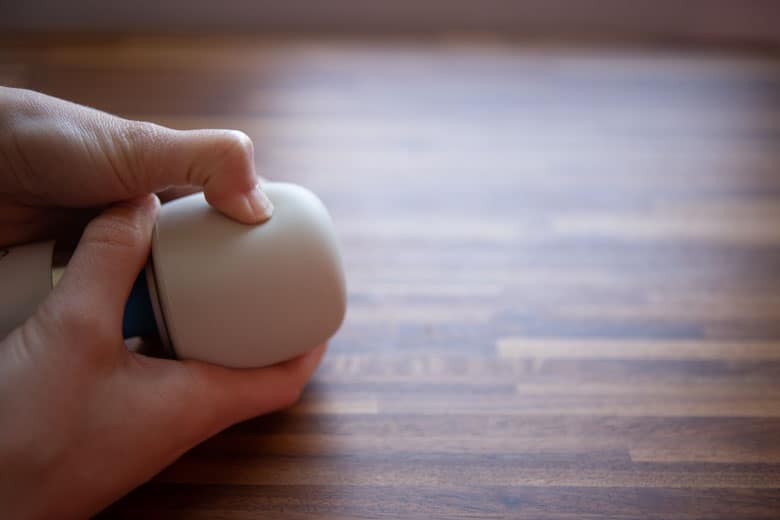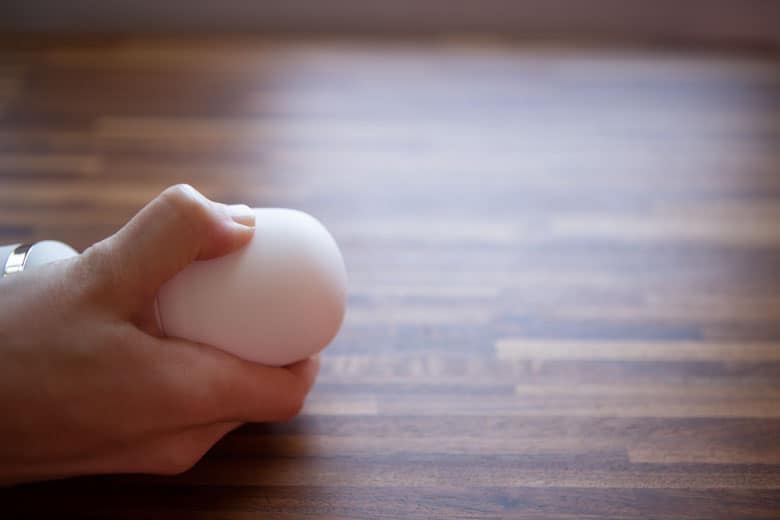 The cylindrical head's lip provides a smaller surface area for more focused stimulation like you could with a small wand. While the flat surface is perfect for diffuse, broad stimulation in more open positions like Spooning.
The cylindrical head's lip provides a smaller surface to get the more focused stimulation you could with a small wand too. This lip also fits into tight spaces where a large wand's full head doesn't. And in more open positions like Spooning, I can use the flat surface for diffuse, broad stimulation.
Being cordless, you can move around more freely with the Magic Wand Rechargeable too.
Learn more about wand vibrator use during sex
---
Noise
---
The Magic Wand Rechargeable has lower noise levels compared to most other wands with similar power. For many comparable wands, I can only use the first setting without the vibrations becoming audible.
During our tests, my partner couldn't hear the first two levels from behind a closed bedroom door. And that second power is typically where I finish. Many will be able to orgasm on these discreet levels. The two extremely powerful top settings were audible in our quiet house, but when I turned on a box fan or played music, my partner couldn't hear the wand anymore, even on high power.
It's a good option if you want strong power and need to remain discreet.
---
Attachment Compatibility
---
Magic Wand is the leading brand of wand vibrators. So most wand attachments are designed to fit its head. This wand, and similarly-sized wands, have the best compatibility with attachments.
You can find a compatible attachment for many kinds of stimulation including G-spot, prostate, anal, penis, clitoral, and dual-stimulation. And you have a variety of each type to choose from. To see which attachments we've tested with the Magic Wand Rechargeable, see our wand attachment compatibility table.
Learn more about wand attachment compatibility
---
Mount Compatibility
---