---
Vibrations: Power And Range
---
The Magic Wand Plus is my second-most powerful wand, reaching a 9 out of 10 on its top level. Only the Doxy Die Cast reaches a higher strength than the Magic Wand Plus. But the Doxy is more than double the cost, and it's buzzier.
Priced under $100, the Magic Wand Plus is the most budget-friendly option for people who want immense power.
Its 4 power levels also provide a broad range of intensities. It has softer levels as a warmup or for people who don't need extreme strength. I rate the lowest power at 1.9 out of 10 and the second level at 6.1 out of 10.
Personally, I rarely use the third or fourth settings because the first two are enough for me – I can orgasm from either level. I think many people will be happy with just these. And if you venture into the upper settings, you may want to try them over your clothes – they are intense! Even on the second power, I often use the Magic Wand Plus over my underwear.
Learn more about vibration power and range
---
Vibrations: Frequency (Rumbliness)
---
Because most people prefer rumbly wands, we rate these higher than buzzy wands.
The Magic Wand Plus's first two power levels are extremely rumbly. These low-frequency vibrations feel deep and impactful. And since the wand is so powerful, many people will primarily use these lower two levels.
Power level 2 packs excellent strength, while remaining deep and low-frequency. This rumbly quality of the vibrations prevents them from feeling overwhelming, ticklish, or numbing. That second setting is my favorite, and it's the one I orgasm with most frequently.
The third level feels neutral – neither rumbly nor buzzy.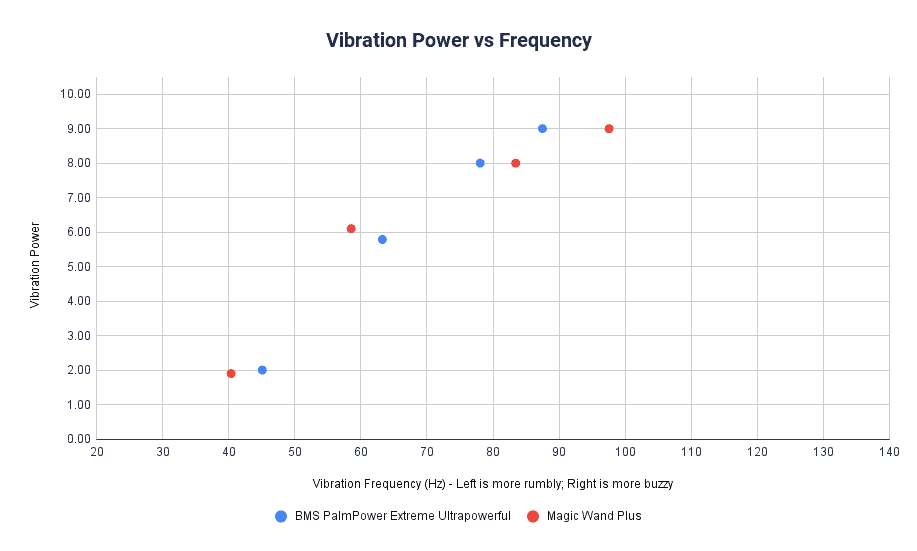 Only the highest power (9.0 out of 10) begins to feel buzzy. No wand I've tested yet has remained rumbly when its power increases beyond 8.0 out of 10. The BMS PalmPower Extreme is the only wand with comparable strength that stays in the neutral range on its top power – but the difference is minimal.
Most people will be happy with the Magic Wand Plus's balance between extreme strength and rumbliness.
Learn more about vibration frequency (rumbliness)
---
Comfort & Ease Of Use
---
The Magic Wand Plus is a great fit for those who want a comfortable full-sized wand. It has a wide, tall head, which diffuses the intense power comfortably over a broad area.
Full-sized wands like the Magic Wand Plus are more difficult to maneuver quickly or fit into tight spaces than compact wands like the Lovense Domi or Magic Wand Mini. But because this wand has such powerful, deep vibrations I don't need to position it with precision. The Magic Wand Plus's rumbly vibes impact the entire vicinity around the head!
I also love how plush the head is!
It's firm enough that I can still apply substantial pressure, but soft enough that it's completely comfortable against my body. It doesn't bump uncomfortably into my pubic bone as really firm wands like the Satisfyer Wand-er Woman do.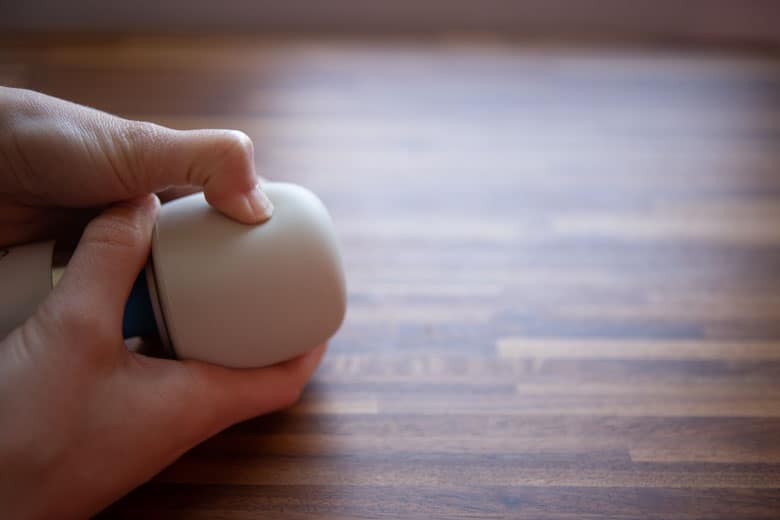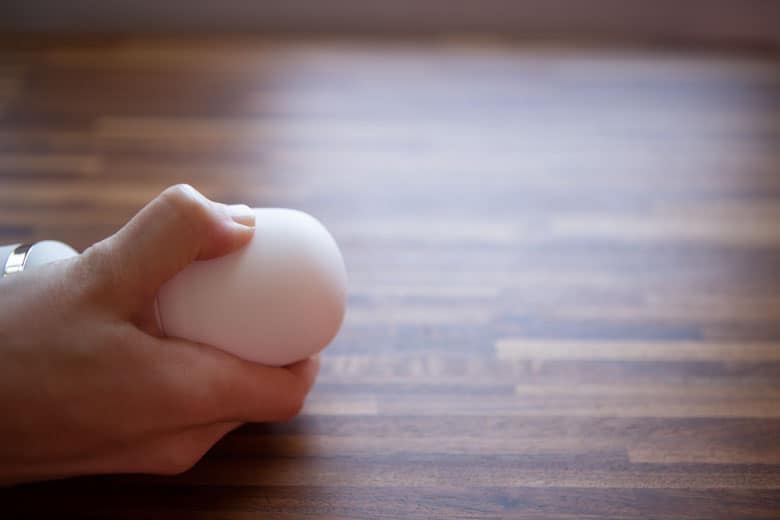 When the Magic Wand Plus is on its lowest power, you can feel the vibrations in your hands. But they're so rumbly that it doesn't feel uncomfortable or distracting. And oddly, you feel them less in your hands as you increase power.
The Magic Wand Plus is not waterproof, so it's best to wash down the head with a warm, soapy cloth. But since there are no tricky grooves on the head, it's still easy to clean.
The silicone buttons are comfortable and easy to press without moving my hands. But most importantly, there are separate buttons to increase or decrease the power. Some wands make you cycle through intensity levels with a single button. When toys have this much power, I like to be able to step back down easily.
Learn more about comfort & ease of use
---
Use During Sex
---
The Magic Wand Plus is one of my favorite full-sized wands to use during sex – though I also enjoy the cordless convenience of the (slightly less powerful) Magic Wand Rechargeable.
I particularly enjoy the Plus in the spooning position and a modified missionary position (lying on my back with my partner kneeling).
The full length of the wand has the space it needs for me to angle and leverage the handle in these positions – I like to really push my vibes deeper (which is why I need a sturdy wand). And the plush head maintains comfortable, easy, consistent contact with my clit.
I move a lot more in Cowgirl, so I notice the weight and bulk of the Magic Wand Plus more in this position. The size is a little harder to control with more movement (especially compared to small wands like the MW Mini or Lovense Domi), but it's still manageable. Plus, the sheer strength the Magic Wand Plus cranks out means you don't need to position the wand in a precise spot to feel its effects.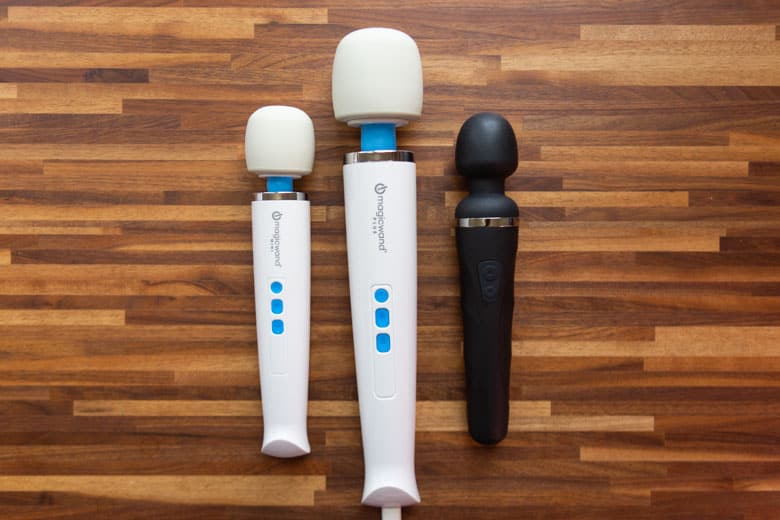 Doggystyle is the trickiest position for the Magic Wand Plus because you're working against gravity to hold the wand up between your legs. But I've found that I can place the base of the handle on the bed to support some of the weight and give my arm a rest (though this works even better with the Rechargeable since the base doesn't have a cord in the way).
Overall, it's a great option during sex – especially for those who want the immense power of a full-sized wand.
Learn more about wand vibrator use during sex
---
Noise
---
To test a wand's discretion, I use the wand in our bedroom while my partner stands directly on the other side of the door to see whether he can hear it.
The Magic Wand Plus is not audible behind a closed door on its lowest power level. But with no other sounds in our house, he can hear the top three settings. In fact, all three of my strongest wands are only inaudible at their low levels.
We also test whether turning on a box fan or music in the bedroom drowns out each wand's noise. Either option successfully masked all the Magic Wand Plus's power levels.
So if you have housemates, you'll want to grab a box fan or turn up some jams.
---
Attachment Compatibility
---
Because Magic Wand is the most well-known wand massager brand, the majority of wand attachments are designed for the Magic Wand Plus. So this wand (and others close in size) have the greatest compatibility.
You can find a compatible attachment for a broad variety of stimulation – penis, clitoral, G-spot, anal, prostate, and dual-stimulation. For more specifics, you can check our wand attachment compatibility table here.
Learn more about wand attachment compatibility
---
Mount Compatibility
---