---
Build Quality
---
Unfortunately, the Magic Wand Original has a porous vinyl head. Porous materials can harbor bacteria and cannot be fully sanitized. To make this wand body-safe, you can purchase a $20 silicone cap to cover the wand's head. You can remove this cap and wash it between uses.
When you factor in the cost of the cap, it's cheaper to just purchase the fully body-safe Magic Wand Plus.
Other than this, the Magic Wand Original is high-quality. The hard plastic handle and toggle button feel solid and built to last. And the head has a nice plush feel, which adds to the comfort – though the body-safe silicone of the Magic Wand Plus and Rechargeable are also soft and comfy.
---
Vibrations: Power And Range
---
The Magic Wand Original is an extremely strong wand with only two power levels.
Even its lowest strength is much more powerful than any of my non-wand vibrators. It's so strong, I typically only use the lowest setting. And even then, I prefer to use the Magic Wand Original over my clothes or underwear because of the intensity.
Its lowest strength pushes the boundaries of what I can handle when I'm not adequately warmed up – still enjoyably powerful, but any more strength would become overwhelming for me. I think many people will need softer levels to warm up.
While I enjoy the Magic Wand Original's powerful vibrations, the body-safe Magic Wand Plus has some significant advantages over the Original.
The Plus has four power levels instead of the Original's two settings – and these four levels cover a broader power range. They start softer than the Magic Wand Original which can prevent overstimulation early on. And it finishes even stronger than the Magic Wand Original.
At a comparable price, most people will enjoy the vibrations of the Magic Wand Plus more.
Learn more about vibration power and range
---
Vibrations: Frequency (Rumbliness)
---
Because most people want a wand vibrator with deep, rumbly vibrations, we rate these higher than buzzy wands. But it's definitely a personal preference.
The Magic Wand Original has buzzy vibrations on high power. But the lower level which I use most has neutral-feeling vibrations: neither rumbly nor buzzy.
Personally, I don't need all my vibrators to be extremely rumbly. I actually really enjoy the Magic Wand Original's neutral vibes. But, I think most people want something more rumbly overall. Or at least a wand with some rumbly settings to enjoy.
If that's you, both the Magic Wand Plus and Magic Wand Rechargeable are more rumbly than the Original when they're vibrating at comparable power. And both have extremely rumbly low levels.
They'll be a better fit for most people. But the Magic Wand Original's vibrations are good for those who enjoy vibrations between rumbly and buzzy.
Learn more about vibration frequency (rumbliness)
---
Comfort & Ease Of Use
---
The size of the Magic Wand Original makes it a little trickier to maneuver than some smaller wands like the Lovense Domi.
But with wands this powerful, I don't need to maneuver them into a very precise spot. Or leverage them much for extra pressure. The strong, broad vibes easily stimulate the entire area. So maneuverability may not be as important to you.
Because the head is broad and the vibes are powerful, but not rumbly I feel the vibrations in my legs more than I'd like sometimes. This can occasionally become fatiguing. I don't have this issue with smaller, more precise wands like the Lovense Domi 2. Or more rumbly full-sized wands like the Magic Wand Plus or Rechargeable.
Some of the Magic Wand Original's vibes also travel into the handle. But it's not too distracting to me.
I find the Original comfortable against my body, because the head is so plush. So it doesn't bump uncomfortably against my pubic bone with heavy movement as some firm wands do.
I also really like the switch button. You can toggle between the top and low power. It's intuitive and very easy to feel where the button is with your fingers – so you can easily control it without looking.
Learn more about comfort & ease of use
---
Use During Sex
---
I enjoy the Magic Wand Original in most sex positions, though not Doggystyle.
I think it works extremely well in Cowgirl. In this position, there's plenty of open space, so the long handle does not get in the way. I move around a lot in this position, and I find many wands bump into my pubic bone uncomfortably. But the Magic Wand Original's plush head provides cushioning to keep it comfy. Though I'll note, the Magic Wand Plus's and Rechargeable's body-safe silicone heads are also plush and comfortable)
In Spooning and Modified Missionary positions, the Magic Wand Original is fairly easy to use. Though, in these positions my legs are usually somewhat closed. And I can't fit the Original's wide head as close to my clit as I can with a small wand like the Lovense Domi 2. But since the vibrations are so strong, I don't need to position this wand precisely. So it's not a deal-breaker for me, and I still enjoy it in both these positions.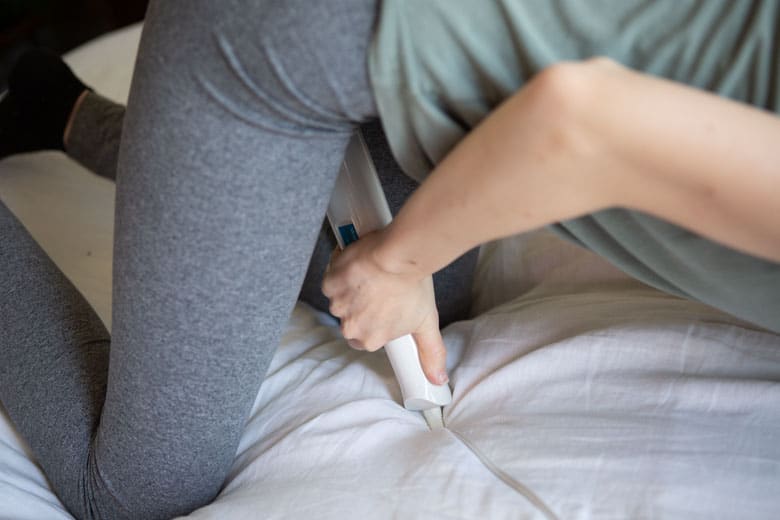 I find it more difficult to use the Magic Wand Original in the Doggystyle position. With the rounded head, I need to angle the handle really low to fit the head on my clit how I enjoy it. But then the handle bumps into the bed. The Plus and Rechargeable have more squared-off heads that fit better for me. I don't need to angle their handles so extremely to get clit stimulation in Doggystyle.
Overall, it's still a decent option during sex, though I prefer the Plus and Rechargeable. Or if you want a powerful wand that's extremely easy to maneuver during sex, consider the compact Lovense Domi 2.
Learn more about wand vibrator use during sex
---
Noise
---
Unfortunately, the Magic Wand Original is louder than most wands. I don't find the sound distracting, but you'll need to be conscious if you live with housemates.
If my partner stands on the other side of our closed bedroom door, he can hear it vibrating even on low power. When I turn on a box fan in the bedroom, my partner can no longer hear it on either setting. Playing music also drowns out the Original's noise.
If low noise is important to you though, there are extremely powerful wands with more discreet low levels like the Magic Wand Plus and BMS PalmPower Extreme. Their softer settings are still powerful enough for me to orgasm while remaining more discreet.
---
Attachment Compatibility
---
Alongside other full-sized wands, the Magic Wand Original has the broadest range of compatibility with wand attachments.
Since Magic Wand is the most famous massager brand, many attachments are designed specifically for the Magic Wand Original, Plus, and Rechargeable. Though the Original's head is slightly shorter than the Plus or Rechargeable, I've found all three wands are compatible with the same attachments.
You can find a compatible attachment for pretty much any kind of stimulation – G-spot, anal, prostate, penis, clitoral texture, dual-stimulation. You name it, you can likely find an attachment for it.
I also want to reiterate that the Magic Wand Original's head is porous and cannot be sanitized. So if you go with this wand, you'll want to get a body-safe silicone cap attachment like the Pleasure Works Pop Top. This is one of the reasons I recommend most people go with the Magic Wand Plus instead.
Learn more about wand attachment compatibility
---
Mount Compatibility
---