---
Vibrations: Power And Range
---
The Magic Wand Mini is a great moderately-powered wand at an affordable price. Its top power is stronger than all my favorite non-wand vibrators like the Lovense Hyphy, Lelo Mona 2, and We-Vibe Nova 2.
Even the Magic Wand Mini's lowest power is enough for me to orgasm. And with its second and third levels, it offers plenty of range for me.
If you're comparing it to the full-sized Magic Wands, the Mini is about 70% as strong as the Magic Wand Rechargeable. And it's about 55% as strong as the plug-in Magic Wand Plus. So those may be good options if you're looking for the enormous power some people enjoy from a wand.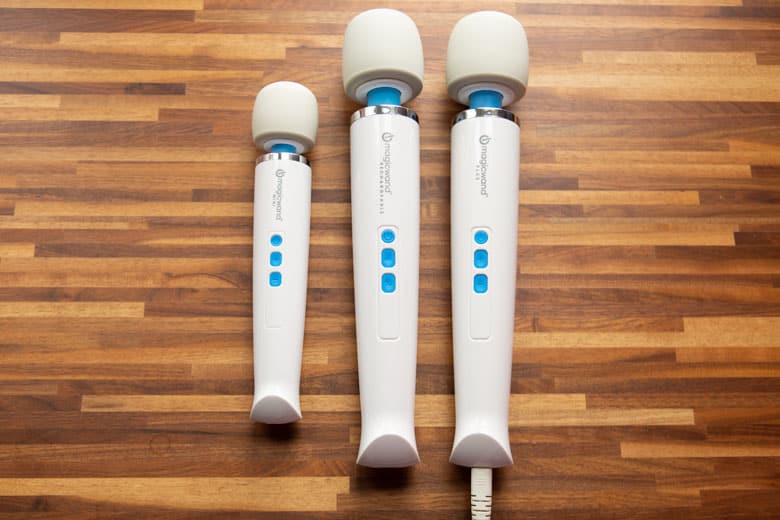 But unless you're a power-queen or king you'll likely enjoy the Magic Wand Mini's power range. For instance, even when I use the Rechargeable and Plus I rarely go past their second power levels (which are comparable to the Mini's strength). The full-sized versions' upper levels usually feel overwhelming to me.
So the Magic Wand Mini is a great option for people who enjoy strong vibrators, but don't need the ultra-powerful settings of large wands. Personally, the Mini is one of the wands I use most often!
Learn more about vibration power and range
---
Vibrations: Frequency (Rumbliness)
---
When scoring vibration frequency (how rumbly or buzzy a vibrator is), we rate rumbly wands higher because more people tend to prefer low-frequency (rumbly) vibrations. But this is more of a personal preference, so a higher score doesn't necessarily imply that a wand is better for you.
Keep in mind your preferences.
The Magic Wand Mini's rumbliness lands in the middle of the pack. The first two power levels are extremely rumbly and moderately rumbly. Then the highest power level feels more neutral – neither buzzy nor rumbly.
This is a pretty typical vibration profile – as a wand's power increases, it always becomes less rumbly. I personally enjoy the Magic Wand Mini's frequency range because it gives me options. And I can orgasm on any of its power levels, so I can select a more rumbly or more neutral vibration frequency depending on what I want at the moment.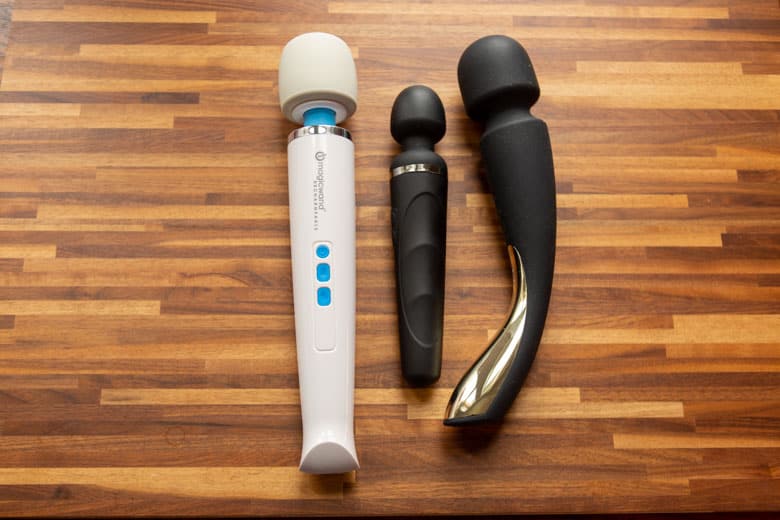 If you always prefer more rumbly vibrations, the full-sized Magic Wand Rechargeable is a bit more rumbly than the Mini. And the Lelo Smart Wand 2 Large and Lovense Domi are the most rumbly wands we've tested.
If you're like me and enjoy a range of rumbliness, then the Magic Wand Mini is a great option!
Learn more about vibration frequency (rumbliness)
---
Comfort & Ease Of Use
---
The Magic Wand Mini is one of the most comfortable and easy-to-use wands!
Its only downside is that it's not waterproof (none of the Magic Wands are), so it takes an extra bit of care when cleaning the Mini. If that's a priority to you, consider a waterproof wand like the Viben Sultry. But I still find the Magic Wand Mini easy to clean.
During use – the handle, head shape & texture, size, and controls all make the Magic Wand Mini wonderfully comfortable and maneuverable.
The controls are some of my favorites on any wand. The buttons are easy to press without having to adjust my grip during use. And you can move up and down through power levels. This simple difference is a drastic improvement over toys that make you cycle through power levels with a single button.
The handle is very easy and comfortable to keep a tight grip on and make adjustments for better stimulation. The head is a plush, cylindrical shape, which is comfortable to press against my body.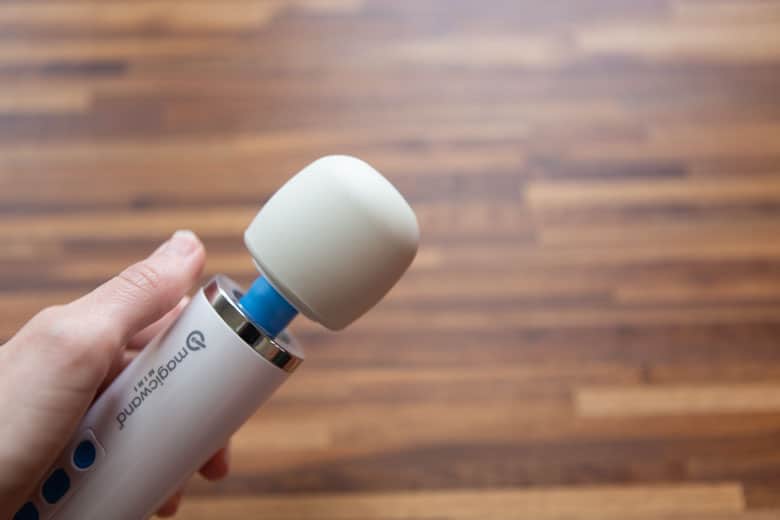 And I can comfortably leverage the Magic Wand Mini to press the vibes more or less firmly against my body.
The cylindrical shape of the head also allows you to vary how much of the head is pressing against you. Use the side of the head for broader, more even pressure. Or use the "edge" of the cylinder shape for more focused pressure and stimulation.
The variety of stimulation you can get from the Magic Wand Mini's head is one of my favorite aspects.
Learn more about comfort & ease of use
---
Use During Sex
---
The Magic Wand Mini is also one of my favorite wand vibrators to use during sex.
I give it a perfect score in both Modified Missionary and Cowgirl positions. The handle length is ideal, and the plush head keeps consistent, comfortable contact with my clit even during heavy movement.
Especially in positions with more limited space like Missionary and Cowgirl, the Magic Wand Mini's squishy head is a huge plus. I find firm heads can sometimes bump against my clit uncomfortably in these positions, but the Mini's plush head remains comfortable.
Not to mention how easy it is to adjust the intensity of the vibrations.
I also enjoy it during from-behind positions like Spooning and Doggystyle. The wand is very easy to maneuver in these positions. It's light enough that holding it up in Doggystyle doesn't get too tiring. And its head is a good size to fit easily between my legs.
Learn more about wand vibrator use during sex
---
Noise
---
The Magic Wand Mini is a reasonably quiet wand vibrator. Though the decibel readings in our tests are just average, when it comes to practical use, it's very discreet!
I use each wand in the bedroom while my partner listens directly on the other side of our closed bedroom door. He cannot hear the Magic Wand Mini on any of its power levels. I don't need to turn a fan on or play music to drown out the noise as I do with some other wand vibrators.
So the Magic Wand Mini is a good option if you live with other people and need to keep the noise down.
---
Attachment Compatibility
---
The Magic Wand Mini has average attachment compatibility.
The Magic Wand Mini's head is too small to fit the attachments designed for full-sized wands like the Magic Wand Rechargeable and Magic Wand Plus. But there are some brands that make attachments for mid-sized wands.
All the attachments designed for the Le Wand Petite also fit the Magic Wand Mini. These cover a broad range of stimulation options: G-spot, anal, and prostate stimulation. And they make textured caps to change how the clit stimulation feels.
Both Lovense Domi attachments also fit the Magic Wand Mini – these also provide internal stimulation and texture. And the male attachment has a penis stimulator too.
The Wand Essential Vibra Cup Penis Masturbator also fits the Magic Wand Mini (Note – this attachment is made from a porous material).
So overall you can find pretty much any kind of stimulation you want to achieve from an attachment. You just have fewer total choices than you would with a full-sized wand.
Learn more about wand attachment compatibility
---
Mount Compatibility
---