---
Vibrations: Power And Range
---
The Lovehoney Mantric is best if you like the size, shape, and broad stimulation that wand vibrators provide, but you prefer mild to moderate vibration strength.
It starts out gentle and gradually builds power. The 5 intensity levels are enough that there are no large leaps and it covers a good range with both low and moderate power levels.
Though the Mantric wand's full strength is less than half the power of my strongest wand vibrator (the Doxy Die Cast), it's still more powerful than my non-wand vibrators like bullets, rabbits, and G-spot vibes.
I still orgasm easily with the Mantric wand.
It's just not engulfing me with sheer power as full-sized wand vibrators do. It fills a unique niche of having comparable power to smaller vibrators while providing a longer handle for easier maneuvering and a broader head to spread the vibrations.
So if you enjoy mid-strength and want broader stimulation, the Mantric can be a good choice.
If you enjoy wands for their extreme power, the larger Magic Wand Plus has exceptional strength in a similar price range. Or for intense power in a compact size, the Lovense Domi 2 is one of my favorites.
Learn more about vibration power and range
---
Vibrations: Frequency (Rumbliness)
---
A higher performance score in this category reflects a "more rumbly" wand – not necessarily a better or worse wand vibrator.
We rate more rumbly wands higher because a rumbly feel is what most people enjoy. However, the choice between buzzy or rumbly vibrations is a personal preference. And I actually really love a buzzy vibe from time to time.
The Mantric's first two power levels are extremely rumbly. Then the next level is moderately rumbly. And its two highest powers are neutral – or a mix between rumbly and buzzy.
If you prefer deep rumbly vibrations, then the Mantric wand is probably not the best option for you. Since this is a mid-powered wand, you'll likely use its highest powers often. And you won't get that low-frequency, rumbly feel from its top levels.
The Lovense Domi is a similarly-sized wand that is much more rumbly (and stronger too). 90% of the Domi's intensity levels fall within the "extremely rumbly" range.
If you prefer toys with a mixed feel – not too far on either the rumbly or buzzy side – you'll enjoy the Mantric wand vibrator.
Learn more about vibration frequency (rumbliness)
---
Comfort & Ease Of Use
---
The Mantric wand vibrator is one of the most comfortable and easy-to-use wands I own.
The slim handle is very comfortable to hold. And the gentle curve helps you easily leverage the wand to press the vibes firmly to your body.
The head has a smaller circumference, which is great for more direct/focused stimulation than you can get with larger wands. But you can still press the side of the Mantric's head to your body for broader vibrations.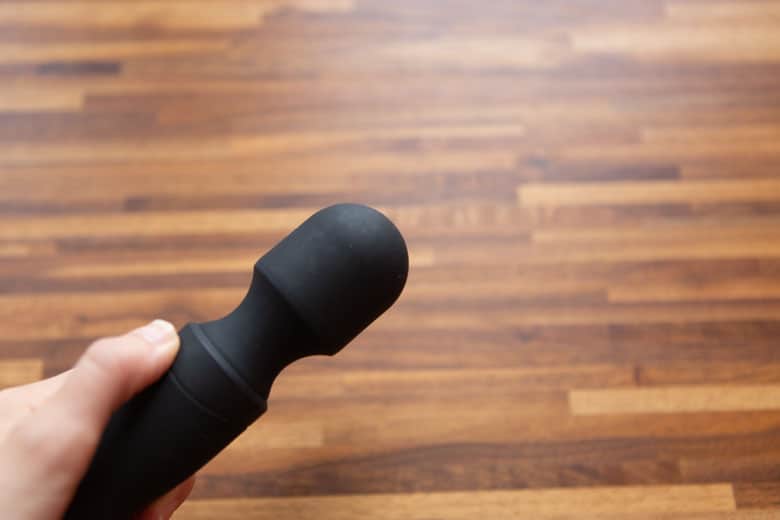 The head is not squishy, but the neck has a slight flex to it, which makes it very comfortable without making it more difficult to apply pressure.
The main reason it does not score even higher is that I don't love the Mantric's buttons.
To achieve a more sleek look, the three buttons are gently raised bumps along the silicone handle, almost blending in with the wand. I find this design makes it more difficult to press the buttons without looking, and I occasionally press them accidentally if I'm not conscious of my grip on the wand.
More importantly, the middle button is not always responsive if I don't apply the right pressure. Though once you get used to the feel, it's not much of an issue.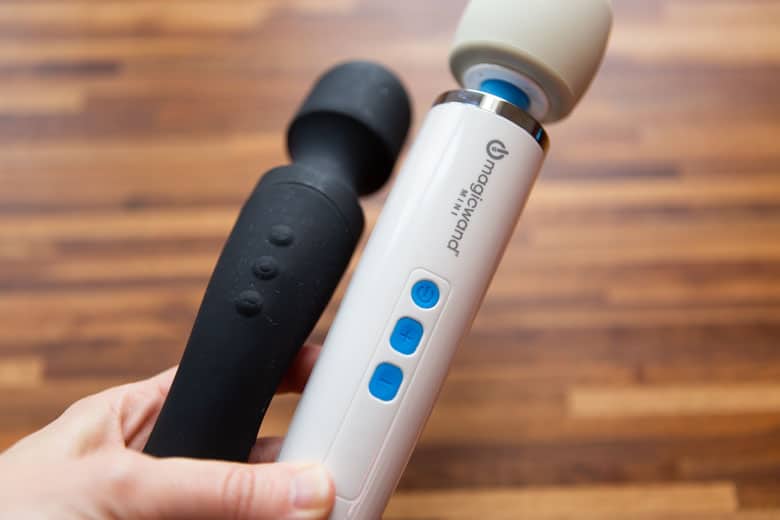 If you want no distractions or a learning curve, I find the Magic Wand Mini is another comfortable alternative with a similar size and weight. But the buttons are a little easier to feel, and I don't find myself pressing them by accident.
But the Magic Wand Mini is not waterproof or splashproof. So if that's your goal, try the FemmeFun Ultra Wand or stick with the Mantric!
The Mantric wand is waterproof, so it's easy to clean. And this also means you can take it into the tub or shower with you.
Learn more about comfort & ease of use
---
Use During Sex
---
This wand is pretty convenient to use during sex. The smaller size and curved handle make it more easily maneuverable than larger wands.
I especially enjoy the Mantric in the spooning position. With the curved handle and open space spooning provides, I can easily leverage the Mantric and press the vibes to my vulva with excellent pressure.
And it works well in a modified missionary and cowgirl position too. The smaller circumference, but the reasonably tall height of the Mantric's head allow you to fit the wand in tighter spaces and adjust how much surface area is in contact with your body. A definite advantage over big, full-sized wands like the Doxy Die Cast.
The only position I actually prefer a bigger wand than the Mantric is in Doggystyle. The main issue in this position is that you have to hold the toy up, and gravity is working against you. So I find taller wand vibrators are less tiring because I can rest the base of the handle on the bed to prop it up.
Even so, the Mantric is lightweight enough that it's reasonably easy to use in Doggystyle – I still rated it a 7.5.
Learn more about wand vibrator use during sex
---
Noise
---
If you live with other people and need a quiet wand, the Mantric is an excellent choice. It's one of the absolute quietest wand vibrators we tested even with its moderate power.
When we measured its noise with a sound level meter, it was one of the quietest wands on both low and high power.
We also test whether my partner can hear the wand on the other side of our closed bedroom door. And he could not hear the Mantric wand on any of its power levels.
Whether loud sounds distract you or you live with others and need to remain discreet, the Mantric is an extremely quiet wand vibrator.
If you value discretion but prefer the stronger vibrations of larger wand vibrators, the Viben Sultry can also be a good choice. It has excellent power and my partner could not hear it behind a closed door either.
---
Attachment Compatibility
---
This Mantric wand has some compatibility with attachments, though much less than full-sized wand vibrators since most attachments are designed for large wands.
Of the 25 attachments I own, only 3 fit the Lovehoney Mantric wand: the Wand Essentials – Vibra Cup Penis Masturbator, Domi Male Attachment, and Domi Female Attachment.
However, these three attachments cover a broad range of stimulation. The Domi attachments alone can be used internally for G-spot or anal stimulation, to change the texture of clit stimulation, or for penis stimulation.
So your choices between attachments are more limited. But the compatible attachments still cover a decent variety.
If you value compatibility with a wide range of attachments, a full-sized wand would be best. The Magic Wand Plus, Magic Wand Rechargeable, and Doxy Die Cast all have excellent compatibility with attachments and perform well in other aspects too.
Learn more about wand attachment compatibility
---
Mount Compatibility
---