---
Vibrations: Power And Range
---
The Lovehoney Deluxe Plug-in wand has moderate vibration power – stronger than most mini wands, but softer than most full-sized wands, maxing out at 6.7 out of 10. It's certainly more powerful than any non-wand vibrator I own, but it's not extreme. It can be a good option for those who enjoy a nice kick of power but don't want anything too overwhelming.
It also provides plenty of power range – beginning softly at a 1.9 of 10 and working gradually in small steps through 10 levels up to its highest power. Most large wands have between 4 and 8 power levels, so the Lovehoney Deluxe's 10 settings provide more subtle steps between levels than other wands.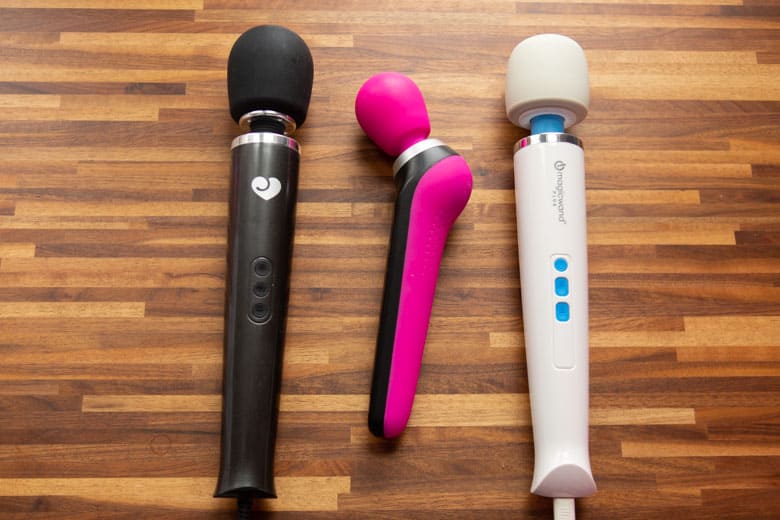 I personally only need level 5 or 6 to orgasm, so unless you need something very intense, you'll likely be happy with this wand's power range. But if you want the extreme strength full-sized wands are famous for, others like the BMS PalmPower Extreme or Magic Wand Plus will suit you better.
Learn more about vibration power and range
---
Vibrations: Frequency (Rumbliness)
---
We rate wands with rumbly vibrations higher than buzzy ones because most people tend to prefer them. However, preferences vary and some people enjoy neutral or even buzzy vibrations more – the Lovehoney plug-in wand is best for these people.
Although its first four settings are rumbly, the higher settings range from neutral to moderately buzzy. Many people will need its middle or upper levels to orgasm so you'll likely spend a lot of time on the neutral-feeling or buzzy settings.
While I personally prefer more rumbly wands, I still enjoy this wand's vibrations since they are not overly powerful or extremely buzzy. The buzziness is not overwhelming like other wands, such as the Viben Obsession. The Lovehoney wand will be in the sweet spot for some people. But the majority of people will prefer something more rumbly like the Magic Wand Rechargeable or PalmPower Extreme.
Learn more about vibration frequency (rumbliness)
---
Comfort & Ease Of Use
---
This wand is larger, which can make it more challenging to maneuver due to its weight and bulkiness. Even compared to other full-sized wands it's longer with a larger head. The wide handle also requires more effort to grip firmly compared to slimmer handles.
However, the weight can also feel good, as it provides natural pressure and does some of the work for you. Larger wands like this offer diffuse, broad stimulation. While some, like the Magic Wand Rechargeable, have a cylindrical head with a lip that provides more focused stimulation when you'd like, the Lovehoney Plug-in Wand has a very round shape, providing broad stimulation only.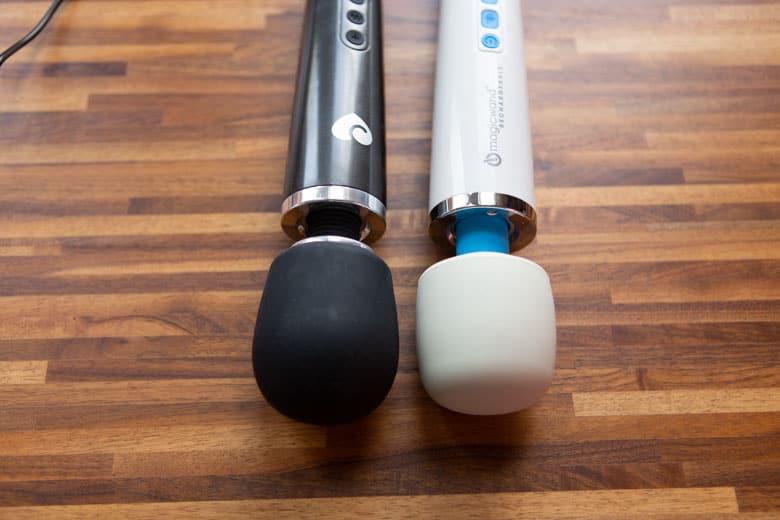 The buttons on this wand are easy to feel and use. You don't need to cycle through intensity levels, as it has separate buttons to increase and decrease power.
Learn more about comfort & ease of use
---
Use During Sex
---
This wand's large size makes it tricky to use during sex. It has the biggest head of any wand we've tested, even though it's not more powerful than similar wands.
The bulky head requires you to spread your legs fairly wide to fit the wand near your clit. In most positions, my partner and I need to be aware of our body placement and adjust to accommodate the wand's size.
And since its vibrations aren't extremely rumbly nor extra powerful, I need to fit the head pretty near to my clit. Whereas stronger, more rumbly full-sized wands like the Magic Wand Rechargeable can effectively stimulate my clit indirectly. So precise placement isn't as necessary.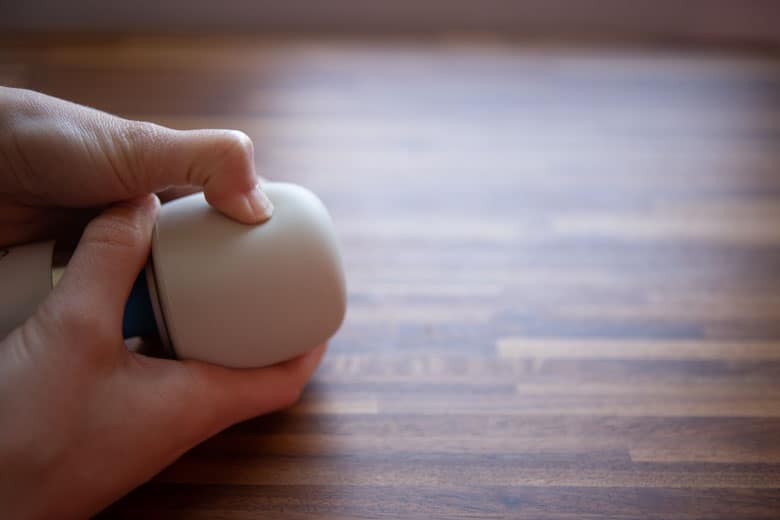 The wand's head is quite firm with minimal flexibility, causing uncomfortable pressure on my pubic area during sex. Additionally, the wand is heavy and corded, making it somewhat tiring to hold in place and maneuver around the cord. A smaller, rechargeable option like the Lovense Domi is much easier to handle and move.
Learn more about wand vibrator use during sex
---
Noise
---
Even though the Lovehoney Plug-in wand is not extremely powerful, it is audible on every power level when I'm using it behind a closed bedroom door. You can turn on a box fan or music to mask the noise. But there are certainly more discreet options with greater power including the Magic Wand Rechargeable and the Viben Sultry.
---
Attachment Compatibility
---
The Lovehoney Deluxe Plug-in Wand is compatible with a wide variety of wand attachments. Its head is close in size to the Magic Wand brand, so attachments designed for those wands also fit the Lovehoney wand.
You can find compatible attachments for many kinds of stimulation including penis, G-spot, anal, prostate, clitoral, and dual-stimulation. See our full wand attachment compatibility table for all wands and attachments we've tested.
Learn more about wand attachment compatibility
---
Mount Compatibility
---