---
Vibrations: Power And Range
---
The Lelo Smart Wand 2 Medium is one of the least powerful wands I own. Its vibrations are gentle from start to finish. I can orgasm with it, but it takes time and effort.
I have bullet vibrators that are stronger than this wand. If all you want is the strength of a bullet, I would recommend something less expensive like the Lovense Ambi, or the We-Vibe Tango X if you prefer more rumbly vibrations. Or if you want something with a bit more length and a handle to grip, consider the Lelo Mona 2 or Lovense Hyphy.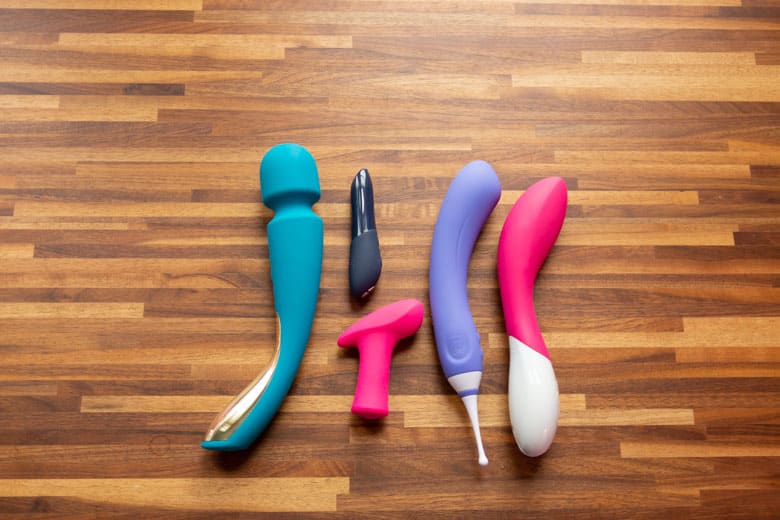 But if you want the strength that wands are famous for, then there are several stronger, cheaper wands. Consider the Lovense Domi or BMS PalmPower Extreme for powerful mid-sized wands. Or the Magic Wand Plus for a full-sized wand.
Learn more about vibration power and range
---
Vibrations: Frequency (Rumbliness)
---
This wand's vibrations are rumbly (low-frequency) rather than buzzy (high-frequency). And typically, rumbly vibrations are what people prefer.
However, the Smart Wand 2 Medium's vibrations are so low-powered, that they still have little impact on me even with their rumbliness. But there are many wands that have more power with the same amount of rumbliness, and our rumbliness rating takes this into account.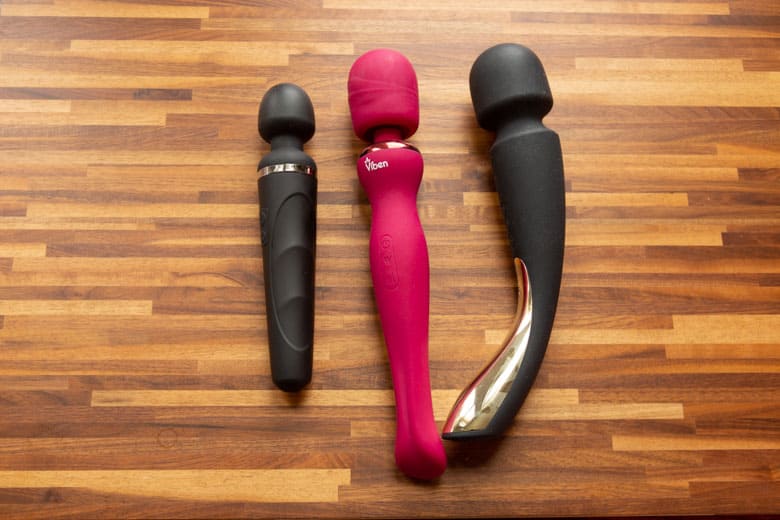 Some of these include the Lovense Domi 2, Viben Sultry, and the full-sized Lelo Smart Wand 2 Large – each is a powerful, rumbly wand.
Learn more about vibration frequency (rumbliness)
---
Comfort & Ease Of Use
---
The Lelo Smart Wand 2 Medium is a comfortable and easy-to-use wand. Its thin, curved handle is comfortable to hold and easy to maneuver.
The smaller head has a tiny bit of flex in the neck, which is perfect for comfy, yet firm pressure. And the buttons let you increase and decrease power to get the right stimulation level. You don't need to cycle through power levels.
But if you're going to buy a wand at this price, you can find more better options that are just as comfortable. The Magic Wand Mini is an excellent option that's a similar size, has stronger vibrations, is just as comfortable – and is much cheaper.
The Dame Com is another mid-sized wand massager with a curved handle that's helpful for applying firm pressure. But I enjoy its vibrations more.
Learn more about comfort & ease of use
---
Use During Sex
---
This wand's size and curved shape are fairly convenient during sex, but the stimulation is too low to be truly enjoyable.
If you want any sort of stimulation from these low-powered vibes, you have to apply the pressure more directly to your clit than is usual for a wand. And even though the head is not large – it's not as small as my bullets. So I have a more difficult time getting good clitoral contact during sex, between our bodies.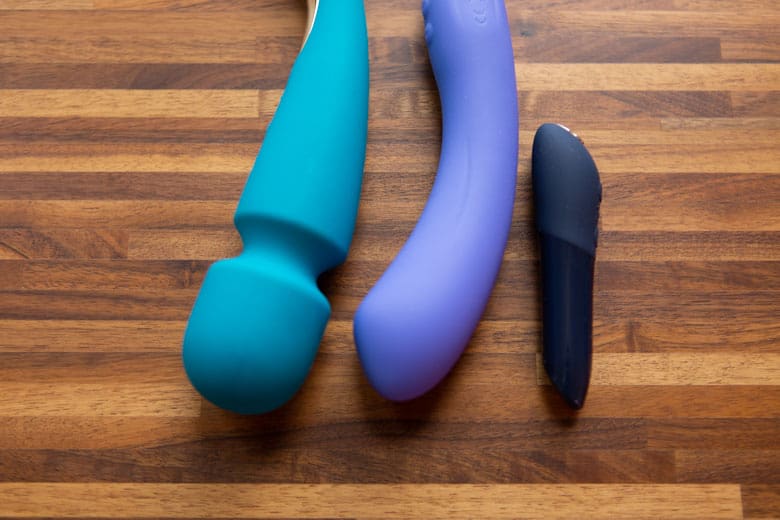 I recommend either using a smaller vibrator like the We-Vibe Tango X or Lovense Hyphy.
Or if you prefer a wand massager, you can just get something stronger. This way, you don't need contact with your clit to be as direct to feel the vibes. I enjoy plenty of other wands during sex.
The BMS PalmPower Extreme and Lovense Domi are two of my favorites.
Learn more about wand vibrator use during sex
---
Noise
---
The Lelo Smart Wand 2 (Medium) is definitely one of the quietest wands I own. But it's not hard to be this quiet with such low power. There are many stronger wands that also remain discreet.
The Magic Wand Mini for instance is a compact, mid-powered option that's very discreet. My partner can't hear any of its power levels on the other side of the closed bedroom door. Or the Viben Sultry is a full-sized wand with the same results and even more strength!
---
Attachment Compatibility
---
The Smart Wand Medium has limited compatibility with wand attachments.
Its head is close enough in size to the Lovense Domi's that the attachments designed for it also fit the Smart Wand. These cover a decent range of stimulation (G-spot, anal, prostate, penis, clitoral texture). But you don't have many options beyond these attachments.
If attachment compatibility is important to you, a full-sized wand is a better option. Most attachments are designed for the Magic Wand Rechargeable and Plus (or comparably-sized wands).
Learn more about wand attachment compatibility
---
Mount Compatibility
---