---
Vibrations: Power And Range
---
The Large Lelo Smart Wand 2 reaches a top strength that's definitely stronger than my favorite non-wand vibrators. Though it's not extreme like other full-sized wands.
I personally prefer moderate strength – I rarely (or never) use the top settings of ultrapowerful wands like the Doxy Die Cast or Magic Wand Plus. So I'm happy with the Smart Wand's power, but people who want immense strength may consider one of those.
The vibrations also begin very gently (1 out of 10 vibration strength), and there are several intensity levels with tiny, gradual steps between each level. This is something Lelo usually does well – they rarely design a vibrator with large gaps between levels. So people who prefer milder stimulation or need soft levels for a warmup have plenty to enjoy before turning the power up.
Learn more about vibration power and range
---
Vibrations: Frequency (Rumbliness)
---
The Large Lelo Wand has the most rumbly vibrations I've ever felt – even on high power!
Most people prefer deep, rumbly vibrations. But the Large Lelo Smart Wand 2's vibrations are so exceptionally rumbly that they feel very different from what most people are used to. You'll have a strong opinion about the Smart Wand 2 – positive or negative!
Many who crave deep, rumbly vibes will absolutely love how these low-frequency vibrations feel. And others will discover that they actually prefer only moderately rumbly vibrations.
I personally enjoy its rumbly vibrations if I hold the Lelo Smart Wand 2 loosely against my clit. But I typically prefer firm pressure – and when I press these deep vibrations firmly into me, they're so rumbly that I feel them spread throughout a large area of my body. I can even feel some residual vibes in my stomach. They don't hone in and target my clit directly.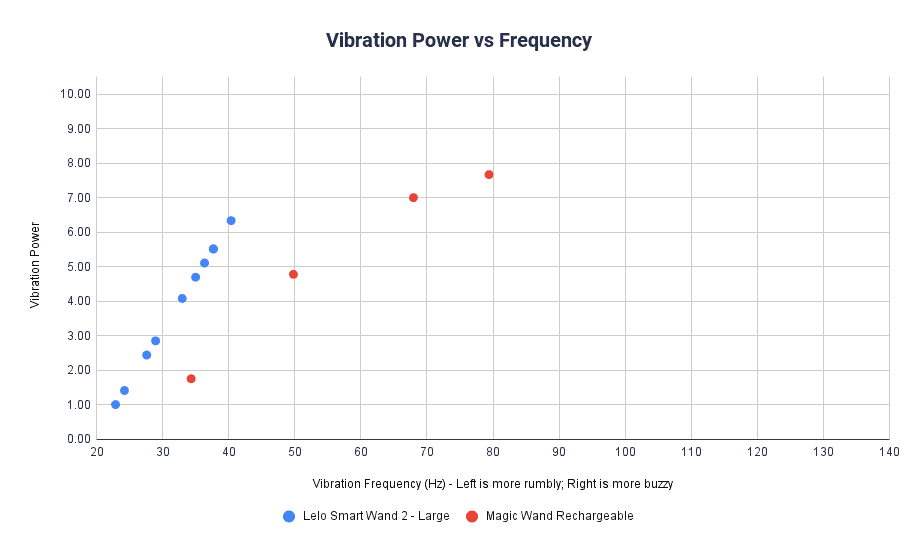 Many who love wands for their broad, deep stimulation will enjoy this quality. Others will want something less rumbly with vibrations that don't travel quite as deep. I personally prefer wands that are still moderately rumbly, but not quite as low-frequency like the Magic Wand Rechargeable.
If you want pure rumbles, the Lelo wand definitely delivers!
Since it feels so different from other vibrators, I recommend purchasing this wand through Lovehoney over other retailers. They have a happiness guarantee other sex toy shops do not – they'll let you return a toy for a refund if you don't enjoy it. So it's not a risk if you find it too rumbly for your taste.
Learn more about vibration frequency (rumbliness)
---
Comfort & Ease Of Use
---
The Smart Wand 2 is decently comfortable and easy to use.
The head (and most of the wand) is coated in a comfortable, smooth silicone. But the head is fairly firm with only slight flexibility. This makes it easier to apply substantial pressure, but also detracts a small amount from comfort.
Since the head is large, it's best for broad stimulation rather than precise placement. Its bulky head doesn't fit easily into tight spaces. But since the vibrations are so rumbly, they spread throughout a broad area of your body near the point of contact. So pinpoint placement isn't really necessary.
Compared to other full-sized wands, it's a relatively light weight. So it's easier to maneuver than heavy wands.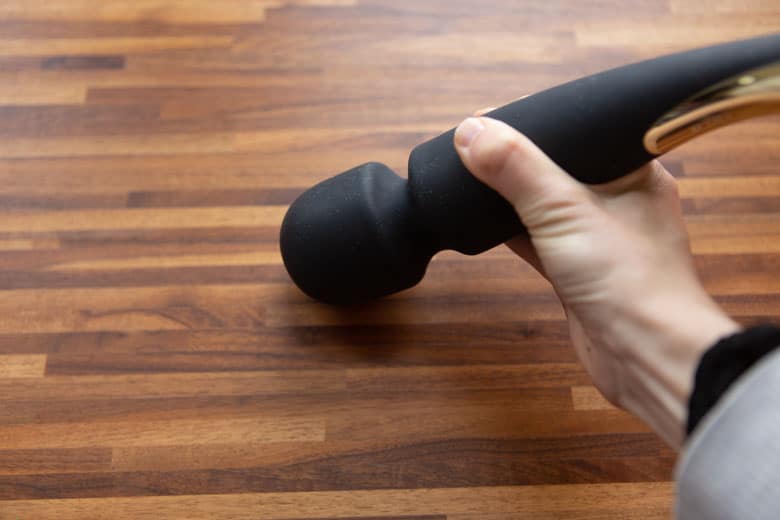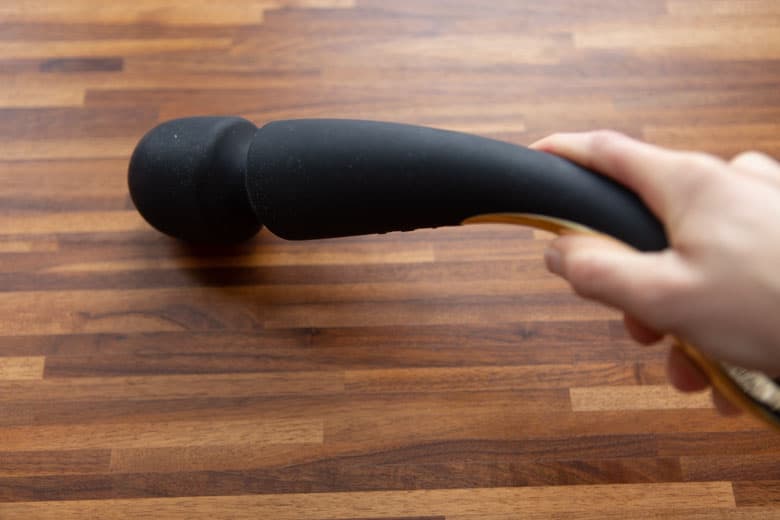 I find it easy to keep a firm grasp on the grippy handle. Its slender, curved shape provides several ways for you to comfortably grip the wand. But I feel the vibrations in the handle, which can be distracting if you're sensitive to that.
The controls are easy to use, provide three separate buttons to increase power, decrease power, and cycle through vibration patterns. This is my favorite control system so that I don't have to cycle through all the power levels to go back to a lower intensity. It's quick and convenient for getting exactly what you want.
Learn more about comfort & ease of use
---
Use During Sex
---
The Large Lelo Smart Wand 2 provides strong, broad vibrations during sex. And I'd recommend it as long as you're ok maneuvering a full-sized wand around.
The Smart Wand's broad head requires you to be more conscious of how you angle your body in some positions than a small wand. For instance, in Cowgirl I need to lean slightly backward to open up more space to fit the Smart Wand's head near my clit. In more open positions like Spooning you can easily position the head on your clit and leverage the Smart Wand 2.
For a full-sized wand it's lightweight, so maneuvering it isn't too difficult, but it's still more tiring than small wands like the Lovense Domi 2. But with the Smart Wand 2's length you can typically find a way to prop the wand on its handle to support the weight. For instance, in Doggystyle, I rest the base of the handle on the bed which keeps my arms from getting tired.
In some positions like Missionary, I prefer to hold the wand near the head to put less strain on my wrist. The Lelo Smart Wand's handle is pretty thick here which is a bit awkward for my small hands. It's minimal discomfort – and if you typically grip near the handle's base (where it's slimmer) or have larger hands this won't be an issue.
Learn more about wand vibrator use during sex
---
Noise
---
The Smart Wand 2 Large is a reasonably discreet wand. We test whether my partner can hear each wand standing directly on the other side of the closed door while I use the wand in the bedroom.
He cannot hear the middle or lower power levels. But he can hear the upper powers. This is pretty typical for a wand with this much vibration strength. But if you turn on a box fan or music in the bedroom, it completely masks the sound of the Smart Wand 2 Large even on high power.
It's vibrations are also very low-frequency which tends to be less noticeable – they sound more like background noise than buzzy vibrators. So this is a good option if you live with others and need to remain discreet.
---
Attachment Compatibility
---
Since the Lelo Smart Wand 2 Large has a head similar in size to other well-known brands like Magic Wand, it's compatible with a broad variety of wand attachments. You can find a compatible attachment for nearly any type of stimulation including G-spot, anal, prostate, penis, clitoral, and dual-stimulation.
For the most part all the wand attachments we've tested that work with the Magic Wands also work with the Large Lelo Smart Wand 2. We've only encountered one so far that fit the Magic Wand, and was a bit loose on the Smart Wand – but even this attachment (which is actually designed for the Bodywand) was still useable.
Learn more about wand attachment compatibility
---
Mount Compatibility
---