---
Vibrations: Power And Range
---
The Le Wand Petite's top vibration strength is below half the power of my strongest wands. It's still enough for me to orgasm with. But its overall strength is closer to my non-wand vibrators, like the Lelo Mona, than it is to my large wands.
This isn't necessarily bad – many people will be happy with this level of power. I rarely use the upper settings on my strongest wands anyway. But for the price of the Le Wand Petite, I'd expect more power.
For example, the Magic Wand Mini has a touch more vibration power, and is around $50 cheaper. And Magic Wand is the most respected brand for wand vibrators.
Or if you're looking for immense power, the BMS PalmPower Extreme and Magic Wand Plus are twice as strong as the Le Wand Petite – and each is less expensive.
Something I like about the Le Wand Petite is that it offers both soft, lower levels and stronger, upper levels with small increments in between. Its low levels are comfortably gentle, and there are 10 intensity levels before you reach its maximum power. So you can enjoy light stimulation when you need softer vibrations and gradually increase strength.
But overall, the vibration power and range is simply mediocre for how expensive the wand is.
Learn more about vibration power and range
---
Vibrations: Frequency (Rumbliness)
---
When we rate wands, we award higher scores to those with rumbly (low-frequency) vibrations and lower scores to those with buzzy (high-frequency) vibrations. But there are plenty of people who enjoy buzzy vibrations from time to time. Including me! So consider your own preferences during this discussion.
The Le Wand Petite starts out extremely rumbly on its lowest powers. But since these levels are pretty soft, most people will only use them briefly. And as the power increases, it quickly becomes less rumbly.
All the power levels with substantial power are in the neutral range – neither rumbly nor buzzy.
This may work well for you – I personally enjoy neutral vibrations too. However, even if you like vibrations in this part of the spectrum there are better options available.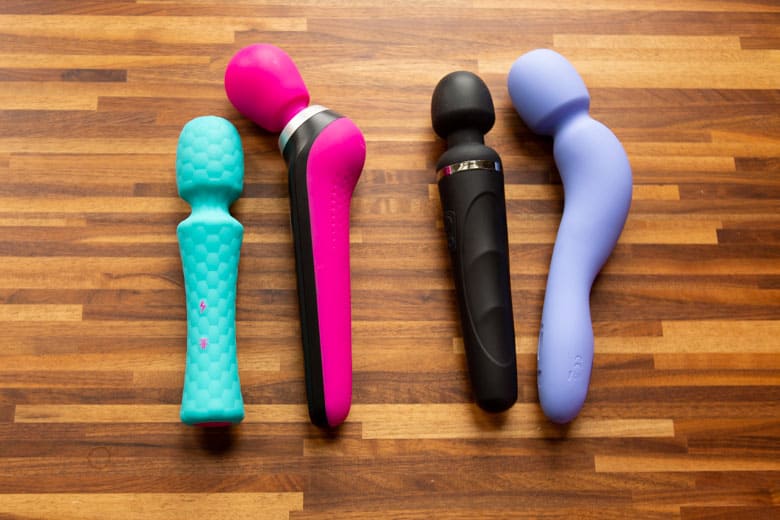 The FemmeFunn Ultra Wand is a cheaper option with moderately rumbly to neutral vibrations and stronger power. Or the BMS PalmPower Extreme has rumbly lower power levels, neutral high power levels, and substantially more vibration strength.
If you prefer those deep, rumbly vibrations, consider the Lovense Domi 2 if you like high power, or the Dame Com if you enjoy moderate strength.
Learn more about vibration frequency (rumbliness)
---
Comfort & Ease Of Use
---
The Le Wand Petite is quite comfortable and easy to use. I have no complaints about the Le Wand Petite in this area.
The head is a little firmer than I usually prefer, but its smaller size means I can comfortably fit and press it into tighter spaces. And it's pretty easy to leverage for nice, firm pressure.
The buttons are easy to press and provide all the necessary functionality for a positive experience. There are separate buttons to increase and decrease power. So you don't need to cycle through power levels. And a third button controls pattern selection.
But there are many wands that are just as comfortable and easy to use while costing less. So if this is important to you, check out some of the other wands that score an 8 or higher.
Learn more about comfort & ease of use
---
Use During Sex
---
The Le Wand Petite is also enjoyable during sex.
The smaller handle and head take up minimal space and don't get in the way. It's easy to fit the Le Wand Petite between your bodies.
However, since the head is more firm I find it occasionally bumps uncomfortably into my pubic bone in positions where my partner and I are facing each other – like Missionary and Cowgirl.
So I prefer it in positions from behind like Spooning or Doggystyle where this is not an issue.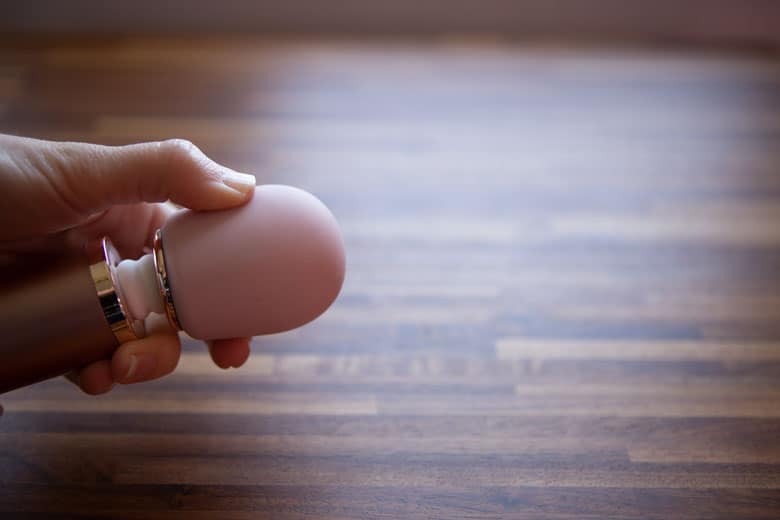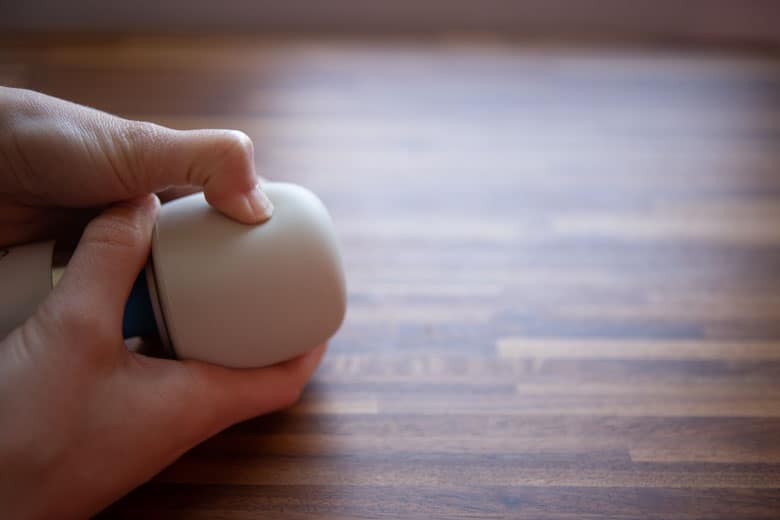 The Magic Wand Mini is similar in size to the Le Wand Petite, but it has a squishier head that I find more comfortable. I prefer it during sex over the Le Wand Petite. Or if you want an even smaller head for those extra-tight spaces, the Lovense Domi is excellent!
Either option is better during sex than the Le Wand Petite at a lower cost, so I don't see a compelling reason to consider the Petite during partnered sex.
Learn more about wand vibrator use during sex
---
Noise
---
When we tested the Le Wand Petite's decibel levels, it measured slightly louder than other wands with comparable power.
In practical use, I can use the mid and lower power levels without my partner hearing from the other side of a closed bedroom door. But he can hear the upper levels. So if you're trying to avoid being overheard, sticking to lower powers will help. Turning on a fan or music in the bedroom also masked the sound of the Le Wand Petite.
If you want something more discreet, there are several quieter wand vibrators with comparable or greater power. Some of my favorites are the Viben Sultry or Magic Wand Mini.
---
Attachment Compatibility
---
For a mid-sized wand, the Le Wand Petite has great attachment compatibility.
Le Wand designed several high-quality attachments specifically for the Le Wand Petite. These attachments provide G-spot, prostate, anal, or dual-stimulation. Or they can add textured clit stimulation.
The Lovense Domi's attachments also fit the Le Wand Petite – this adds the option for penis stimulation.
But keep in mind, the Le Wand Petite's attachments also fit other mid-sized wands like the Magic Wand Mini. So you can still consider other wands if you want to use the Petite's attachments.
Learn more about wand attachment compatibility
---
Mount Compatibility
---