---
Vibrations: Power And Range
---
One of the main reasons the FemmeFunn Ultra Wand is a favorite of mine is that it packs excellent power while remaining easy to maneuver from its compact size. In fact, every wand vibrator I've tried that has more power is larger and heavier than the FemmeFunn Ultra Wand.
Now this vibrator does have limited power range. There are only three power levels and they're all pretty close together. This wand comes out of the gate with a bang – I rate it's lowest power level a 6 out of 10.
I personally don't mind starting out at that 6/10 level – it's strong but not overwhelming to me. But if you usually need gentle levels to warm up, you might consider a wand with a wider range like the Lovense Domi or Dame Com.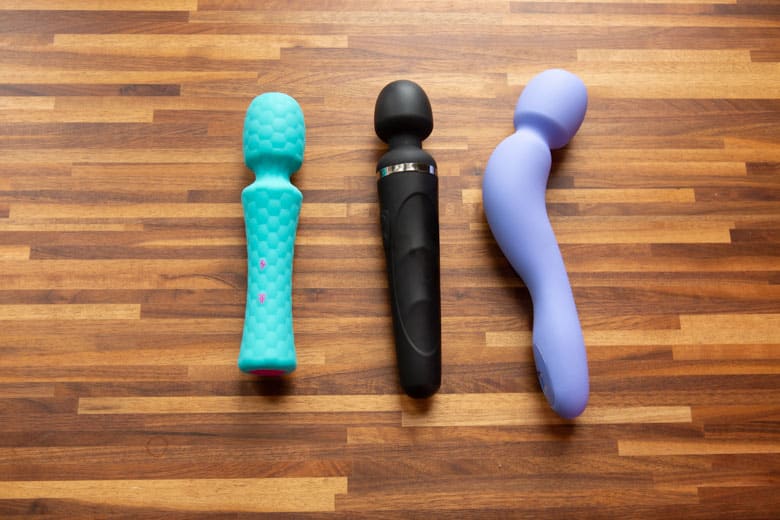 While there are wands with even more extreme power (see the Doxy Die Cast), the FemmeFunn Ultra Wand's power will be plenty for most people. I personally don't even need the second or third power levels. I usually stay on the first setting which is enough to bring me to orgasm on its own.
The FemmeFunn Ultra Wand is also cheaper than any of the more powerful wands I recommend.
Learn more about vibration power and range
---
Vibrations: Frequency (Rumbliness)
---
The FemmeFunn Ultra is best for people who enjoy moderately rumbly to neutral vibrations. It has above average rumbliness, but it's not extreme.
The first two power levels feel moderately rumbly, and the highest level feels neutral. Since even the first two settings have substantial power, you'll likely spend a lot of time with these – so you'll experience some light rumbliness as you play.
But this may or may not be a good fit depending on your preferences. We rate more rumbly wands higher since that's most people's preference. But many prefer more neutral vibrations and some prefer buzzy.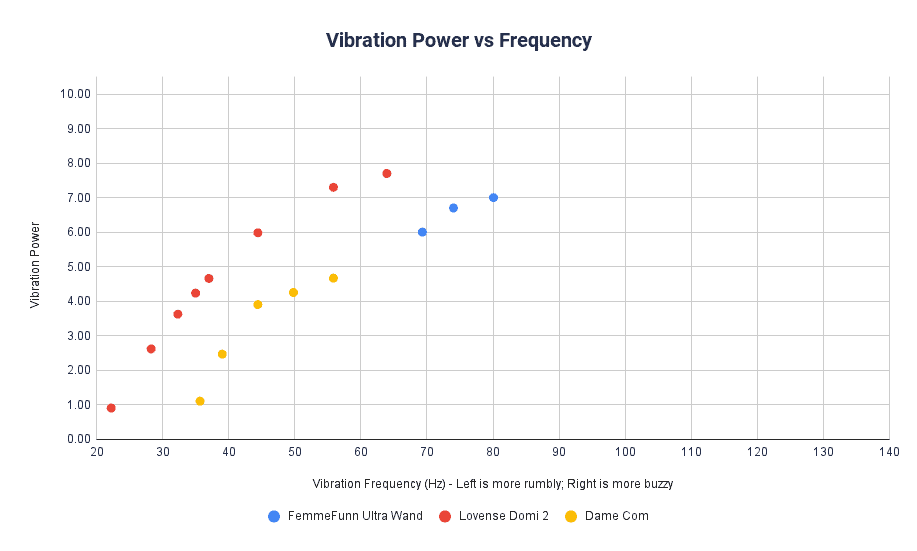 If you prefer more extreme rumbliness, the Dame Com is a moderately-powered, more rumbly option. And the Lovense Domi 2 is a high-powered, more rumbly option. Each is a bit more expensive than the FemmeFunn Ultra Wand.
If you enjoy rumbly vibes closer to the center of the spectrum, then the FemmeFun Ultra Wand is an all-around great toy at a reasonable price. I personally enjoy the vibration feeling from the FemmeFunn Ultra Wand, and it's one of my favorites.
Learn more about vibration frequency (rumbliness)
---
Comfort & Ease Of Use
---
I gave the FemmeFunn Ultra Wand one of the highest ratings for comfort and ease of use!
The compact size is easy to hold and maneuver. The head isn't squishy, but the neck is extremely flexible so it's still comfy. I've found when some wands are flexible, you lose the ability to apply pressure – but this is not the case with the Ultra Wand. It's the perfect size to comfortably leverage the handle and push the vibrations deeper into me.
The head is also an excellent size for versatile stimulation. For such a short wand, the head is fairly tall – but not too wide. So I can press the top of the wand to my body for more focused stimulation, or use the tall side of the head for more broad stimulation.
It has two buttons used to control it. One lets you cycle through a series of 3 power levels and then several patterns. The second button is a "power boost" button. This lets you turn any one of the power levels or patterns up to full power with one click.
While I do wish there was another button to step back down in power (instead of cycling through the settings with one button), the power boost button is a nice touch.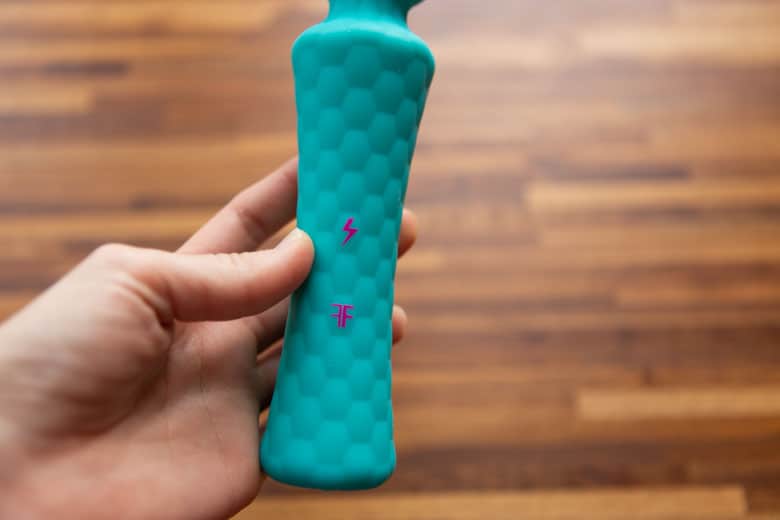 The silicone handle is also exceptionally comfortable to hold. Overall, this is one of the wands I reach for most often. Which is one of the strongest testaments I can give it!
Learn more about comfort & ease of use
---
Use During Sex
---
This wand is also one of my favorites to use during sex. It performs best in Spooning, Doggystyle, and Modified Missionary positions.
The extreme flexibility of the neck makes it trickier to apply leverage in the Cowgirl position. But that's only if you're looking for very firm pressure.
And the flexible neck is a big part of the reason I really enjoy this wand in other positions. Its extra bendiness and slim head make it easy to maneuver and fit into tight places.
The handle is the perfect size to give you a good grip with nice leverage. But it's short enough that it doesn't take up too much space during sex. Overall, this is a great option to use with a partner!
Learn more about wand vibrator use during sex
---
Noise
---
This is not one of the quietest wands available, but there are some solutions to help.
We test each wand to see whether someone can hear it standing directly on the other side of a closed bedroom door. When I use the FemmeFunn Ultra Wand in our bedroom and my partner listens at the door, I can use the lowest power without him hearing. But he can hear the top two settings.
But, when we turn a box fan or some music on in the bedroom, it becomes inaudible on all power levels.
If sound is especially important to you, the Viben Sultry has comparable power to the FemmeFunn Ultra Wand, but remains inaudible on all power levels without needing a fan or music. And of course, less powerful wands are also quieter.
But for the FemmeFunn's power, its noise is reasonable.
---
Attachment Compatibility
---
The FemmeFunn Ultra Wand has decent compatibility with attachments.
It doesn't work with attachments designed for full-sized wands like the Magic Wand Rechargeable. But a few brands make attachments compatible with mid-sized wands like the FemmeFunn.
Le Wand has several attachments designed for the Le Wand Petite, and all of these fit the FemmeFunn Ultra Wand too. These provide various kinds of stimulation like G-spot, anal, prostate, and dual-stimulation. They also have textured caps to change how the wand's clit stimulation feels.
Both attachments designed for the Lovense Domi also fit the FemmeFunn Ultra Wand. These provide similar stimulation to those mentioned above, and the male attachment also provides penis stimulation.
Learn more about wand attachment compatibility
---
Mount Compatibility
---