---
Vibrations: Power And Range
---
The Doxy Original is an extremely powerful wand massager. The majority of its levels are significantly stronger than any of my other non-wand vibrators. Only a few wands reach higher powers than the Doxy Original (one of these is the Doxy Die Cast).
I use this wand over my underwear and sometimes leggings too. And even then – I typically stick to the first two power levels.
The Doxy Original's first level is softer (but still impactful), which I enjoy during my warm-up stage. Some wands skip straight to high-power. But I think it's important to have softer levels to prevent immediate overstimulation.
After warming up on power level 1, I'll switch to level 2 for the rest of my time – rarely venturing beyond the second setting. Power 2 jumps up to 6.6 out of 10, so you'll want to be fully warm by then.
I personally don't find the jump overwhelming. And most extremely powerful wands like the Doxy Die Cast and Magic Wand Plus have a similar gap between the first and second settings. But if you typically prefer mild stimulation, you'll want to consider a wand with more settings in the low power range like the Dame Com.
The last four levels are very close together, and each is immensely powerful. It tops out at 8.5 (85% as strong as the Doxy Die Cast – the most powerful wand vibrator). Though it's less powerful than the Die Cast, most people will not need any more strength.
Learn more about vibration power and range
---
Vibrations: Frequency (Rumbliness)
---
We rate wands with rumbly vibrations higher than buzzy wands because most people want rumbliness. But this is a personal preference – so a high or low score in this section doesn't necessarily imply a better or worse wand for you.
I personally enjoy some neutral-feeling vibrations and even the occasional buzzy vibrator! Though I typically enjoy buzzy vibrations when they're only moderately powerful.
The Doxy Original's vibrations lean to the buzzy side compared to other wands with similar strength. The lowest power is rumbly, and the second feels neutral. So I really enjoy these first two levels.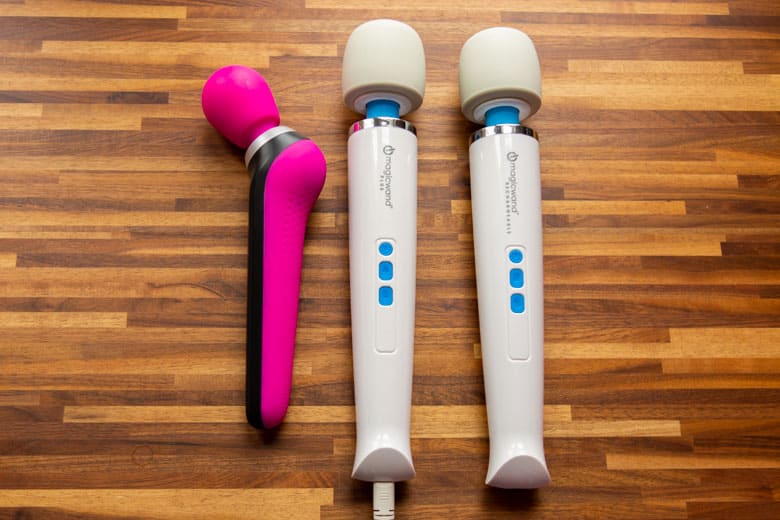 But after that, it gets gradually stronger and significantly buzzier. If you enjoy strong, buzzy vibrations then the Doxy Original is a good fit.
But I think most people who want a wand this powerful will prefer more rumbly, deeper vibrations. And in this price range, you have plenty of options:
The Magic Wand Rechargeable, Magic Wand Plus, and BMS PalmPower Extreme (three of my favorites) each have comparable power to the Doxy Original while maintaining deeper rumbliness.
Learn more about vibration frequency (rumbliness)
---
Comfort & Ease Of Use
---
The Doxy Original is a comfortable option for those who prefer trading off some maneuverability and precise positioning to enjoy the exceptionally broad stimulation a full-sized wand provides.
The large heads of full-sized wands like the Doxy Original are not as good at providing direct stimulation in a precise location. But they're excellent at broadly diffusing the vibrations over a wide area. And I can use the lip near the top of the Doxy Original's head to apply firmer pressure to a slightly more focused region if I want.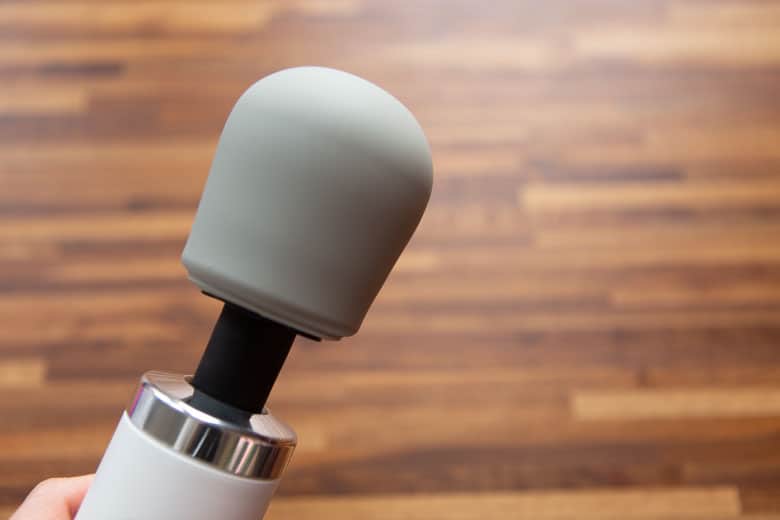 I don't use the Doxy Original under the covers since a blanket can restrict the Doxy's movement with its long handle and power cord.
The silicone buttons are comfortable and easy to press. Though I have to find a good grip so I don't accidentally press them. There are separate buttons to increase and decrease power. This allows you to quickly test a higher level to see if you're ready – and if not, quickly tap back down again. This control system is much better than wands with one button to cycle through the settings.
Learn more about comfort & ease of use
---
Use During Sex
---
The Doxy Original's large head prevents it from fitting into tight spaces. But I've found this isn't a huge problem during sex since the vibrations are so strong and they broadly stimulate the entire area around the point of contact with your body.
The Doxy Original's vibes stimulate my clit even if I'm not pressing its head right near my clit. So I can still enjoy the stimulation in Spooning, Modified Missionary, and Doggystyle positions – all positions where my legs are more closed or our bodies are aligned in a way that doesn't provide a ton of room.
Doggystyle presents a different challenge since you're holding the wand up against gravity – the Doxy Original is heavier than average. But I've found the Doxy's long handle helps – I can rest the base of the wand on the bed so my arm doesn't get too tired.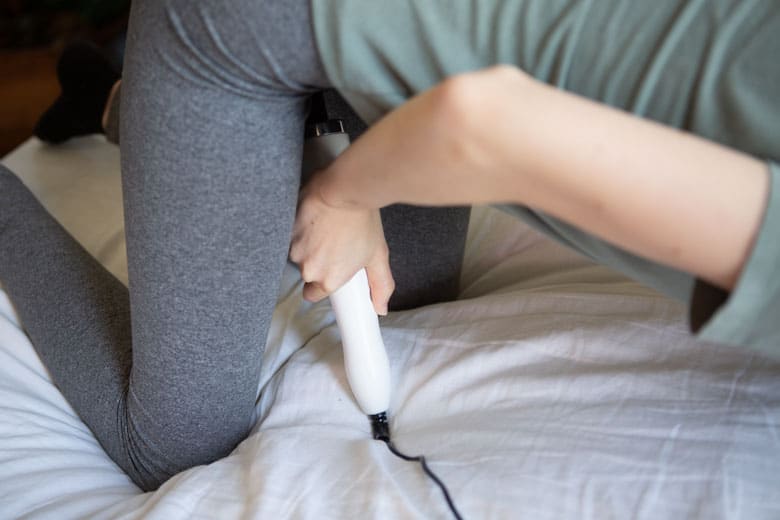 In the Cowgirl position it's difficult to fit the wand's head near enough to my clit if my body's straight up or I'm leaning forward. In this position, I need to lean backward to create enough space to use the Doxy Original effectively. Whereas small wands like the Lovense Domi fit without needing to adjust how I position my body.
Learn more about wand vibrator use during sex
---
Noise
---
The Doxy Original's low power is quiet enough to use without someone hearing from the other side of a closed door. But if you live with others, you'll need to be careful on its mid and upper levels. Turning on a box fan or playing music in the bedroom is enough to make the Doxy Original's upper power levels discreet.
---
Attachment Compatibility
---
The Doxy Original has a wide variety of compatible attachments. Many attachments are designed for the Magic Wand – but the Doxy Original's head is about the same width. So far, every attachment we own that fits the Magic Wand Rechargeable, also fits the Doxy Original.
You can find a compatible attachment for nearly any type of stimulation. There are attachments for G-spot, anal, prostate, clitoral, penis, and dual-stimulation. To see which specific attachments fit the Doxy Original, see our attachment compatibility table.
Learn more about wand attachment compatibility
---
Mount Compatibility
---