---
Vibrations: Power And Range
---
The Doxy Die Cast is the most powerful wand I own.
The "10" on my vibration power scale is based on this wand's highest setting. In fact, all of its top 3 settings are stronger than my second-most powerful wand. So the Die Cast is a wand for those on a search for extreme intensity.
But it also has some softer settings for those like me who prefer moderate strength. It starts at about 20% power which is a perfect strength for warming up. This power still feels impactful, but not overwhelming. I spend a lot of time on this first setting. Once I'm ready, I'll jump to the second level, which is around 73% of its full power.
This second power is already substantially more powerful than my non-wand vibrators (like G-spot vibes, rabbits, etc.). But it's still not overstimulating, and this power is rumbly so I really enjoy the second level!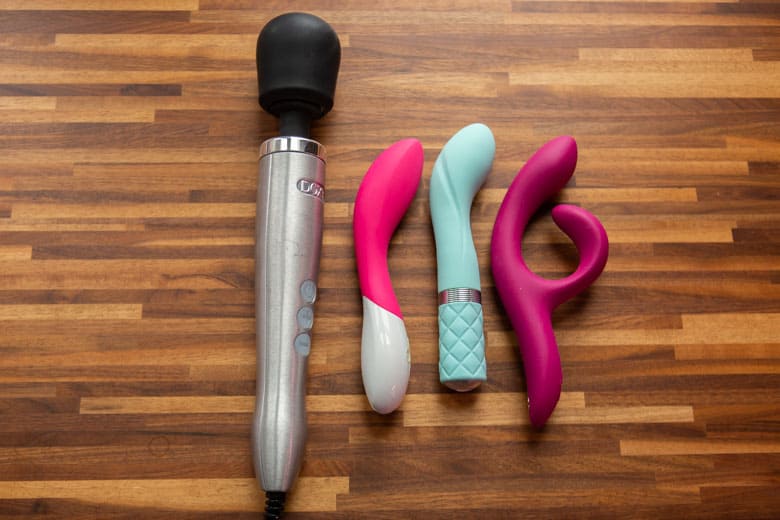 And that's as far as I venture. The rest of the settings have enormous power. And even on the first two levels, I wear underwear and leggings to dull the intensity a bit.
If you typically prefer mild stimulation, a wand with more gentle settings like the Dame Com may be better for you. If you love power, the Doxy Die Cast is excellent!
Learn more about vibration power and range
---
Vibrations: Frequency (Rumbliness)
---
We rate rumbly wands higher than buzzy wands since most people prefer rumbliness.
The Doxy Die Cast has excellent rumbliness on its lower power levels. But when you increase a wand's power, its vibrations always become buzzier. And the Die Cast's vibrations are extremely buzzy on its highest levels. These buzzy upper levels are what bring the wand's overall rumbliness rating down.
But what you'll experience depends on whether you'll spend most of your time using the Die Cast's moderate lower levels or its extreme upper levels. Since I only use the first two power levels, I enjoy deep, rumbly vibrations the entire time.
And the second setting has impressive rumbliness for how much power it packs! This setting's vibration strength is 7.3 (out of 10). But it vibrates with more rumbliness than wands with comparable power like the Le Wand Rechargeable, Viben Sultry, and others.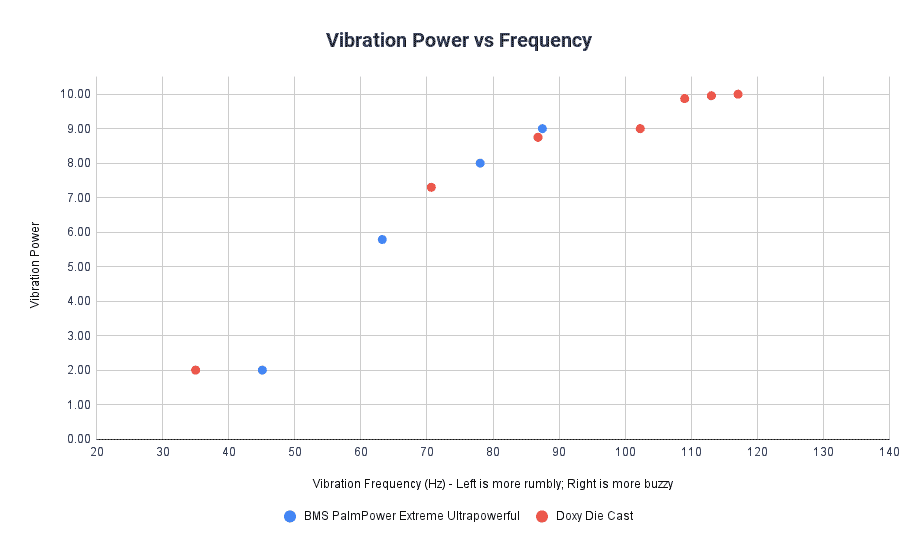 The third power level feels neutral: neither rumbly nor buzzy. And the rest of the Die Cast's settings are buzzy! If you prefer extreme intensity with less buzziness, consider the BMS PalmPower Extreme. Its only slightly less powerful than the Doxy Die Cast, but it's less buzzy.
If you're like me and will usually stick to the moderately powerful settings, the Doxy Die Cast will be a lovely, rumbly wand for you.
Learn more about vibration frequency (rumbliness)
---
Comfort & Ease Of Use
---
The Doxy Die Cast is a great fit if you enjoy the broad stimulation a full-sized wand provides and like the extra pressure that a heavy wand naturally applies.
The Die Cast's large head comfortably spreads the vibrations over a broad area. I feel its strong vibrations throughout my entire vulva. And the smooth silicone head has a bit of plushness to it, which makes it comfortable to press against my body.
This is also my heaviest wand massager. When lying on my back, the Die Cast's weight naturally applies delicious pressure against my body with no need to leverage the handle myself. It automatically pushes the vibrations deeper into me for richer-feeling stimulation.
The heavy weight makes it more difficult to maneuver or make quick adjustments than smaller, lighter wands. But since the vibrations are exceptionally powerful, I don't need to position the Die Cast very precisely. I can place it roughly near my clit and get plenty of stimulation! So I enjoy this wand's additional weight. But if you have wrist or maneuverability issues, you may want a lighter, more compact wand like the Lovense Domi.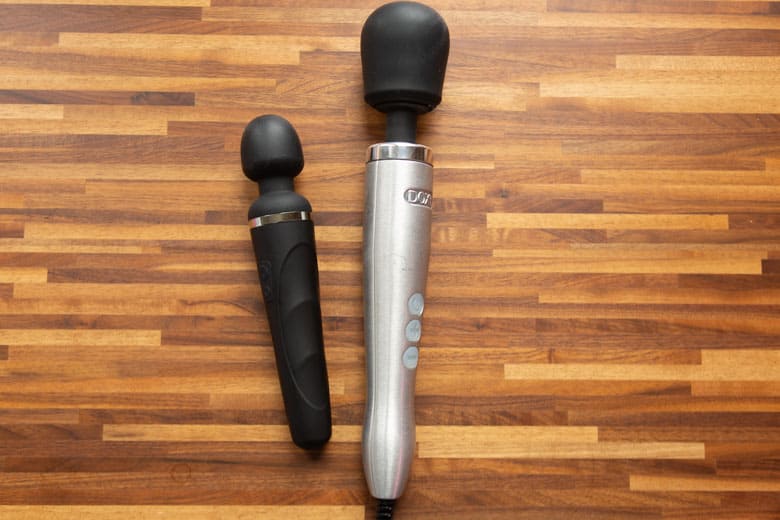 The handle takes some effort to grip due to the width and overall weight. But it's not a problem for me, since I'm not angling and leveraging the Doxy Die Cast like I am with smaller, less powerful wands.
The buttons are easy to use. Their silicone texture is comfortable – and there are separate buttons to increase and decrease power. Some wands only provide a single button to cycle through intensities.
Though its full-size and heavy weight makes fine-tuned maneuvering and positioning more difficult, it helps in other aspects like pressure. If you typically enjoy full-sized wands, the Doxy Die Cast provides an easy, comfortable experience overall.
Learn more about comfort & ease of use
---
Use During Sex
---
Large and small wands each have pros and cons during partnered sex.
The Doxy Die Cast takes up a decent amount of space with its long handle and large head. So if you want to fit it into tight spaces, you have to be more intentional about how you position your bodies. For instance, to use the Die Cast in Cowgirl, I need to lean back slightly to fit the head closer to my clit. On the other hand, I can effortlessly maneuver a small wand like the Lovense Domi exactly where I want it during sex.
The Die Cast's heavy weight also takes effort to hold to my clit in some positions – mostly in positions like Doggystyle where I'm holding the wand's weight up. But its long handle actually comes in handy here – I can help support the weight of the wand by resting the base of the handle on the bed. I find this easy to do in Doggystyle and Spooning positions.
And in Missionary, I love the weight of the Die Cast. It naturally applies pressure on my vulva and adds to the stimulation I'm enjoying.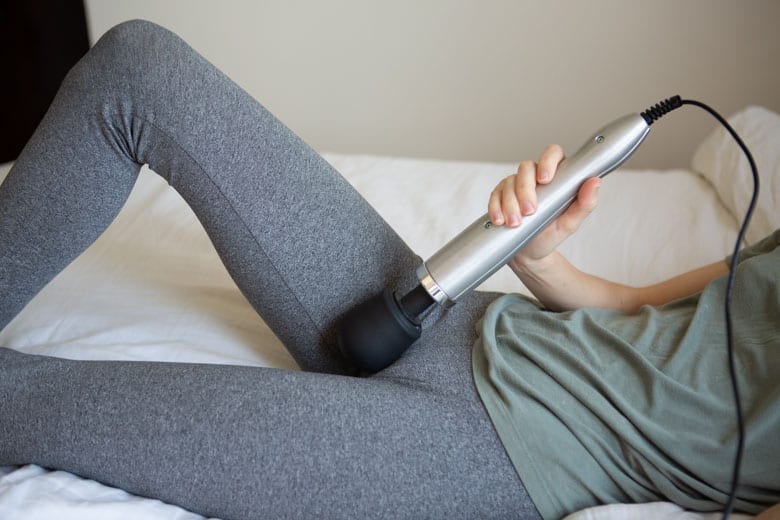 Strength is another aspect the Doxy Die Cast has going for it during sex.
Because the vibrations are so powerful, I don't need to position the head as precisely as I do with a small wand. Pressing the vibrations just above or anywhere near my clit provides all the stimulation I need.
So it still works well during sex even with limited space. But you may need to experiment more to find ways of supporting its weight, or positioning your bodies that work for you. And the clit stimulation during sex will more likely be indirect since you won't always be able to place the head right on your clit.
Learn more about wand vibrator use during sex
---
Noise
---
The Doxy Die Cast's lower levels are discreet, but you'll need to play music to mask its extremely powerful upper levels so any housemates don't hear.
My partner cannot hear the lowest power when standing directly on the other side of our closed bedroom door. This power is still strong enough that I orgasm easily from it. And he can only hear the second setting (my favorite) if the house is extremely quiet and I'm moving the Die Cast around a lot so the motor's sound keeps changing.
The third level and higher can be heard by someone standing right on the other side of the door. Extreme power is simply loud – every wand we've tried is audible in a silent house at that strength.
But there are solutions. I can use the Doxy Die Cast's entire power range discreetly as long as I'm playing music in the bedroom.
---
Attachment Compatibility
---
The Doxy Die Cast is one of many full-sized wands with excellent attachment compatibility.
Most attachments are designed for the Magic Wand Rechargeable and similarly-sized wands. Since the Die Cast's head width is very close to the Magic Wand Rechargeable, the same attachments fit the Die Cast (Note – there may be some attachments that fit the Magic Wand, but not the Doxy. However, every attachment we've tested so far that fits the Magic Wand also fits the Doxy Die Cast)
You can find compatible attachments for a broad variety of stimulation. There are compatible attachments for G-spot, anal, prostate, clitoral, penis, and dual-stimulation. For a list of the attachments we've tested for compatibility with the Doxy Die Cast, see our wand attachment compatibility table here.
Learn more about wand attachment compatibility
---
Mount Compatibility
---