---
Vibrations: Power And Range
---
The Doxy Die Cast 3R is an extremely high-powered wand vibrator. Its top power is a 7.3 out of 10 – it is substantially more powerful than non-wand vibrators you may have tried like G-spot, rabbit, egg, and bullet vibrators, etc.
There are a few more powerful wands like the BMS PalmPower Extreme and Doxy Die Cast. But the 3R is definitely intense. I prefer to use it over my underwear to dampen its power.
Something that bothers me about the Doxy 3R is that the range between its highest and lowest power is tiny. The lowest power is about 6.5 – so there are no gentle levels. Unless you're always ready for intense power, you'll likely need to use another vibrator as a warmup.
Both the BMS PalmPower Extreme and Doxy Die Cast have exceptional power like the Doxy 3R, but they also have low levels beginning at 2 out of 10. Even if you enjoy strong power, I recommend getting something with some low levels too.
Learn more about vibration power and range
---
Vibrations: Frequency (Rumbliness)
---
While vibration frequency is a personal preference, we give better ratings to wands with deep, rumbly (low-frequency) vibrations. We rate buzzy wands more poorly because generally, people prefer rumbliness.
The Doxy 3R has some vibrations that are moderately rumbly on the lowest powers. But you have to apply some pressure in order for these levels to feel rumbly. The 3R's motor slows down quite a bit when you press it against you. Without this pressure, even the lowest levels feel buzzy.
Most of the Doxy Die Cast 3R's settings feel moderately to extremely buzzy. With this much power, I need more rumbliness. The 3R's ultra-powerful buzzy vibrations feel overwhelming and uncomfortable to me.
Many equally powerful wands vibrate at a lower frequency, which keeps them comfortable and enjoyable. Some of my favorites include the BMS PalmPower Extreme, Viben Sultry, and Lovense Domi 2.
Learn more about vibration frequency (rumbliness)
---
Comfort & Ease Of Use
---
The Doxy Die Cast 3R is not the most comfortable wand.
It's a comfortable size, and its controls are good – allowing you to increase and decrease the power. But you feel the Doxy 3R's vibrations in your hands far too much (an issue that's not as prevalent in the plug-in version – the Doxy Die Cast 3). It's distracting and unpleasant.
The head comfort is average. You can fit its small head comfortably in tight spaces. But since the 3R's head is so firm, I wish its neck was more flexible.
Overall, there are several powerful wands that transfer the vibrations to your vulva without vibrating your hands. Consider these options:
The Viben Sultry has a more comfortable head with a more flexible neck. The handle is also contoured to provide a very comfy grip.
The BMS PalmPower Extreme is another easy-to-use, and comfortable option. I especially love the angled head on this wand. It makes it easy to apply firm pressure without any wrist strain.
Or the Lovense Domi 2 has a small head to fit in tight spaces like the Doxy 3R. But it's more flexible and comfortable.
Learn more about comfort & ease of use
---
Use During Sex
---
No sugar-coating this one. The Doxy Die Cast 3R comes in dead last for use durings sex.
As with solo use, the biggest issue is feeling the vibrations way too much in your hands. It's also a little heavy and tiring to hold.
The Doxy Die Cast 3R's head is also very firm. With a lot of movement during sex, the firm head bumps uncomfortably into my pubic bone – especially in positions where my partner and I are facing each other.
If you're looking for a wand to use during sex, there are much better options out there.
The Lovense Domi 2 is a similar size and shape to the Doxy 3R – so it also fits easily between your bodies. But the flexible neck keeps it from pressing uncomfortably against my body. It's one of my favorites during sex.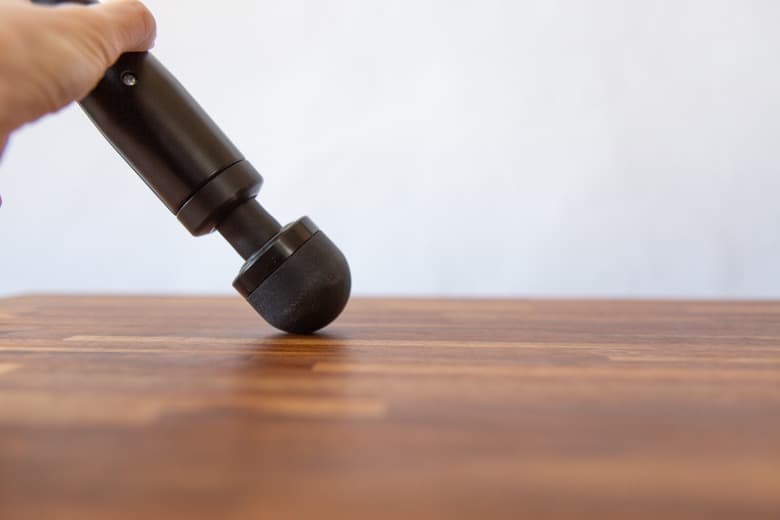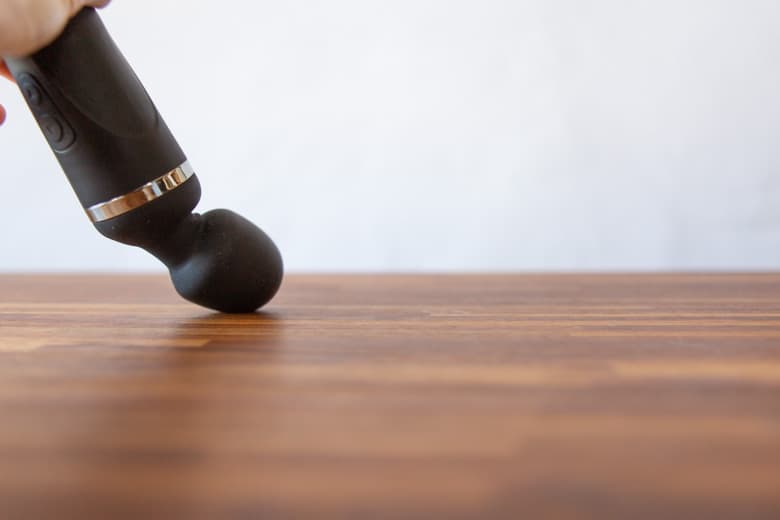 Another of my favorites is the BMS PalmPower Extreme. Even though its head is larger than the Doxy 3R's, its angled shape makes it easy to fit between our bodies and comfortably leverage the wand.
Learn more about wand vibrator use during sex
---
Noise
---
The Doxy Die Cast 3R is somewhat loud. Because it doesn't have any truly gentle levels, even its lowest settings produce a fair amount of noise.
However, my partner still cannot hear the lower and middle levels from the other side of a closed bedroom door. But he can hear the Doxy 3R's upper power levels. Even turning on a box fan does not mask the sound of the 3R on high. It took turning music on in the bedroom to finally make the 3R inaudible on high.
This might be ok if you plan to stick to the lower levels or if you don't live with other people.
But if you need something more discreet, the Viben Sultry has the same strength, and its rumbly vibrations were not audible from the other side of a closed door at any power level!
---
Attachment Compatibility
---
For a mid-sized wand, the Doxy Die Cast 3R has excellent compatibility with wand attachments.
Doxy makes their own high-quality attachments for the Doxy 3R and Doxy Number 3. You can unscrew the Doxy 3R's head, and screw one of the Doxy's attachments directly to the motor. So these attachments have an incredibly secure fit.
Doxy makes clitoral, dual-stimulation, prostate, and penis attachments that screw directly onto the 3R's head.
You can also use some other brands' attachments with the Doxy Die Cast 3R. For instance, all the attachments designed for the Le Wand Petite also fit over the 3R's head. These brands will simply slip on top of the default head – they won't screw into place as the Doxy brand's attachments do.
So between Le Wand and Doxy's attachments, you have a broad variety of options to use with the Doxy 3R.
Learn more about wand attachment compatibility
---
Mount Compatibility
---