---
Vibrations: Power And Range
---
The Doxy Die Cast Number 3 is an extremely powerful wand massager. It's much stronger than any non-wand vibrators I own. I have a hard time using it without underwear or clothes to dampen its intensity.
This power can be nice if you're warmed up and ready for that strength. But the limited range between the Doxy Number 3's low and high power levels is a big problem.
The softest power this wand reaches is 6.5 out of 10 – already more intense than any of my non-wand vibrators. So even though there are 6 levels between low (6.5 out of 10) and high (7.5 out of 10), it's immense power from beginning to end.
I don't find myself using this wand – it's too overwhelming in the beginning and takes me out of the mood.
For this price, there are several wand massagers with just as much power that also have better warmup levels. My favorites are the Magic Wand Rechargeable, BMS PalmPower Extreme, and Doxy Die Cast.
Learn more about vibration power and range
---
Vibrations: Frequency (Rumbliness)
---
We rate wands with rumbly (low-frequency) vibrations higher than buzzy wands. This is because most people prefer rumbly vibrations – especially when the vibes are this intense.
Unfortunately, the Doxy 3 has very buzzy vibrations. Not even its lowest power levels feel rumbly. And its top three settings are extremely buzzy. Immensely powerful vibrations tend to feel overstimulating and uncomfortable when they're this buzzy.
Although some people will enjoy these high-frequency vibrations, most will prefer something more rumbly.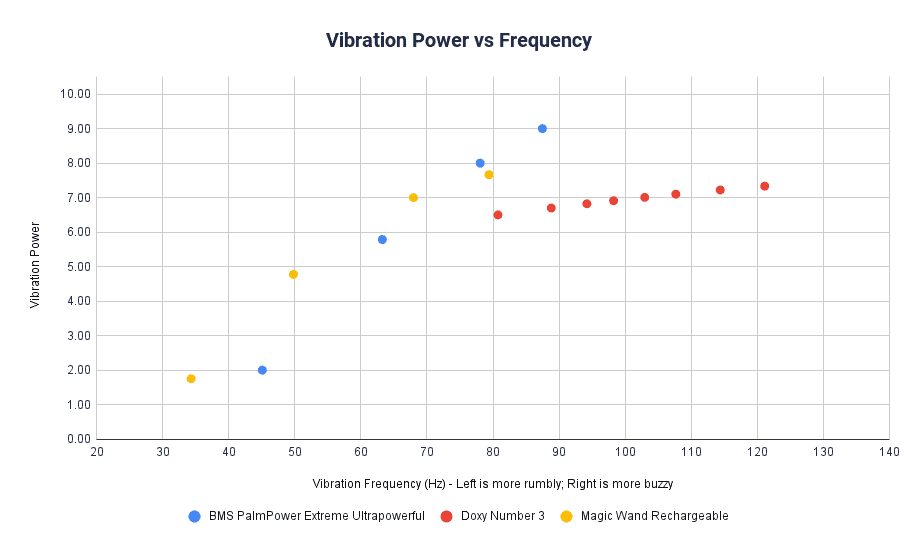 The Magic Wand Rechargeable and BMS PalmPower Extreme are two high-powered wands with lovely, rumbly lower levels. And even their highest powers are more neutral – never reaching a truly buzzy feel. Or if you'd prefer to stick with a compact wand, the Lovense Domi 2's rumbly vibrations are also more enjoyable.
I prefer each of these wands' vibration quality to the Doxy Die Cast 3.
Learn more about vibration frequency (rumbliness)
---
Comfort & Ease Of Use
---
The Doxy Number 3 has average comfort and ease of use – though it can take some time to get used to.
The buttons are large and positioned where my fingers naturally rest. This makes changing power levels easy. But I regularly press the buttons by accident, especially when trying to leverage the wand to apply pressure. So you have to find the right grip on the handle.
I can also feel the vibrations in my hands while using the Doxy Number 3. Although, they're less noticeable than with the rechargeable version of this wand (the Doxy Die Cast 3R).
The head is small, which I typically like – it's easy to fit into tight areas. But its firm, rigid head is less comfy than wands with a plush texture and slightly flexible neck. Plus there's a sharp seam where the Doxy Die Cast 3's silicone head screws to the metal base. This seam causes me some discomfort when using the side of the head for broad stimulation.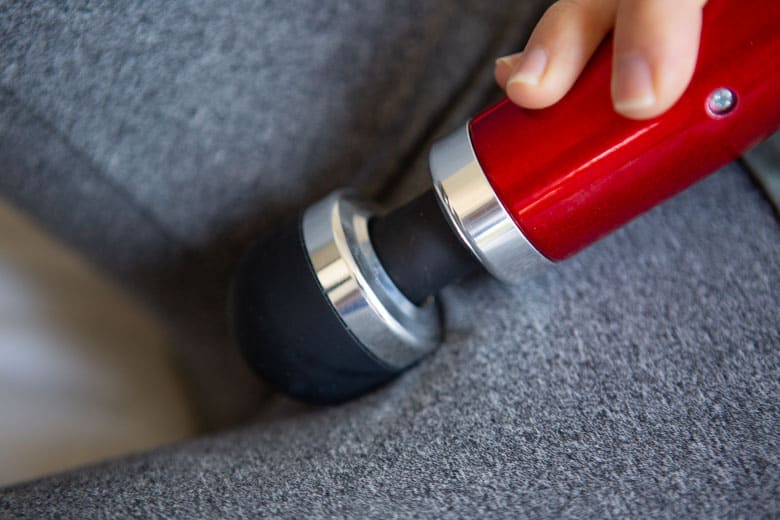 For a more comfortable compact wand, consider the Lovense Domi 2 or the slightly larger BMS PalmPower Extreme which have better flexibility.
The full-sized Doxy Die Cast and Magic Wand Rechargeable also have more plush, comfy heads than the Doxy Die Cast 3.
Learn more about comfort & ease of use
---
Use During Sex
---
The Doxy Die Cast 3 is decently easy to use during partnered sex.
For a wand with a small head, it still has a reasonably long handle which helps you maneuver the wand easily. You don't have to reach as far as you do with short wands. And you can make adjustments quickly.
Because the Doxy Die Cast 3 has a small head, it fits well in tight spots during sex. But I wish it was plusher like the Magic Wands or full-sized Die Cast. When my partner and I are moving a lot, the Doxy Number 3's firm head can bump uncomfortably against my pubic bone.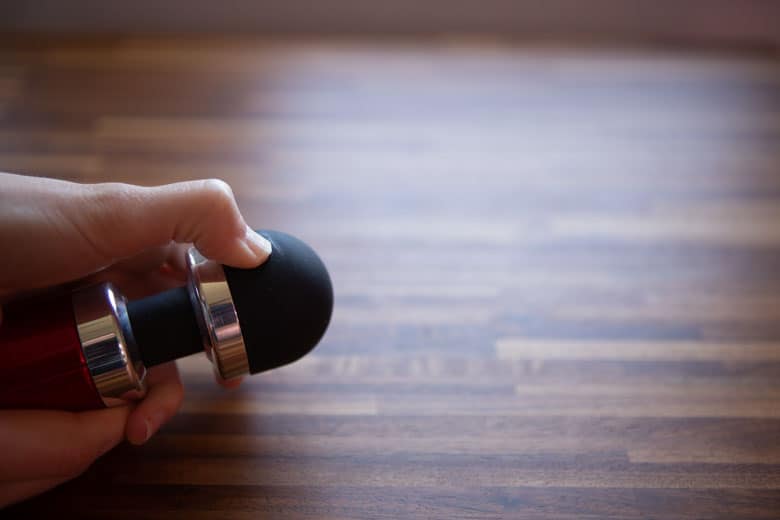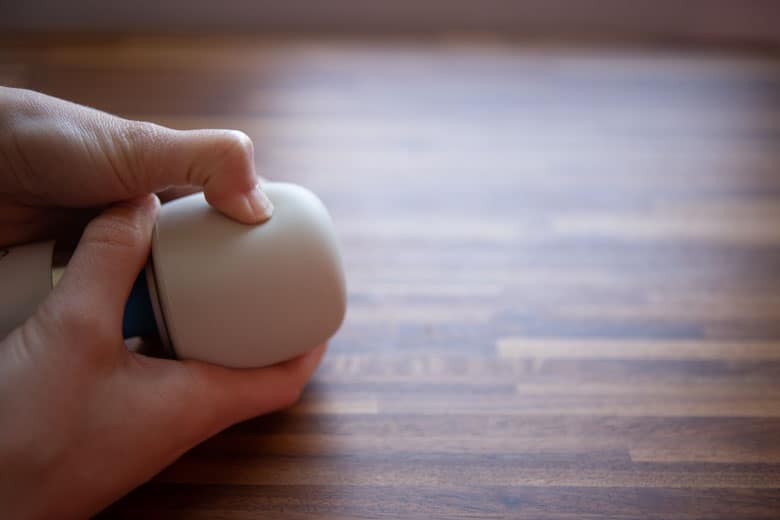 The compact Lovense Domi 2 also solves this issue by providing a more forgiving, flexible neck that absorbs more of the impact during heavy movement.
Learn more about wand vibrator use during sex
---
Noise
---
The Doxy Number 3 is a loud wand massager.
It's best if you are home alone, or don't have roommates. If I'm using this wand in the bedroom, my partner can hear it on the other side of the door even on its lowest power level. The good news is, you can drown out the noise by turning on a box fan or music in the bedroom.
But if discretion is important to you, it's best to choose a wand with some inaudible levels like the Magic Wand Rechargeable.
---
Attachment Compatibility
---
The Doxy Die Cast 3 has excellent attachment compatibility for a wand its size. It's compatible with Doxy branded attachments among others.
Doxy designs attachments specifically for the Doxy Number 3 and its rechargeable version (the Doxy Die Cast 3R). These screw directly to the Doxy Number 3's head for a snug fit.
These attachments provide a wide range of stimulation options including prostate, anal, penis, dual-stimulation, and clitoral.
Le Wand Petite's attachments also fit the Doxy Number 3. These won't replace the default head as Doxy's attachments do. But you can slip them over the Number 3's head as you would normally.
Between Le Wand and Doxy's attachments, you have a broad variety of options to use with the Doxy Die Cast 3.
Learn more about wand attachment compatibility
---
Mount Compatibility
---