---
Vibrations: Power And Range
---
The Dame Com's vibration power is relatively mild for a mid-sized wand. Its top strength is only slightly greater than mid-sized non-wand vibrators like the Lelo Mona 2 or Lovense Hyphy. But since the head is larger, the vibrations are more diffuse, which can make them feel even milder.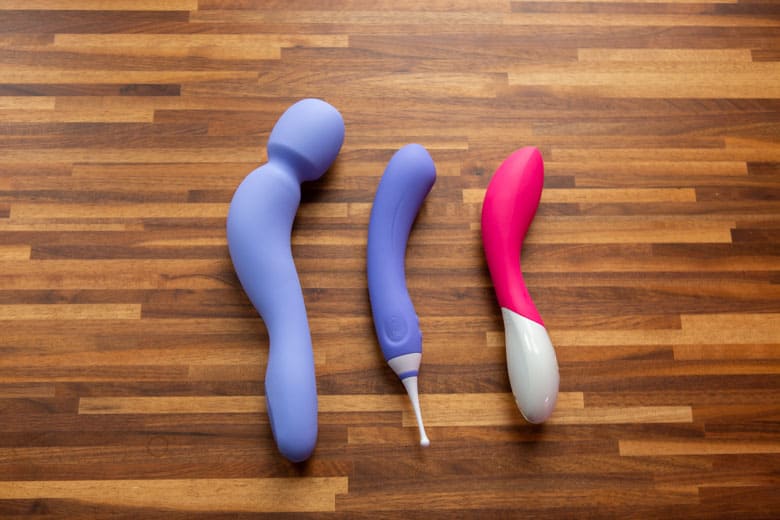 Starting at 1.1 out of 10 and gradually increasing through five levels up to 4.67 out of 10, the Dame Com is best for those sensitive to intense power or abrupt jumps between settings. This moderate stimulation offers an alternative for those who enjoy the broad, diffuse stimulation wands provide, but don't enjoy the overwhelming power of other wands.
If you'd rather have extreme strength, consider the BMS PalmPower Extreme or Magic Wand Plus. For those content with the strength of their non-wand vibrators, the Dame Com is a great option.
Learn more about vibration power and range
---
Vibrations: Frequency (Rumbliness)
---
Most people prefer rumbly vibrations, so we rate rumbly wands higher than buzzy wands.
The Dame Com delivers exceptionally rumbly vibrations at all power levels, staying below 60 Hz on high – a feat few wands accomplish. If you'd rather have extremely rumbly vibrations with more power, also consider the Lovense Domi 2. But for an extremely rumbly mid-powered wand, the Dame Com is the best.
Learn more about vibration frequency (rumbliness)
---
Comfort & Ease Of Use
---
The Dame Com has a uniquely curved handle with a wave-like design, varying in thickness throughout. This shape helps me apply firmer pressure but can require adjustment depending on your personal grip preferences. I find its shape more awkward than helpful, though it's not a huge deal.
I find gripping this wand close to the head most natural, but this causes vibrations in my hand, which can be distracting. Holding it farther away minimizes this effect, but you'll need to experiment to find a comfy grip. The smooth silicone material feels luxurious and comfortable though.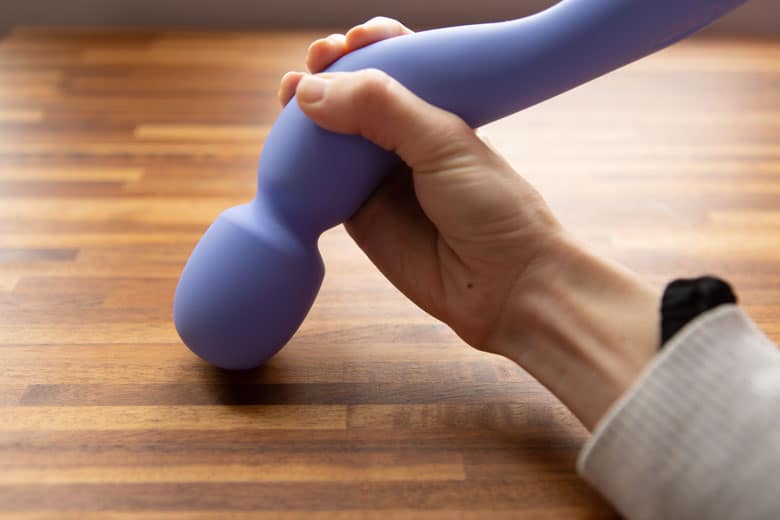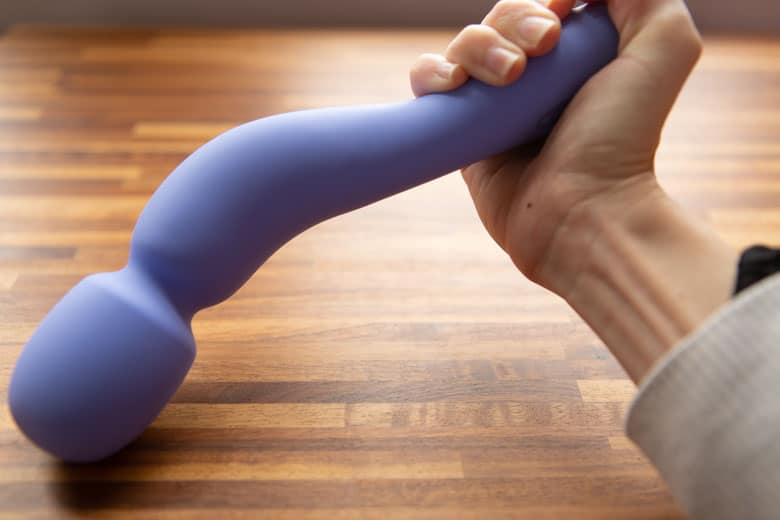 The head is firmer than I typically prefer. But the slightly flexible neck keeps the pressure comfortable. And the semi-rigid design helps leverage the wand better.
The buttons are located near the base of the handle, which keeps them from interfering with my grip, but I do need to adjust my hold to press them. The controls are excellent with separate buttons to increase and decrease power, and a third to cycle through patterns. You can also change the intensity of the vibration patterns which many wands do not allow.
And the Dame Com is fully waterproof, so it's really easy to clean.
Learn more about comfort & ease of use
---
Use During Sex
---
The Dame Com is one of the easiest wands to use during sex. Its mid-sized head can still fit into fairly tight places, but still gives the broad stimulation of a larger wand. And I appreciate its handle shape more during sex. The curve helps leverage the wand for firm pressure, even in more limited space.
I don't need to change my body positioning to fit its mid-sized head near my clit as I do with larger wands which sometimes require me to lean back in Cowgirl or angle my leg out while Spooning to create more space for the wand.
The handle's length and curve also make finding the right angle in Doggystyle easy.
In Modified Missionary, I feel the vibrations in my hand more since I grip it close to the head – the groove between the handle and head is a useful finger-hold for support. But if you want to limit those vibrations, you can shift your grip lower.
Learn more about wand vibrator use during sex
---
Noise
---
For a mid-powered wand, the Dame Com isn't that quiet. Its decibel levels are low – however, it can make a louder rattling sound when it's not pressed against your body making it more noticeable. During our testing, its lower levels were completely inaudible from the other side of a closed bedroom door, but my partner heard its middle and upper levels.
Turning on a box fan or playing music successfully masked the Dame Com's noise on all power levels.
But if low noise is a top priority, there are better alternatives like the Magic Wand Mini, which offers slightly more power and remains inaudible at every level.
---
Attachment Compatibility
---
The Dame Com has fair compatibility with wand attachments. Its head is mid-sized, so it's not compatible with the majority of attachments designed for full-sized wands like the Magic Wand Rechargeable. But some attachments designed for other brands' comparable wands also fit the Dame Com.
Lovense Domi's attachments fit – offering penis, clit, G-spot, anal, and prostate stimulation. Attachments designed for the Le Wand Petite and PalmPower Extreme also fit the Dame Com. So you have some variety available, though your overall selection is more limited than full-sized wands.
See our wand attachment compatibility table for all the attachments we've tested for compatibility with our wands.
Learn more about wand attachment compatibility
---
Mount Compatibility
---