---
Build Quality
---
The BMS PalmPower Recharge's poor build quality is the main dealbreaker for me.
The motor fluctuates between power levels, rather than remaining at the intensity I set. The fact that it drops from 100% power to 20%, then jumps back to 40% makes it very distracting to use. And it sometimes causes me to lose my orgasm.
I noticed this issue with the first PalmPower Rechargeable I bought, so I purchased a second one to review in case it was a fluke. Unfortunately, I encountered the same issue with the replacement.
---
Vibrations: Power And Range
---
When the PalmPower Recharge is working properly (see the issues I encountered here), it has excellent vibration power and range – especially for a wand this small.
It has soft low levels that are great when warming up. Then you press and hold the button to gradually increase power.
The PalmPower Recharge's top power feels 70% as strong as the Doxy Die Cast's (my strongest wand vibrator). That's really impressive given how much smaller and lighter the PalmPower is – the Doxy is nearly 5x heavier.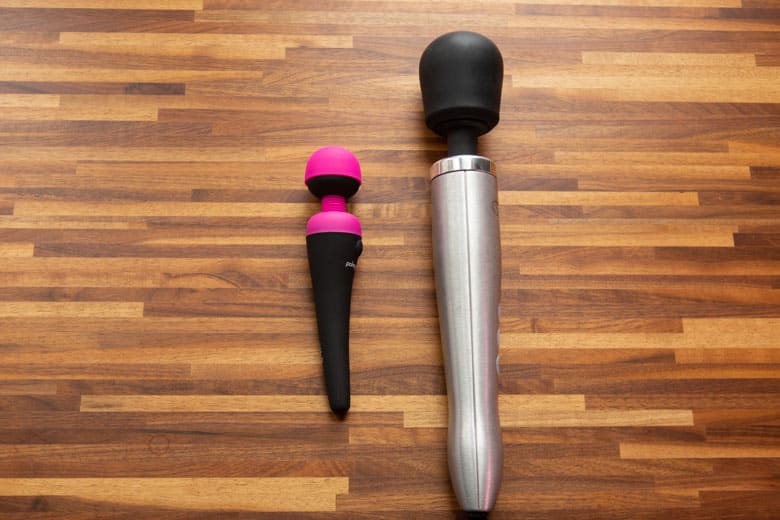 Unfortunately, it frequently drops back down to a lower power level. So in practical use, it doesn't always maintain that top strength.
At the same cost, you can get the FemmeFun Ultra Wand, which is similar in size (though has a slightly larger head), and reaches the same top strength of 7/10. The downside is that it starts somewhat strong even on the lowest power level. So if you need some soft warmup levels too, you may consider the Magic Wand Mini instead.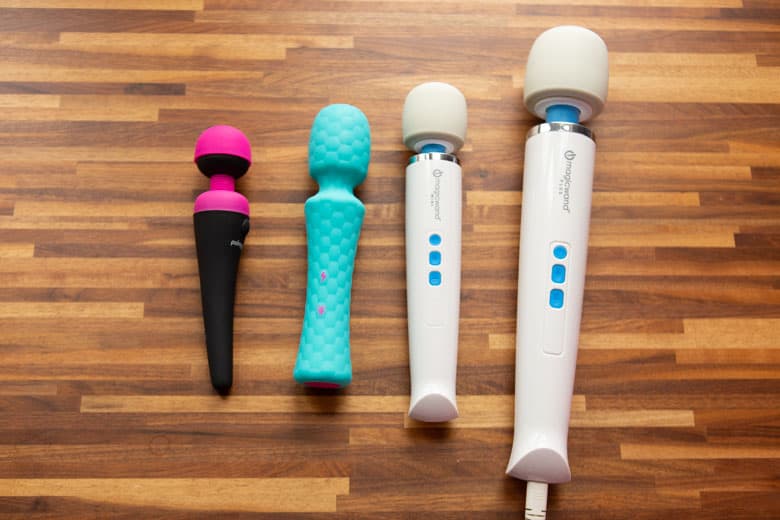 Or if you're up for a larger wand, the Magic Wand Plus is also about the same price. And it has an even wider power range. It's the most powerful wand under $100.
While I'm happy with the BMS PalmPower Recharge's vibration strength when it's working well – these other wands have provided a much more reliable experience.
Learn more about vibration power and range
---
Vibrations: Frequency (Rumbliness)
---
The BMS PalmPower Recharge's lower powers are fairly rumbly. But it gets buzzy on its highest powers.
My favorite wands tend to be a little more rumbly than this wand. The Magic Wand Plus (high-powered) and Dame Com (moderately powered) are great, rumbly options in this price range.
Or for a rumbly wand closer to the PalmPower Recharge's size, consider the Lovense Domi 2.
Learn more about vibration frequency (rumbliness)
---
Comfort & Ease Of Use
---
The BMS PalmPower Rechargeable is not painful or difficult to use. But it has some quirks to get used to.
I find the thin, tapered handle awkward to hold and leverage. And I'm not a fan of the seam running through the middle of the head either. The seam is there so you can remove the default head, and put on a PalmPower Recharge wand attachment. But the seam is uncomfortable when I press the wand to my body.
The control system is a feature you'll either love or hate. It has one button – and instead of tapping once to change the power level, you press and hold the button. The power continues increasing until you release the button. I personally find it irritating because you can easily pass up your intended power level. Then you need to turn the wand off and back on to start over.
For comparably priced wands with more traditional controls and comfortable heads consider the Magic Wand Mini or Magic Wand Plus.
If you want a comfortable wand with an especially small head like the PalmPower's, the Lovense Domi 2 is a good option.
Learn more about comfort & ease of use
---
Use During Sex
---
The BMS Rechargeable does pretty well during sex. It's short and has a small head, so it fits easily between your bodies. And maneuvering it around your vulva is a breeze.
It does best in Spooning, Modified Missionary, and Cowgirl positions. If it weren't for the uncomfortable seam along its head and its unreliable power, I'd really enjoy the PalmPower Recharge during sex.
It's not the best choice for Doggystyle though. I find mid-sized or taller wands work better in this position. Since you also have to support your bodyweight, reaching back so far with a small wand can get tiring.
The Lovense Domi is one of my favorites to use in all positions. It has a slightly longer handle than the PalmPower Recharge, which helps in Doggystyle. But its head is still short and slim – so it fits easily between legs and bodies.
Or if you're needing to stick closer to the PalmPower's price, the FemmeFunn Ultra Wand is a great option! It's fairly small and has a more comfortable head. So it works better in all positions.
Learn more about wand vibrator use during sex
---
Noise
---
In a silent house, the BMS PalmPower Rechargeable's upper power levels can be heard from the other side of a closed bedroom door. But its middle and low levels remain inaudible. This is fairly common with wands this powerful.
And when I turn a box fan on in the bedroom, my partner can no longer hear the wand from the other side of the door. Music will also mask its sound.
If you are nervous about noise, the Viben Sultry has even more power than the PalmPower Recharge, but it remains inaudible behind a closed door on all power levels. Even without a fan or music.
---
Attachment Compatibility
---
The BMS PalmPower Recharge is only compatible with BMS's attachments designed specifically for the PalmPower.
You can remove the default silicone cap over the motor and replace it with any of the PalmPower's attachments. The attachments and motor have matching grooves that secure them to each other.
BMS offers several attachments for this wand, so you still have some selection range. They have insertable attachments for G-spot, prostate, anal, and dual-stimulation. They also have some fluttery attachments to change how your clit stimulation feels. But there are no compatible attachments designed for penis stimulation.
And other brands' attachments do not fit the PalmPower Recharge since its head is so much smaller than other wands. If you want more attachment selection than BMS provides, you'll likely want to choose a full-sized wand like the Magic Wand Plus or Magic Wand Rechargeable which are compatible with attachments from many brands.
Learn more about wand attachment compatibility
---
Mount Compatibility
---