---
Vibrations: Power And Range
---
The BMS PalmPower Extreme is the most powerful rechargeable wand vibrator, with a top strength of 9 out of 10.
Only the Magic Wand Plus (also 9 out of 10) and the Doxy Die Cast (10 out of 10) are comparable. But these are both plug-in wands, and few people will need their additional power. I usually orgasm on the PalmPower Extreme's second level, rarely using the third, and almost never the top power because it's so immense. But power queens and kings will love these upper settings.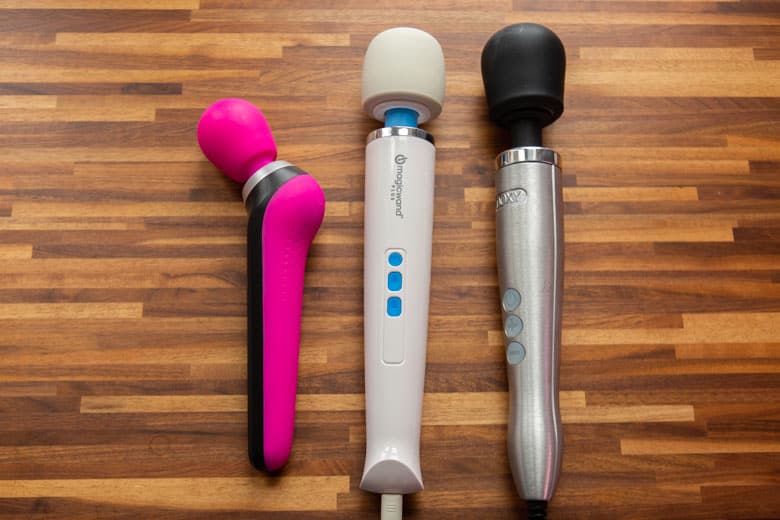 The lowest setting's 2 out of 10 strength is excellent because I need these softer vibrations for a warm-up. I'm not ready for the second level's strength immediately, so I spend considerable time on the first level. This setting is impactful, warming me up without feeling overwhelming. Then, I switch to the second level and usually finish there!
You can also access a broad range of power levels spanning between the 4 default settings by using PalmPower's incremental control. By holding the plus or minus button, the wand's power will slowly and gradually change power. When it reaches your desired strength, release the button.
With its wide power range from soft to extreme and the ability to gradually step through levels, most people will find something they enjoy.
Learn more about vibration power and range
---
Vibrations: Frequency (Rumbliness)
---
The BMS PalmPower Extreme's frequency range is right in my sweet spot, ranging from extremely rumbly to neutral. The lowest level is extremely rumbly – part of what makes it an excellent warmup level that's not overstimulating. And the second level (my favorite) is moderately rumbly. To me, this is the perfect combination of the comfortable, deep impact that comes from rumbliness, and the bit of a "zing" that extremely rumbly vibrations are sometimes missing.
As you increase power, a wand's frequency always becomes less rumbly, and its top two levels are neutral. But it doesn't cross into the buzzy range as other comparably powerful wands like the Magic Wand Plus and Doxy Die Cast do.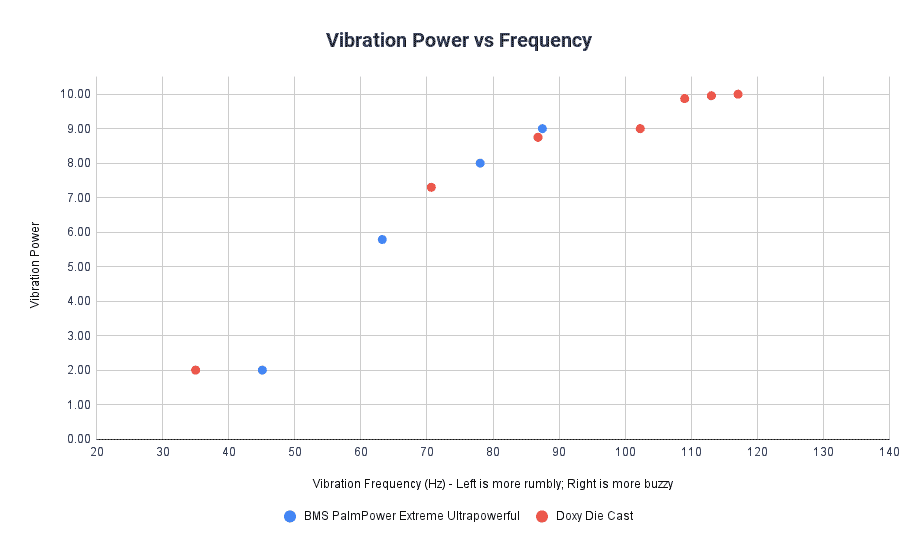 Overall, the vibration feel and frequency of this wand contribute to it being one of my favorites!
Learn more about vibration frequency (rumbliness)
---
Comfort & Ease Of Use
---
Though this wand has the power and broad head of a full-sized wand, the PalmPower Extreme is more compact and lighter making it easy to maneuver like a mini wand. The weight feels balanced in my hands and the silicone-backed handle is comfortable to grip.
Most importantly, the angled head is not a gimmick, as I thought it might be before using this wand. It helps me leverage the wand more easily and apply pressure while keeping my hands in a comfortable position. I value comfort, so this was a major benefit for me.
Unlike the Magic Wand Rechargeable's plush silicone, the PalmPower Extreme's head is firm, yet still comfortable since the neck has some flexibility; But not too much that applying firm pressure becomes difficult. It's an excellent balance.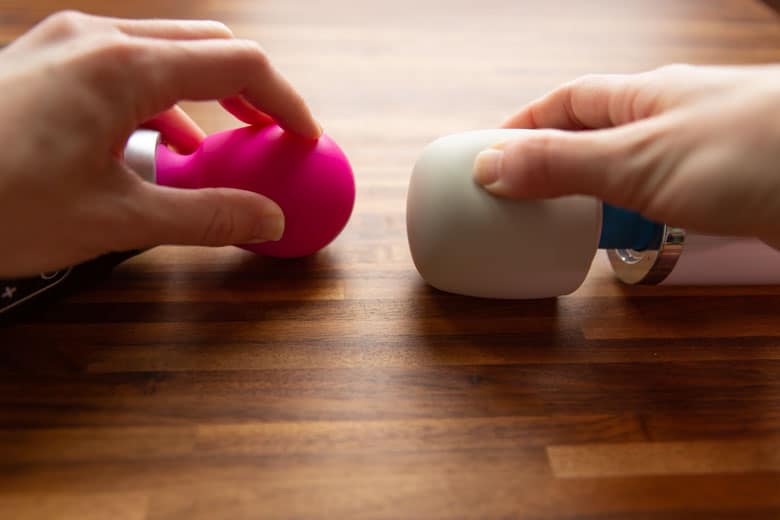 The buttons are easy to feel and press without looking. There are separate buttons to increase and decrease power, so you don't need to cycle through intensity levels. The incremental control is great for accessing power levels beyond the 4 default settings. Hold the plus or minus button to gradually change the power and release it when it reaches a level you enjoy.
And it's the only wand this powerful that's fully waterproof – so cleaning it is easy.
I reach for this wand very often, because it provides a great, comfortable experience, with excellent vibrations!
Learn more about comfort & ease of use
---
Use During Sex
---
This wand is in my top two for use during sex (and my favorite to use with a wand mount for hands-free sex).
While its head isn't tiny like mini wands, it's slimmer and smaller than full-sized wands. So it still fits well between bodies and in tight spaces during sex. And since its vibrations have a substantial impact, precisely positioning this wand isn't necessary to get the clit stimulation I need.
The angled head is especially helpful during sex. The head's angle rests between my legs while the handle lies comfortably parallel along my body. So the handle does not stick out or get in the way, preventing me from leveraging the wand as a straight handle can – this is especially beneficial in positions facing each other like Missionary or Cowgirl.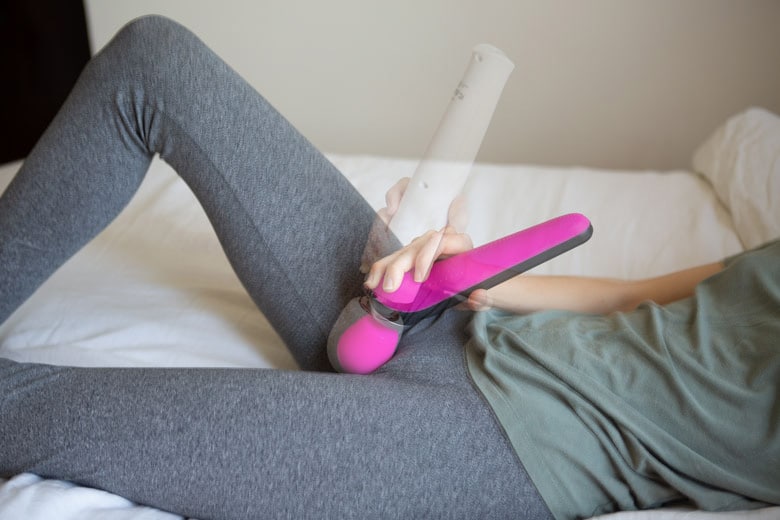 The handle is also compact but still has enough length that you can rest the base on your bed to help support the wand in certain positions like Spooning or Doggystyle. If you plan to use your wand regularly with a partner, this is an excellent choice.
Learn more about wand vibrator use during sex
---
Noise
---
As an extremely powerful wand, this is not one of the quietest options. It's discreet on its lower levels, remaining inaudible behind a closed door. But my partner could hear its middle and upper settings during our testing.
This is pretty typical for a wand this strong. If you plan to use its highest settings while others are home, you may need to play music to remain discreet. Though I typically orgasm on its lower levels which are quieter.
---
Attachment Compatibility
---
The BMS PalmPower Extreme has limited compatibility with wand attachments. Its head is mid-sized, so it's incompatible with attachments designed for full-sized wands like the Magic Wand Rechargeable. There is an insertable (G-spot, anal, or prostate) attachment designed specifically for this wand, but it's a little flimsy.
However, attachments designed for the Le Wand Petite also fit the BMS PalmPower Extreme. These attachments cover a broad variety of stimulation and are high quality. If you want to explore wand attachments for this wand, I'd recommend Le Wand's. Head to our full wand attachment compatibility table for the full breakdown of attachments we've tested.
Learn more about wand attachment compatibility
---
Mount Compatibility
---