---
Vibrations: Power And Range
---
The Blush Noje W4 only has 2 power levels – low and high.
So it has a limited range. But I find both levels are comfortable and enjoyable – it's a reasonable step up between the first and second settings.
The Noje W4's first level is soft, but still impactful – I use it while I'm getting warmed up. Its second level has moderate strength, which easily carries me to orgasm.
But it doesn't reach the knock-your-socks-off power many people associate with wand vibrators. If you want that immense strength, you'll need to increase your budget. The Magic Wand Plus is the most cost-effective option with extreme power levels.
Even though the Blush is softer compared to other wands, it's actually still more powerful than my favorite non-wand vibrators. You can think of it as a slightly bigger, especially powerful bullet vibrator.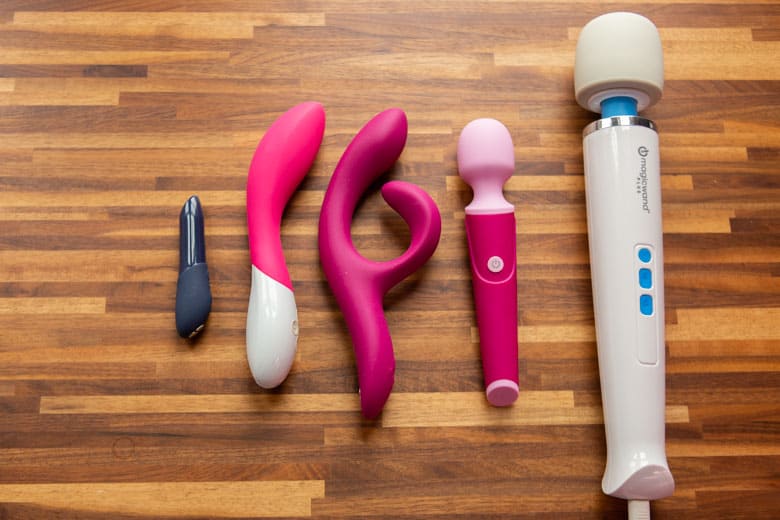 If you're new to wands and are basing your search on your experience with other handheld clitoral vibrators, the Blush might be a nice starting place – especially for the price.
Learn more about vibration power and range
---
Vibrations: Frequency (Rumbliness)
---
Higher scores in this category indicate a more rumbly wand since that's most people's preference. But that doesn't necessarily mean it's a better choice for you. Ultimately, vibration frequency (rumbly or buzzy) is just that – a preference. So choose based on what you enjoy!
The first power level of the Blush is in the "extremely rumbly" range. But the second power (also the highest power) is in the neutral range – though it's very close to what we would consider "moderately rumbly."
Since this is a mid-powered wand, you'll probably spend most of your time on that higher setting. So if rumbliness is your priority, there may be better wands for you. Though personally, I really enjoy how the Noje's vibrations feel at this strength.
If you strongly prefer lower-frequency vibrators, the Maia Zoe is another budget-friendly wand that's a bit more rumbly than the Blush Noje W4. It has 3 power levels, all of which are in the extremely or moderately rumbly range.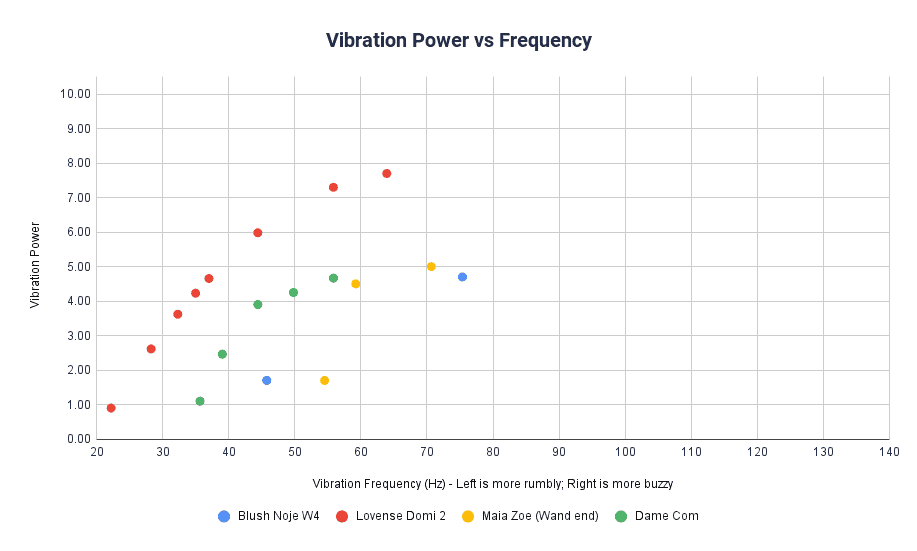 Or if you have a greater budget, the Dame Com is comparably powered and extremely rumbly.
Or the Lovense Domi is much stronger with most of its levels in the extremely rumbly range.
But I've been satisfied with the Noje's vibrations.
Learn more about vibration frequency (rumbliness)
---
Comfort & Ease Of Use
---
The Blush Noje W4 is quite comfortable and easy to use!
The smaller, rounded head enables you to easily position the Noje exactly where you want it. And though the head is fairly firm the neck's flexibility still makes it feel extremely comfy.
There's a lip on the Noje's handle which I also find comfortable to hold. You can support the weight of the toy with your finger if the handle gets slick with lube. Since it's compact and lightweight, it's easy to move around at your whim (alone or during sex).
Even without a curve, I find the Noje W4 easy to leverage for good pressure. Though the neck flexes a bit, I can still push the vibes deep into me.
The controls are the only aspect of comfort & ease of use I think could be improved. The Blush Noje W4 has one button, so you can't move forward and backward through power levels. You must cycle through them.
But since there are only 2 power levels, one button is manageable. You'll likely spend most of your time on high power unless you really enjoy vibration patterns.
The Blush Noje W4 is also IPX6 splashproof, which means it can resist high-pressure heavy sprays of water. So though you can't submerge it in the bathtub, you can clean it easily under a faucet and don't need to worry about keeping running water away from any part.
Learn more about comfort & ease of use
---
Use During Sex
---
The Blush Noje W4 is one of the easiest wand vibrators to use during sex. It performs best in Spooning, Modified Missionary, and Cowgirl positions.
Because of its compact size, it's really simple to maneuver and make fine-tuned adjustments. You can easily press the wand's head wherever you want. And it fits in tight spaces during sex better than bulkier full-sized wands.
Doggystyle's the only position where I prefer a longer handle so I don't have to reach as far. But The Noje W4 is still reasonably good in this position.
For such a budget-friendly wand vibrator, I'm really happy with its performance during sex. As long as you're happy with the more limited power range, it's a great option to use with a partner and save you some money.
Learn more about wand vibrator use during sex
---
Noise
---
The Blush Noje W4 is one of the quietest wand vibrators we tested!
And the quieter wands are either less powerful (like the Romp Flip) or the same power (like the Lovehoney Mantric). So it has good power while remaining discreet.
My partner can't hear either power level from the other side of our closed bedroom door. So you don't need to worry if you live with other people.
---
Attachment Compatibility
---
I have 25 wand attachments representing a wide variety of options, and I test their compatibility with all my wands.
Because the Blush Noje W4 is a mini wand (more akin to the size of G-spot and rabbit vibrators than a typical wand), it has minimal compatibility with attachments. Only the Queen G Lovehoney attachment worked with the Blush Noje W4.
So you can get a G-spot attachment, but not much else.
Most wand attachments are designed for the Magic Wands and other full-sized wands. So if attachment compatibility is important to you, check out the Magic Wand Rechargeable or Magic Wand Plus.
Learn more about wand attachment compatibility
---
Mount Compatibility
---