Before we get into it, with Black Friday approaching, I have a list of the best Black Friday Sex Toy deals here that I update daily and which will include SheVibe's 2021 deals.
I can still remember my first time stumbling upon SheVibe's massive collection of dildos. 
I spent a wonderful time procrastinating on all the work I was supposed to be doing, and instead sifted through page after page of unique, colorful, beautifully-shaped toys from creators I'd never heard of. And I'm not even that big into dildos myself – I'm more of a vibrator girl personally.
But it was so fascinating browsing SheVibe's collection, I could've continued for hours.
Well I've returned to the SheVibe site many times since and shopped through them as well. I'll help you find answers to your questions in my SheVibe review
A Unique, Curated Selection
As you may have gathered from the intero – Selection, selection, and more selection.
The wide variety, yet well-curated selection is the biggest "plus" of shopping at SheVibe.
You'll still find toys from all the big brands like Womanizer, Lelo, and We-Vibe.
But you'll also find a ton of sex toys from small brands that are difficult to find other places.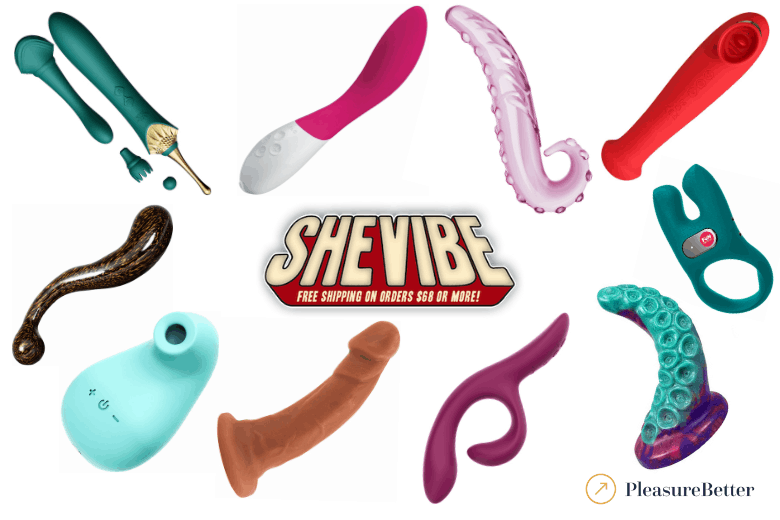 SheVibe has unique handcrafted dildos from small creators like Uberrime. And vibrators from lesser-known, but high quality brands like Vedo. I ordered the Vedo Niki (review here) through SheVibe and it's become one of my absolute favorite panty vibrators.
SheVibe's selection doesn't stop at vibrators and dildos. They've got toys for electrostimulation, kegel exercises, BDSM, sex furniture – Even a curated selection for mobility-friendly use.
If there's a toy you can't find at another shop, SheVibe is likely your best bet to find it!
SheVibe Shipping
Is SheVibe Shipping Discreet?
Yes!
SheVibe packaging will arrive with no references to either SheVibe.com or the contents inside the box.
They ship in plain brown packages or other standard carrier containers. And the return address won't draw attention either.
My most recent SheVibe purchase arrived looking like this (with the exception of the giant red blocks blurring out my own info), with the sender as Joe Bookman:
You can find more details on SheVibe's discreet shipping on their shipping page here.
Where Does SheVibe Ship?
SheVibe is located in the U.S. so their shipping is predominantly geared towards the United States. So if you're in the U.S. it's great!
They process and ship your order fast – plus shipping is fairly inexpensive (and potentially free) for orders in the United States.
They do have international shipping, but you'll be responsible for all the taxes, customs, and tariffs from your country. So it can get quite expensive and likely much slower if you're outside the U.S.
For people located outside the U.S., I'd recommend checking out Lovehoney. They have stores in the UK, EU, and many other countries so shipping can be much better for international customers.
How Much is SheVibe Shipping?
For locations inside the U.S. SheVibe's standard shipping is free for orders over $68 – which believe me, is pretty easy to hit that target while browsing through their huge selection!
If you somehow manage to resist the urge to fill your shopping cart to the brim, SheVibe charges a flat rate on shipping below the $68 cart value. Standard shipping is $7.50, but you can pay more for 1-Day, 2-Day, or 3-Day shipping.
How Long Does it Take For SheVibe to Ship?
SheVibe's standard shipping typically arrives within 3 to 6 business days. If you order during the week, they'll process your order within 48 hours if the item is in stock, and then ship via your selected method.
I've always had fast turnarounds from SheVibe and I've never paid for the expedited shipping.
My most recent SheVibe purchase was out of SheVibe's hands and into mine in 5 days from my order date. (The pic says 4 days, because that's how long USPS had my package).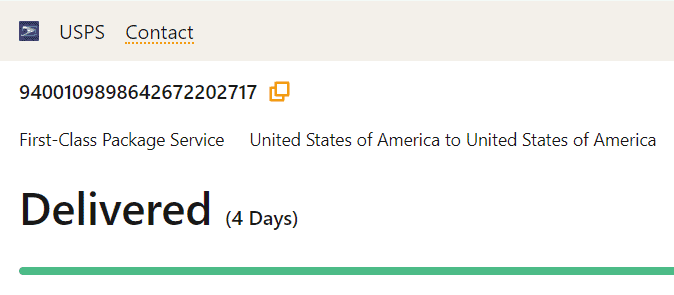 I'm not the only one happy with their shipping either.
How to Track a SheVibe Order?
Once SheVibe processes your order (within two business days) they'll send you an email letting you know they've shipped it. They'll include your tracking number in this email for the carrier it was shipped through.
SheVibe Customer Service
I've had good experiences with SheVibe's customer service and others have too.
They're very responsive by email – usually responding the same day. Rarely more than 2 days.
One redditor shared their experience with SheVibe's responsiveness – "Their customer service was pretty good, all emails were responded to in less than a day."
Their customer service was pretty good, all emails were responded to in less than a day.

redditor comment
SheVibe staff is also happy to answer any questions you have about their toys before you buy.
And on the off chance something does go wrong with your product, they'll take care of you.
Another redditor shared their experience with SheVibe replacing a faulty product at no cost to the customer –
"I ordered a vibrator from Shevibe that started dying randomly. I let them know and they quickly responded and fixed it, without me paying for shipping."
I ordered a vibrator from SheVibe that started dying randomly. I let them know and they quickly responded and fixed it, without me paying for shipping.

redditor comment
Website Experience
SheVibe's website is easy to navigate as well as uniquely colorful – their website design is sex-superhero-themed so there's original comicbook-esque artwork all over the place. Love it or hate it, it's certainly interesting.
Finding the Best Toys on SheVibe
SheVibe makes it easy to explore, browse, and find a toy you'll enjoy – even if you came to their site without a specific toy in mind.
They provide clear distinctions between different sub-categories and uses of various toys so you can find something that fits your wants.
For instance when you click on their Dildos category, you'll be taken to a page which lets you select from a variety of particular design features. Do you want a realistic dildo or a fantasy dildo, silicone or glass, are you looking for a dildo that particularly targets the G-spot? Or perhaps is compatible with a harness.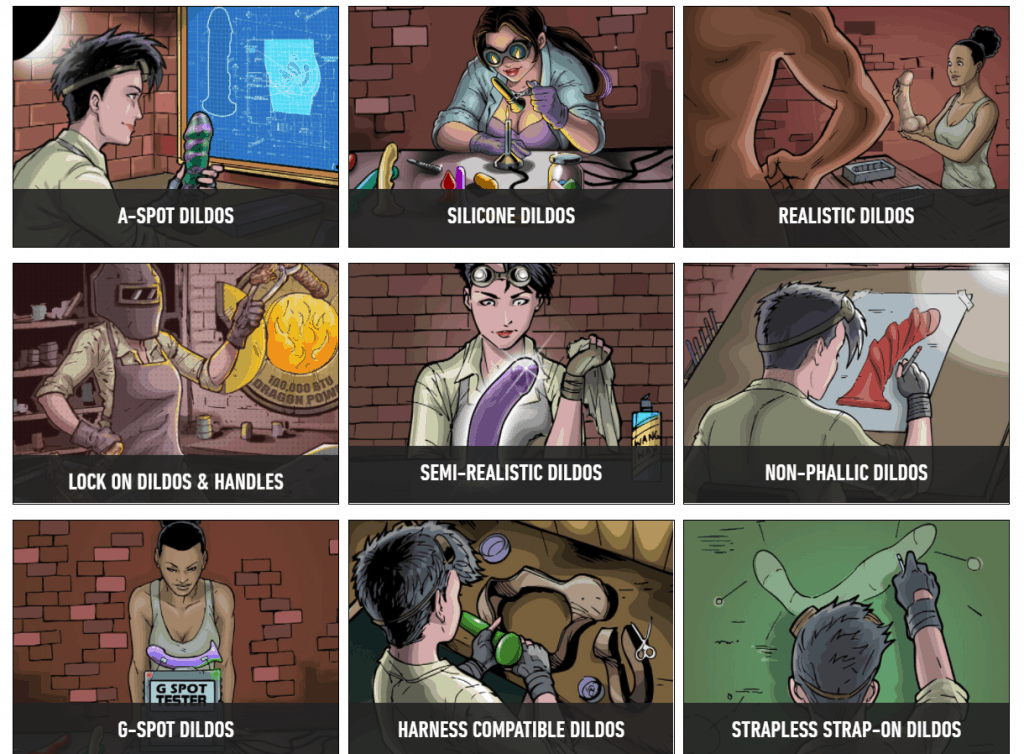 You can quickly and easily find all the toys they sell that fit your preferences. SheVibe provides even more options than I could fit in this simple screengrab.
Then there's even more ways to get down to your exact fit once you're browsing.
You can easily filter to show only items with your particular preferences on insertable length, width, price, and more.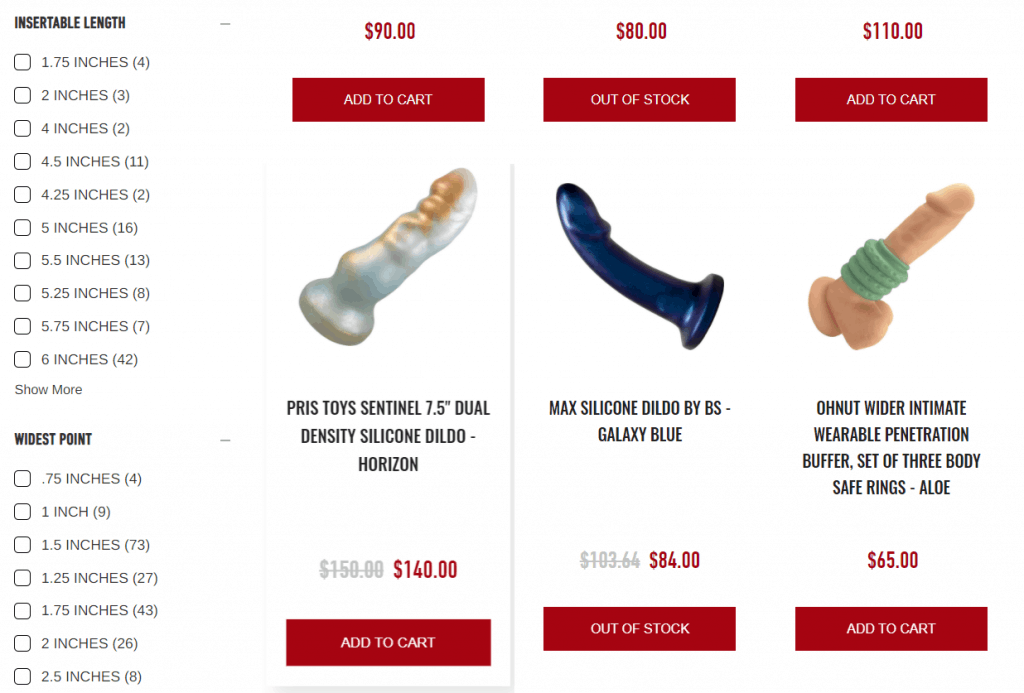 Another distinction of SheVibe's site is that most of the toys they sell are completely body-safe, non-porous toys. This is especially important for internally used toys like dildos, because porous toys can harbor bacteria.
Though SheVibe sells primarily non-porous toys, they do sell some porous toys too. If you're looking for an internally used toy, I'd recommend filtering for only non-porous toys. When they do have porous toys, SheVibe clearly labels them.
With any toy you'll need to make sure you know how to clean your sex toys.
SheVibe Blog and Guides
SheVibe also has a ton of great guides to help you find the right sex toy for you. One of my favorites is the SheVibe Guide to Wands and Attachments.
If you've ever shopped for a wand vibrator you'll know there are ton of options. Not only that, but there are an overwhelming number of attachments you can fit on a wand. So there are literally thousands of possible combinations of wands and attachments.
But –
Not every attachment fits every wand. Which can make it quite daunting to choose.
The SheVibe guide walks you through the types of attachments available, how to choose, and which attachments are compatible with which wand.
It's a life-saver.
There's a wealth of information from topics on how to electrostimulation, cleaning sex toys, debunking sex toy fears, and much more.
SheVibe's educational content is definitely worth reading through!
SheVibe Rewards Program
SheVibe also has a rewards program called SheVibe Power Up Points that can help you save some money if you're at least a semi-frequent shopper.
Earning SheVibe Power Ups
You'll get 50 Power Ups when you sign up. Then for every dollar you spend at SheVibe you'll get 10 Power Ups. You'll also get 150 power up points on your birthday too.
To earn some easy points without spending money, SheVibe will add 50 power ups to your account for each social media account of theirs you follow. That's Instagram, Facebook, and Twitter for a possible 150 power ups.
Redeeming SheVibe Power Up Points
You can trade in 1000 Power Up Points for $10 off your order. You can trade up to 3000 Power Ups at a time so the max you can receive off a single order is $30.
You can also trade in 4000 Power Ups for free two-day shipping which could be a good option if you really are in a time crunch. But SheVibe ships quickly anyway and offers free shipping on orders over $68 so I'd recommend only using your points to reduce the cost of your order.
For more savings you can check out all the current SheVibe discounts on their page here.
Warranty and Returns
SheVibe does have a limited return policy to assuage some of the fears of buying a sex toy online.
If your toy arrives from SheVibe and it's not quite how you imagined it – maybe the color is different in person, or it's larger than you may have thought – you can return a sealed package within 30 days. You'll have to decide this before you've opened your package.
Like almost every other sex shop, you won't be able to return a used toy. Lovehoney is the only shop I'm aware of that actually does let you return a toy after trying it and not enjoying it.
You can also return the product if it malfunctions within 30 days. If your product malfunctions after the initial 30 days of SheVibe's warranty, SheVibe will work with the manufacturer to honor the manufacturer's warranty and get a replacement product over to you.
For instance, many We-Vibe toys have a two year warranty. If you buy a We-Vibe product through SheVibe and it breaks a year in, SheVibe will work with We-Vibe to get your product replaced.
SheVibe Review Results
SheVibe is a great shop that's easy to work with. They have an excellent selection including a ton of toys from small creators that aren't sold in many other shops. It's easy to navigate through their site to find a toy that fits you. And with great customer service and discreet shipping I definitely recommend them if you're located in the U.S.