My attempt to love the Satisfyer Double Joy had a special mission! A few months back, a friend asked for recommendations on hands-free couples' vibrators for use during PIV (penis in vagina) sex.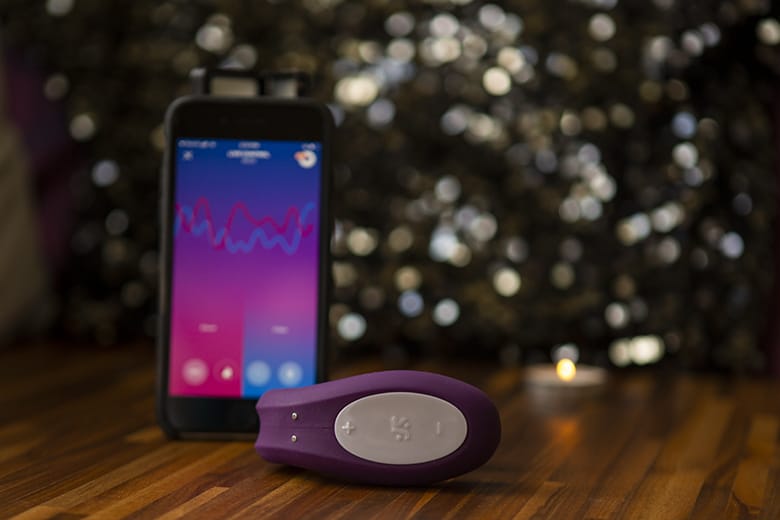 I only owned a few of the more expensive varieties at the time – my favorite being the We-Vibe Chorus.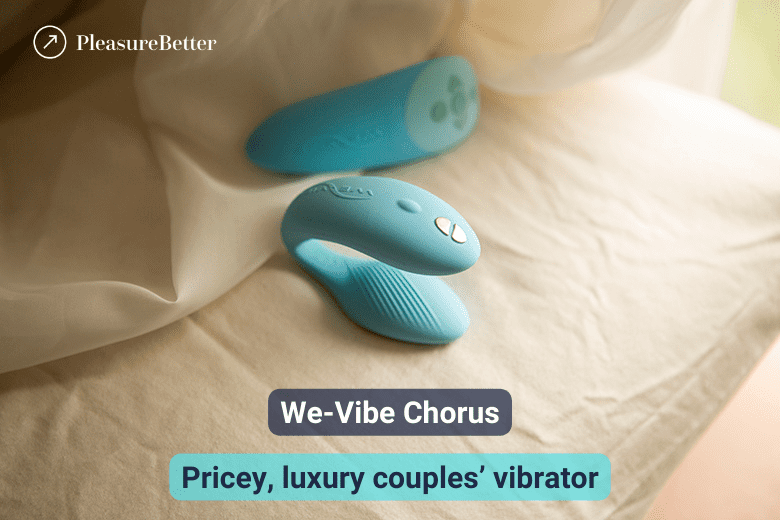 But the Chorus costs a pretty penny, and she was looking for something less expensive. Especially since it was the first hands-free couples toy they would be trying.
And thus launched my search for a more budget-friendly couples' vibrator!
I wanted the Double Joy on my test list because I have often found Satisfyer's app controlled vibrators to be awesome budget buys. Discovering their panty vibrator, the Satisfyer Sexy Secret, was one of my personal victories for the Frugal Franny in my heart.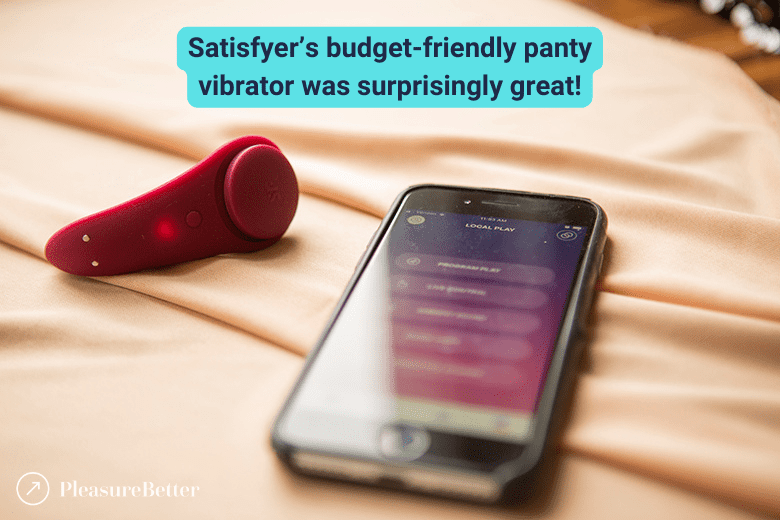 Sadly, the story of the Double Joy took a turn for the worse once the toy arrived. As soon as my partner and I tried using the Double Joy together, it was clear it missed the mark. Unfortunately, it isn't something I feel comfortable using during sex at all.
In this Satisfyer Double Joy review, I'll walk you through the areas where it fell short and the few things it does well, in case you think there's still a chance for it. After all, it is cheap, so it's pretty low risk if you don't love it. But more importantly, I'll share some of my alternative picks with you.
I don't believe you have to spend a fortune to get the clit stimulation you need during sex – but few people will get it from the Satisfyer Double Joy.
Compare to Other Hands-Free Couples Vibrators
Vibrations & Stimulation (35%)

The We-Vibe Chorus is the best overall (One of only two I orgasm with during sex) – it has the strongest vibes, and the two hinges allow you to customize the fit to your body better than any other.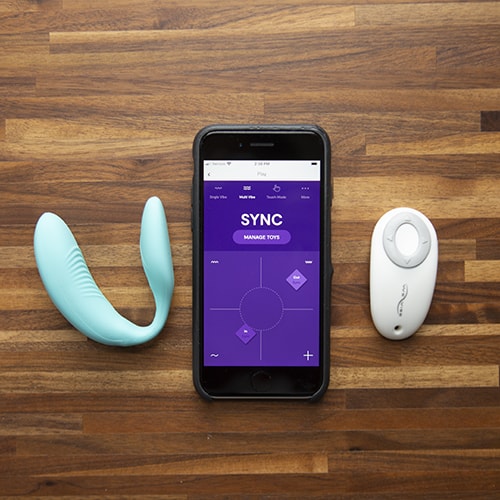 The Sync is extremely close to the Chorus in performance for ~$50 less. It also has two adjustable hinges. Overall a great value – this is the only other one I orgasm with during sex.
We-Vibe often runs a sale on the Sync. Very few shops still sell it now that the Chorus is out.
An older predecessor of the Sync and Chorus. It's nearly as expensive as the Sync, but underperforms in comparison. I recommend the Sync or Chorus instead.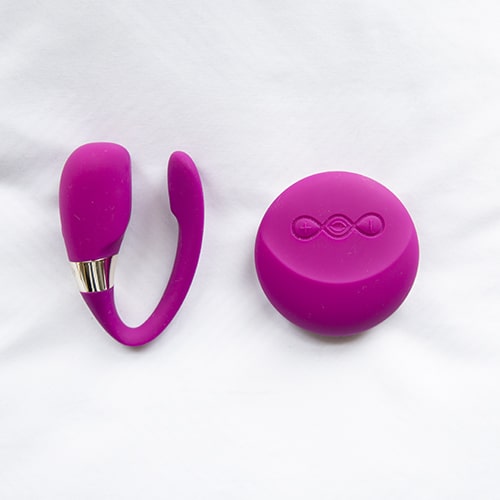 Tiani 3's slimmer internal arm is a good option for someone with a tight vagina or whose partner's penis size is large. Most others will prefer the Sync's or Chorus' adjustable fit.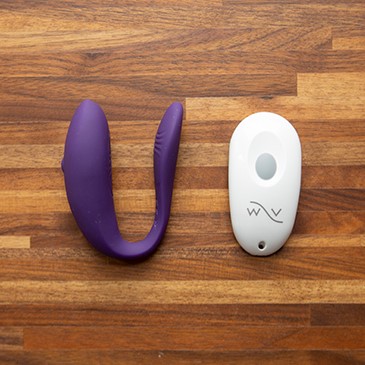 Cheapest option that still can work okay. But fit is looser and vibes weaker than We-Vibe's higher-end models. Recommend buying through Lovehoney so you can return if it doesn't fit you.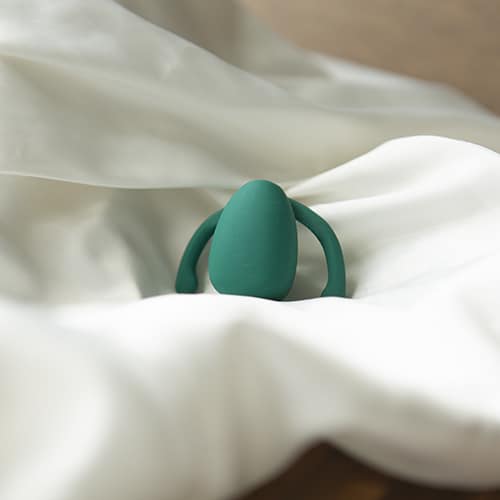 A unique, beautiful design for hands-free clit stimulation during sex. Whether it will fit you highly depends on your own anatomy. Buy through Lovehoney so you can return if it doesn't work for you.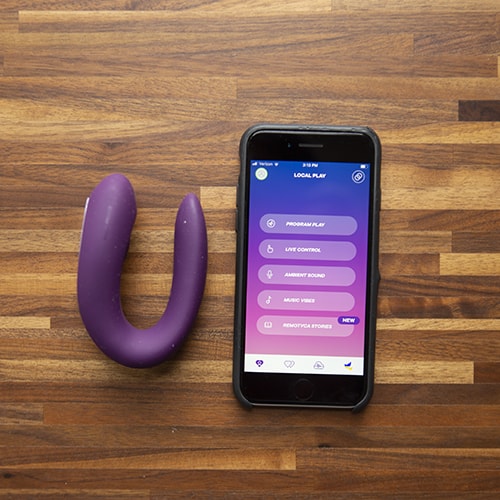 I couldn't get a good fit that stayed in contact with my clit. Shifts around a lot and the internal arm was too large to have both the toy and my partner in me.
The absolute cheapest at ~$25. Shifts around a lot and difficult to keep in contact with your clit during sex. Low risk if you want to try it, but don't set your expectations high.
Satisfyer Double Joy Vibrations & Stimulation
Well, there's no easy way to say it. The Double Joy's vibrations are just plain shrimpy.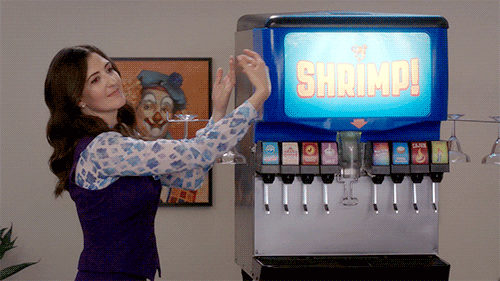 They are about half the strength of my other C-shaped wearable toys. I rate the vibrations and stimulation I get from the Satisfyer Double Joy at about 3.6 out of 10. Whereas the We-Vibe Chorus and Sync get a 7.8 and 7.4.
I can orgasm hands-free from both the We-Vibe Chorus and the Sync. But with the Satisfyer Double Joy, there's no chance.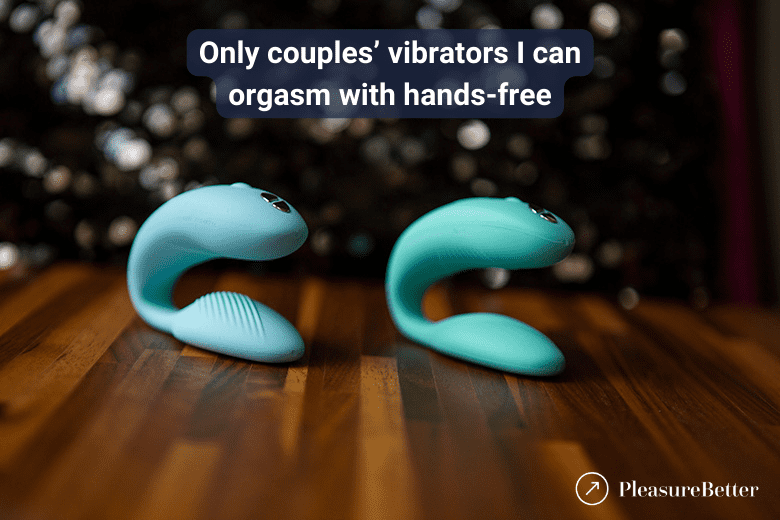 And the vibrations are so buzzy. Normally, that's not a huge complaint from me. I actually enjoy high-quality buzzy vibes for clitoral stimulation!
But the Double Joy's vibes are so faint that the buzziness has little to no impact.
Another thing working against this toy is the loose fit. The Double Joy is so flexible that the clitoral arm wants to move off my body instead of staying in firm contact with my clit like the Chorus and Sync do. The loose contact with my body doesn't press the vibrations into me at all.
The vibes just float off into the air.
But even if you take your hand and press the toy in, the vibes still don't hit where they should because the Double Joy's surface is so broad. The wider clit-motor can't slide between the labia to get close to my clit. As a result, I have difficulty getting the vibrations to head toward my clit!
My We-Vibe Sync and Chorus are worn like the Double Joy, but they perform so much better. First of all, they have about double the vibration strength. Plus, the vibes are rumbly, so they travel deeper through your body.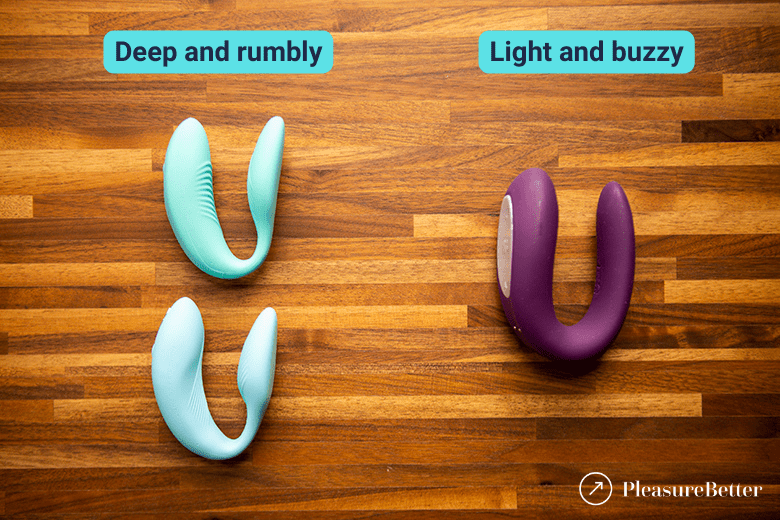 The Sync and Chorus are also adjustable. They have two hinges you can maneuver to change the vibrators' shape to fit your particular body.
This allows me to get a fit that rests securely on my clit and delivers all the vibration strength where I need it to go. As a result, the We-Vibe Sync and Chorus are the only two wearable couples' vibrators I can orgasm from hands-free during sex!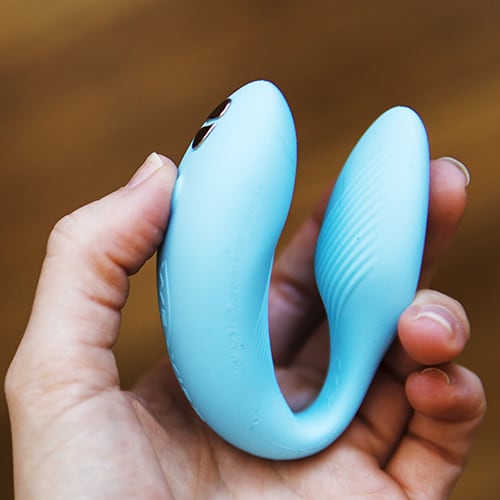 The Chorus is the strongest hands-free couples vibrator, and I orgasm with it the easiest.
15% Off With Code "PleasureBetter15"
Bit Softer, but I Still Orgasm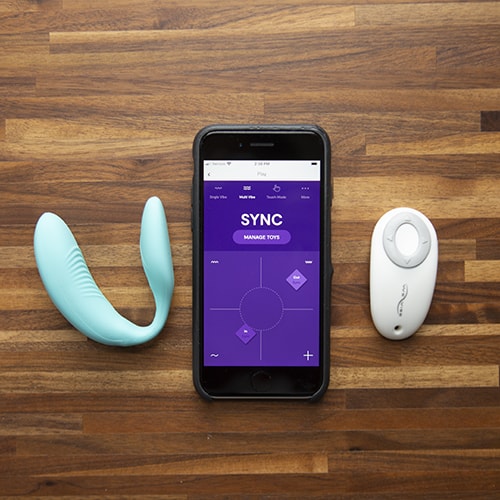 The Sync provides slightly softer stimulation than the Chorus, but it's the only other one I orgasm with hands-free; Touch less expensive than Chorus
The only downside to the Sync and Chorus is that they're about 3-4 times the cost of the Double Joy. And I was not ready to give up on finding a budget couples vibrator!
So I bought a second budget hands-free couples vibe - the Satisfyer Double Classic (also called the Satisfyer Partner Vibrator).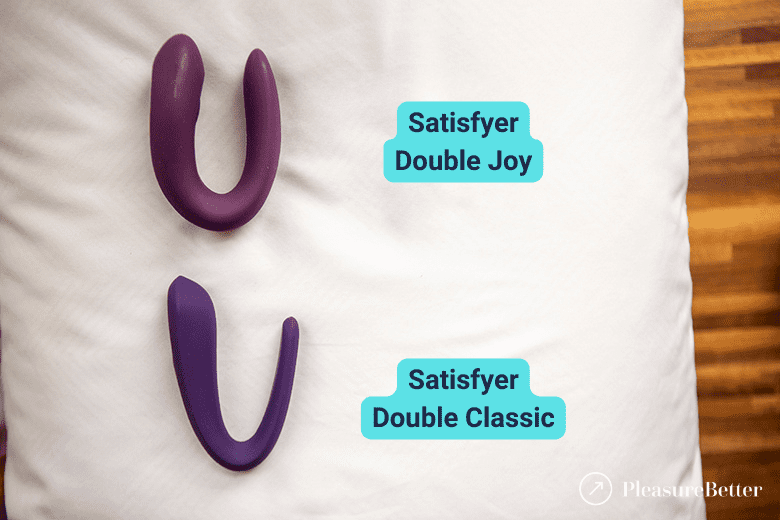 Long story short, it has similar issues: weak vibes and a terrible fit.
I'll continue searching for a cheap C-shaped vibrator that works. But so far, I've been unsuccessful. In my experience, if you're looking for a hands-free vibrator to wear during sex, it's worthwhile to spend on the We-Vibe Chorus or the Sync.
So here's where I pitch an unexpected twist.
Maybe the best budget buy is not hands-free! I know that hands-free is fantastic for freeing up the mind and body to engage with your partner. But if the toy isn't doing what it's supposed to, it will be more of a distraction.
The toys I use most often for clitoral stimulation during sex are handheld. So why not look for stronger vibes that do what you need them to? Let's find some options that will be easier to hold, control, and slip into hard-to-reach places!
Two recommendations:
First, the Lovense Ambi - a fairly budget-friendly option. I'll admit, this one looks kind of strange! When I forget its name, I call it "the golf club one."
But I've found its strange shape helpful for sliding between your legs during sex. You can grip the small handle, and then the bulbous portion angles itself into place. I find it more space-conscious than other bullet vibrators, which stick out straight and don't allow space for someone to be close.
I like that the golf-club-like handle allows me to apply some leverage and press the vibes in better too. The Ambi has stronger vibes than the Satisfyer Double Joy, and it stimulates my clit much better during sex.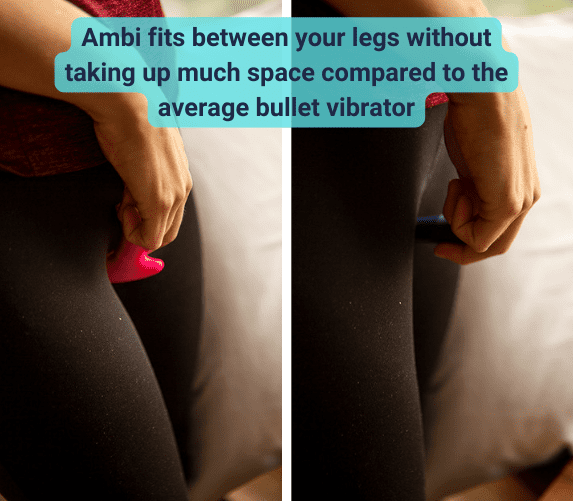 Second pick - the Lovense Hyphy. This one is a little pricier, but it's one of my top-favorite sex toys overall. I use the powerful G-spot end of this toy for clitoral stimulation. The longer, curved handle helps me press it in without taking up too much space.
And since the handle is a bit longer, your hand doesn't have to be down there quite as far as it would with the Ambi.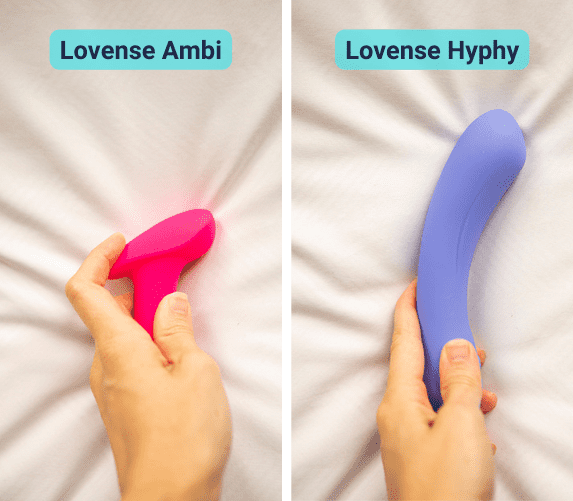 When you find a vibrator with the right size and shape, holding a toy during sex is easy.
Satisfyer Double Joy Fit & Comfort
So here's the thing - the Double Joy was the only couples vibrator that would not fit while my partner was in me. The G-spot arm was too dang thick! I mean look at it compared to my others: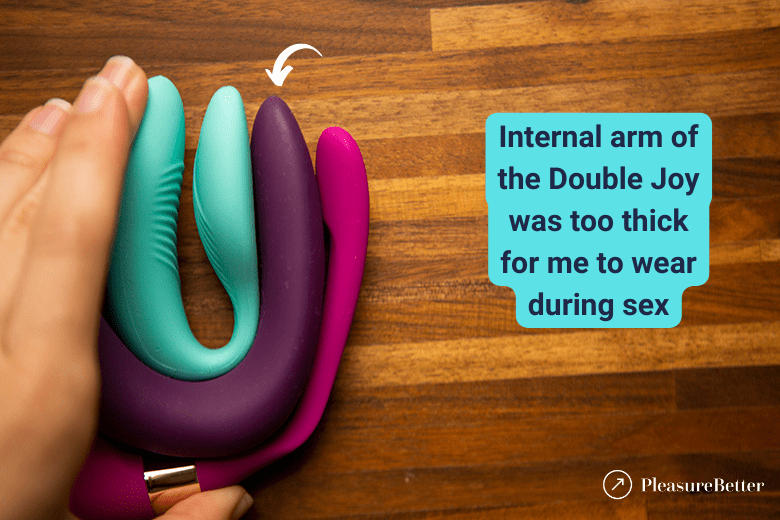 So besides low-vibe power, the fit and comfort was the main thing that really killed it for me. Even the Dame Eva, which is highly dependent on your individual anatomy (and didn't work very well with mine) fit better.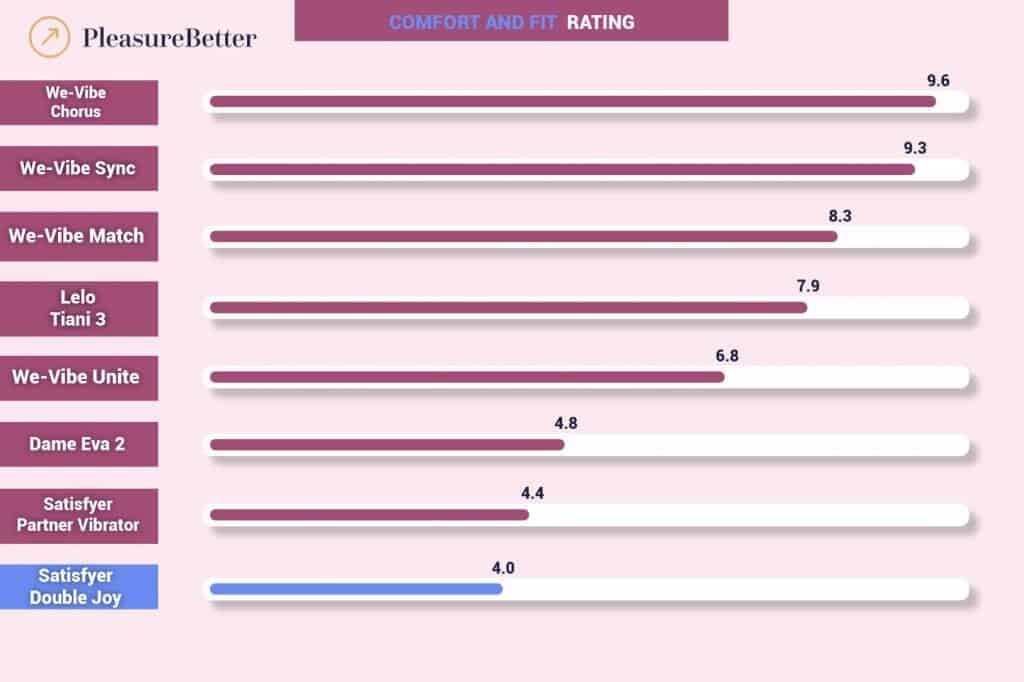 Now, it might still work for you if you're accustomed to some real girth. But the thick, tapering arm also made it nearly impossible to keep the toy in.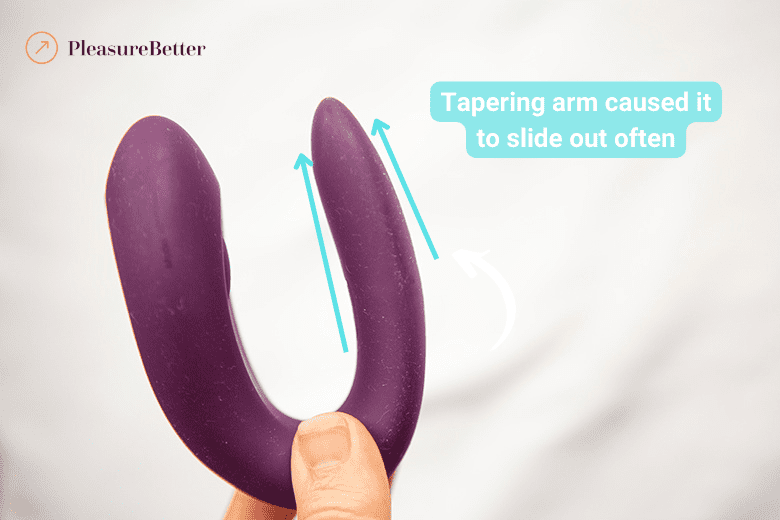 Your vagina naturally tends to squeeze it out. Even if I'm just laying in bed! And don't hold out hope for wearing the Satisfyer Double Joy while walking around. It slides out too easily, especially with how heavy and bulky the external portion is.
As for comfort, it feels OK when I am wearing it alone in bed. It gives more of a stretch at my vaginal opening than I like, but not too horrible.
But if you can manage to fit your partner or a dildo in with the Satisfyer Double Joy, it's going to really give you a wide stretch. Since my partner couldn't fit, we tried him fingering me with the toy in. And even this was too much for me. (I try to avoid the speculum stretch as much as possible)
Most of the other C-shaped couples toys (including the Sync, Chorus, and Lelo Tiani) have much thinner internal arms to fit a partner easily.
The Sync and Chorus have this nice flatter design so I can actually fit my partner in. And it doesn't give me an uncomfortable stretch.
And they still provide good G-spot pressure because they have this sort of bump once the toy is inserted a bit.
That bump also helps the toy stay in my vagina. Even when my partner is thrusting.
Satisfyer Double Joy App Control: Close-Range Features
The Satisfyer Double Joy's app is one area in which I have no complaints.

In close-range Bluetooth mode, you can choose from so many preset patterns! At the time I'm writing this, there are 34 patterns available - and Satisfyer keeps adding more. And technically, you have unlimited designs through the "Community" feature.
This lets you try and download free patterns that other toy users have made.
You can also use Live Control to easily create your own pattern right in the moment. You have super custom control and can draw out different patterns for the clit and G-spot motors.
This design your own pattern feature also has a "Loop" button. Looping is one of my favorite things to do because you can draw out a tiny bit of pattern, and then it will just continue repeating that! So it's great if you don't want to stay glued to your phone.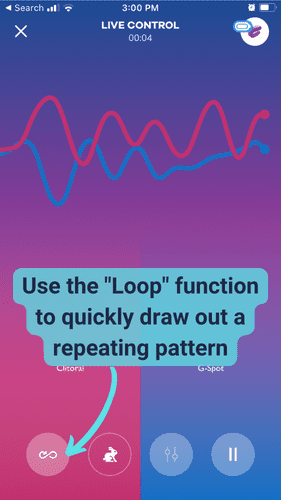 Satisfyer's live control is better than We-Vibe, OhMiBod, and FeelConnect (all more expensive app-control brands).
The Ambient Sound setting will respond to the noise around you. So turn up some tunes in the bedroom and get some vibes with the bass!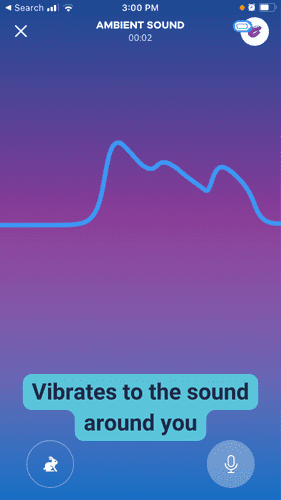 Or there's also a "Music Vibes" control feature, which will let you play a song from your phone! And the toy will buzz along to the beat - even if you have the volume turned down. I use this feature to keep the vibrations changing without actively controlling the vibrator.
It also has a newer "Remotyca Stories"... otherwise known as erotica. This has several free erotica stories that your Double Joy will buzz along to!
My review of the Double Joy's vibes and fit has not been great. But if you're as psyched about the app-control as me, I'd recommend trying the Sexy Secret Panty Vibrator instead.
Obviously, this will serve a different purpose than the Double Joy. It's not wearable during sex, but it is wearable in public. And I find it super fun to use with my husband during a sexy night out.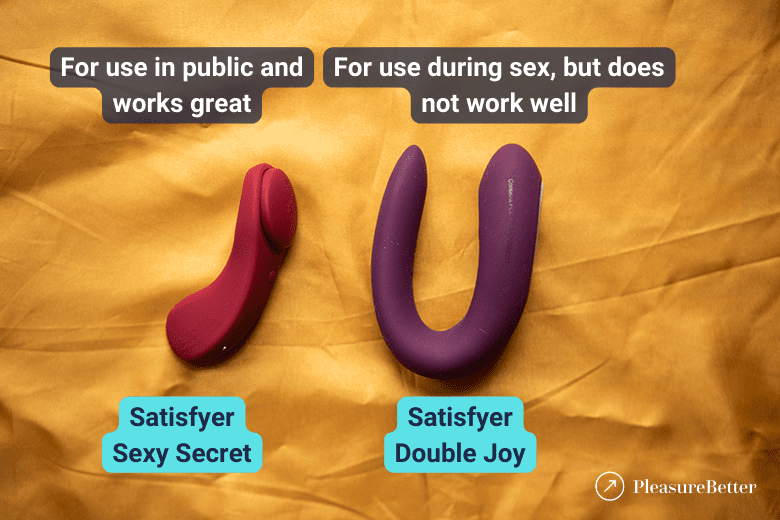 I have a full review of the Sexy Secret here. And you'll be pleased to know, it's a great budget-friendly option. Especially considering my other favorite app-controlled panty vibrator (the Lovense Ferri) is more like triple the cost.
Satisfyer Double Joy App Control: Long-Distance Features
Satisfyer also provides an excellent long-distance experience in their app. Only Lovense delivers a better experience than Satisfyer. But Satisfyer's app beats the other more expensive brands like We-Vibe, OhMiBod, and others.
You can video call, text, and share control of your toy with a partner from anywhere in the world!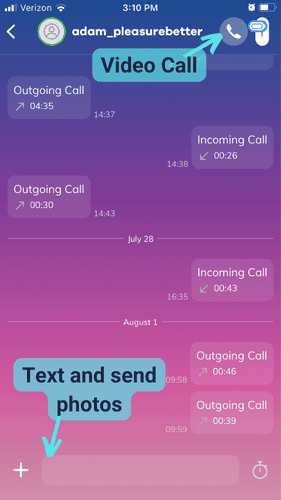 Since I didn't love the Satisfyer Double Joy, I enjoy using this feature with the Sexy Secret instead.
To add a partner, you'll just search for their username. Once they're saved in your "Partners" list, you can interact with them.
To offer control of your toy, you'll call them through the app. They'll accept the call. Once you're both on, your mic and camera will be turned off. But you can unmute yourself and turn your camera on!
I like that the Satisfyer Double Joy's app is set to start with the video and mic off until you choose to turn them on. It's helpful if you're playing with someone you don't know as well and want to remain a bit more anonymous. Or if you're just not quite in the moment yet. Overall, it's just a nice addition, so there are no surprises.
The toy owner can then "Share Control" of their toy. So this will let your partner draw out patterns for you.
The visuals aren't quite as good as they are in the close-range control mode. In long-distance mode, the app doesn't show a line representing the exact pattern you're drawing as it does in Bluetooth mode. But it still works well.

Your partner will drag the gradient up and down on the screen to increase or decrease the vibration power. They can also click loop to create a repeating pattern quickly. It's a great feature if you don't want to keep your fingers busy the whole time.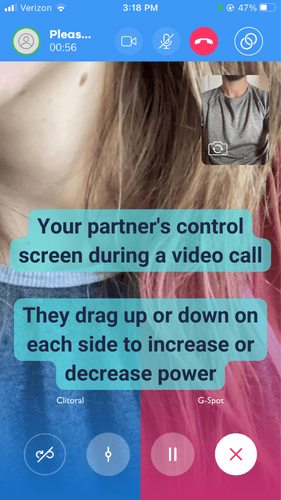 And your partner can control each of the Satisfyer Double Joy's motors individually. So if you prefer the G-spot stimulation to be softer, they can keep the internal arm humming gently but turn the clitoral motor on high.
You can end the whole call or just toy-control at any point.
It's very easy to connect and interact with a long-distance partner! I never have trouble seeing a call from my partner. It flashes up very noticeably on the screen. (Not every app clearly displays incoming calls)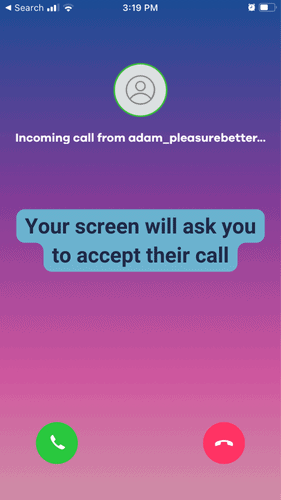 Especially for a budget buy, the Satisfyer Long-Distance features provide wonderful customization and are very easy to use! It's second only to Lovense (the leading app-controlled brand). But I prefer Satisfyer's app to all the other more expensive brands.
Satisfyer Double Joy App Connectivity
The Double Joy stays very reliably connected to the app!
This is another reason I love the Satisfyer app, even though I can't say the same for the Double Joy itself. I can lock my phone screen or open other apps and the Double Joy stays paired to my phone.
I can typically play for more than half an hour without experiencing any disconnections.
The initial pairing is also quick and easy. The screen walks you through what button to press, and for how long to connect the Double Joy. I'm generally up and running within a few seconds of turning the vibrator on and opening the app.
You can also separate the Double Joy and app a decent distance before they disconnect. I tested all my wearable couple's vibrators outside my house. And we could separate the Double Joy from the phone by about 63 feet before it dropped connection.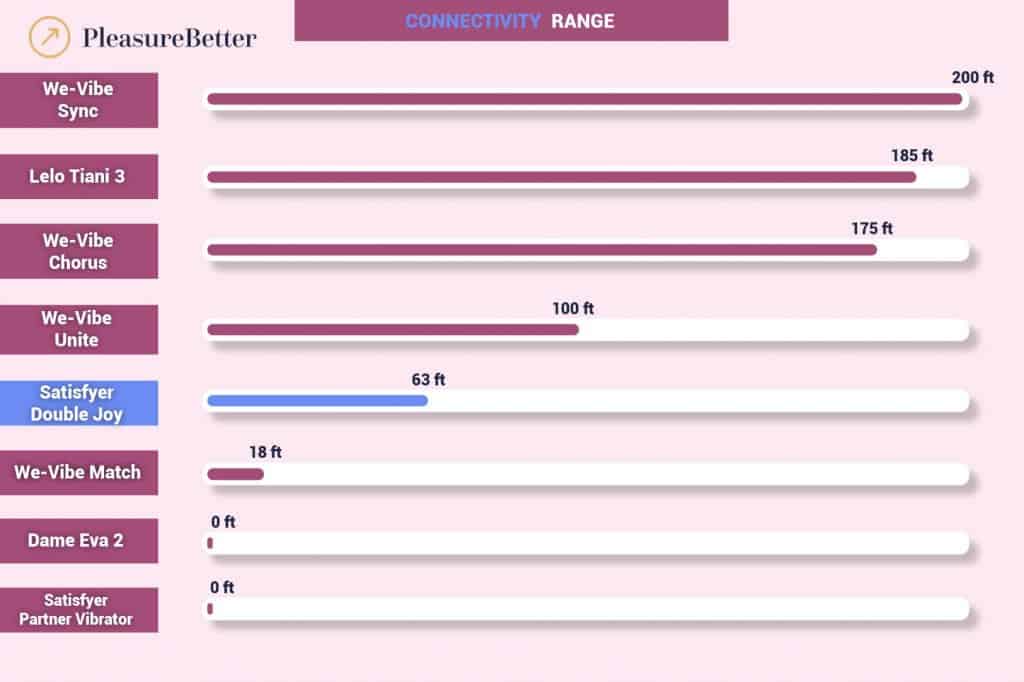 I'm very impressed with the Satisfyer Double Joy's app and connection quality - especially at such a low price point. It's better than many more expensive brands.
If Satisfyer can bring the quality of the vibrator itself up to the standard of their app, they'll have a couples' toy worth buying.
Satisfyer Double Joy Noise
The Double Joy is one of the louder couples' vibrators. It's still quiet enough that no one will hear it on the other side of a closed bedroom door. But I don't recommend public play with the Double Joy if that's your interest.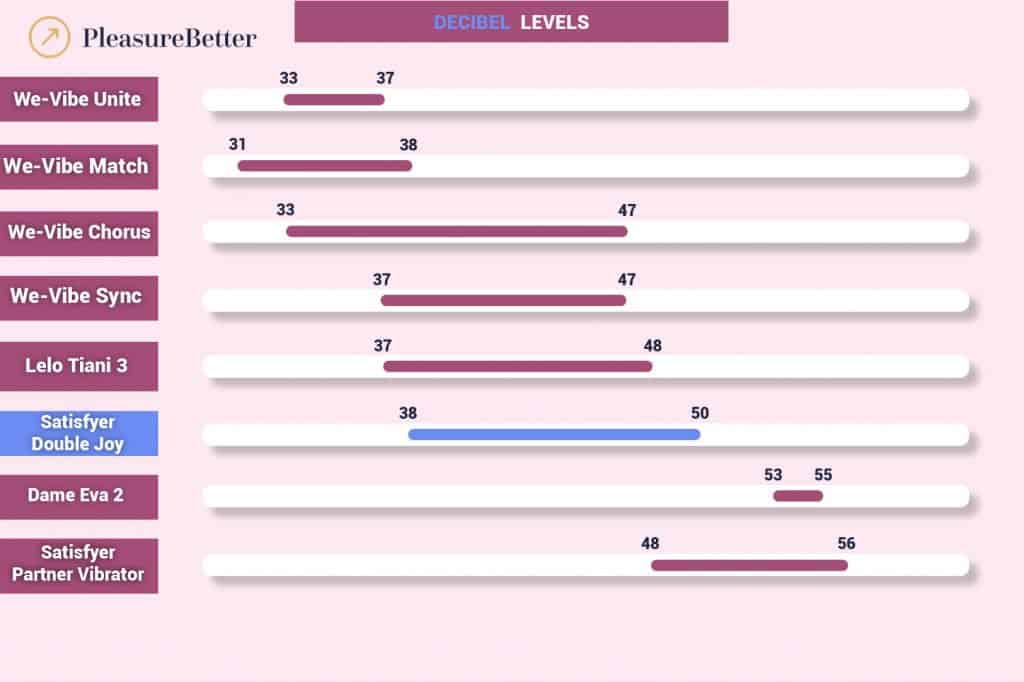 If you do decide to wear it in public (which I don't recommend due to the unreliable fit and noise), it will need to be somewhere with consistent ambient noise.
I tested the Double Joy and my other toys by measuring their decibel levels while wearing them. And I took them out to different locations with my partner. I would change patterns and power levels, and he would let me know when he could begin to hear it.
In our quiet home sitting 10 feet apart, he could hear it on all levels and patterns. But when we took it to a coffee shop with just light music playing, he could not hear it. So anywhere louder would also drown out its sound.
If you're looking for extra-quiet public play, egg vibrators tend to be the best. They only have an internal motor (no clit motor), so your body helps dampen the sound better.
Since most people will probably just use this at home, we tested listening from the other side of a closed bedroom door. I was surprised because as the user, I could certainly hear it! But my partner could not hear the Double Joy's noise from the other side of the door.
Satisfyer Double Joy Battery Life & Charging
I charged up all my couples vibrators and tested their battery life by setting them to vibrate continuously on high power.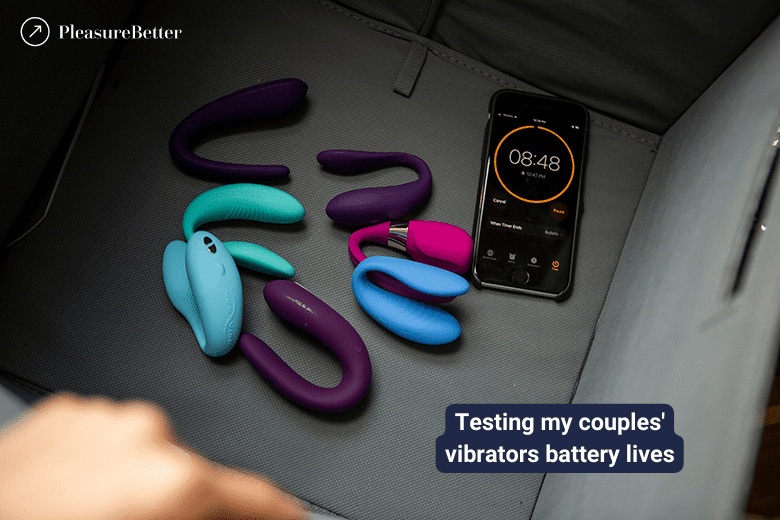 Then I checked on them every 10 minutes to see which ones were still going!
The Satisfyer Double Joy's battery lasted longer than most of my other C-shaped couples vibrators. It lasted about 115 minutes. So you'll have plenty of playtime with the Double Joy.
But probably part of the reason it lasted longer than others is that its highest power is weaker than the highest power of the We-Vibe Chorus and Sync which lasted 65 and 85 minutes respectively.
So I still recommend those toys more because they're much more stimulating. They still last plenty of time for use during sex, and provide a much more satisfying experience.
If you're looking for a vibrator you can wear during an evening out, I get much longer play-times out of my egg vibrators and vibrating panties. Those are designed for public play, so they tend to last longer.
Other Satisfyer Double Joy Specs
Satisfyer Double Joy Materials
The Satisfyer Double Joy is made of body-safe silicone! It feels slightly less silky than We-Vibe's couples toys, but it is fairly soft in most places.
Satisfyer Double Joy Size
This Satisfyer Double Joy is 57.4 mm tall by 91.4 mm long. So it's much larger than most other couples vibrators.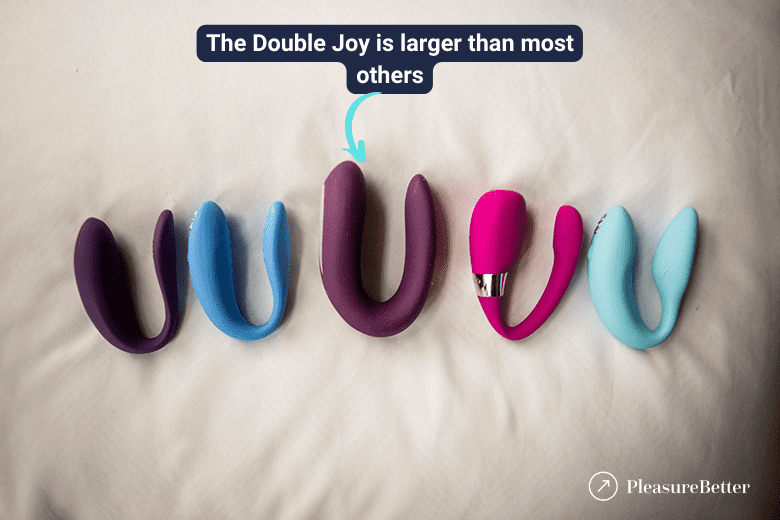 And the widest point is 41.8 mm on the clit-vibrator end. Here's how it looks in my hand for reference!
Because of the Satisfyer Double Joy's thick size, I cannot have my partner in me while I wear the Double Joy. On the other hand, I can wear the slimmer We-Vibe models like the Chorus, Sync, and others during sex with my partner.
Satisfyer Double Joy Waterproof Rating
The Double Joy is 100% waterproof! It has an IPX7 rating, meaning you can submerge it up to 30 minutes. So cleaning it is easy - you don't need to keep running water away from any part of the Satisfyer Double Joy. Likewise, you can wear it in the shower if you'd like.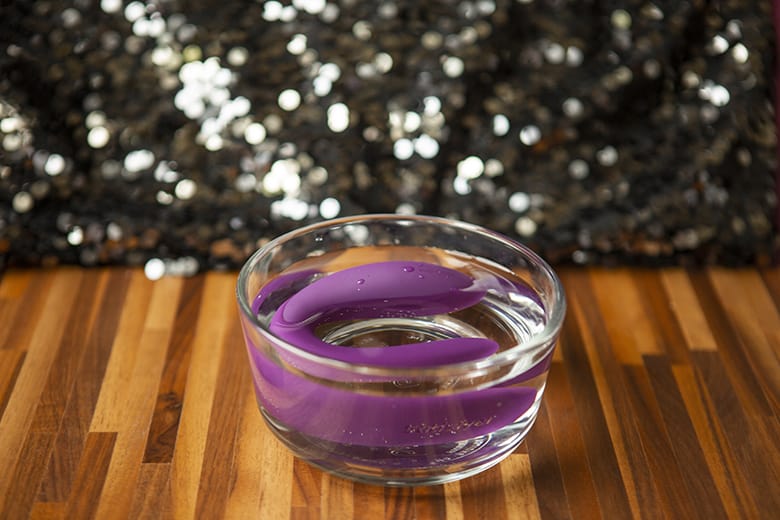 Satisfyer Double Joy Packaging
Satisfyer's packaging is always lovely. I'm especially a fan of the magnetically closing wrap-around feature. It doesn't come with any sort of storage bag, but then again - it's a budget pick.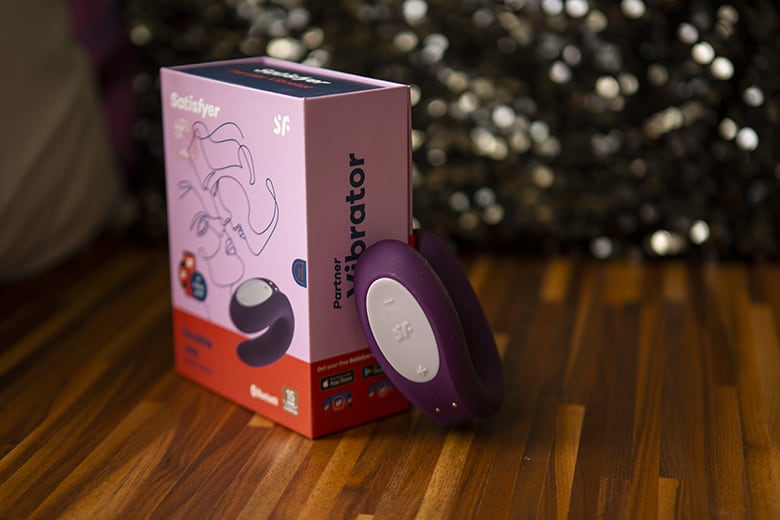 Satisfyer Double Joy Review Results
The Satisfyer Double Joy is a budget-friendly couples vibrator designed to wear during sex for hands-free stimulation.
But unfortunately, I don't think it will work for most people. The inner arm is really thick, so I cannot have my partner in me while wearing the Double Joy. This is the only couples vibrator I've tried that I haven't been able to wear at all during sex.
If you're used to penetration from thicker objects, you may have better luck wearing the Double Joy during sex.
But I think most people will have a better experience with We-Vibe's couples toys.
The Satisfyer Double Joy's vibrations are also quite weak, and it fits too loosely to stay in contact with my clit.
I was really hoping I'd love the Double Joy. I want to find a budget-friendly toy I can recommend to people who want something hands-free to wear during sex. But sadly, I've yet to have a good experience with the cheap We-Vibe alternatives.
If you need your toy to be hands-free during sex, the extra cost of the We-Vibe Chorus (my top pick) or We-Vibe Sync (my second favorite) is well worth it.
If your budget is tight, you're better off putting your search for a hands-free toy on pause, and opting for a handheld vibrator to use during sex. You can find less expensive handheld toys that work well.
Instead of the Satisfyer Double Joy, I highly recommend considering one of the alternatives below!
Satisfyer Double Joy Alternatives
We-Vibe Sync or Chorus
I feel pretty confident in saying the Sync and Chorus are the best options out there when it comes to wearable toys during sex like the Satisfyer Double Joy. And they're the only two I can orgasm from during sex with my partner.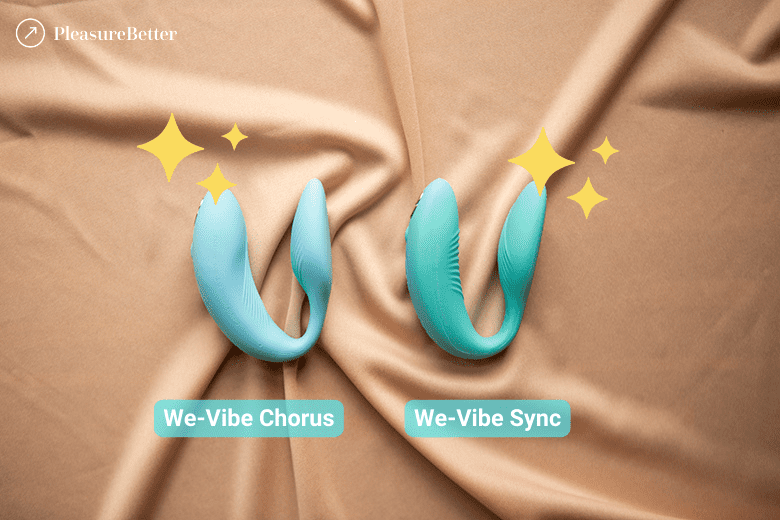 We-Vibe is the leading wearable couples toy brand for a reason, but their prices do reflect that.
The Chorus and Sync stay in place and maintain contact with my clit better than any other couples' vibrators I've used. And their vibrations are the strongest of these hands-free couples toys. Plus, they have that signature deep, rumbly feel that We-Vibe is praised for.
One of the main reasons I can orgasm with the Chorus and Sync, but not others is that these We-Vibe models are adjustable. They have two hinges, so you can change the toys' shape to fit your own unique anatomy. This helps them get a much better fit than the Satisfyer Double Joy, which is merely flexible but not adjustable.
Because I can change their shape to fit my body, their clit arms stay in contact with my clit, so all the vibes go where I need them to. I do get a slightly better fit with the Chorus than with the Sync.
But it's only a bit more stimulating than the Sync and costs about $50 more. I recommend either option. If you want the absolute best, go with the Chorus. But the Sync is also an excellent choice at $50 fewer.
Both the Sync and Chorus are app-controlled and remote-controlled. I often prefer using the physical remote control during sex for simplicity. So that's another aspect I prefer the Chorus and Sync over the Satisfyer Double Joy.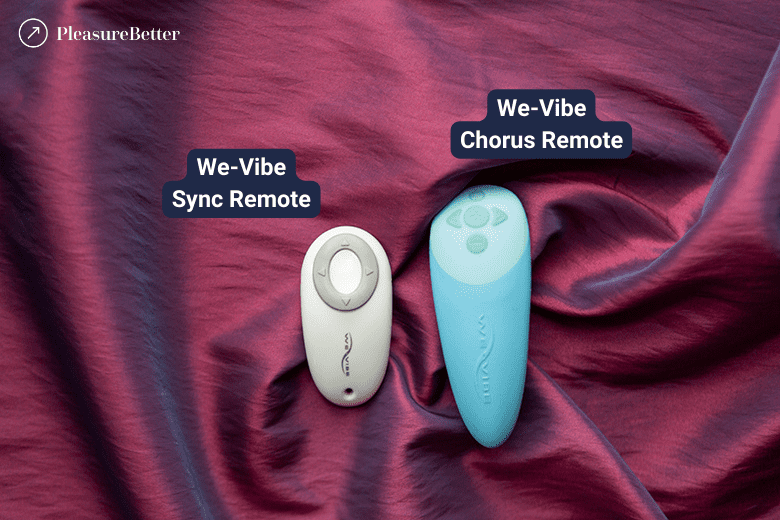 I am always up for choosing a bargain. But wearable couples' vibrators during sex are one of the categories you need to spend a little bit extra to get a toy that works.
Even We-Vibe's cheaper options (the We-Vibe Match and We-Vibe Unite) don't work very well in my opinion. Unfortunately, none of the budget-friendly options even come close to the performance of the We-Vibe Chorus and Sync.
If you consider these, you'll be picking between the more-updated and feature-rich Chorus. Or the similar, but slightly older Sync. But the price difference of $50 is kind of a big deal. So here's my We-Vibe Sync vs Chorus article to help you decide!
Read full We-Vibe Chorus review here and We-Vibe Sync review here
Handheld Toy
In case you missed it, handheld vibrators are actually my preference for clit-stimulation during sex. Of course, it's nice to have a hands-free option, but I just love the control a handheld toy gives me!
My personal favorites (the Lelo Mona 2 and Lovense Hyphy) are less budget-friendly. But plenty of relatively inexpensive handheld vibes work well for clit stimulation during sex.
The We-Vibe Tango X and Lovense Ambi are mid-budget options with good power and high-quality vibrations.
I enjoy using the Ambi more during sex because it has an angled head that I can easily fit between our bodies. I can grip the small handle and apply some leverage to press the vibes exactly where I want.
While I prefer the Ambi during sex, many people also love the We-Vibe Tango X. It's thin but strong and very rumbly (which many people rave about). It fits easily between our bodies, but it's harder for me to leverage than the Lovense Ambi.
If your budget is even tighter, you can check PeepShowToys' selection of vibrators under $50.
On the other hand, if you have a greater budget, my two favorites are the Lelo Mona 2 and Lovense Hyphy.
They're G-spot vibrators that I use clitorally. These are, in my opinion, the best of the best for a few reasons:
They have a slim shape and longer handles so you can position the toy where you want without having to reach your hand down very far. So your hands are clear of the action, and the toy itself doesn't take up much space either.
They have curved handles, which give you the leverage you need to add pressure without much effort.
And the Mona has a nice pointed tip, which is very helpful for sliding in those tight places too!
Both have excellent power, making it very easy for me to orgasm. They're stronger than the Ambi and Tango X (and way more powerful than the Satisfyer Double Joy). So I use them more frequently myself.
Satisfyer Double Classic
If I still haven't convinced you to spend for a higher quality hands-free toy or choose a handheld vibrator, here's a cheaper C-shaped vibrator to consider. You may prefer the Satisfyer Double Classic (also called the Satisfyer Partner Vibrator) over the Satisfyer Double Joy.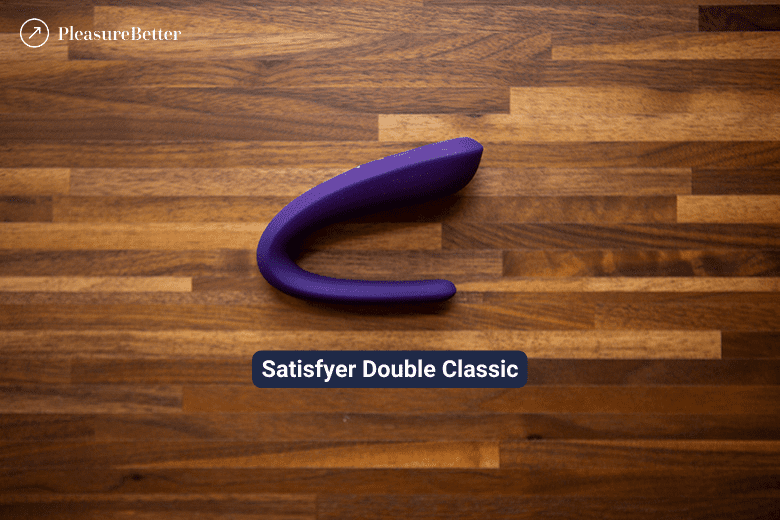 The Double Classic is typically even cheaper than the Double Joy, so you're not out as much money if it doesn't work well for you. And I could at least have sex with my partner while wearing the Double Classic. It has a thinner internal arm than the Double Joy, so my partner can fit in me while I'm wearing it.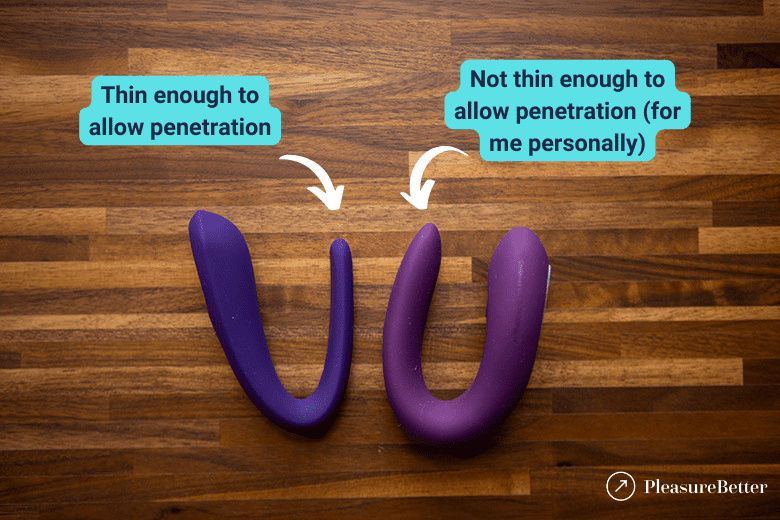 It's still not the most comfortable option. And I find that when a penis or dildo is inserted, it tends to shift the toy off to the side instead of pressing the internal arm into my G-spot.
The way this toy skews to the side also shifts the clitoral vibrations off to the side. Since the toy already does not sit very tightly against the body, it only makes the stimulation worse.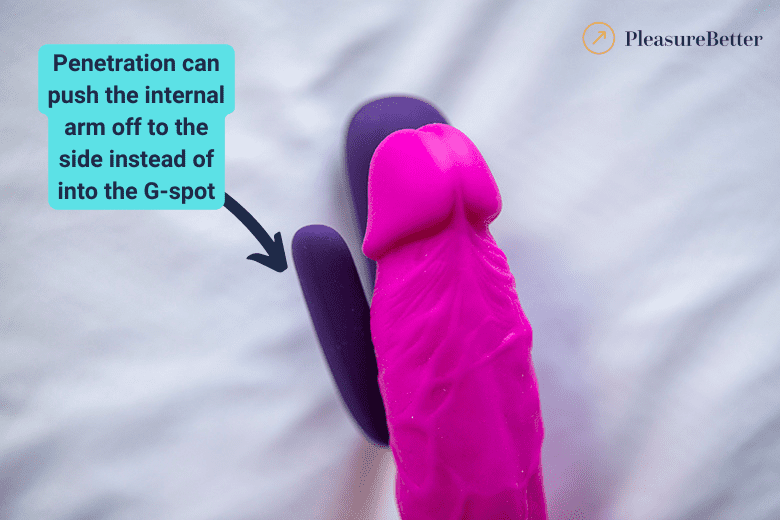 But the vibrations are a little stronger on the Satisfyer Partner Vibrator than on the Double Joy. So you may catch a few more of the vibes.
I need to use my hands to keep the toy in place well. Certain positions are better than others. This one also does not have a remote or app, so you have to control it from the button on the toy itself.
I would say, if it's your very first attempt at a wearable couples' toy, and you need to keep it around $20… Then it might be worth checking out this toy just to get a starting experience.
Just be aware that it is much less comfortable and stimulating than the higher-quality options. I wouldn't set your expectations too high, but I had a slightly better experience with it than with the Double Joy. Plus, it's cheaper.
Then, when you're ready, you might consider making the jump to the We-Vibe Sync or Chorus!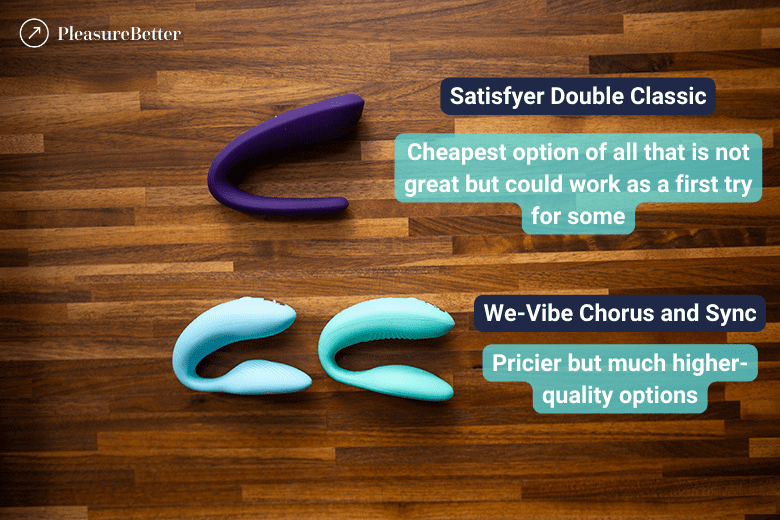 Where to Buy
PeepShowToys and SheVibe are the two places that typically carry the Satisfyer Double Joy. Their prices are usually lower than buying directly on Satisfyer's site.
At PeepShowToys you can also use the code PleasureBetter at checkout for 10% off your entire order.