So – you're curious about the OhMiBod Esca 2 and just how much fun it can bring you? Well, I am tying my hair up to write about this little number. Because if there's one thing that gets me going, it's keeping a secret. And this little secret certainly turns up the heat.
Wearable vibrators are my latest muse – and let me tell you – there's a surprising variety of them.
Like its main competitor, the Lovense Lush 2 (and upgraded Lush 3), this purple cutie is designed specifically for G-spot stimulation .
So the majority of the Esca 2 egg vibrator is inserted, with a thin wrap-around arm extending to the outside world. Slide it right up in there against your g-spot for some super internal vibes directed right where it counts.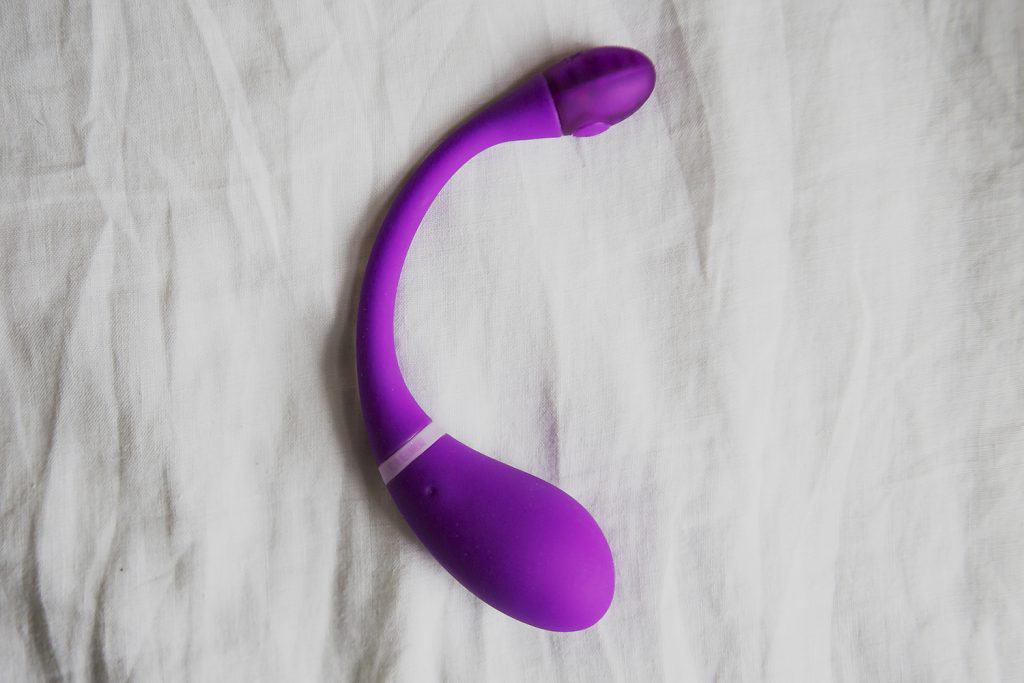 This sex toy is also app-controlled, so passers-by will be none the wiser to what you're ACTUALLY doing on your phone. But guess what's even better? App control means that distance is no issue here! Give control of your Esca 2 to a partner across the room, across town, or across the world.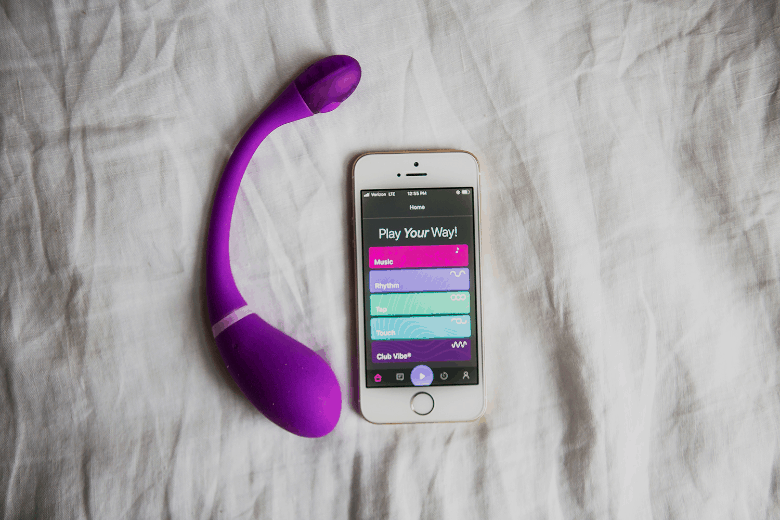 Overall, the Esca 2 is designed for subtle public fun and/or playtime with a long-distance partner, which sounds like a hoot on paper. But at this price-point, it's no impulse-buy, so let's talk specifics in this OhMiBod Esca 2 review.
Esca 2 – Cost
Alright, I already said it – this is no every-day sex toy purchase (at least not for me). But you're doing your research – so let's get you some info.
I'd like to first acknowledge something to you – I am cheap. I am forever looking for budget buys, and if you are too, here's a few things you should know:
First off, this is sort of the base cost that you'll find for a product with all of these features at this quality. Most of these bluetooth wearable vibrators are on at least their second versions. These later versions improved connectivity, power, comfort, and other things.
So if you're on a tight budget you could opt for an earlier version of a wearable vibrator. But keep in mind you'll be missing out on improvements the companies have implemented in their sex toys – especially better connection to their remote app.
The Lush 1, for example, is a really similar setup. Wifi-controlled, wearable internal vibrator for out-and-about situations at about half the price of the Esca 2! Downsides to the Lush 1 are that many have found this to be less comfortable, less powerful, and had more issues with connectivity. For half the cost though, it could be a contender if you're on a tight budget!
Other, more budget-friendly options include the Alive vibrating egg which has similar features, but is a budget REMOTE controlled toy. It has a physical remote – not an app. Budget remote control wearable vibrators can provide the thrill of public play with more limited range and control.
Esca 2 Vibration Quality
Probably the most important part of any OhMiBod Esca 2 review: The vibes.
Let's talk about what the Esca's vibes can do for you (and what they can't).
Where do the Esca 2 Vibrations Hit?
First off – there's a really big difference between a G-spot vibrator and a clit vibrator. Egg vibrators like the Esca 2, We-Vibe Jive, and Lovense Lush focus most (if not all) of their vibe-power on a precise spot INSIDE of you. About two inches in, on the front vaginal wall to be exact.
So this little bulb resting internally is where all the magic is happening.
I could (but will not) talk all day about this because looking at the shape of the Esca 2, you'd think the little wrap-around arm would house another motor to give clit stimulation.
This is NOT the case.
External vibrations are slim to none with this toy. If you need clit stimulation checking out the best vibrating panties like the We-Vibe Moxie (review) or Lovense Ferri (review) may be a better option for you.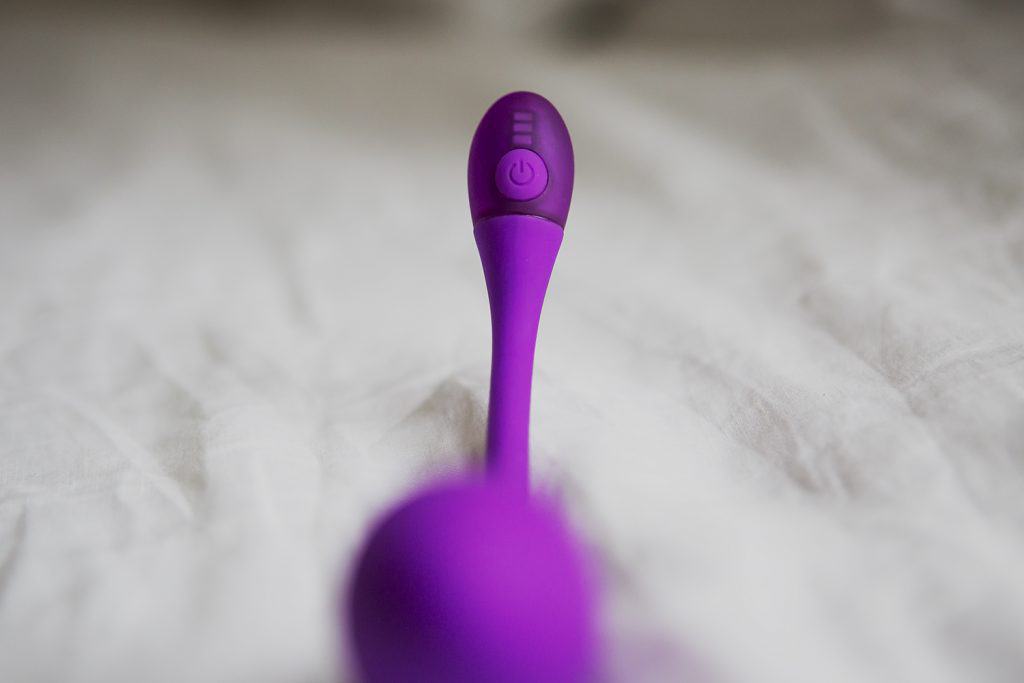 When you're at home and have the luxury of controlling exactly where that antenna arm sits, you MAY be able to coerce a few residual vibes to hit your clit. When you're out and about though, the layers of clothing will rudely muffle any of the second-hand-vibes.
And that's okay if you're in it for the g-spot vibes! One of the benefits to internal-only vibrators is that you can get a lot more power while remaining unnoticeably quiet. But if you're also looking for clit vibrations during your sneaky public play, there's wearables intended for better clit stim like the We-Vibe Chorus (review here) – another app controlled option.
Personally, I don't reach orgasm from g-spot stimulation alone, so the Esca 2 is a nice long-game for me. Great for teasing, great for warm-up, not something to take me all the way. We usually use the OhMiBod Esca while we're out together as foreplay and finish the fun when we get back home!
This may be the full package for you though if you orgasm from g-spot stimulation alone.
Esca 2: Rumbly vs Buzzy
Whether or not you've heard the age-old debate about a RUMBLY vibrator vs a BUZZY one, I'll give you MY definition so we're all on the same page.
Buzzy vibrations to me feel like tightly wound, quick back and forth movements that are fairly surface level and give pinpoint precision in directing the vibes to one spot only. When I hold a buzzy toy in my hand, I can mostly feel it in my fingers and hand – not so much into my wrist or arm. Bullet vibrators are a good example of a very buzzy vibrator. Here is my proud illustration of what this would look like:
Rumbly vibrations feel heavier and deeper to me. They're a bit more jarring, and affect a wider area. When I hold a very rumbly vibrator, I can feel the vibrations deeper into my wrist and arm. A wand is just about the rumbliest vibrator I can think of.
Rumbly vibrations tend to have a better reputation in the sex-toy world. I, however, think there's a time and place for each! And I think most people like their vibes to be a mix of the two somewhere in the middle.
Thank you for attending my lecture-hour. Now back to the toy at hand! Overall, I would say the Esca 2 leans more towards buzzy than rumbly – though I seem to be in the minority thinking this.
This makes it really awesome for that long-game I talked about. I've also found I'm less likely to feel over-stimulated with it. The Esca does feel more rumbly on lower power modes. Though it may not hit the spot for someone who prefers deeply rumbly sensations through the whole power range. If you want exceptionally rumbly vibes, the We-Vibe Jive may feel better to you.
Esca 2 Vibration Power
Let's talk POWER! How much vibration intensity is this little toy packin'?
Honestly – it's not the most powerful toy I've used. I would say on its highest setting, it's about average or slightly below in comparison to other internal vibrators I've used.
Let's keep in mind though, that this fellow is designed for out-and-about play, and too much power can get a little too loud for that. As I mentioned earlier – I don't typically climax from g-spot stimulation alone. I HAVE however, been able to orgasm if I take the toy out and use it externally. I still find the vibes stimulating and teasy when we're out playing and enjoy the foreplay.
If you want more powerful vibrations, the Lush 2 is stronger and more people report being able to orgasm from the Lush 2 alone. We compare the Lush 2 vs Esca 2 in detail here. Or see here for a comparison of the Lush 2 vs the Lush 3 (it's newest upgrade)
Esca 2 Vibration Patterns
One of my favorite features about the OhMiBod Esca 2 is its vibration patterns. Overall, I just feel like the creators of these patterns UNDERSTAND the female orgasm. I've written about this before, but I just feel like some of my toys have vibe patterns I NEVER use, because they're so out-of-whack with my body. The preset patterns on the Esca just feel like they're based on natural rhythms and are really easy for my body to follow. I'm a fan!
There are actually two different sets of "preset" patterns available. The first set is available if you're using the external button to cycle through patterns on the manual mode. The second set is accessible through the app.
There are five manual mode patterns controllable from the external button. The first three are just constant buzzing – each one at a different intensity. Fourth is a medium tempo, short wave. The fifth is a slower, more drawn out wave.
In-app, there are 6 different patterns available.
"Crashing Waves" is a series of 4 quick waves, then one longer, drawn out wave.
"The Moon" is another series of waves gradually getting stronger or longer.
"Deep & Steady" is a series of small bursts followed by a long, drawn out, constant buzz.
"Intense & Fast" is a high-intensity drawn out buzz, dropping to a medium-intensity drawn out buzz.
"Club" has a long held constant buzz, followed by a bouncing-around kind of feel.
"Ludicrous" is just one long high-intensity consistent buzz.
We'll cover vibes you create yourself in the next section.
Verdict – Vibrations
I really love the vibrations of the OhMiBod Esca 2 even though they're not as powerful as some of my other G-spot toys. If you want more powerful vibes look to the Lush 2 or for clit stimulation the We-Vibe Chorus. But the wonderful vibration quality and teasiness of the Esca 2 gets me WORKED UP while out and about and ready to go when we get home. Personally, that's what I'm looking for in a vibe like this.
Esca 2: App Quality
One of the things I love about the OhMiBod Esca app is how intuitive it is. Nothing kills the mood more than technology frustration. I tend to feel happy with what I already know, so new apps with a HUGE learning curve are a personal pet peeve.
This app just felt super easy to pick up and to understand!
That sentiment applies mostly to the close-range bluetooth control. We'll get into the Long Distance features a little later which I think could be improved. But both near and long distance control is through the "OhMiBod" App.
Esca OhMiBod Remote App – Control Panel
The Esca OhMiBod Control Panel has five different "play" options to control your vibrator.
The first one is "Music", which will automatically pull from your iTunes music, and can also be linked with your Spotify account. This is a great option if you want to "set it and forget it". The vibes follow the intensity of the music, so you can match your mood with your music choice.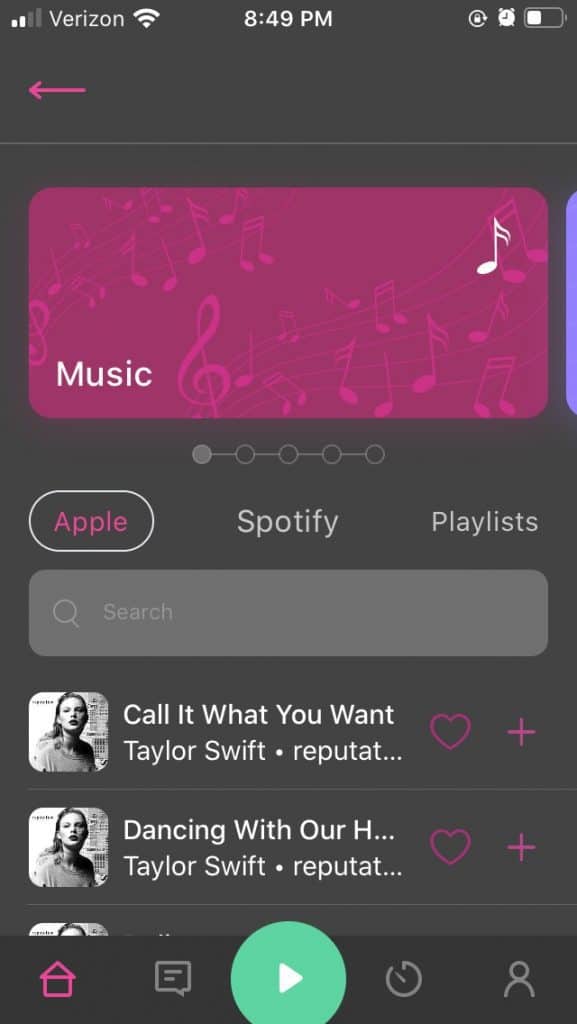 The "Rhythm" section is the preset pattern section that we talked about earlier. There are 6 preset patterns provided, but you can also create your own pattern and save it! Again – I feel like most of the patterns really jived with me, and tended to follow a nice repetitive wave feel.
The "Tap" feature is one of my go-tos with this toy. It's really easy with this feature to just tap the button for quick bursts, or hold when you want a drawn out buzz. You can control how high or low the intensity of the buzz is.
This feature also naturally repeats the tap sequence you do. So once you tap out a pattern, you can just set the phone down and it will keep that same pattern going until you touch it again! Want to keep that same pattern, but increase or decrease the intensity of the vibration? No prob – you can do that by adjusting the little slider around the "Tap" button!
The "Touch" feature provides a little grid to place a dot on. Wherever your dot is placed, there will be a series of rolling waves. The lower the dot, the slower and more drawn out the waves will be. As you raise the dot higher, the waves will get quicker and closer together.
The further left, the dot is, the lower-intensity the vibrations will be. As you move the dot to the right, the waves will become higher-intensity.
And finally, "Club Vibe"! This one is set to pick up on the sounds in your environment. Obviously it's ideal for a club, because there are LOTS of sounds to pick up on! But it can also be used in other environments to pick up on whatever's happening around you – whether music or not. I've found that I can just tap on the bottom of my phone to get some action if there's not a lot of ambient sound around. It's a helpful hack if you're not able to LOOK at your phone at that very moment. You can adjust both the sensitivity AND intensity of this feature.
Cam performers can also use the sounds to turn this toy into a simple tip controlled vibrator. Or use the FeelConnect app for better tip control for performers.
OK I've saved my favorite part for this very moment – one of the things that makes this app so smooth and easy to use is that you can swipe back and forth between the different Vibe-Control features with no interruption! I might be the only one geeking out about this, but I just think it's such a little thing that makes the experience go much more smoothly.
It makes it SO easy to go between my favorite settings without missing a beat! It's such a simple thing but for some reason not all apps let you do this. With the competing Lovense Remote app, if you want to switch features you have to back out to the main menu which STOPS the vibes while I'm switching control styles and can throw me off. Everything transitions smoothly on the OhMiBod Esca's app.
If I'm using a wearable G-spot vibrator by myself or with the close-range connection, I typically use the Esca 2 over my Lush 2 because I enjoy how the OhMiBod remote app handles controlling the vibrations. It's smooth, intuitive, and I love the little rolling vibrations of the Touch panel.
If you're someone who loves tons of features and creating detailed complex patterns, you may prefer the Lovense app. My partner enjoys it more and finds it more intuitive to him, but for me the OhMiBod remote app has the best control system.
Esca OhMiBod Long Distance Features
Besides some sneaky fun when you're out and about, this toy is helpful for those looking to GET. IT. POPPIN with a long-distance partner.
The Esca 2 allows you to add a connection by searching for your partners' username, and sending a request. Once connected, you can link up either by inviting them to control your toy OR approving their request to control your toy. This permission can be ended at any time by either one of you.
This Long Distance feature allows for video chatting or regular text chatting within the OhMiBod app. So you can let your partner see all the ways the vibrations they're sending are making you squirm.
Definitely a fun feature!
Unfortunately you can ONLY use the chat or video feature if you're also giving your partner permission to control your toy's vibes. This means I can't video chat with my partner while I control my own Esca 2. Sometimes I know what my body wants and would prefer to control my own toy while still connecting with my partner long distance. It'd be nice for OhMiBod to implement this feature.
In the video chat, you have the option of muting yourself, or turning off the video feed. You can also listen on your phone's "speaker" mode, OR just through the earpiece. Camera can be in selfie-mode OR you can flip the screen to give a nice view of whatever's goin' on in front of you.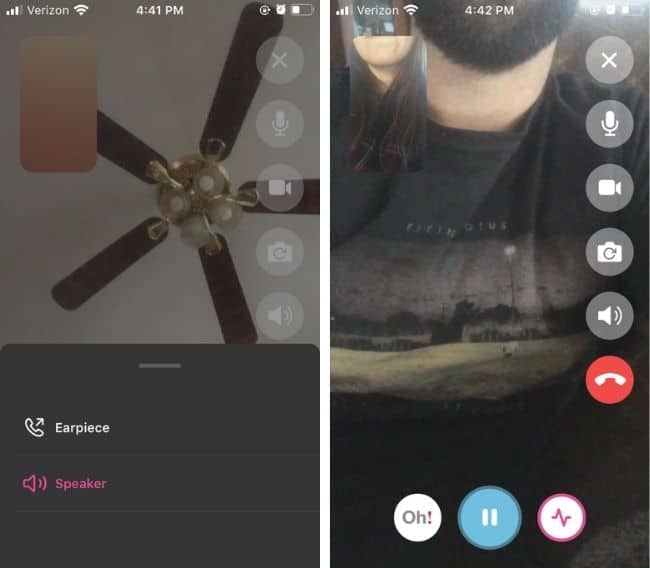 Here's what it will look like for your partner once you've invited them to control your toy or approved their request: Press your thumb to the screen and the control panel will briefly pop up on top of the video for your partner to set your vibes. They can scroll through to the different Esca 2 control panels by pressing at the bottom of the screen.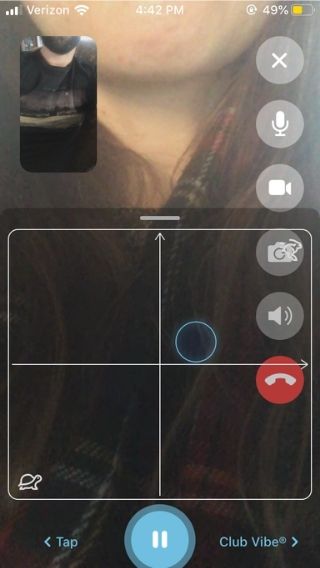 I was curious whether I could send text chats to my partner WHILE videoing them, but there's not really a great option for this. It's really one or the other with one small exception – the "Oh!dometer". This is basically a quick-press button to let your partner know you just had an orgasm. You can include a quick bit of customized text if you'd like, but it only quickly flashes on their screen, then disappears.
So what does it actually mean for YOU once you've given control-capabilities to your partner? I already mentioned that either of you can end the vibe-sharing at any time, but let's talk specifics.
Once you've given your partner control, you cannot access the control panel to add any of your own vibes anymore. I found this to be a bit of a bummer. Giving up control can certainly spice things up, but I'd like the ability to control it too.
Here's the good news – you're not COMPLETELY without options. While your partner has control of your toy, you do still have the ability to adjust the intensity of the patterns that they're tapping out. Do this by toggling up and down on your phone's volume OR by clicking the little intensity control icon shown below. You can also press pause to stop the vibes if you need a quick break.
One thing worth noting – some toys like the Lovense line have anonymous features that will allow you to give one-time access to someone without giving them your username. This toy does NOT provide this. Your anonymity remains in how specific you get with your username. And while you CAN block users on the OhMiBod remote app, it's not set up very conveniently for giving one-time control to someone anonymously. Look to Lovense for sneaky fun with strangers.
Verdict – App Quality
I like how easy and intuitive the OhMiBod Remote app is. You can't create complex wave-like patterns with this app like you can with some others like Lovense. But I prefer the trade-off for simplicity. I love sending quick bursts and tapping out patterns with the "Tap" feature or letting my Esca carry me away with the rolling wave-like vibrations of the "Touch" feature.
The In-app video chatting is great for connecting at a distance. I just wish I could also choose to control my own toy during long distance sex – but if you're video chatting you have to give control of the toy to your partner.
OhMiBod Esca 2 Connectivity
The Esca 2 is not the MOST reliable connection-wise. Since there's two different modes you can use this toy in, this really breaks down into two different categories of connectivity:
Esca 2 Close Range Connectivity
This is all about app-controlling your OhMiBod Esca when your partner's phone is within range of your Esca's bluetooth connectivity. Your partner's phone will connect by bluetooth to your Esca. Sitting in the same room or seated across the bar – you're in close connection range.
I find my app pairs with the OhMiBod Esca 2 fairly quickly – no issues there. I have encountered occasional issues with it STAYING connected though.
Most times, I can get a pattern going on the app, and set my phone down, lock my screen OR visit other apps without disconnection, but not EVERY time. I would say 1/20 times I try to visit other apps or let my phone sit untouched for too long, the toy will disconnect.
Reconnecting is not difficult – but it's not exactly a science. I usually just tap around in the app and toggle my phone's volume buttons to and it'll re-connect somewhere along the way. It's a trial and error type process and can be frustrating if reliability is a priority for you. I find Lovense toys reconnect more easily and with an exact system.
I don't take too much of an issue with it, because the Esca 2 only rarely disconnects for me in close-range mode.
How far away your phone is from the OhMiBod Esca definitely influences how successful your experience is as well. I ran some tests and found the connection to be about 95% reliable if the phone was within 85 feet of the toy. After 85 feet, OR if any major objects (cars, buildings, etc) are in the way then the connection became pretty patchy and more likely to cut out. 
Esca 2 Long Distance Connectivity
The Long Distance mode with this toy is all about providing a partner with access to control your toy from anywhere in the world. Both of you are using your phones and you're often communicating with each other through the OhMiBod remote app.
If you using this toy for long distance sex is a priority – you'll want to pay attention to this section. Bottom-line, the connection for this type of play can be fairly inconsistent. There was a lot more time spent reconnecting to the Esca in long distance mode. Look to Lovense toys for a more reliable long distance experience.
We tried out a few different scenarios to figure out what caused disconnection. In MANY, but not ALL situations, there were issues when either one of us opened a different app OR locked our phone screens.
Overall, the Long Distance Connectivity was fairly glitchy. If connecting with your partner from across the globe is your main goal in purchasing the OhMiBod Esca 2, you may want to look into the Lovense Lush 2 instead. It's very similar but I've found its long distance connection to be much more reliable. And reconnecting a toy on the Lovense app is a breeze.
Verdict – Connectivity
The Esca 2's connection works great for me in the bluetooth mode (nearby connection within about 35 feet). For going out with my partner and sneaking in sexy vibes across the table or the bar I don't have much issue.
Long distance mode disconnects more frequently for me which can be irritating. If you think occasional disconnections will throw you off your game during far away play (anywhere in the world) I'd pick a Lovense toy.
Esca 2 Review – Comfort
Comfort is a HUGE make-or-break factor for me. I'm pretty picky with dildos and can't handle anything too stiff or too rough. Stakes are even higher with something you're putting in and LEAVING in for your night out.
Esca 2 Internal Comfort
I will say: you'll know it's there. It's nothing like a tampon or a diva cup, which I put in and forget about. Even when the toy isn't vibrating, you can definitely feel it. But I find it pretty comfortable overall. It's completely smooth, body-safe silicone has a great feel.
When it comes to INTERNAL comfort – standing, laying, or moving around with the Esca are fairly comfortable in my opinion.
Sitting is when it gets a little trickier. Mostly just in the sense that you have to find the right way to sit in order for it to be comfortable. It takes some adjusting, so maybe try it out at home before taking it along on your first outing.
Something you'll be glad to know is that it IS indeed possible to pee while this toy is in! It takes a bit more effort than usual, but no need to hassle with removal and re-insertion.
Speaking of putting this toy in – I had no trouble inserting the Esca. I do recommend either getting a little worked up first OR using lube. It has a pretty easy glide though as long as you have some sort of lubrication.
Esca 2 External Comfort
EXTERNAL comfort has two categories in my opinion. The first is the feel of the extended arm/antenna wrapping up around your pubic bone. The little antenna is pretty soft and flexible, which I was thankful for. It definitely makes it more comfy.
The flexible antenna arm is mostly comfortable, though I do sometimes have some issues with it sitting just right. The way that it sits is fairly dependent on what you're wearing too. Tighter underwear or pants will hug it closer to your body, which can be helpful in keeping it in place. The looser you go, the more the arm can shift around – potentially causing discomfort.
The second aspect of external comfort is how VISIBLE the antenna is. As you can see, the antenna ends in a fairly significant bulb that also flashes a bright purple LED light. Don't worry, you can turn it off. Wearing tight leggings will DEFINITELY show a clear outline of the antenna bulb. Solutions for this would be to wear a longer shirt that drapes over, a skirt over your leggings, OR something a bit thicker like jeans.
As for the purple glow – If you're wondering how to turn off the Esca 2 LED light, just turn the toy on, then double-tap the on/off button. You'll want to make sure to do that beforehand to avoid some unexpected "flashing".
Verdict – Comfort
Yup! This OhMiBod toy is comfortable. Ya, I'll notice it – but that's kind of the point. Of the wearable vibrators I've used this is the most comfortable. I wish the antenna bulb was a bit smaller, but there's plenty of ways to hide it.
Esca 2 Noise Level – Public Play Discretion
No OhMiBod Esca 2 review would be complete without discussing noise. After all public fun is a huge part of what compelled me to try this sex toy.
To be honest, when you first get this toy and turn it on – it will sound about as loud as any other vibrator you might have. Which does not lend to an abundance of confidence in wearing it out on the town.
FEAR NOT! Vaginas are fabulous at muffling sound – who knew? So this toy's audible volume decreases SIGNIFICANTLY after it's inserted. That being said, there ARE still situations that it could be audible to others. So before you make your decision, here's a few places I've tried mine out in.
I felt like a true sleuth-reporter indeed testing out the various situations with my handy list of questions. I was curious to know how audible it was in a packed bar, a quiet restaurant and also just sitting on the couch at home.
I also wondered whether the type of seat I was sitting on mattered. Since I'm the one FEELING the toy, it's pretty hard to distinguish whether the sound is actually audible to those around me, or if I was just hyper-sensitive that they might hear. To test this theory out, I brought along my partner to establish the difference between what we each could hear.
My first outing with this sex toy was at a quiet patio restaurant – maybe one or two other tables were occupied with slight chatter and no overhead music. I sat in one of those classic metal patio chairs (for those tracking seat-type).
Being my first public appearance with my new Esca, I chose to control the vibes before my partner so I could get used to it. The very lowest setting felt comfortable enough for me, and I felt confident that no-one could hear so I kept increasing the intensity.
Once I started to feel like I was reaching a point where my partner might detect some audible traces, I started to look over for signs of recognition. Surprisingly, I scaled all the way up to the top level. After several beats of his silence I finally admitted that it was at the top setting and he confirmed that there was no detectable buzzing from his side of the table.
Even on a metal chair in a pretty quiet restaurant, it was fine! Completely discreet and that settled my fears.
After this, a bar or club was no worry in my mind.
I was, however, interested in how do-able a house-party would be. Not wanting to experiment around a bunch of pals, I tested the theory at home. Sitting on the couch in our quiet house environment with my partner, I turned the toy onto the lowest setting.
On the very lowest setting in a dead-silent house, you MAY be able to get away with it if someone's not right next to you. Any setting higher than that was pretty clearly audible. Again – this is with no music and no other ambient sound.
So when it comes to home-gatherings – play it by ear. Intimate gathering with a few pals – probably no. Populated house-party with some tunes – I'd say you can safely slide by undetected. Overall it's one of the quietest public play vibrators I've used.
Verdict – Public Play
This little bluetooth vibe is incredibly quiet and discreet. You'll hear it when it's outside of your body, but once you're wearing it you're good. So far it's been the quietest toy I've worn out and I've never experienced any issues playing in public with this toy.
Esca: Battery Life
The OhMiBod Esca 2 boasts a 3-hour battery life when in use continually. You can keep track of how much battery life you have left by checking your "profile". Whichever toy you have connected will be displayed. When it's time to charge, just connect with its USB charging cable.
I haven't had a continual 3-hour vibing sesh yet, but I've had several shorter sessions on one charge that have exceeded 3 hours total. For me, this is all I need, and I don't know that there are any comparable sex toys that promise a longer life. The Esca lasts long enough for me!
OhMiBod Esca 2 Review Results
I think the OhMiBod Esca 2 Is A Great Toy If You:
Enjoy G-spot vibrations and don't need the most powerful vibrations
Want the most comfortable wi-fi G-spot vibrator
Enjoy being teased out in public, and don't mind waiting to get home to finish
Are very concerned about discretion and want the quietest G-spot vibrator
Want a simple and easy to use app
Want to control the Esca 2 yourself or give up control to a nearby partner seated across the table or the bar
I Think An Alternative Wearable Vibrator May Be Better For You If You:
Also want clit stimulation
Want more powerful vibes for a better chance of orgasming from the G-spot vibrator alone
Want app control with the most features and complete customization of your vibrations
Want a more reliable connection when playing with a long distance partner
Are on a tight budget
Esca 2 Alternatives
Higher Power, Better Connectivity, And A More Full-Featured App – Lovense Lush 2
The Lush 2 is an almost identical design and setup! It's also a wearable g-spot vibrator that is controlled on your phone – just like the Esca. There's a few key differences that may or may not make this product a better fit for you: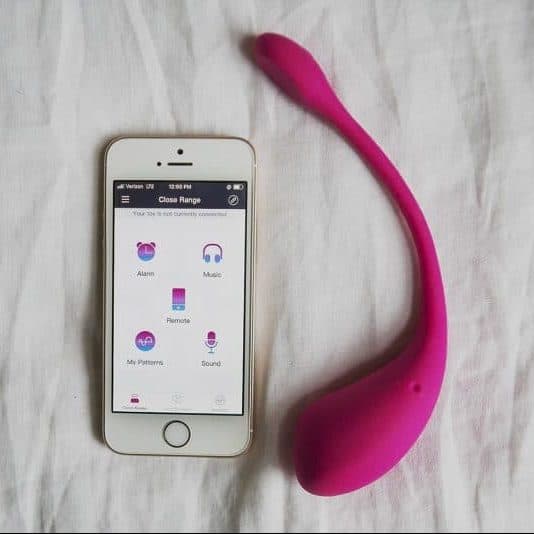 The Lovense Lush 2 has more powerful vibes than the Esca. I've been able to reach orgasm just from the Lush 2 – though even so it takes effort for me since I need some clit stim too – but I have not been able to orgasm just from the OhMiBod Esca's vibes. That seems to be a lot of peoples' experience with the Lush 2.
They're just not quite strong enough for me. That being said, I enjoy the unique wobbly vibration quality of the OhMiBod Esca 2 a lot and use it more than the Lush solo because I enjoy how these vibes feel.
The Lush 2 also has a much more reliable connection – which is especially helpful for long-distance play. Both connect easily and stay connected well in the nearby bluetooth mode. But the Lush 2 is the hands down winner in connectivity when using the long distance connection. It stays connected even if we use another app or lock our phones. If it does disconnect briefly, reconnecting is very fast, simple, and reliable.
If you think disruptions will take you out of the mood – go with the Lush 2 for a reliable experience.
One of my main frustrations with this sex toy is that it's not quite as comfortable as the Esca when I'm sitting down. It's antenna is a bit less flexible, and the shape of the insertable portion doesn't sit as nicely for me. Though it is more targeted to my G-spot – one of the reasons this toy may be better if you're looking to orgasm from it.
We have an awesome comparison of these two products that may give some helpful insights if you're considering it. Check it out here.
Lovense Lush 2 vs OhMiBod Esca 2
We recommend the Lovense Lush 2 over the OhMiBod Esca 2 If:
You want stronger vibrations for a better chance of orgasm
You want a more full-featured app with completely customizeable control over your vibes
You want a more reliable connection for long distance play with a partner
You want to give one-time control of your toy anonymously to someone
Clit Stimulating Alternative – We-Vibe Chorus
If you love the idea of sneaky public play, but tend to need more clitoral stimulation the We-Vibe Chorus could be for you.
It's a C-shaped vibrator with both an internal motor for your G-spot AND an external motor for your clit. It's adjustable so you each person can get a snug fit for them. And you can even wear it during sex!
Control the We-Vibe Chorus via app OR a physical remote control that comes with the toy.
The main downside is that the We-Vibe Chorus can be a touch louder than purely internal sex toys since one of its vibrating motors is OUTSIDE your body – no chance for your vagina to stifle those sounds before they're out in the open.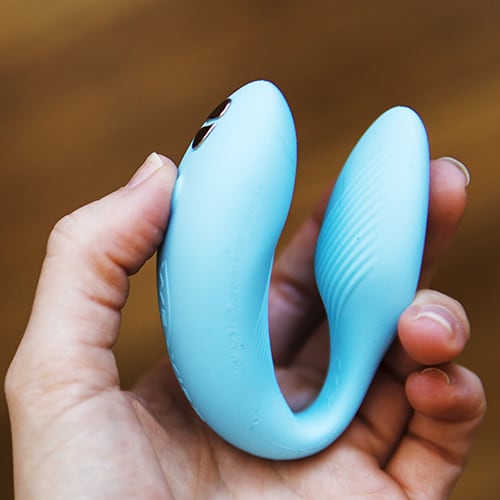 It's still a great toy for public play, but you may need to play in places with a bit more ambient noise than you would with the Lush 2 or Esca 2.
For more info check out our full We-Vibe Chorus review.
We recommend the We-Vibe Chorus over the OhMiBod Esca 2 If:
You want both clitoral and vaginal stimulation from your vibrator
You want a vibrator you can also wear during vaginal sex
You're okay with needing a bit more ambient noise around for your public play
Budget Alternative – Lush 1
If you're just starting to consider a bluetooth wearable massager but want to try a more budget-friendly options first – we've got you!
The Lush 1 is the predecessor to the Lovense Lush 2. It has all the same basics as the Esca 2 and Lush 2 – a long distance, wearable, internal vibe. But a lot of improvements went into the second version of the Lush.
The first version has less power, more connectivity issues, and a stiffer, less comfortable antenna. Personally, I'd save up for the second version. But if you're in a rush and on a tight budget, the Lush 1 is about half the price of the Esca 2 and Lush 2.
We recommend the Lovense Lush 1 over the OhMiBod Esca 2 If:
You're on a tight budget
That's the only reason
Final Thoughts
Even though there are some downsides to the Esca 2 (for me, mainly dealing with occasional long distance disconnections) it's still my personal favorite wearable g-spot vibrator. I find it comfortable (I'm no size queen) and enjoy the features it provides for solo-play or close-range public play. I tend to play out with my partner at bars and restaurants rather than from far away places so it works fine for me.
I think the way the Esca 2 delivers its rolly, wobbly vibrations with the Touch Panel is an extremely stimulating way of vibrating – and it's just what my body is looking for. I just love how simple it is to control the vibes, adjust them, and find really stimulating sensations. I use the Esca 2 more to get worked up while out and about than as the final act itself – but it's a wonderful tease that makes me want to rush home!
It's brought a lot of fun to outings for my partner and I, and it's definitely an experience worth trying. If you're ready to take things out of the bedroom – heck, out of the HOUSE – this may be a helpful tool in doing just that.