Lovense Lush 2 vs OhMiBod Esca 2: Which is Better For You
The Lush 2 and Esca 2 are two of the hottest products out there to awaken the exhibitionist in all of us. The potential of discreet public play is now, quite literally, right at your fingertips and I am HERE for it. By far, these were the toys I have been the most excited to receive.
They're designed to be worn comfortably for several hours while sitting, standing, dancing walking etc. The vibrations are set up to be strong enough to seriously crank the heat. Overall, the goal is to keep the toy AND the experience as invisible and silent as possible. But like, how quiet? How comfortable are we talkin', and is there a difference between the two?
These two DO fulfill the same general purpose – an insertable egg vibrator that's app controlled by you or a partner for secret stimulation when you're out and about. They even LOOK quite similar. It's the subtle differences though, that you'll want to make sure you know about before making your decision.
Listen – this new friend will be ridin' around with you on more than one outing, so let's make sure the one YOU pick will do what you're looking for. We'll compare the Lush 2 vs Esca 2 on all their most important features.
For even more info check out our full Esca 2 review and Lovense Lush 2 review. Or to learn about the upgraded Lush, head over to my Lush 3 review.
Don't worry – the Lush 2 is still a great toy in it's own right, and the most cost effective option. The main upgrade from the Lush 2 to the Lush 3 is a more comfortable antenna. But if you want a full breakdown – you can take a look at my full Lush 2 vs Lush 3 comparison.
Now on to the good stuff!
Lush vs Esca: Cost – Both Are Usually About the Same
I'm a huge sucker for a good deal, and it's honestly hard for me to see past a lower price when I notice it. Good news for you – the prices are typically pretty similar. But since the release of the Lush 3, Lovense regularly sells the Lush 2 at a discount – usually a bit less expensive than the Esca 2.
So don't stress the cost – just focus on which one sounds like a better fit.
Lush vs Esca: Vibrations
Let's talk vibes! There's all kinds of features to consider with new toys, but good quality, high intensity vibes are always what make it or break it for me. The fact that this little squirt will be tucked away with little to no extra help makes vibe-quality all the more important to get right. So let's get vibin with these two:
I'll start with the Esca since it was actually the first of these two I acquired.
Esca: Rumbly or Buzzy
I would place the Esca on the buzzier end of vibrations. I don't know your typical preference, but I'll say when I get to choose, it's rumbly every time. My main beef with buzzy vibrators are that they don't seem to have the power to be felt as deeply. And pressing harder can tend to muffle the feel, instead of intensifying the feel.
Since this toy will spend most of its time on the INSIDE, this may be less of an issue for some. On the positive side, I did notice that, since the Esca leans towards buzzy, it felt less jarring when it first started up.
Esca: Vibration Power
Listen, I'm a visual person, so you're welcome for the charts. For context, I should note that my high vs low ends are based on a comparison with other sorts of insertable vibrators I have.
The Esca Vibration power is slightly towards the lower end. You can decide what this means for you. I'll say that when it comes to internal vibrators, I often can't take too much power once inserted. The lower intensity means I can usually wear it for longer periods of time comfortably.
So far, I haven't been able to achieve orgasm from the Esca alone, but it definitely makes for some fun foreplay.
Esca: Clit Stimulation
No chart for this one, because I'll just say it – clit stimulation was pretty low for me with both the Esca AND the Lush. I mean, I get it – it's supposed to be about G-SPOT stimulation. I'm just a sucker for clit vibes!
That's why I spent several months testing and reviewing the best vibrating panties!
There is the little flexible arm that wraps around front, but any vibrations occurring there are nothing to write home about. The Lush has a bit more clit stimulation IF you're able to hold it just at the right position, but not a crazy amount. If you're really looking for clit stimulation, try the WeVibe Chorus (review). Or app controlled panty vibrators like the Lovense Ferri (my personal favorite) or the We-Vibe Moxie.
Esca: Vibration Patterns
I am a huge fan of the Esca vibration patterns! You've got QUITE a variety too. There are preset "button" options AND in-app "Rhythms". Or you can work the manual tap/touch features in the app.
There are five patterns controllable from the external "button". The first three are just constant buzzing – each one at a different intensity. Fourth is a medium tempo, short wave. The fifth is a slower, more drawn out wave.
I HATE wacko patterns that just ruin my own body's ability to follow a wave. Luckily, all the preset options just felt like really easy patterns to get my body worked up. Even the in-app touch feature which is meant to give a constant vibration has a very subtle, gentle rolling feeling to it. Personally, I prefer this subtle variation as opposed to the Lush's truly steady vibration.
ALL RIGHT – Let's talk about Lush Vibes!
Lush: Rumbly or Buzzy
The Lush felt a bit more on the rumblier side to me. Squeezing it didn't seem to muffle the vibes at all. I would say the vibration movements just generally felt bigger and deeper.
Because it's an internal toy, this rumble can also feel a little more jarring at first, and may take more time to ease into. Rumbles also are just a great powerful feeling, which segways wonderfully into my next topic:
Lush: Vibration Power
Alright – the Lush definitely has some horse-power behind it. Overall the Lush can definitely reach stronger vibration power than the Esca. This is awesome if intensity is what you're seeking!
If you've got others to go off of – I compared the feel to my Lelo Mona and found the Lush to be just slightly less intense than the Mona on the highest setting. It's definitely not as intense as the Lovense Edge 2 though.
I have been able to achieve orgasm with this toy alone. Although that's only been possible when I'm at home and have free reign to control where the extended arm piece sits. I typically need a lot of clit stimulation, so focusing all the second-hand vibes where I wanted them is what gave this toy a leg-up on the Esca.
I read through hundreds of reviews of the Lush to see what most peoples' experience have been. I thought it'd be interesting to tally how many people were able to orgasm from just using the Lush and these are the results I found!
From reading through reviews of the Lush and the Esca, it seems like a lot of people mentioned being able to orgasm from the Lush, but people tended to use the Esca more as a vibrator for foreplay.
I should also mention that even though 79 percent of customers said they were able to orgasm from the Lush alone, I don't believe that 79 percent of women will be able to orgasm from it alone. Most people buying the Lovense Lush 2 know it's primarily a G-spot vibrator, so these customers probably tended to be women who enjoy G-spot stimulation.
The main point is, if you're someone who likes G-spot vibes, the Lush probably has a better chance of bringing you to orgasm than the OhMiBod Esca 2.
Lush: Clit Stimulation
Again – no chart for this one because clit stim is not really a feature to count on with the Lush (or the Esca). I guess I'm such an evangelist for this because when I first saw the design, it seemed like the wrap-around piece was meant to share some love with the clit. Not so! The name of the game here is g-spot stimulation. External stimulation is very minimal. (Though I have been able to achieve orgasm when I'm at home, and can control the exact placement of the external arm).
Lush: Vibration Patterns
I was a big fan of the external button patterns available on this toy. They're definitely quicker and higher-intensity compared to the Esca.
There are seven patterns controllable by the external button on this toy.
The first three are constant buzzing at three different intensities like the Esca. Fourth pattern is a really quick, intense tapping sensation. The fifth is a pretty fast wave sensation. The sixth is a quick build to high intensity, and then an immediate dropoff – only to start over again. I don't know a great way to explain the 7th besides a wobbly feel.
The in-app patterns were a little less appealing to me. I'll talk more about it in the app-portion of this review, but I just found them to be harder to get my body in-sync with.
The strong power of the Lush makes it the winner here for me. It can just achieve an intensity that the Esca can't. There's definitely some benefits to the Esca Vibrations too though – it's really about what you're wanting.
I would say for the power/intensity seekers, the Lush is probably better. Though I really enjoy the more gradual, rolling feels of the Esca which work great for foreplay while out and about.
Lush vs Esca: App Quality
I'll start by talking about which features overlap between these two toys.
Lush and Esca Overlapping Features
As I mentioned in the "vibes" section, both of these have preset patterns controlled by the external button. Both toys also have a Touch Panel in the app, which gives a sort of design-your-own experience option.
The music section on both allows buzzing to sync with a song from your phone's music or from Spotify. The Sound or Club feature (names differ depending on which toy you're using) does the same thing as well – picks up on music or sounds around you to buzz based on your environment. You can adjust the sensitivity on this feature for both.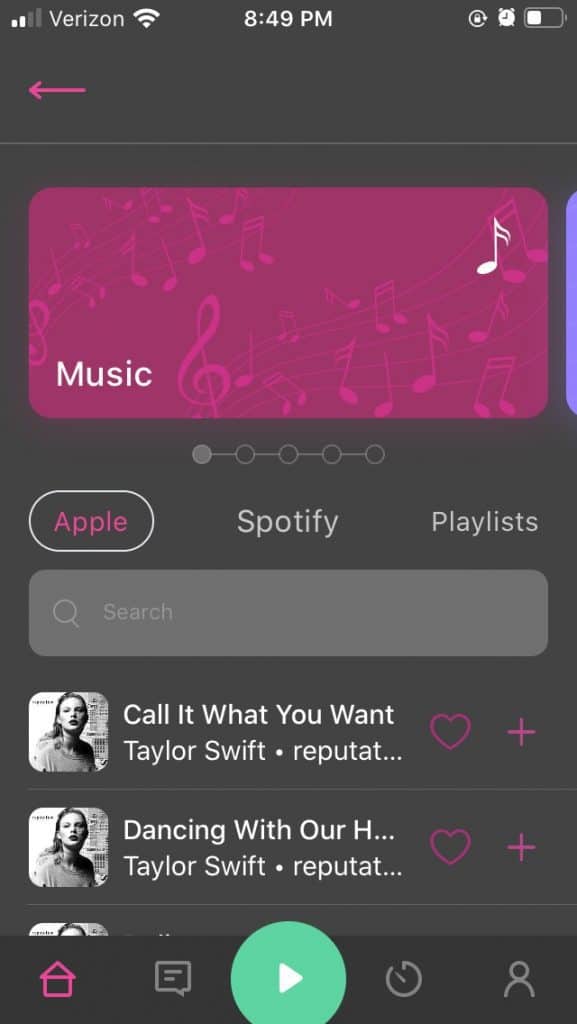 The Rhythm or Patterns feature on each of these has preset patterns different from the external button choices. The Esca has 6 options and the Lush has 4. Both toys allow you to create and save your own patterns too.
Both toys also have a Remote Control or Long Distance Partner feature. This includes the ability to give someone else control of your toy, and chatting or video-chatting features.
Each toy also has a version of the app which enables the Lush or Esca to be used as a tip-controlled vibrator for cam performers.
Lush and Esca Differing Features:
So what features differ between the two? Are they a big deal, or is it something you probably wouldn't use anyway?
Let's start with what the Lush has that the Esca does not:
The Lush has an alarm feature – which I honestly haven't used. But if you'd like to wake up from a nap feeling especially wonderful, the Lush can make that happen!
Another fun feature that is unique to the Lush is available if you log in or create an account. Here, you have access to tons of patterns OTHER people have made and saved – you can even see how many other people have used it!
The Lush also sort of maps out the pattern your vibrations are taking with a waving line. It's pretty mesmerizing to watch, and can be helpful if you're a visual person. On the downside, it can also be a little distracting and pull you out of the moment.
Ok now what's unique to the Esca?
Though both toys have a touch feature, the Esca is the only one that has a tap feature. I like this because it means I can use it without CONSTANT buzzing and it allows for quick short bursts at an intensity I set. Each time I tap "Tap" the Esca buzzes, and it'll vibrate as long as I hold "Tap."
Another thing I liked on the Esca is that, on the "Touch" feature shown below, it has a sort of rolling sensation no matter where you are on the panel. I preferred this over the flat, constant buzz that the Lush uses on their Touch feature.
With the Esca, you can also swipe through back and forth from one feature to another – which is a huge plus in my book.
If you enjoy giving up control anonymously, the Lush is the better choice as well. The Lovense app has a feature that lets you share a link to temporarily give control of your toy to someone. You set the amount of time that they're able to control your Lush. It's a pretty intriguing feature. I haven't personally used it yet but you can't do that with OhMiBod's app.
Lush vs Esca: Which App is More Intuitive?
I have found that the Esca app is more intuitive. Besides more natural body rhythms, I found the easy swiping between features to be a huge plus. 
The partner chatting and video calling was also much easier to pick up on the Esca. It doesn't require an email address to sign up (Lush does), AND figuring out how a partner can video call WHILE controlling the toy was much easier too.
I also liked that once I gave control of my toy to a partner, I still have access to the control panels, so I could control it too. The Lush really only allows one person to control it at a time.
The big downside to the OhMiBod app though: even though it's more intuitive to me than Lovense's app, we found the Esca disconnected much more frequently during video chatting than the Lush 2. If you plan on playing long distance, go with the Lush.
Winner for App Quality: Depends
I love the Esca app because it's easy to learn, simple to use, and provides a type of vibration quality that I love. I use the Esca a lot by myself or close range because I love the app. But it has fewer options for customizing the vibrations than Lovense.
My husband prefers the Lush's app. He likes the greater customization and finds it more intuitive to him. There are two scenarios where Lovense is DEFINITELY better regardless of preference. If you want to play anonymously with strangers, Lovense is a better choice. Also if you want to play long distance with a partner (across the world rather than just across the bar), the Esca disconnected far more frequently for us than the Lush did.
Esca vs Lush: Connectivity
This section is pretty short and sweet – the Lush ranks higher in connectivity.
I've not had any trouble getting it to connect quickly, or KEEPING it connected. Even if I'm setting my phone to the side, or opening other apps – it's always stayed connected for me.
The Esca really doesn't cause frequent issues when in close range mode, though I have found it to randomly disconnect on rare occasions. If the app is left unused for a bit, it will sometimes shut off too. Whereas with the Lush, I can lock my phone screen or use other apps and the Lush will continue on vibing without interruption.
However, my partner and I have found the Esca 2 disconnects much more frequently in the long distance connection mode than the Lush 2. If you plan on using the long distance feature to connect to a partner from across the world, I think the Lush 2 is a much better choice. We rarely had any disconnections with the Lush 2 in long distance mode.
If you want deal with fewer disconnections and have a smoother time connecting your toy – go for the Lush: Especially if you plan on using the toy to video chat and control your partner's toy from across the globe.
We've had better connectivity with the Lush over the OhMiBod Esca and other egg vibrators like the We-Vibe Jive
Esca vs Lush: Comfort
OK comfort is a huge talking point for me! This toy is NOT conspicuous to take out or put back in. And if you're wearing it in public, it may be in for a long time – so here's what I've found.
The Lush and Esca have similar designs – starting with a larger insertable portion, which is where all the vibes are housed. Both of these portions are very hard, but covered by soft, smooth silicone. There's also a more flexible extension piece which is the antenna – wrapping up from the inside and ending with an "on" button.
The insertable portion of the Esca is a smooth oval shape – a bit smaller than the Lush. You'll definitely know it's there (that's true of both this AND the Lush). I just think the size of it makes for a slightly smoother glide and easier movements. I also find it easier to clench around.
The external antenna arm of the Esca is a very flexible loose extension. I find the flexibility of it to be more comfortable than that of the Lush. Though one downside is that it's more likely to move around if you're wearing it out and about.
The Lush has a slightly larger insertable section – and the shape juts out to press more directly into the g-spot. The better g-spot focus is more stimulating, though I found the shape less comfortable for longer sessions.
The external portion of the Lush is still flexible, though less-so than the Esca. It does hold it's shape better and stays in place, but the stiffness of it means it doesn't lay as flat near the clit.
Both of these toys were fairly unnoticeable comfort-wise when standing, walking or laying. Sitting is the time that I noticed it and had to make occasional adjustments to stay comfortable.
Another thought to consider is how visible/noticeable this toy will be. The extension piece lays up along your pubic bone and can be fairly visible if you're not careful! I found it to be pretty clearly outlined if I wore tight leggings and a shorter shirt. A longer shirt or jeans instead of leggings were easy fixes for that.
Both toys do have a light on the end that flashes as you use the toy (especially bright on the Esca). You can turn the light off though if it will cause a noticeable beacon coming from your nether-regions.
You'll also be happy to know that it IS possible to pee while these toys are in! No need to cut the night short to run home. Though it does take a bit more work and concentration than usual. It's kind of like wearing a Diva cup.
A lot of people wonder if they can use the Lush anally. No.
Unfortunately neither of these toys is safe for anal since they don't have a flaired base. Lovense makes a really powerful app-controlled vibrating butt plug the Lovense Hush – this is an amazing anal alternative! Find out more at our Lovense Hush review.
Winner on Comfort: Esca
I do think that the Esca is more comfortable – though it's a close race! The size, shape, and flexibility made it a better fit for me (though I tend to prefer smaller toys).
Esca vs Lush: Noise Level
Ok, classic overthinker perspective comin at ya. I knew I was stoked to use these toys, but I also knew that all bets were off if I felt like people could hear me using it. Noise level was a huge concern for me! So if those thoughts sound familiar to you, here's a few notes you'll want to keep in mind:
First off – your first instinct upon receiving your new toy might be to set that sucker on the bed and turn it on full blast. From experience, I will tell you that it's not a very encouraging choice to make.
When OUTSIDE the body, both the Lush and Esca sound just as loud as any other vibrator. Not exactly what you want in your panties while you're brushing shoulders with the strangers at the bar.
But there's good news – of all the things the human body excels at – one of them, I've found, is muffling sound. It is seriously night and day different having the toy OUTSIDE of you compared to inside.
I will say – the Lush is definitely louder than the Esca. But more so BEFORE it's inserted. Depending on the settings you plan to visit, it may not be an issue.
So let's talk LOCATIONS. My partner and I tested both of these out in different settings. We were curious to know how audible it was in a packed bar, a quiet restaurant and also just sitting on the couch at home.
I was curious whether the type of seat I was sitting on mattered. Also whether there was a difference between what I thought I could hear, and what my partner actually heard. I'm the one feeling it anyway – so it's kind of hard to stay unbiased in the hearing department.
How Loud is the Esca?
Let's start with the Esca. This was the first of the two to venture out in public with me! First stop was a quiet little restaurant. My chair of choice was metal. I was nervous so I took control of the app first.
I started on low and slowly, slowly increased the sound until I felt like I could start to hear it. I kept looking at my partner to see when he would acknowledge that he was hearing it, but he never did all the way to the top intensity level!
After getting used to the feel and the reality that even someone right next to me couldn't detect any noise – it felt a lot more comfortable. I was able to really do what I wanted with the app without worry.
So a quiet restaurant made me feel pretty confident that a crowded bar – was going to be just fine.
Last place was just sitting at home on the couch. Lowest setting you MAYBE could get away with, but that's about it. Bottom line – here's what you can or cannot get away with safely with the Esca:
How Loud is the Lush?
Moving onto the Lush. I did say that, when not inserted, the Lush was noticeably louder than the Esca (mostly due to it's high power capabilities). I don't know that it made much of a difference when inserted though!
The Lush came out with me one night to another quiet restaurant. Not too much sound besides light music over the speakers – and I think we were one of TWO tables that were occupied.
I got myself amped up on the way there, controlling the vibes from the app in the car. My partner could not hear anything at all the whole way there. Once at the restaurant (seated in a booth this time)- I relinquished control over the app. We were easily able to hike it all the way up to the top vibration range without either of us hearing a thing!
Again – bodes well for a louder, clubbier atmosphere.
Once at home though, we tried some good ol' couch sitting and found that even the lowest setting was noticeable. I think the deep rumbly nature of this vibrator makes it more noticeable in a completely quiet environment. And sitting on the same couch definitely makes the sound travel even more.
Overall – not a deal-breaker unless you primarily plan to use it in very quiet settings. As you can see below, quiet restaurants or louder clubs are ok. Cafes or other softer settings are where we declare a toss-up – so tread cautiously here.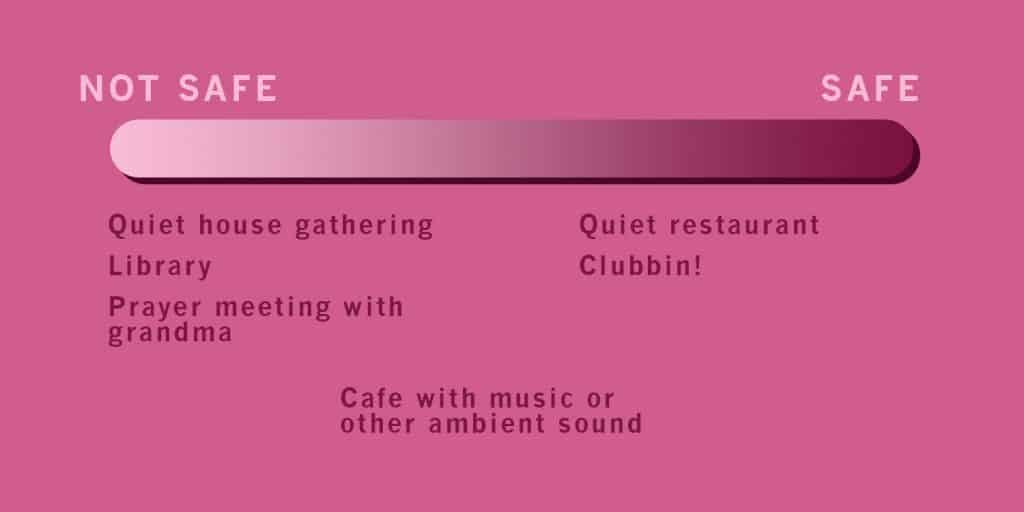 Winner for Quietest: Esca 2
The Esca beats out the Lush for quietness – though not by too much when it's inserted. If quietness over power is your game – the Esca is probably the best choice for you! But again, you could go unnoticed in most public settings with either toy.
Esca vs Lush: Battery
I'll wrap us up with a short and sweet section on Battery Life. Both advertise about 3 hours of continuous battery life – and so far that has been true for both! I don't have a winner here – they've both given me all the enjoyment I needed before they needed their next charge!
Which is Better: Lush or Esca?
Overall, I don't know that I'm up for declaring one "winner" of this debate! I think there are different reasons to choose each.
If you care about power, connectivity, customization, and playing long distance with your partner go for the Lush 2.
If you want teasy vibrations, a very simple app, maximum comfort, and minimal noise go for the Esca 2
Now pick your pleasure and HAVE FUN!