The Lush dynasty launched 2021 by announcing their third-generation hottie.
I'm proud to have spent some time with the newest sister after some pretty swell times with her predecessor – the Lush 2 (review here). And I'm ready to talk about it.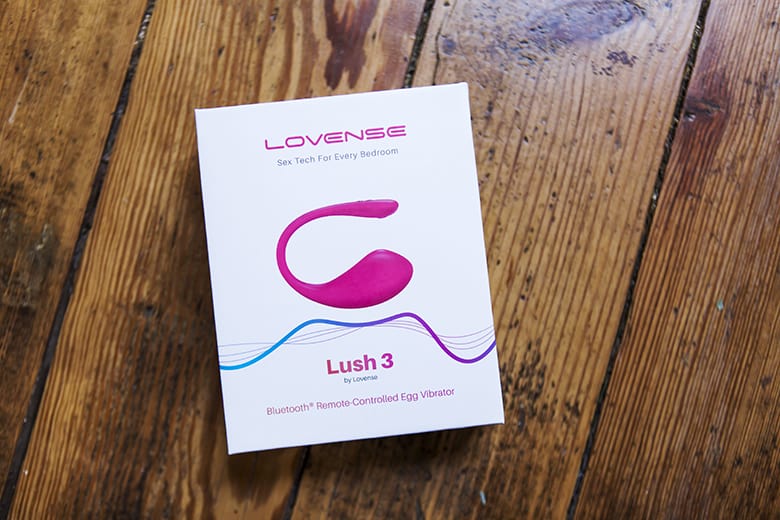 Here's what I wanted to know and what I'll answer in this Lovense Lush 3 review:
How strong are the Lush 3 vibes?
What's different about this new version?
Just how "discreet" is it?
What does the curved antenna do for me?
Will it provide any sort of external stimulation?
Is it worth the extra price to splurge on the Lush 3 over the Lush 2?
If you've hung with one of the other Lush sisters before and are considering leveling up – I've got some fresh thoughts for you too! In fact, you can skip right down to my quick Lush comparison in this article of if you want a detailed comparison check out my full Lush 2 vs Lush 3 guide.
If you're at the very beginning of considering the Lush-life: perhaps you've just discovered what that sex toy with a pink tail is – I have all the details on what the Lush 3 can do for ya and what it can't.
Just so we're on the same page – the Lush 3 is an insertable g-spot egg vibrator that is app-controlled. It has close-range control through bluetooth, and also long-distance sharing/video chat features to connect with a partner literally ANYWHERE in the world.
Now let's talk V. And by V I mean VIBES.
Lush 3 Vibration Quality
Good vibes are always important. But they're extra important for a sex toy, and ESPECIALLY vital when your toy is hands-free and you can't direct them as easily!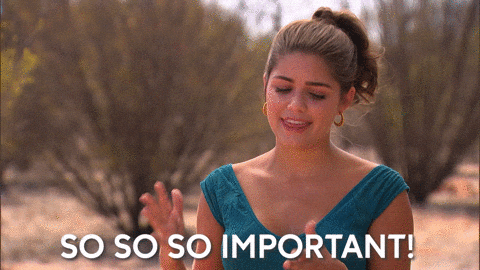 Now, to clarify – this remote controlled vibrator stimulates G-SPOT ONLY. I like to make that real clear because before I bought my first Lush, I remember assuming it stimulates clitorally as well.
Not so – that little antenna that wraps around is a transmitter only – it really does nothing for the clit besides deliver some minimal leftover vibes that managed to escape from inside. So if you don't enjoy internal vibes without a lot of clit stimulation, this won't be a great toy for you. You may prefer clitoral vibrating panties like the Lovense Ferri – a huge improvement over it's main competitor, the We-Vibe Moxie.
Lovense also has a strong dual vibrator – the Lovense Dolce – which stimulates both clit and G-spot for about the same price (but is louder, less comfortable, and makes some other trade-offs).
I'll quick chat about the differences at the end of this article, but head to my full Lush 3 vs Dolce comparison to see why I still recommend the Lush 3 or Ferri for most people. You can easily control the Lush and Ferri together in the Lovense app.
So if you do enjoy internal stimulation without much external vibration, the Lush 3 is really great.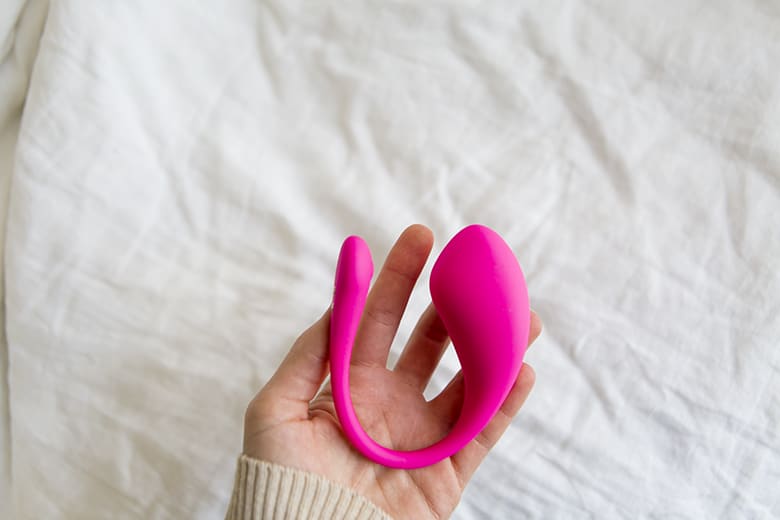 Now let's talk G-spot vibes. We have to consider the vibe FEEL and the vibe POWER. So let's see what lady Lush 3 has to offer.
Lush 3 Rumbly or Buzzy
In the land of good vibrations, (really on a Beach Boys kick this time) a toy can deliver deep rumbly vibes, or more buzzy vibes.
Some folks prefer one over the other. I tend to appreciate both for their various abilities.
Rumbly vibes tend to sink deeper into my body. Which can be REALLY nice but also can feel slightly dampened at times. If you listen to a rumbly toy, it sounds DEEPER than a buzzy one.
Buzzy vibes on the other hand, are smaller and more surface-level in my experience. Good pinpoint precision, but can also feel a little numb after a bit. But a slight buzziness helps a vibe carry an extra kick which I enjoy.
Personally, I prefer my toys to be mostly rumbly with a bit of buzziness in them.
On the spectrum, I think the Lush 3 leans more towards rumbly. The lower levels especially are quite rumbly, but start to get a little more buzzy as the power increases.
It's right in my personal sweet spot.
Lush 3 Vibration Power
For how tiny this toy is, it gets SURPRISINGLY strong vibes.
In fact the Lush 3 (and Lush 2) are the most powerful wearable vibrators I've tried.
While it's not going to replicate the overwhelming strength of say, a wand – it's right up there in the running with several hand-held larger g-spot vibrators I've used.
If you typically like toys with a lot of power, the Lush 3 could be a good option for you.
Which leads me nicely into our next topic: SOUND.
But before that – let's sum this vibe-section up.
Bottom Line: Lush 3 Vibrations
The Lush 3 is one of the strongest wearable vibrators you'll find. It's also mostly rumbly with a touch of buzziness. It's not as rumbly as the We-Vibe Chorus or its main competitor, the We-Vibe Jive. But We-Vibe's wearable toys don't get as powerful as the Lush 3 (and Lovense's app connectivity is much better).
You won't get much clit stimulation, but if you're looking for powerful g-spot vibes with a fair bit of rumbliness, the Lush 3 is an excellent toy!
If you need clitoral stimulation to enjoy the vibes, the Lovense Ferri would be better for you. It magnetically secures to your underwear to vibrate on your clit.
Lush 3 Sound Level – How is it for Discreet Public Play?
I often find that the more powerful the toy, the LOUDER it is. So the fact that the Lush boasts such strong vibes, but is also considered "discreet", was one of those things I had to see it to believe.
Overall, I would say the Lush 3 is pretty dang quiet – discreet enough for public play in most settings, but let's get into some specifics.
I wanted uber-accurate sound measures, so I brought along a pal (my partner actually… so far none of my friends have volunteered to be my sex-toy sound gauge).
Here's a few scenarios we tested:
Lush 3 Sound Level In The Car
Age-old proverbs tell us that "getting there is half the fun." And I would say it's very likely that this was written about sex toys. Who doesn't love a little on-the-way foreplay?
I like to buzz around while I'm in the car on the way to various sexy destinations. TO BE CLEAR – I'm in the passenger's seat while my partner's driving. No texting (or vibe-controlling) while driving.
With the Lush 3, I've found that just the sound of the engine and the road is enough to drown out any sound. No need for music even! Neither my partner nor I could detect any sounds from the Lush 3 while driving together in our music-less car.
So the car test – 100% IN THE CLEAR.
Lush 3 Sound Level in Quiet Restaurants
Here it is – the big kahuna of wearable vibe sound questions: Can I wear it in a restaurant?
I always start out cautious when I wear a sex toy in a public place. So I always reserve toy-control for MYSELF in the beginning. So that's how it went with the Lush 3.
Took this toy out to a quiet restaurant with wooden chairs. I always like to mention seat-type because I feel like it MATTERS. Wood seems pretty echo-y to me, so testing on wood feels like it heightens my sound-detection accuracy.
Low levels with the Lush 3 gave no hint of a sound to me OR my partner. Gradual increases didn't register anything in my hyper-sensitive ears, and I confirmed with my partner. Even at the very TOP levels – both continuous vibrations AND patterns – we couldn't hear the Lush 3 at all.
I made sure to strip down to the minimum acceptable layers of clothing for extra certainty that I wasn't getting extra help from puffy noise-dampening coats either.
Quiet Restaurant Test – 100% IN THE CLEAR!
Lush 3 Sound Level At Home
The most daring locations of all wearable vibrators is in a SILENT house, on a couch next to a pal. I have yet to find a toy that will be unheard in such a situation. This differs a bit if there's more ambient sound. So here are my findings:
In a SILENT house:
Next my partner on a couch, they could both hear and FEEL the vibrations.
Different chairs, 5 feet away, they could still hear.
Different chairs, 10 feet away, my partner could not hear until the 3rd notch.
In a house with medium-volume music:
Next to my partner on a couch, they could NOT hear, even to the highest level. But they could feel it.
Different chairs, 5 feet away, they could not hear anything on the highest level.
Different chairs 10 feet away, still nothing!
I've had people ask if they'll be able to use the toy with a roommate next door. From my experience, a closed door keeps the vibes all to yourself! No noise from the other side of the door.
Just a quick note on Lush 3 sound levels OUTSIDE your body. If you turn the toy on before it's safely nestled by it's pal, your g-spot – you may just be scared away from wearing this toy out.
It honestly sounds SO LOUD when it's sitting out in the cold, fresh air. But human bodies and even small amounts of ambient noise around you are so great at muffling noise. I've found most public settings work wonders at silencing Lady Lush between my legs.
Bottom Line: Lush 3 Noise
This toy will not be heard in most places. If you're in a dead silent room – I'd recommend keeping this toy OFF. But once you're in an environment with even a little ambient sound, you can start to play with your Lush 3 freely. And ANYWHERE out and about should be just fine. Maybe just avoid the library to play it safe.
Lush 3 App Quality: Close Range Control
The Lovense Remote app used to control the Lush offers the most customizable control of any app controlled vibrator brands. You have several different options which all offer a ton of creative control.
First is a touch-panel or "Remote", which gives you the ability to really customize your experience completely in the moment. You pull the little pink dot up and down to increase or decrease power.
Click "Loop" and move the dot around to create repeating patterns. Or hit "Float" which let's you set a constant vibration power.
"My Patterns" provides "preset" patterns for you to select if you don't want to create your own. It also is where you'll store any of your favorite custom patterns that you make or come across! To make your own and save it for future use, you'll just click the "Create Your Own" option, and design it on the touch panel.
Oh and in case you missed it, I mentioned some patterns you might "come across" – there are some AWESOME patterns that other people have made, and they're all available to you! I have found some of my favorites this way. You can see how many other people have saved that pattern so you can easily find the most popular patterns.
You can find these by navigating to "Patterns" from the BOTTOM bar. Test through the ENDLESS creations here and then tap "download" to save your favorites to "My Patterns"
This option to explore other people's patterns and save them is a HUGE asset and really sets the Lovense app apart from others in my opinion. It's just so helpful to be able to set a pattern and enjoy. I'm ALL for letting someone else do the work for me.
Another feature on the app is the "Music" feature. This one lets you pick a song that you have saved on your phone or through one of your music streaming apps. It responds to the beats and sound-changes of the song you're playing.
The neat thing is that you can actually choose a song and turn it all the way down to zero, and the vibes will keep going!
The sort of "opposite" of this Music option is the Sound feature. This feature vibrates your Lush 3 from the sounds AROUND you picked up by your phone's mic. So it's ideal for a club or other place with lots of changing sounds.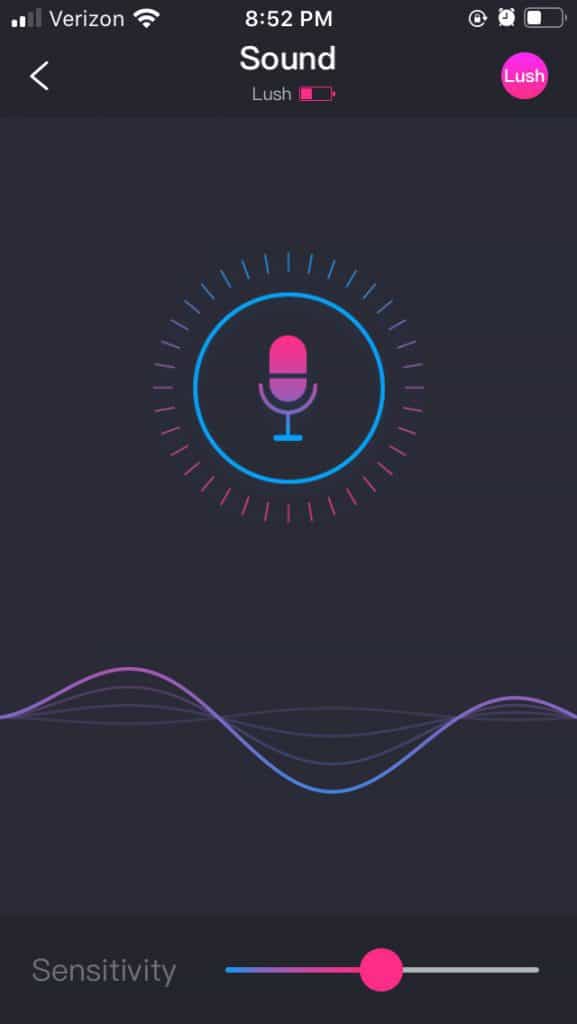 You can actually increase the sensitivity on this toy based on the sounds in your environment.
AND last but not least – (well… actually I think it IS the least) the ALARM feature. Honestly, I've only tested this out once so I could mention it. I haven't used it. BUT it may just be your new favorite way to wake up.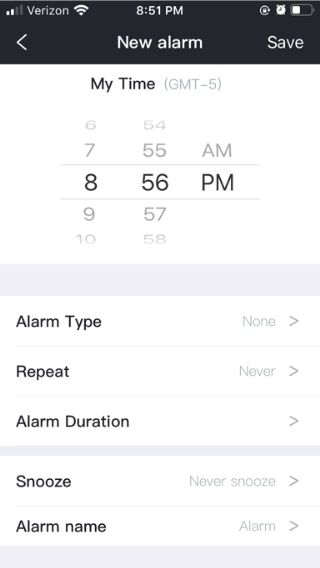 Set your time and days of the week just like any other phone alarm, and wake up HAPPY.
Bottom Line: App Quality in Close Range Bluetooth Control
There are A LOT of control options for the Lush 3 and they're all pretty intuitive. I'd say you're very likely to find at least SOMETHING you like. Lovense offers more complete control of you vibrator than any other app controlled brand. My husband and I have had a lot of fun easily creating vibes and controlling each other's Lovense toys from near and far.
Long Distance App Quality
Alright, we've talked about all the ways to control the Lush 3 in Close Range bluetooth mode, but let's chat long-distance!
So actually, almost ALL of these same features and control options are available to you or your partner when you're in long-distance mode. You actually get these same control styles PLUS a bunch of ways to chat while you play.
To connect with a new partner, you can either select "Add People" or you can accept someone else's request. Then the next time you play, just reach out from your saved list of people. This is for longer-term partners, or just someone you want to have in your available connections for multiple chats.
There's also an option to get a "Control Link" to share. This option is for anonymous, one-time sharing for some sneaky fun online. A lot of cam-models also use this feature for one-off sessions.
It's AWESOME for this because it keeps your account name a secret. You simply send the partner your control link and they can only control your toy for as long as you select – once the time is up, it'll just disconnect you two! The link you generate will be new every time.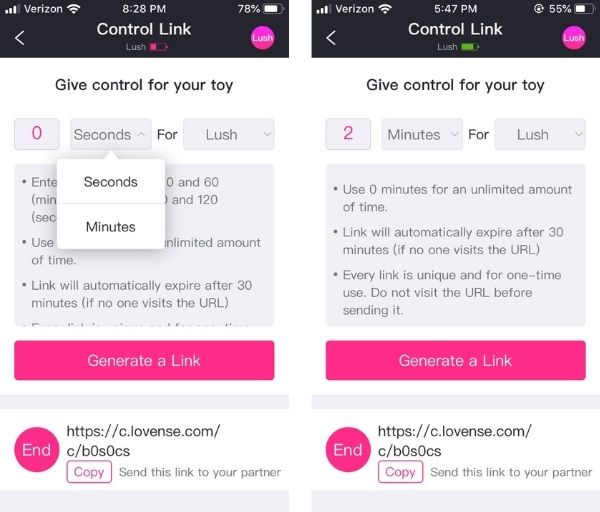 Once your partner has successfully connected to you, and whenever they have their app opened, you'll have lots of different chat features available. Click on their account and then select the little "+" button in the lower right corner to view them all.
Here's a visual of everything you can do, but let's cover some of the main ones.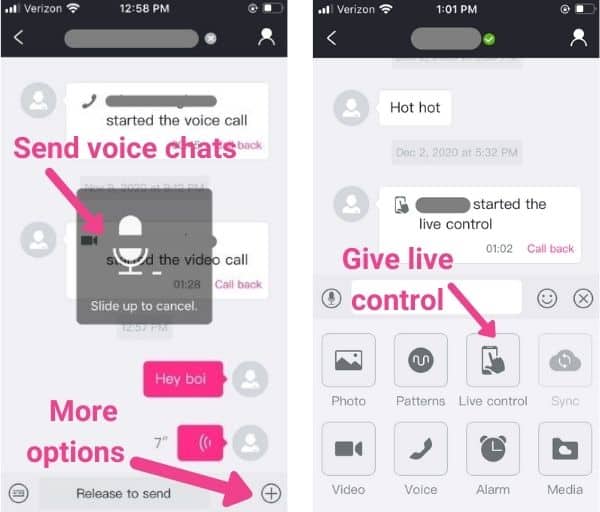 Text and send voice-memos like you would on a normal phone, or even send some teasey pics. For more live interaction, you can voice call, or video-chat while you control each other's toy. You can also send a pre-made pattern to your partner. THEN, there's the main event – give live control of your toy.
Giving live control will send your partner an invite that they'll need to accept. And vice-a-versa if your partner is the one to send a request to take control of your toy.
Once you've given control of your toy, you won't have any control abilities of your own unless you end their control. If you're using Live Control without the video chat, your partner's screen will look like this – really just a half-screen version of the remote you would have if you were controlling on your own. Your partner has live in-the-moment control of your Lush 3 and can create looping patterns or float the vibration at a constant level.
Your partner can also send you patterns that they've got saved, but they'll have to exit live control mode first. AND you'll still have to accept the patterns they send you unless you change your settings to automatically accept vibrations from that partner.
If you're video chatting the control panel will overlay on top of the video. You can minimize it so the video chat is clean if you prefer. The little square with arrows will shrink or expand the video-screen too if you want to play around in the app more.
You have all sorts of camera options too – front face OR reverse the camera view. Feel free to turn off your camera, mic, or both at any point during the call. The toy owner also has a built-in screen-record feature, while the other partner does NOT (unless they are using another sort of screen-recording app).
If you miss each other and are not on line at the same time, you can still send chat messages, pics, or voice memos.
Bottom Line: Long Distance Control
There are some great ways to connect on this app. Video and chat features are all very easy. The live control-sharing can take a little bit to figure out, just since there are so many options – but once you've played a bit, it's quite easy. The Lush 3 is a great fit for someone looking for very customized control options.
Lush 3 Connectivity
One of the things that has made me an enthusiastic return-customer with Lovense toys is the connectivity. We've found Lovense toys to be the best brand at connecting easily and maintaining a reliable connection.
This is really important to me because disrupting the stimulation and having to re-connect toys is one of the most FRUSTRATING things to me.
We've found the Lush maintains a much more reliable connection with the app than its competitors like the We-Vibe Jive or the OhMiBod Esca.
I've found that the Lush 3 maintains a reliable connection in close-range mode up to 130 feet away from the FRONT, which excels Lush's promise. I did find that it didn't seem very reliable after 20 feet from behind though, which falls a little short of Lovense's promise.
I did notice that the pattern seems to stutter, or differ slightly once you lock your phone though. When you re-open, it immediately goes back to normal, but for some reason locking seems to just throw it a little off.
As for LONG DISTANCE, I've also never had any issues with disconnections or glitches!
I've found other brands' toys to be more inconsistent. They'll disconnect more frequently especially when I open another app or lock my phone. This tends to be a regular occurrence with other toys, but I've maybe only encountered this once or twice in my ENTIRE Lush experience. And from my experience, that's just hard to come by.
One of the other things I LOVE about the Lush 3 and other Lovense toys is that the initial pairing with the app is so quick and easy to do. I have to sit and master just the right button click/hold routine to get other toys to pair, but this one recognizes it instantly. I just toggle a button on my phone and my Lush 3 is connected.
The new antenna shape on this toy is specifically designed for better connectivity, but to tell you the truth, I never had any problems with the Lush 2 either!
Bottom Line: Lush 3 Connectivity
The Lush 3 is going to have one of the strongest connections out of any of the app-controlled options out there. If a reliable connection is a MUST for you, I honestly don't know that you'll find something better. I've had great experiences in close range bluetooth mode and in long distance mode.
Lush 3 Comfort
Ok, HOW have we not talked about this sooner? (The real truth is that I'm not sure other people value comfort as much as me).
If you have read any of my other reviews, you KNOW that comfort is a HUGE MUST for me. I can guarantee you that I am sure to have no fun at all in any situation where I am not comfy. That's the same reason my husband and I are sure to set the thermostat just right before we get down to business – sexy business.
So, the Lush trilogy are all insertable vibrators – and they're not SMALL. One of these babies really takes up quite a bit of real-estate in there. Which is what it's supposed to do, because they really want it to press into your g-spot. Definitely have your favorite water-based lube on hand before you attempt to situate this baby.
Being a fairly tight person who typically prefers external stimulation, I will say that it can be a BIT much sometimes. I rated the Lush 2 on the mid-level of comfort, and the Lush 3 has the same bulb shape and size so internally it's about the same comfort.
The more form-fitting and flexible antenna on this toy though, helps greatly with the comfort for me!
I did really feel a noticeable difference in comfort with the assistance of the new antenna design. It ALSO means that the antenna isn't going to jostle around quite as much down there.
The button on this toy is also on the other side of the antenna, which I find to be easier to press, AND the little flashing light is not really noticeable (you can turn it off anyway). Really, the whole antenna just lays flatter – which also LOOKS better. I can pretty much wear whatever I want while this toy is in without it being noticeable.
One bummer that really can't be avoided with toys like this – it really presses into your bladder too. My bathroom trips are more frequent when I'm wearing this toy for a long night, so I don't love wearing it for TOO long. Side note: you CAN pee with this toy in though which helps!
Bottom Line: Lush 3 Comfort
You'll know this toy is in – it can take adjusting to find the most comfortable position. It's not quite as comfortable to me as a purely external toy – or toys where the internal arm is small like the We-Vibe Chorus (review). But the newest updates make it more comfortable than its predecessor for just about any activity.
If you don't like a bit of fullness, this toy might not be for you. But if you're in for a bit of internal pressure, the Lush 3 should do the trick and the antenna is really comfortable now!
Lush 3 Battery Life
The Lush 3 claims 5 hours of battery life! I have always had more than enough battery life for my nights-out. And that's saying something, because I tend to buzz the WHOLE time. I am also terrible at charging things, and I've had multiple sessions, each time coming back to find that it still has lots of life left.
The charging port on this toy is also much better in my opinion. The Lush 3 has a magnetic charging port which I like more than the old method of stabbing through the silicone with a plug and feeling like you may be breaking your toy.
Bottom Line:
The Lush 3 claims one of the longest battery lifes I've seen, and so far I have not proven it wrong.
I think the Lush 3 is a great toy if you:
Want the most powerful g-spot vibrations from a wearable vibe
Really value quick and reliable connectivity
Are looking for a rumblier vibrator
Want a slightly more comfortable version of the Lush compared to the Lush 2
Don't need external/clitoral stimulation to enjoy the vibrations
Want something to use with a long-distance partner
Want to be able to give control of your toy to someone anonymously
I think an alternative wearable vibrator might be better for you if you:
Are looking for more external/clitoral stimulation
Tend to prefer lower-powered, extremely rumbly vibrations
Want a toy that isn't very filling to provide better comfort
Are looking for something very inexpensive
Lush 2 vs Lush 3: Is it Worth Upgrading
Lush 2 vs Lush 3 Vibrations
The Lush 3 vibrations definitely START OUT more rumbly than the Lush 2. On the lowest levels you can feel and hear the difference. As you increase the power, the "rumble gap" starts to decrease though. By the time you reach the highest setting, I would say there's really no noticeable difference in rumbliness/buzziness.
When it comes to POWER, I would say the LOWER settings on the Lush 3 are a bit more powerful than the Lush 2. But when it comes to the highest level, I did not notice a difference between the two vibrators.
I do get slightly better G-spot stimulation from the Lush 3, but it's so subtle I wouldn't upgrade if I already owned the second version just for that.
Lush 2 vs Lush 3 Sound
When these toys are on the outside, I noticed that the Lush 3 seemed to be a little quieter on the low-levels from the deeper rumbliness. Once I'm wearing these though, I don't think there's really a difference in sound level. Both are pretty dang quiet and can be worn just about anywhere except for a home-alone, dead-silent situation.
Lush 2 vs Lush 3 Connectivity
Lovense is always improving on connectivity as they roll out new versions of their toys.
This one is hard for me to gauge from experience because I don't have issues with either my Lush 2 or my Lush 3 connecting easily and remaining connected. My husband and I have found Lovense toys to be the best for connectivity.
But if you did experience some issues with your Lush 2, the newer version does have improved tech, so could help fix connectivity issues if you had them.
Lush 2 vs Lush 3 Comfort
The Lush 2 and Lush 3 have the same size and shape of insertable bulb, but the wrap-around antenna is different. The Lush 3 has a more permanent C-shape with a nice form-fitting and flexible antenna which really helps the toy stay in place better. It also means that the antenna won't stick out as much or feel too rigid for comfort.
I found the antenna of the Lush 3 to be much more comfortable than the second version while the comfort of the interior bulb stayed the same. I value comfort a lot, so to me the substantial increase in comfort is the main reason to choose the Lush 3.
Lush 2 vs Lush 3 Battery Life
The Lush 2 claimed three hours of battery life, while the Lush 3 claims five hours! The three-hour charge seemed to last way more than I needed, and this five-hour vibrator has worked out even better.
So Is It Worth Upgrading from the Lush 2 to the Lush 3
If you already have the Lush 2, I think it's only worth upgrading to the Lush 3 if:
You really value RUMBLY vibrations – but keep in mind that the increased rumbliness only applies to the lower power levels.
The antenna on the Lush 2 felt uncomfortable to you. I found the flexible, form-fitting antenna of the Lush 3 much more comfy.
If you DID experience connectivity issues with the Lush 2. Again, I haven't had issues with either, but the tech in the third version is improved.
You want 2 additional hours of use for longer public play sessions.
Though you do get slightly better G-spot stimulation it's not hugely noticeable that it's worth upgrading just for that if you already own the Lush 2. For me, the main worthwhile improvement was better comfort.
Lush 3 Alternatives
Clitoral Vibrator for Public and Long Distance Play – Lovense Ferri
The Lovense Ferri is a great wearable vibrator that focuses ONLY on clitoral stimulation. It's actually my personal favorite vibrator for public play! After one trip with my husband out to a restaurant and the Ferri humming away between my legs, I knew it'd quickly be getting a LOT of use from me!
It's also by Lovense, and uses the same app, so all the same app-control features apply to this one. Same great connectivity too.
One of the reasons this little vibe is at the TOP of my list, is because it's SO comfortable, and really easy to wear. There's nothing insertable about it – just a magnet straight onto your panties.
But the main reason it's my favorite – the strong clit vibes secured-in-place exactly where I need them!
I personally need clitoral stimulation to orgasm so this pal quickly became my go-to for public outings. It's REALLY powerful for how small it is. The Ferri is easily the wearable vibrator I orgasm with most easily.
It's a little louder than the Lush 3, especially since it's external. But I'm still able to play in most settings. But it does take a bit more awareness of your surroundings than the Lush.
You can also easily control both the Lovense Lush 3 and the Ferri in the Lovense app. I've enjoyed wearing them together for excellent dual stimulation.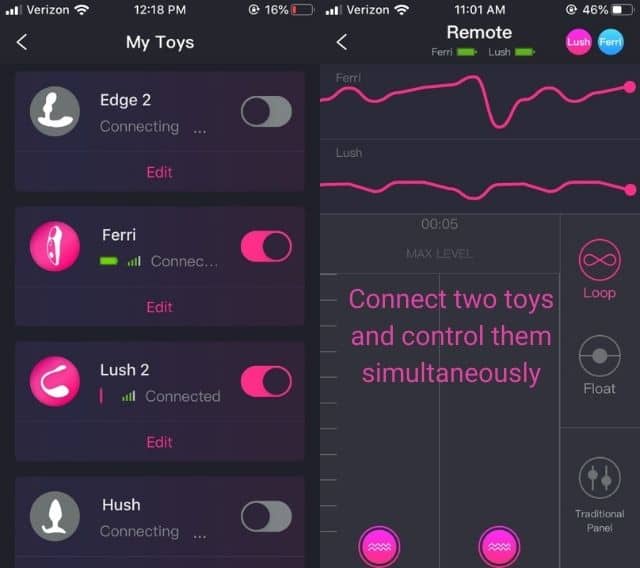 If I've piqued your interest, you can read all about the Lovense Ferri in my full review.
We'd Recommend the Lovense Ferri over the Lovense Lush 3 if:
You're looking for very powerful clitoral stimulation
Comfort is your top priority
You don't care to have g-spot stimulation
You're ok with slightly buzzier vibrations
Cheaper Alternative – Lush 2
The Lush 2 has almost identical features. The main difference is the shape of the antenna – which is not a compact C-shape and is more rigid. The Lush 2 (review) can be slightly less comfortable, but I've found it to be extremely reliable and just as powerful as the Lush 3.
The cost is a bit lower, so this is just about as similar as you can get while keeping the cost down.
We'd Recommend the Lovense Lush 2 over the Lush 3 if:
You're on a tighter budget
You don't mind a bit less comfort from the old antenna design
Comfier and Quieter – Esca 2
I found the Esca to be a bit more comfortable since it's internal bulb is a bit smaller and smoother – it doesn't have the flattened tip for better G-spot stimulation. Unfortunately that also means it – well – doesn't give as great of G-spot stimulation.
It's still teasy and fun, but I'm personally less able to orgasm from it. I still love it for it's comfortable wear so I can extend foreplay for a long time 🙂
It was also a little quieter than the Lush if you're super conscious of sound – though I found the Lush 3 quiet enough too.
It does have more frequent connectivity issues for me – especially during long distance play. It's not too big of an issue during close-range bluetooth connection. If you value uninterrupted play, I'd stick with the Lush 3.
The app-control features are similar, but they don't give quite as much complete customization of your vibrations. However, there's pretty much no learning curve with OhMiBod's app. It's really simple and intuitive.
Read our full OhMiBod Esca 2 review here for more info.
We'd Recommend the OhMiBod Esca 2 over the Lush 3 if:
You value comfort and are okay trading off better G-spot stimulation for more comfort
You're okay with more occasional disconnections from the app – mostly in long distance mode
You want an app that very simple to use, but doesn't give quite as much complete control of your toy
External and Internal Stimulation while Being Even More Comfortable: We-Vibe Chorus
The WeVibe does not have as large of an insertable portion, so I found it to be more comfy than the Lush 3. It can also be worn during sex which is my favorite use of the Chorus!
The G-spot stimulation is not nearly as strong as the Lush 3 which is a bit of a bummer, but there is a clitoral motor on this toy too!
I found it to be exceptionally quiet and rumbly, but did have occasional issues with connectivity.
And the We-Vibe app doesn't give quite as complete control as Lovense's either. I like Lovense's app the most.
But damn – the Chorus just LOOKS beautiful. And it's silky, super rumbly vibrations feel lovely too – especially during sex.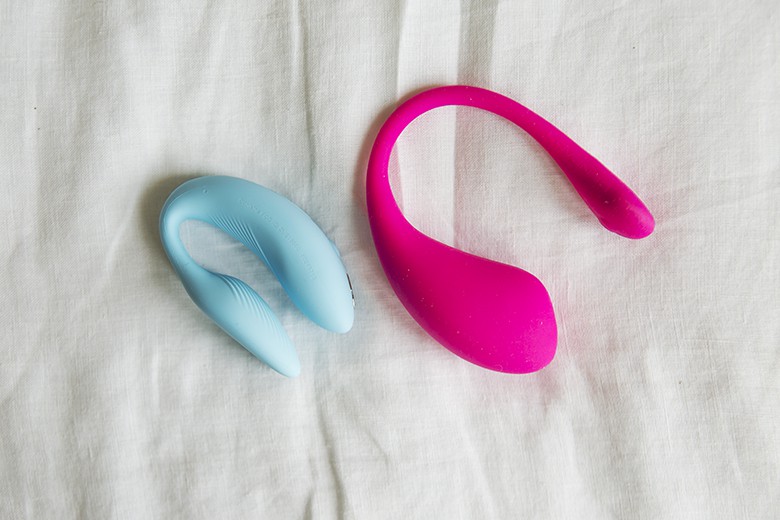 I review the We-Vibe Chorus in detail here if you want more info.
We'd Recommend the We-Vibe Chorus over the Lovense Lush 3 if:
You want external and internal vibrations
You want the quietest vibrator
Your okay with a bit more disconnections than with a Lovense toy
You don't like too much power in your toys
You prefer very rumbly vibrations
Lovense Lush 3 vs Dolce (Previously Quake)
You may have seen Lovense has also released their Lovense Dolce (originally named the Lovense Quake) a dual stimulation vibrator that looks strikingly like the Lush 3 – but also has a clitoral motor!
Well that seems like the best of both worlds!
The Dolce is fun and has a lot of positives going for it – strong clit vibes, strong G-spot vibes, and a reasonable price. But I think this first version misses the mark a bit on comfort. If you're looking for a vibrator for public play, you may intend to be out for several hours – you need a toy that fits comfortably.
At least for me, discomfort can quickly become a major distraction for my arousal.
Since both the clit arm and the G-spot arm of the Dolce need to align correctly (and both are rather large), I find the Dolce much less comfortable to wear out than the Lush 3, the Lovense Ferri, and even the Lush 3 and Ferri used at the same time.
When using the Lush 3 and Ferri separately or together you have complete control to position each toy exactly where it fits best for comfort and stimulation. With the Dolce, adjusting one affects the other so it's harder to get a comfortable fit.
Unless you really want strong clit and G-spot stimulation in just one toy, I'd stick with the Lush 3 or the Ferri (or both) for your public fun. They also have longer battery life to extend your fun!
You can head to my Lovense Dolce (Quake) review or my full comparison of the Lush 3 vs Dolce for more info
Final Thoughts
The power on this toy is really the highest I've experienced in a wearable toy. I'm pretty noise-conscious too, but this toy definitely earns the title of "sneaky".
The app has become my absolute favorite, because it's the most reliable I've seen in connectivity. I also love the control-features available and have now developed my hub of vibe-patterns that REALLY do the trick.
If I'm not taking this toy out to dinner, the video-feature makes any long-distance weekends extra spicy.