**Note: This is a review of the Lovense Edge 1 which has been my own personal favorite prostate vibe. I recently purchased and have been testing the new version – the Lovense Edge 2. I'm currently working on a full Lovense Edge 2 review but until that's posted – here's what I think the important differences and similarities are between the Lovense Edge 1 and Lovense Edge 2 so you can decide which may be a better choice for you. The rest of this review applies pretty well to both products.
Lovense Edge 2
More secure fit than the Edge 1. I have no issues with it popping out while using it at home. Still not quite secure enough for public play – go with the Hush for that.
Slightly better prostate stimulation from the better fit. When my muscles start to clench, the Edge 2 stays firmly in place vibing against my prostate. Edge 1 can push out sometimes when my muscles clench.
Prostate stimulation can lead to some of the most intense orgasms men can experience. But it can take quite a bit of practice to learn how to stimulate your prostate well. Fortunately, vibrating prostate massagers like the Lovense Edge can reduce this learning curve quite a bit over manual prostate massagers or using your fingers.
In this Lovense Edge review, we'll break down the most important features of the Edge to help you decide if it's right for you – or if another prostate vibrator may hit the spot better.
Lovense Edge Vibrations – Power, Patterns, and Quality
Since we're talking about a prostate vibrator here, the two most important questions are: how strong are the vibrations? And how well will it stimulate my prostate?
We'll start with the first question.
Vibe Power – Does This Prostate Massager Bring The Heat
I was pleasantly surprised by just how powerful the Lovense Edge prostate massager's vibrations are. It feels like the prostate motor and perineum motor really work together to amplify the vibrations – and I found the Lovense Edge delivered the power my body needed. I also averaged the power ratings from customer reviews and found on average people rated it about 4.46 out of 5 – which feels about right from my experience.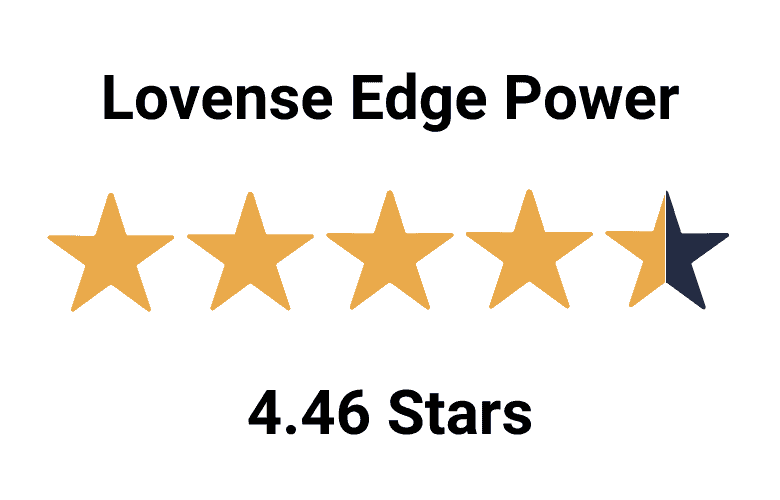 I unwrapped the Edge which arrived from Lovense in plain brown packaging with no indication it was a sex toy.
After charging the prostate massager to full power, my wife and I sat on the couch to test out the app-connection and control.
While she was holding the Lovense Edge I slid both motors up to full power and it was obvious she was surprised by the vibration strength too.
She pressed the Lovense Edge to her clit over her jeans and tried to continue holding our conversation until, within under a minute her face gave away that she was far too distracted to keep chatting. The Edge's powerful vibrations brought her to orgasm over her jeans easily within under two minutes and she exclaimed it was definitely stronger than her usual go-to vibrators.
So at that point I was very excited to try the Edge for myself in its true role as a prostate vibrator.
And the Lovense Edge's vibes didn't disappoint. Both motors felt really strong. There were occasions where it felt like the perineum motor wasn't quite in the right position for me to feel the full strength of the vibes so I had to do some shifting around occasionally to get the full effect.
There were also times when I had both of the prostate massager's motors at 100% that I did want even more power. But I noticed that if I turned the prostate motor all the way up, but had the perineum motor not quite at full power the Edge's vibrations actually felt stronger and more stimulating than if I had them both set at full power – more on this later from an interesting Reddit thread. I usually have to play around a bit to find the right settings to achieve this trick with the prostate massager.
All in all, I was really satisfied with the Edge's power and it's given me some of my strongest orgasms so far. My wife even wants one for herself after her initial run-in with the Lovense Edge. I do think that the Lovense Hush feels even a bit more powerful than the Edge though.
If you're someone looking for all but the most extreme power, the Lovense Edge delivers.
Buzzy or Rumbly Vibes?
Another important factor in the vibes of a prostate massager are how buzzy or rumbly they feel. Rumbly vibes tend to travel deeper into your body whereas buzzy vibes feel really intense but more isolated to the surface. In my experience most people tend to prefer their vibrations to be somewhat a mix of the two but more on the rumbly side – though there are exceptions to this rule.
The two pieces of the Lovense Edge have a slightly different feel. I find that the Edge's prostate arm feels just barely more rumbly than buzzy and the perineum arm is quite rumbly. Both get a bit buzzier as you turn the intensity up.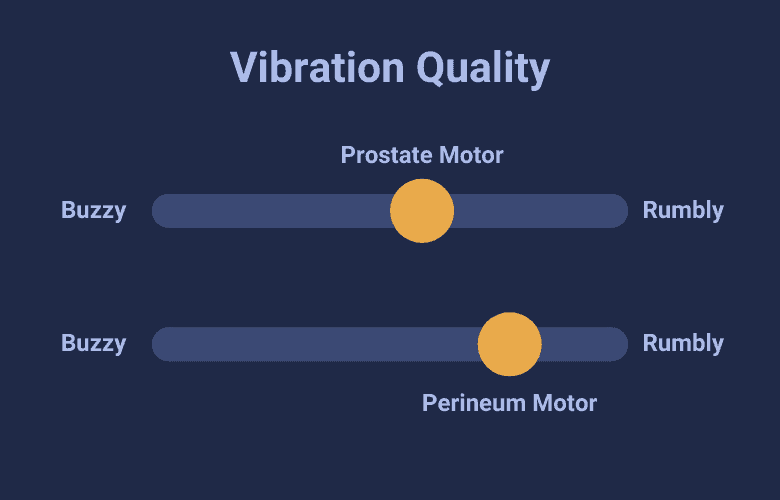 If you like a very rumbly feel, the best way I've found is to offset the intensity as I mentioned earlier. It creates a really interesting powerful, wobbly sensation that feels really intense and is how I always like to finish with the Edge!
Lovense Edge Patterns
The Lovense Edge has limitless patterns through the Lovense Remote app.
You can live control each motor on the Lovense Edge prostate massager separately – or let your partner take the wheel and see how they enjoy controlling your sex toy. Set each motor to their own constant power level or create a pattern that circulates on an endless loop.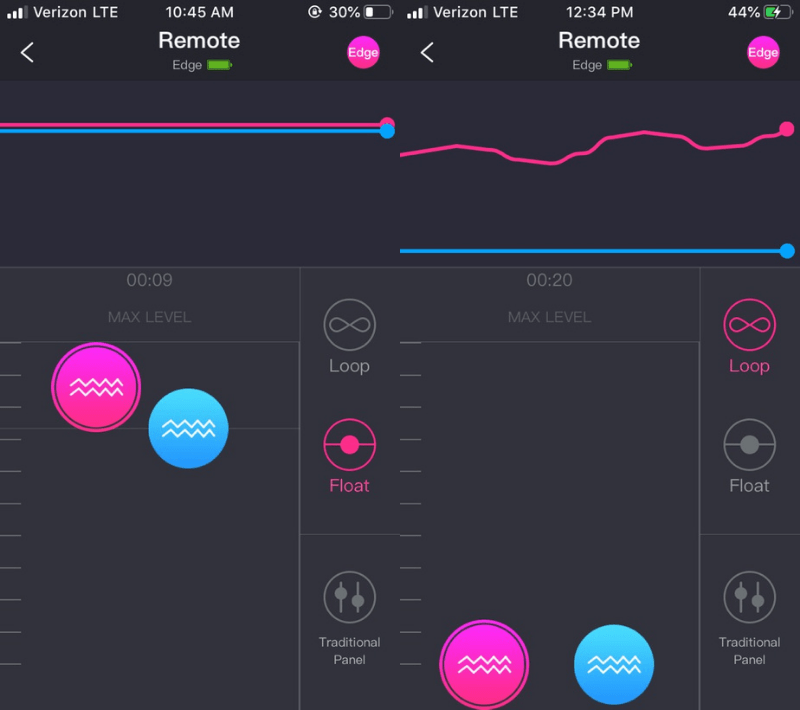 The Lovense Remote app also lets you create and save patterns for the Edge. So when you discover a pattern you like, you can find it in your saved patterns and use it again in the future.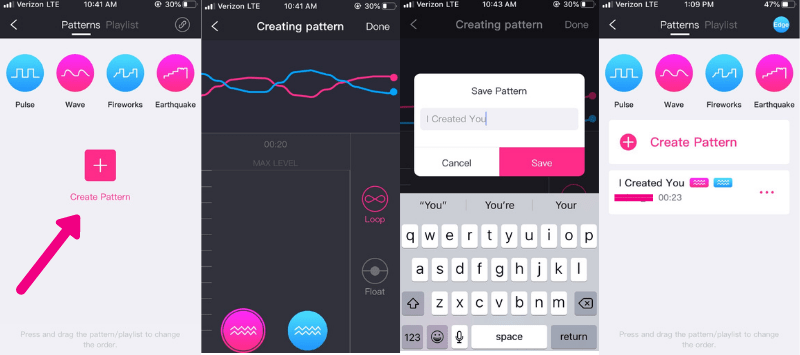 Or if you don't want to reinvent the wheel you can scroll through popular patterns that other people have shared. You can find patterns that control one or both motors of the Lovense Edge prostate massager.
There are a few other ways in the app to control the sex toy but we'll get into these later when we talk more about the Lovense Remote app.
If you don't want to control the Edge with the Lovense Remote app, the Edge has preset patterns built-in: Low, Medium, and High constant vibration of both motors, and then four other patterns. You could use these, but I never find myself using them.
It's less convenient to reach down between my legs and press a button on the sex toy to cycle through patterns than to just have my phone nearby. The app makes for a really great control system. I've found I personally prefer app controlled prostate massagers like my Lovense Edge to manually controlled toys or prostate vibes with a physical remote.
The Edge's Ability To Stimulate Your Prostate
The Lovense Edge is able to hit my prostate really well, and I've experienced great orgasms with this sex toy. But there are a few types of people who may be better stimulated by other prostate massagers.
First, a huge plus for the Edge – its the first adjustable prostate massager. You can bend it to an angle that fits your body and prostate position the best – so the Edge is likely to work for a wider range of people than a fixed prostate massager.
The first time I used the Lovense Edge, I forgot that it was adjustable and tried to use it at the angle it came from the box. I gave up and thought, "how does anyone fit this in their body?" About 30 minutes later I remembered it was adjustable – I rushed back upstairs, slipped it in easily, and felt the vibrations right at my prostate. So ya, don't forget about that feature because it can make all the difference.
The Edge's size is fairly average, which makes it a great prostate massager for beginners and intermediate anal fans. Peope who prefer large sizes may be left wanting a bit more though.
The Edge's prostate arm is only 3.13 inches of insertable length compared to sex toys like the Aneros Vice 2 which has 4.25 inches of insertable length.
The Edge's shallower arm is much less intimidating and is long enough for most people since the prostate is located about 2 inches inside the rectum – but it varies a bit from person to person.
Some people just prefer deeper penetration and I will say, there are times I find myself pressing on the base of the Edge to try to press a bit deeper.
If deep penetration is important to you, the Aneros Vice prostate massager may be a better fit. But unless you need really deep or really full sensations, the Edge is likely going to stimulate your prostate well.
Rear Comfort
The Lovense Edge is made for comfort. It's extremely smooth silicone and average size make it a great toy to wear for longer sessions without discomfort. The silicone also isn't as "tight" as it is around the Hush for instance. It's got a bit of squish to it. This gives it an incredibly comfortable cushion-like feeling, but I do think it dampens the vibration strength a touch.
The max diameter is only 1.4 inches – Compare this to the small version of the Lovense Hush which has a 1.5 inch diameter.
And the Lovense Edge has a tapered head which I've found makes for really easy insertion – especially since it's also adjustable to set the toy at the best angle for me.
Once the Lovense Edge is inserted, its angle stays fixed. I feel just about the right amount of fullness for me without any discomfort when I'm using this prostate massager. I also haven't experienced any soreness after playing with the Lovense Edge – but it is important to use a lot of water-based lube when playing and go slowly.
One downside of the average size is that my body will occasionally start to push it out. This is pretty rare for me and only happens when I have the Edge adjusted to it's more extreme acute angle. But some other customers have noted it happens to them more frequently. Some people mention needing to sit on it to keep it in place well.
When it does slip out, it's easy to press the Lovense Edge right back in since my body's already used to the prostate massager by then. It's never been a disruptive issue for me. If you value a more secure fit, you may prefer a butt plug like the Lovense Hush.
Another great effect of the smaller size is that removing the Edge after play isn't uncomfortable for me. It doesn't cause that post-orgasm thought "Damn, now how am I gonna get this thing out?" The Edge slips right back out painlessly.
App Quality – Connect With a Partner or Play Solo
No Lovense Edge review would be complete without diving into the Lovense Remote app. It's the absolute best way to control the prostate massager. This app connects to your sex toy through bluetooth to give you or a partner complete control of your Lovense sex toys. You can connect long distance or from just across the bar.
Overall, I think the app is pretty great. It's rich with interesting features, but there are a few things I think Lovense could improve.
Best Features of the Lovense Remote App
First, Lovense makes it really easy to connect your toy with a partner and has great features to make it a smooth and enjoyable experience.
If your partner is nearby, they can simply connect to your toy through their phone, tablet, or computer's bluetooth and instantly take full control. You can even control multiple Lovense toys at once.
For instance, my wife has a Lovense Lush, so she can control her Lush and my Edge at the same time through the remote app. Or we can each control each other's toy.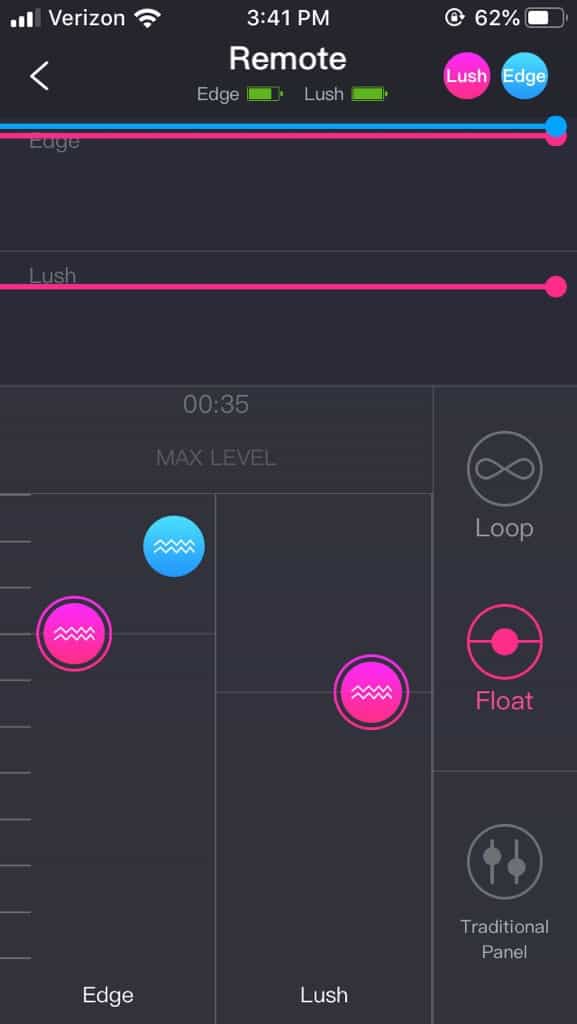 How To Let Someone Live Control Your Lovense Edge
If you and your partner are long distance, simply select the "Long Distance" tab on the remote app. You'll each need to create a Lovense account. Then simply go to add people and send them an invite to control your toy by searching for their username.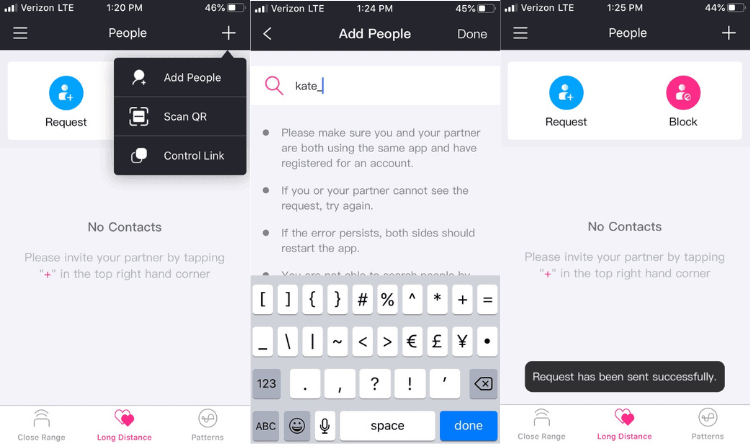 Once you're connected you can send each other vibration patterns or take complete control by clicking the "Live Control" button.
You can video chat, voice chat, or send texts and photos in the app – all while controlling each other's sex toys. The Lovense Remote app gives as close to an in-person experience as long distance sex toys can offer.
The experience looks like this, except imagine you and your partner in the video frame instead of my ceiling fan.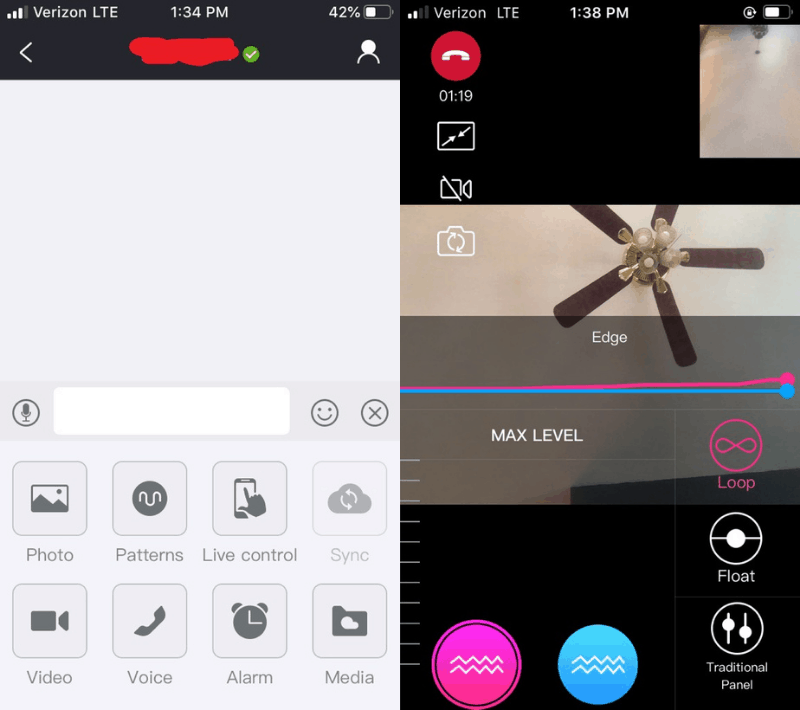 As I've already discussed, the patterns are completely customizable and limitless. I love that Lovense also gives you the option to choose from popular patterns uploaded by others.
You can also sync the Lovense Remote app to your Spotify account to control your Edge in sync with the music. It can also be controlled by the ambient sounds in the room. This feature is best for public settings – but I think the Edge is not well suited for public play. Try the Hush for public anal play instead.
For cam performers, the Lovense Edge prostate massager also makes a great tip-activated vibrator. You can also send someone a live link to temporarily control your Edge for a set amount of time.
What I Think Lovense Could Improve On
I do have a couple small beefs with the Lovense Remote app though.
When you give control of your Edge to a partner you can't both simultaneously control your toy. Sometimes you just know what your body is needing. And if your partner isn't quite hitting the vibes how you want them, it'd be nice to be able to make small adjustments yourself.
Secondly, when you're creating loop patterns, you have to take your fingers off the control to let the app know that you're done creating the loop. But that makes the vibration temporarily drop back down to zero. So at the end of the pattern there's always a drop which I find a bit disruptive. I actually typically use the float setting instead of loops because of this.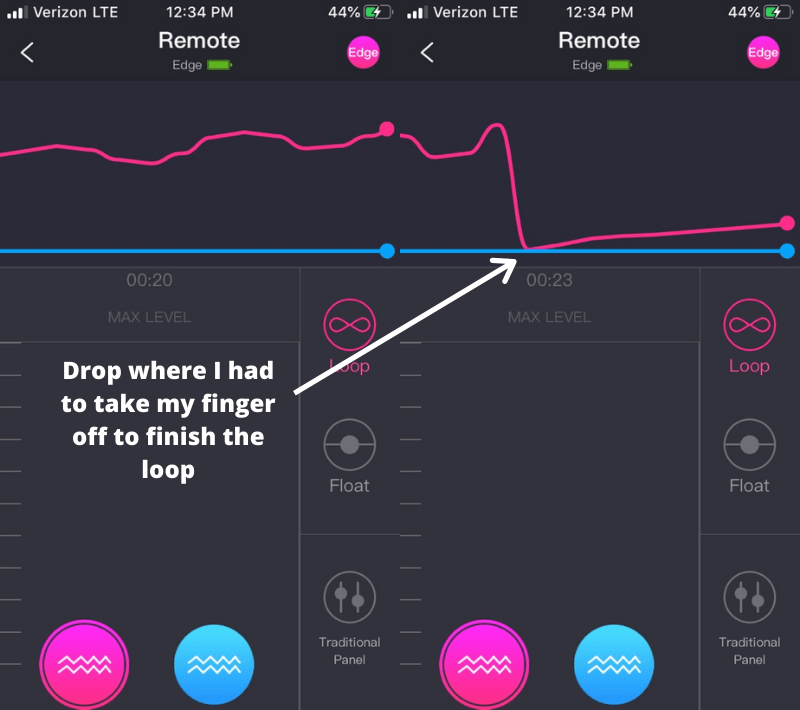 Overall, I don't think the small hiccups make too much of an impact. I'm generally really satisfied with the Lovense Remote app's control of the Edge and other Lovense toys.
Connectivity – Will Your Play Run Smoothly or Be Interrupted
With any bluetooth connected toy there will be occasional disconnections.
However, Lovense is the best brand for connectivity that I've encountered so far. I rarely have disconnections with the Edge prostate massager or our other Lovense toys. When they do briefly disconnect, reconnection takes just a split second and we're right back into the action. I've found with some other brands, disconnections are much more frequent for me and reconnecting is not nearly as smooth of a process like it is with Lovense.
Disconnections will be a bit more of an issue if you have a lot of clothing or skin blocking the receiver. You'll likely have to spend a touch more time reconnecting if you're playing in public than you would if you're playing at home.
Overall, I've been completely satisfied with my Lovense Edge connection.
Discretion – Can You Play With Your Partner In Public Or Just At Home
One of the fun parts of Lovense toys is that you can connect with your partner long distance even if they're an ocean away. But sometimes you just want to control your partner's toy while they're simply sitting across the bar amongst unsuspecting strangers.
Unfortunately, in my opinion the Lovense Edge is not a great sex toy for public play. For one thing the Edge's two motors working together can get pretty loud. People are gonna hear you in most settings.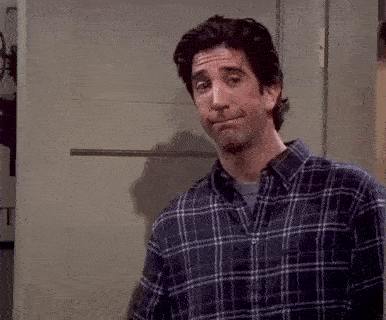 You can work around this a bit by only operating the prostate motor which tends to be quieter. Your body also dampens the sound of the interior prostate arm pretty well. Still, there's just better sex toys for public anal play like the Lovense Hush.
With the Edge you still have other factors besides noise to contend with. The same features that make it really comfortable and a great prostate massager to use in the bedroom, make it more difficult to use in public – mainly, the smaller prostate arm can have a tendency to slip out if you're moving around a lot. Walking definitely makes it harder to keep the Lovense Edge fixed in place.
So the Edge is certainly a great sex toy to give up control to your partner – just not in public. I don't really think it was designed to be a public play sex toy. The Lovense Edge shines in delivering powerful vibrations directly to your prostate to build to intense orgasms. I'll gladly take the trade-off on quietness for the targeted powerful vibrations the Edge delivers to my P-spot.
If playing in public is really important to you I'd recommend the Lovense Hush for your anal play over a prostate massager. It's a high quality app controlled butt plug, that stays in place really well and is much quieter than the Edge – especially since there are no external motors.
Lovense Edge Review Bottom Line – Who Should Get It
I think the Lovense Edge is a great product for you if you:
Are looking for very strong prostate and perineum vibrations
Want to share control with a partner or want a great interface to easily control the vibrations yourself
Don't need extremely deep penetration or extremely wide diameter products
Care more about intense prostate stimulation than about playing in public
If any of that sounds like you, I'd give the Lovense Edge a try.
Otherwise there are some great alternatives that meet other needs. Head on past our Lovense Edge tips to see some alternatives.
Tips on How To Use Lovense Edge
How To Insert The Lovense Edge
When I play with the Lovense Edge, I'll penetrate with my fingers first until my body's completely used to the feeling of my fingers. Then I'll put a lot of water-based lube on the Edge and press the tip of the prostate arm slightly in and out at the entrance. I do this repeatedly getting deeper each time – until eventually the prostate massager slips in with ease. Play around with the adjustable arm to find an angle that enters easily for you.
How To Adjust The Lovense Edge
The Lovense Edge's adjustable arm moves smoothly and continuously through its range of motion. There's no set positions that you click through.
This sort of makes it feel like you're not supposed to be bending the arm but trust me – you're supposed to move this arm and you're not going to break it by moving it.
It takes a bit of force to move the arm so that once you find the angle you like – it won't move easily from that position while you're playing.
How to Clean the Lovense Edge
Luckily cleaning the Lovense Edge is really simple. It's a silicone IPX7 waterproof sex toy which means it can be completely submerged in water without being damaged.
Just run warm water over the toy and scrub it really well with soap. Rinse completely and you're done!
I'd avoid running extremely hot water over the Lovense Edge – this has made the silicone a bit looser on some of my other vibrating sex toys, so I just wouldn't take the risk.
Occasionally check that the silicone near the charging port is still in-tact. If that silicone ever tears you'll need to keep the running water away from the port.
How Long Does The Lovense Edge Last
The Lovense Edge lasts for 1.5-2 hours. If you're using both motors at high levels it'll be on the lower end of that range. If you're not always at full power you can push it to the high end of the battery life.
A Lovense Edge Physics Trick From A Reddit User
To top off this Lovense Edge review I'll share one of my favorite ways to use the Lovense Edge. I had experienced these sensations before I found this Reddit thread, so I was pumped to find someone putting it into words and even providing the explanation of the physics phenomenon.
Basically, if you adjust the vibrations of the two motors to slightly different values you can create a really powerful vibration pattern that wobbles in a beat-like pattern. The top two waveforms are from each separate motor and the lower wave is what happens when they're combined.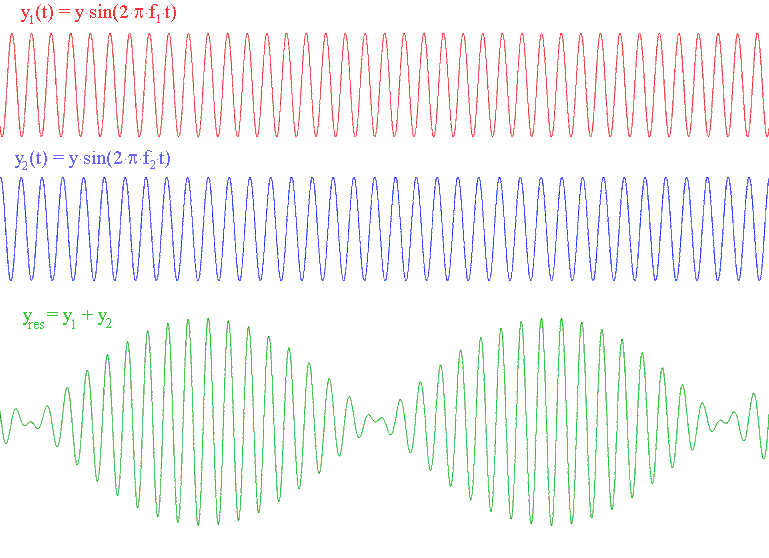 This is usually how I like to finish with the Edge as it provides the strongest sensations but not at a purely constant level – so my body doesn't get completely used to the vibes. It's awesome! Definitely give it a try.
Lovense Edge Alternatives
Alternative for Public Play – Lovense Hush
The Lovense Hush is a powerful app controlled butt plug from the Lovense line that comes in two sizes.
If you're looking to play in public the Hush is a better choice than the Edge. It stays fixed in place much more easily. You can walk around for hours without the Hush falling out. It is a slightly larger diameter than the Edge so may be a bit harder to insert for beginners to anal play.
The Lovense Hush is also quieter than the Edge – It only has one motor, and on top of that – there are no external vibrating parts so your body dampens the sounds quite well.
Since there's only one motor, the Hush also has a longer battery life giving you more time out at the bar before needing to recharge.
The Hush, in my opinions, also feels a touch more powerful than the Edge. But it's a butt plug so the Hush isn't specifically targeting your prostate. If you're main focus is to achieve great prostate orgasms – go with the Lovense Edge. Still, the sensations the Hush delivers feel great and make my orgasms feel way better than without anal stimulation. And if I want the power cranked up, the Hush delivers it even more.
Another bonus – since it's not targeting a prostate, the Hush works well for people of every gender! Find out more on the Hush by reading our Lovense Hush review.
If you're unsure and want to try both, Lovense typically runs a pretty substantial discount when you buy the Hush and the Edge in a bundle.
We'd Recommend the Lovense Hush Over the Lovense Edge If:
You care more about discrete anal play in public than you do about prostate stimulation
You want a toy that stays in place with a lot of body movement
You want a toy that's targeted to all genders
You want an anal toy with a larger girth
Option for Deeper Stimulation – Aneros Vice 2
The Aneros Vice 2 is another powerful prostate massager.
The Aneros Vice has 4.5 inches of insertable length compared to 3.13 inches on the Lovense Edge. However, the Vice's widest diameter is actually narrower than the Edge so it won't provide as "full" of a feeling. If deep penetration is important to you the Vice may be the way to go.
It also has two powerful motors like the Edge, though some customers mention that it doesn't stimulate their perineum as much as they'd like.
It's also a remote control prostate vibrator – not app-controlled. It has a physical remote that lets you increase and decrease the power and cycle through set patterns. Not quite as customizable as the Lovense Edge, but vibration patterns aren't important to everyone.
We'd Recommend the Aneros Vice 2 Over the Lovense Edge If:
You tend to want deep anal penetration from your prostate massagers
You'd rather have a simple physical remote and not deal with the complexities of an app controller
Lovense Edge Budget Alternative – Aneros Helix Syn
The last Lovense Edge Alternative we'll discuss here is the Aneros Helix Syn. This product DOES NOT VIBRATE. I just want to stress that up front.
But it is a great budget alternative. In one sense this is a great choice for beginners – it's diameter is quite un-intimidating at less than an inch. It's really easy to insert and won't provide too full of a feeling.
However, since it doesn't vibrate it requires a learning curve to figure out how to use it to stimulate your prostate. Still, even just having it resting inside you can strengthen your orgasms quite a bit.
We'd Recommend the Aneros Helix Syn Over the Lovense Edge If:
You're on a tight budget
You don't need vibrations
You want to start with a very slender prostate massager
Final Thoughts
The Lovense Edge has given me some of the strongest orgasms I've experienced so far. It's non-threatening, yet sufficient size provides firm pressure and powerful vibes to my prostate – all while being easy to insert and comfortable to wear. If you're looking for a powerful prostate massager and want your partner to join in on the fun – I'd give the Lovense Edge a try.