Lelo has been making a name for themselves as the luxury brand of vibrators since 2003.
Many of their products have gone through several versions, with slight improvements from each previous edition.
But with several years as an established luxury brand selling high quality products, they're able to charge a good sum for their sex toys. If you're going to shell out for their products you'll want to know it's a good fit.
The Lelo Mona 2 has become a flagship G-spot vibrator with many raving reviews, but it's not for everyone. I'm going to try to help you determine if it's the right choice for you with this Lelo Mona 2 review.
Vibe Quality, Intensity, and Patterns
First – the absolute most important part of any vibrator. The vibes!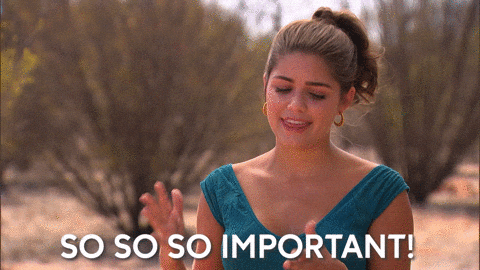 The Mona's vibrations are definitely on the rumbly side which means you'll feel them deeper in your body. And you're unlikely to become numb from the vibrations after a long time of playing like you may with buzzy vibes! Most people prefer rumbly vibrations to buzzy ones which feel more limited to the surface.
I'd say the Lelo Mona is about 8 of 10 on a rumbliness which is right in my perfect spot. If you need REALLY rumbly vibes, you can find similar G-spot vibrators that crank it all the way on the rumble spectrum. If that's you, the We-Vibe Rave may be more your lane. Plus, it can be app-controlled!
How about the Lelo Mona 2's power?
Ya, Mona's got it. Personally, I never need more power than the Mona can give on its high settings. The Mona's powerful rumbly vibes are actually what taught me I could have multiple orgasms so I'm personally a fan of this toy. Unless you crave really intense power like you'd get from a plug-in wand vibrator – the Mona will probably deliver for you. Here's what one Reddit user had to say comparing their wand vibrator and the Mona.
When I start playing, I keep it vibrating on the lower power levels until my body's heated up and ready to go! If you prefer less intensity, you could definitely stay there and ride the low rumbly vibes til the end.
And the range of vibration power from low to high is great if you want your play to extend past the first orgasm. After my first orgasm, I need less intensity near my clit immediately after. I'll let the Mona keep vibrating on low nearby my clit without touching it. This usually get's me worked up pretty quickly again, and I'll turn it up high for another O.
There's six different vibration patterns from a constant buzz to a rolling wavelike pattern. You can cycle through them with the buttons on the handle. If you have lube on your fingers they can be a bit tricky to press, but I never have difficulties any other time.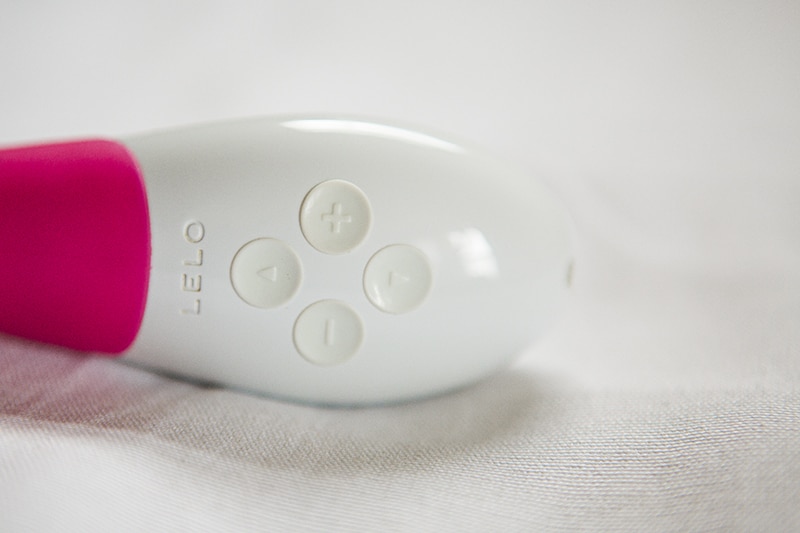 When I'm getting close – if I'm really worked up and just want to get there – constant vibration at high power does the job for me every time. But if I'm in the mood to make it last, the rolling wave setting is a great way to tease and edge for a bit before letting myself finish.
Versatility: G-spot, Clit, Partnered Sex – You've Got It
Versatility is one of the main things the Lelo Mona has going for it. It's curves, size, and the simplicity of maneuvering its handle make the Mona 2 work really great for both G-spot and clit stimulation.
Like any G-spot vibrator, the Mona is curved upward to target your G-spot. But the Mona has a bulbous section with a uniquely tapered tip so it can provide broad stimulation OR pinpoint precision.
I actually prefer using the Lelo Mona on my clit and I love the broad stimulation from the wide part of the head. I'll let it curve around the side of my clit to provide great vibes to the whole area. But if you prefer more pinpoint stimulation like you'd get from a bullet vibe – the tapered tip can give you that too.
And the completely smooth tapered tip makes it really easy to insert. The actual width of the Mona is slimmer than a lot of G-spot vibrators at 1.25 inches. Again, this helps with comfortable insertion, but if you like to feel full from your vibrator you may want a bit wider toy.
The Mona's soft silicone covers hard ABS plastic encasing the motor. It's completely smooth, but it doesn't have much give. If you prefer some flexibility in your vibrator, you may find the Mona a bit stiffer than you like.
If you don't like any precision stimulation internally, you can find toys with a completely flat head or a consistently broad shape. But If you do enjoy some precise G-spot stimulation (a bit more like getting fingered) the Mona may be a great choice for you.
Where the Mona really shines for me is during partnered sex! This vibrator quickly became my go-to when I want to finish with my partner inside me. I started out trying smaller vibes like eggs and pocket rockets during sex – and they worked okay.
But it quickly becomes crammed down there with a sex toy, my partner's body, and my own hand all trying to work my clit and G-spot in the same space. Not to mention it's just a little uncomfortable in some positions to keep my hands right near my clit the whole time.
The handle on the Mona, and its slimmer but long curve allow me to keep my hands out of the way while the Mona delivers vibes right to my clit – and the Mona stays out of the way of my partner's penis or fingers in me. As you can see, even if I've got the Mona down pretty low, my hands are clear out of the way.
If you've had trouble finding a good vibrator to use during sex, it's worth giving the Lelo Mona 2 a try.
Will It Wake The Neighbors
The Mona is pretty quiet, but it definitely depends a bit on your scenario. The maximum volume is less than 50 decibels (db). To give you some sort of idea – 40db is "quiet library sounds" and 50db is a refrigerator. So it's somewhere between a library and a fridge.
From my experience on the higher power settings being used externally – someone in the same room is going to notice.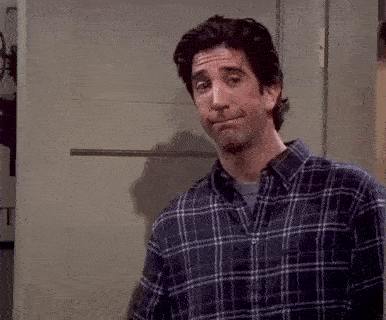 Sometimes my husband can't tell when I'm using it next to him in bed. But if I'm already pretty worked up – I don't need to turn the vibrations up all the way. If I had to use the highest intensity – he's gonna know.
But suppose you're camping for the weekend – your friends in the next tent over are probably NOT going to notice the Mona's rumbly vibrations. If you can't tell, I enjoy a bit of sneakiness and the Mona has been a good companion for my fun.
The low rumbly vibes are pretty easily dampened too. Especially if you're using the vibrator internally or even externally covered by a thick blanket (or sleeping bag).
Cleanup
The Mona vibrator is easy to clean. It's body-safe silicone and ABS plastic. AND it's 100% waterproof. So not only can you use it in the shower – you don't have to worry about water getting in it when cleaning it. So just a good scrub with soap, a full rinse, and you're good to go again.
Lelo Mona Alternatives
The Lelo Mona 2 is considered a luxury vibrator, so it's definitely not for those on a tight budget. If you're strapped for cash the Pillow Talk Sassy is a pretty good alternative to the Lelo Mona. Honestly it even still looks luxurious (and feels pretty luxurious too) at a fraction of the cost.
It has some differences to be aware of. Its curves aren't as accentuated and the tip is broader rather than pointed which can both make it a little harder to use during sex. But those who prefer pure broad stimulation may find it refreshing.
Also it's a touch more flexible than the Mona. The head gives a little more when you press. This can make it more difficult to apply the pressure how you want, but those who like a little more give internally will enjoy it. The silicone has a bit more grip to it than the Mona's completely smooth texture too.
Lastly, there's no vibration patterns. It's pure, constant vibes. You can change intensity, but can't cycle through patterns. If you're someone who likes simplicity in the control, here it is.
We'd Recommend the Pillow Talk Sassy Over the Lelo Mona 2 If:
You're on a budget
You prefer broader vibrations and a fuller head
You typically use the constant vibration setting
Easy use during sex isn't as big of a priority
Broad Stimulation Alternative – Lelo Gigi 2
Some people swear by the Lelo Gigi 2 and some people hate it. Well, really that's a bit true of any vibrator.
The Gigi 2 offers a flat head to press right against the G-spot and deliver broad pressure and vibrations over the whole area. The shape also has a bit of a lip to it, which you can use to tug at your G-spot a bit.
The main downside – the vibes are not as powerful.
This user's experience pretty much sums up my thoughts on who the Lelo Gigi 2 is for.
Check out our full Lelo Gigi review here.
We'd Recommend the Lelo Gigi 2 Over the Lelo Mona 2 If:
You're sensitive to intense vibration
You prefer very broad pressure against your G-spot
You enjoy more of a tugging action on your G-spot
If you're interested in the shape and vibration style of the Lelo Mona, but have a taste for giving up control, the We-Vibe Rave may be the vibe for you.
You can connect the We-Vibe Rave with the We-Connect app to give full control of your toy to a partner.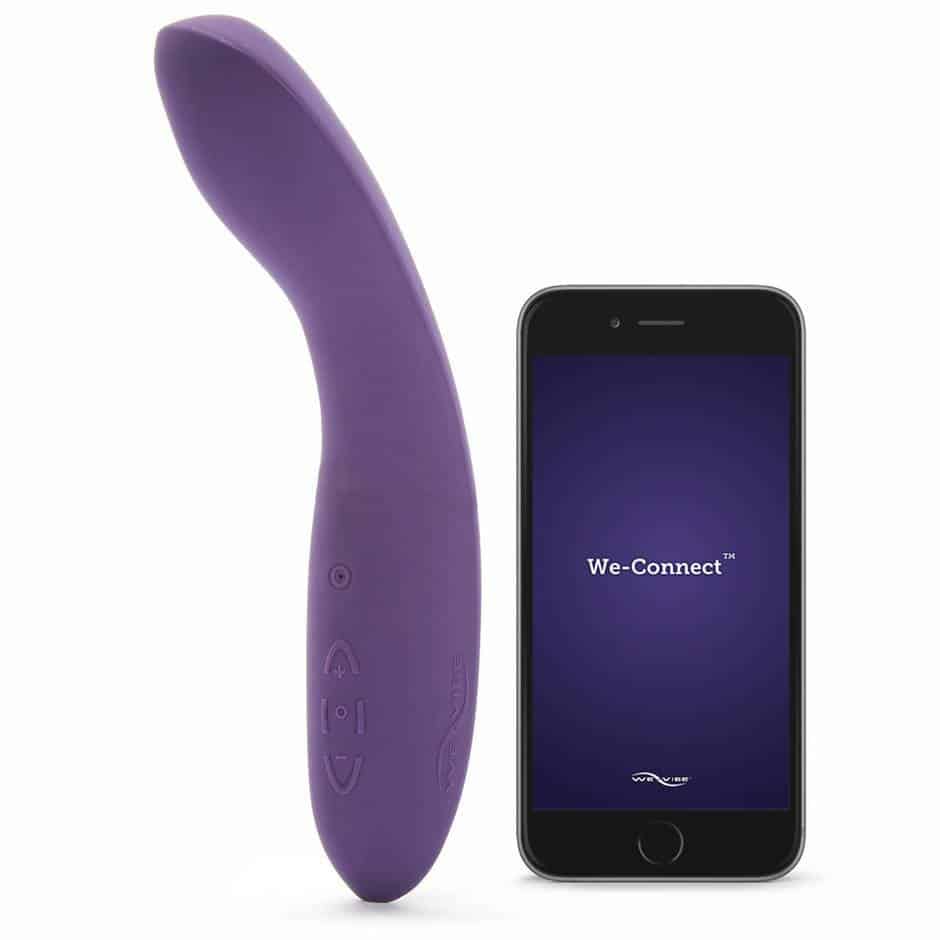 This also lets your partner deliver a limitless range of vibe patterns if you enjoy variation.
It's got great rumbly vibes like the Mona. It's actually even a bit rumblier than the Mona 2 on the high settings. It's also a bit louder though if sound is important to you.
Again, its broad shape and less accentuated curves are a bit less conducive for use during partnered sex. And the buttons on it are a bit trickier to easily control.
But if you enjoy long distance fun, or giving up control – those options may be more than enough to make up for it.
We'd Recommend the We-Vibe Rave Over the Lelo Mona 2 If:
You enjoy giving up control to a partner
You want to have long-distance fun with your partner
You want the vibes to be as rumbly as they possibly can be
Noise level is less important to you
Final Thoughts
In review the Mona is a great G-spot and clit vibe – and in my experience one of the best vibrators to use during sex. If you have it in your budget and want the versatility of broad or pinpoint precision to your favorite spots, it may be a great choice for you.