If you like your sex toys to leave you feeling exhausted, yet accomplished – like you just climbed a mountain or conquered a giant – you may just be one of the people crazy enough to take on the Goliath Dildo.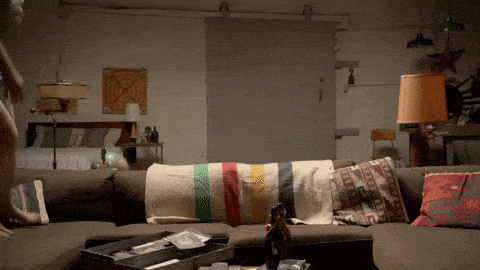 Its sheer size is staggering but if you enjoy size play, Goliath can leave you reeling and wanting more rounds. As one Goliath owner put it – after coming down off a full body orgasm "It left a lingering feeling of a bulldozer widening my hole."
It left a lingering feeling of a bulldozer widening my hole.
This toy is not for the faint of heart! But thankfully it does come in three sizes ranging from large to extra extra large – so if climbing Mt. Everest seems a bit intimidating, you could start by conquering Mt. Rainier.
If you haven't taken a swig of water, turned around, and begun your hike back down the trail – let's continue on up to the summit with this Goliath Dildo review!
Goliath Dildo Size Considerations
This toy isn't called the Goliath for nothing; LG/XL – ya we're starting here because LG/XL is literally the smallest size you can get – has a whopping 10.70-inch girth at the middle of the giant dildo (that's about a 3.4 inch width) with a 5.50-inch circumference tip (about 1.75 inch width)! So thank god, the Goliath dildo does have a bit of a taper or this colossal beast might never be conquered. Here's how the smallest size compares to a soda can.
If you upgrade to the next size, it has a 13-inch girth and a 6.5-inch tip. If you aren't satisfied with that, then you've made it to the true original Goliath size that is 4XL- it boasts 15.25-inch girth and an 8.00-inch tip!
The Goliath dildo is mostly for those who prefer playing with huge girths. It does still provide deep penetration, but reaching deep is not the main goal of the Goliath dildo – stretching is. The sizes range from 8.75 inches to 12 inches of insertable length.
Still, the fairly deep penetration coupled with the stretching fullness are quite an overwhelming combination (in a good way). If you want to be filled and filled some more – this dildo is nearly impossible to beat for that.
So ya, here's my last reminder of this important nugget of wisdom before we carry on: If you aren't already used to big dildos – start smaller. The Goliath dildo is a true beast. For most Goliath dildo owners, the Goliath was not their first Mr. Hankey's dildo.
As one customer put it:
This thing is big. Real big. It will be a challenge. At this point we can only get the tip in and the feeling of being filled has already taken over.
Many Mr. Hankey's Goliath dildo owners noted that it took several rounds to fit the entire toy. There were a few who mentioned taking the entire length their first try, but they tend to be in the minority.
Others stall out at a certain point on the toy – but most who do, still enjoy the stretch of the length they've been able to take. One owner mentioned
This thing is a monster. The girth in the middle is more than I can handle. I can make it down to the thickest part but it stops there. The head to mid-shaft is an amazing stretch. Now that there's more size options, I'll probably downsize to the XXL.
So be sure to double check the dimensions of the toy and avoid eye's-bigger-than-the-hole syndrome.
For anyone who's still here because the Goliath dildo is a massive monument to huge sex toys – let's continue on. And let's definitely use lots of lube, and bring a couple of our other large toys to warm up with before we tackle this giant.
Goliath Dildo Softness – *Especially Important for Huge Dildos*
The Goliath dildo is made with top quality premium silicone – the only body-safe material which can afford some squishiness – and Mr. Hankey's let's you customize just how squishy your huge silicone dildo is. The Goliath Dildo's huge size makes it especially important to choose a bit softer silicone than you're used to.
When you're being stretched beyond your usual limits, it's good to provide your body a bit more cushion to remain comfortable.
You want to feel full, stretched, and pushed to your limits – but you don't want to reach your limit before you've taken the full Goliath dildo because the silicone is too firm. Or because the textured veins feel too intense from an overly firm silicone.

When a dildo is this filling, all the textures will feel more pronounced and can be a bit painful for some with too firm of a silicone density.
The two default softness choices are "Medium Firm" and "75% Soft" – which is not entirely evident which is softer. But 75% soft is comparable to a 75% erect penis while Medium Firm is more like a full hard-on.
However, Mr. Hankey's let's you add a Custom Firmness option to your cart to customize the density of your Goliath Dildo even further. You can get a 40% Soft (think 40% of an erect penis) all the way down to Packer density which is like a flaccid penis. Unfortunately choosing a non-default density does add some additional cost.
For a toy this large I'd recommend somewhere between the 40% and 75% soft. It's a bit of a personal preference. Some customers who bought 40% soft, say they couldn't have gone any firmer, while others are glad they chose 75% soft.
If you care more about the toy holding its erect shape, go with closer to the 75% soft. If you care more about giving your body some extra cushion for increased comfort, go with closer to the 40% soft.
Basically just keep this principle in mind: The firmer the silicone is, the easier it will be to press it into you. It will hold its shape better. But it will feel more textured and can be more overwhelming and possibly more painful for some people. The less firm it is, the more comfortable it will feel, but it may be more difficult to insert easily.
Texture and Shape
The Goliath dildo is meant to focus on the stretching feeling you'll get from its huge girth – not the intensity of the toy's textures like many of Mr. Hankey's fantasy dildos. If you want intense textures, perhaps look at toys like their Dragon dildo with intense scales and uniquely varied textures. Mr. Hankey's has plenty other uniquely textured dildos. They're an excellent toy maker for Bad Dragon alternatives.
Instead the Goliath didlo is adorned with smooth and subtle veins – giving it a visually realistic sight and a slight texture – but the smoothness of the silicone keeps these textures from feeling too overstimulating.
The Goliath dildo has an uncut head (which starts out more stretching than many other dildos). You'll definitely feel the first change as you dip past the head. Then you're next climb begins as the toy begins a pretty steady climb to its largest diameter before finally the width descends down to the base. There's essentially three stages to taking the dildo – Taking the head, fitting the middle where the max width happens, and finally getting down to the balls. The entire journey will be a stretch, made possible by the smoothness of the silicone.
You already have experience with other large toys
You are looking for a toy with a massive girth that will push your limits of stretching
You want a smoothly textured toy to help you more comfortably fit its size – not an intensely textured fantasy dildo
Goliath Dildo Alternatives
Now, if the Goliath Dildo doesn't quite sound right for you, Mr. Hankey's and others have some additional options.
Alternative for Deep Penetration and Intense Textures – Mr. Hankey's BFG
If you're hoping for a toy that will push your limits of depth, rather than your limits of stretching, the BFG could be a good choice for you.
It has 4 size options. They are longer, but thinner than their Goliath dildo counterparts.
The BFG XXL is boasting a maximum insertable length of 13 inches and a max circumference of 12.75 inches compared to the 4XL Goliaths' insertable length of 12 inches and max circumference of 15.87 inches. It also has a smaller Medium option if you want a bit less size.
The BFG also comes with much more varied fantasy textures and shapes. It has a highly accentuated curve with multiple bulbous knots and stimulating scale-like textures!
It also can accommodate a Vac-U-Lock and is strap-on compatible whereas the Goliath dildo is not.
We'd Recommond The BFG "Big Fucking Genital," Over the Goliath Dildio If:
You are wanting to experiment more with deep penetration than stretching
You want intense and varied fantasy textures and shapes
You want to experience the distinct penetration stages of a knotted toy
You want a Vac-U-Lock compatible toy or want to be able to use it with a strap on
If you're wanting to experiment with stretching, but aren't quite to the level of HUGE toys yet, you may enjoy the Tantus Fist Trainer.
This dildo is meant to mimic the natural shape of a closed hand, a fist. It's meant to prepare for and simulate fisting. However, the head is completely smooth to provide more comfort and less texture than a true fist.
Then if you want deeper penetration and greater texture, the shaft is ribbed further down the toy. You can use this texture and the fullness from the head to continue to build up pressure for an interesting release.
We'd Recommend the Fist Trainer Over the Goliath Dildo If:
You are wanting to experiment with stretching but have not used other giant dildos yet.
Lastly, if you're looking for unique and varied texture, the Dragon Dildo has a beautiful and stimulating set of scales. With both large and small sets of scales this dildo offers a uniquely stimulating experience.

This toy also has a small option, for those not looking to absolutely push their limits. If you just want to sit back and enjoy the sensations your toy can offer, and don't want to work as hard for it – the Dragon may be more for you.
We'd Recommend the Dragon Over the Goliath Dildo If:
You enjoy the fantasy textures of intense scales.
You want more sizes to choose from and aren't looking for the largest stretch a toy can offer.
Final Thoughts
Mr. Hankey's Goliath Dildo is the type of toy that you open and think – "Dear god, what have I gotten myself into?"
But if you're the type of person who likes to challenge and push your limits, there may not be a better toy than this. And if you're up for the challenge, you may just find your tune has changed to, "Dear god, I'm glad I got this toy into me!"