Quick summary for those who want to start playing right away:
Best Remote Control G-Spot Vibrator – Lovense Lush 3
Best His and Her Long Distance Toy – Lovense Max 2 and Nora
Best Couples Vibrator – We-Vibe Chorus
Best Remote Control Clitoral Suction Vibrator – We-Vibe Melt
Best App Controlled Magic Wand – Lovense Domi 2
When you're in a long distance relationship, your love life can often take a dip during long absences. Many couples have incorporated vibrators into their lives to keep the action going strong!
We're sure you're wondering how do vibrators help? Enter long distance sex toys! A long distance vibrator allows you to play together, even when you're separated across an ocean. All you need is Wi-Fi. Or Bluetooth when you're close by.
These vibrators give control of the toy to anyone who is linked to the vibrator through the app. Pleasure your partner without being next to them right from your phone or computer.
We've rounded up the best vibrators for long distance relationships that will make your intimate time closer to the real thing.
Why Use Vibrators for Long Distance Relationships?
Long-distance relationships are complicated. You miss spending time with each other, both in and out of the bedroom. Phone sex is great, but it can get boring after a while. And sure, you can Skype and get off watching each other. But after so long, even that can get tedious.
Introducing sex toys for long distance relationships is a great and simple way to spice things up. There are a bunch of different types, so you're sure to find one that suits your needs. But there are some factors to consider before making your selection.
When choosing the best long distance vibrator, you'll need a model that can link to an app that you download. These types of vibrators allow your partner to control your toy from anywhere, even if you're miles apart.
But they can also be used for solo play, so they're useful no matter what your relationship status. Sometimes "long-distance" can just mean making each other squirm while seated across the bar. Once you and your partner are together, bring the vibrator into the action so you can intensify your pleasure.
There are long distance sex toys for men as well: whether it's a traditional style male masturbator similar to a Fleshlight, or a remote control prostate massager or butt plug.
App Versus Manual
Vibrators that connect to an app allow you to have a secret weapon at your fingertips. You can adjust your vibrator to meet your exact needs.
If you're the kind of person who requires a variety of different stimulations to climax, an app controlled vibrator lets you experiment with patterns and intensity as needed.
With traditional vibrators, you have limited control over the speed and patterns of your vibrator, and trying to change the settings can be complicated.
App controlled vibrators work with WiFi or Bluetooth. Wifi sex toys allow your partner to have the power of your climax, no matter how far away. Speed up the vibration, change the pattern, or increase the intensity with a flick of the finger.
But with traditional vibrators, all you can do is watch your partner get pleasure from a vibrator. There's nothing you can do interactively to assist, other than issuing commands if you're not together.
Benefits of App Controlled Vibrators
Apps from companies like We-Vibe and Lovense even let you video chat through the app, while controlling the settings. You can climax watching each other without having to minimize your window to change to a new vibration pattern.
Some of these apps even let you record your sessions if you ever need materials for when your partner isn't around. And other apps let you use third-party sites like Skype to video chat instead of using their app.
Another fun thing we love is that some of the best app controlled vibrators let you set your vibrator to pulse to a music playlist or even set it to voice activation so that it goes off whenever it detects sound.
These options are so much fun when you're doing something naughty, like wearing a vibrator while shopping or going out to dinner.
One thing to be aware of is that a vibrator with app control will experience occasional disconnections. If you're wanting to give up control from nearby and super reliable connection is important you may want to opt for a remote control vibrator. But app controlled are the best sex toys for long distance relationships!
Types of Vibrators for LDR (Long Distance Relationships)
There are a variety of different vibrators that you can connect to apps. Companies like Lovense and We-Vibe have multiple types of ldr sex toys that can all be linked to the same app so you can use numerous toys simultaneously.
For women, there are different types of vibrators and which one you pick should depend on what you like.
If you prefer clitoral stimulation you'd probably enjoy a clitoral panty vibrator. I review the best vibrating panties here. Or if you prefer internal stimulation you may enjoy an egg vibrator.
But for men, there aren't as many options for app-based toys as they're newer to the game. However, there are a few men's masturbators that allow for some interactive fun. You can find app-controlled butt plugs like the Lovense Hush for some fun anal play. Or even app controlled prostate massagers to target your P-spot.
If you want to maximize your fun, look for his and her long distance toys that let you play together. These toys respond to your movements and mimic them in real-time to your partner. It's as close to the real thing as we can get right now and can be a lot of fun for long-distance relationships.
Now let's take a look at some of the best vibrators for long distance relationships!
Best Remote Control G-Spot Vibrator – Lovense Lush 3
We love the Lovense Lush 3 (review here) as a go-to g-spot vibrator for long distance relationships.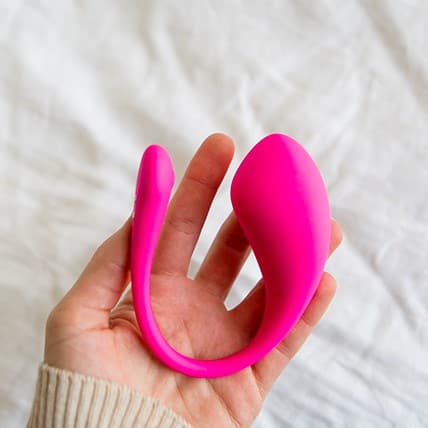 This discreet curved vibrator, made out of body-safe silicone, provides super-quiet pulses for ultimate G-spot stimulation. Curve it to your body, and it will stay in place with a secure fit. Wear it anywhere without being caught.
Change the settings using the app, which works with all types of devices, including phones, tablets, and computers – great for cam performers. If your computer doesn't have bluetooth though, you'll need to purchase an adapter.
Connect with Bluetooth (up to 45 feet away) or through WiFi from anywhere in the world. Then surprise your partner by activating the vibrator. There's a power button if it needs to be turned off.
Program the Lush to go off to music, or set it for voice activation – it vibrates any time there's a sound or voice. You can also create your unlimited variations with up to ten different patterns and three speeds. Be sure to save your favorites.
You get up to three hours of playtime per charge. When recharging, plug the included charger into the port, oddly located at the bottom of the 3″ bulb that inserts into the vagina.
We find that this is an odd place for the port, and it can get damaged from lube buildup. To clean, just wash with soap and water or your favorite water-based toy cleaner. Don't worry. The Lush 3 is waterproof.
You can also still purchase its less expesnive predecessor – the Lush 2. For more info check out our comparison of the Lovense Lush 2 vs the OhMiBod Esca 2 – its main competitor, or our full Lovense Lush 2 review.
Pros:
Strong vibrations for your G spot
It has unlimited variations, music, and voice activation modes.
The app can control Lush 3 through Bluetooth or WiFi.
In-app video chatting
Quiet and discrete for public play
Secure fit for G-Spot stimulation.
Cons:
Only for women and vaginal use. Can't be used anally and not great clit stimulation
Since it's wearable, it can be difficult to target the vibrations exactly where you want them
One of the hardest things about being apart from your partner is the lack of intimacy. Sharing the joys of a vibrator can be fun, but there's not much stimulation for the man. Lovense has fixed this imbalance with the Lovense Max 2, designed just for men, that works in collaboration with Nora for her.
Max 2 introduces a revolutionary way for men to enjoy some sexy time with their partner interactively. This 12″ male masturbator uses an air pump and seven vibration settings to mimic the feel of a vagina contracting. Be warned that it is noisy, so there isn't much discretion when using it.
You have control of the suction with the adjustable airflow vent and four levels of vibration for personalized pleasure. Slide the Max 2 over your penis, turn it on with the buttons on the vibrator or change the settings using the app on your phone.
You can even give your partner control over your pleasure. When you sync your Max 2 with the Nora, or with another Max 2 for same-sex play, your partner's movements transmit immediately to your device so you can experience the sensations together.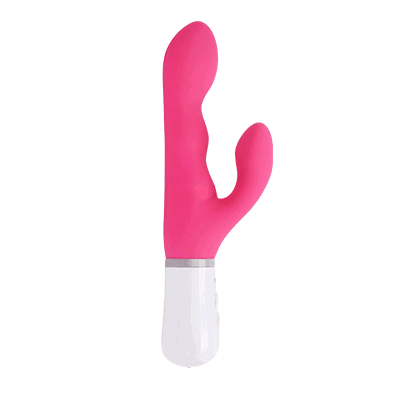 The Nora rabbit vibrator provides both G-Spot and clitoral stimulation for maximum pleasure. When connected to Max 2, Nora vibrates and rotates in response to what the Max 2 does, and vice versa. The Nora can also be a great way to enjoy synced anal stimulation while your partner uses the Max 2!
This silicone waterproof vibrator has a quiet vibration for G-spot stimulation and a rotating tip for clitoral attention that is too loud for discreet use.
Video chat with your partner while you play and record your sessions for future playback when you can't get private time together. Everything is securely done with the app or through a video chat service like Skype.
Pros:
The vibrator works with solo or synced partner play.
In app video chatting and recording.
Devices communicate for real-time interaction. It's like you're together.
Great suction feeling from Max 2
Great clit and g spot stimulation from Nora.
Handle can be used to apply the vibrations exactly where you want them.
Cons:
Both Max 2 and Nora are noisy, so there's no discreet play. Not ideal for public use.
Either you or your partner can record without the other's knowledge. It's best to limit using this product with someone you trust.
If you're looking for a vibrator that you can use during sex, you're sure to love the We-Vibe Chorus. This adjustable silicone wearable vibrator fits between you and your partner and provides vibrating pulses during penetration.
To use this fun little vibrator, you position the 3″ external arm over your clitoris and the 3″ internal arm to press against your G-spot. During sex, the vibrator will pulse against your G-spot and your partner's penis, while also stimulating your clit.
There are three built-in speeds and seven patterns. Or get full control of the vibrations with the remote it comes with. The harder you squeeze the remote, the stronger the intensity gets. Don't put too much distance between the remote and vibrator, or you'll lose connection.
But if you need longer distance play connect your vibrator with the We-Connect app and let your partner have control over the vibrator from anywhere. Or set it to vibrate to the beat of the music.
When it's time to charge, the We-Vibe Chorus goes into a charging dock that is completely inconspicuous. No one would know what's inside unless they looked. It takes up to 120 minutes for a full charge.
For more info check out our full We-Vibe Chorus review.
Pros:
Comfortable vibrator that can be worn during sex.
Stimulates both partners during sex.
Adjustable joints allow you to adjust it to the right fit for your body.
Great clit stimulation and G spot stimulation.
Discreet charging station.
Control the vibration using the app or the remote.
Has a physical remote for stable nearby connection or app enabled for long distance play
Wearable and discrete for public play.
Cons:
Remote needs to be close to the vibrator to keep a connection.
Remote is battery powered so you'll need to buy batteries
Can be a learning curve to find best adjustment for your body
Best Remote Control Clitoral Suction Vibrator – We-Vibe Melt
If you're looking for a small but powerful vibrator for external clitoral stimulation, you and your LDP (long distance partner) are sure to love the sleek and stylish silicone We-Vibe Melt vibrator.
With twelve levels of vibrations, there's sure to be a rhythm that rocks your world. Change the settings with the buttons on the device or use the app for full personalization.
The Melt uses Pleasure Air, which provides a massaging suction to your clitoris, causing stronger orgasms. If you prefer vibrations this may not be the best choice for you. But if you love the feeling of suction on your clit, this toy is likely a great fit.
While it's not for internal use, you can easily manipulate the slender, 6″ long, curved silicone device between you and your partner during sex for added stimulation.
The Melt can be controlled with the We-Connect app through Bluetooth or WiFi. Most devices are compatible, including iPhones and Androids. You can even use computers, with an adapter you purchase separately.
The app does not let you record your sessions or connect to a music playlist. It also does not have voice recognition.
You get 120 minutes of run time and need 90 minutes to get a full charge using USB. It even has a low battery alert as well as a sleep function that allows the Melt to stay on standby for four hours to save battery.
Pros:
It features Pleasure Air suction for clitoral stimulation.
Soft silicone provides great texture and seal around your clit.
Full control of the device using the We-Connect app or buttons on the toy.
Four-hour standby time saves battery without cutting off.
Cons:
Only for clitoral stimulation
Not for those who prefer vibration to suction
It does not have a music mode or voice activation mode.
You'll have to hold it so not for public play
Best App Controlled Magic Wand – Lovense Domi 2
Magic wand massagers are known as the original vibrator that started the sex toy revolution. However, they have not typically been used as a long range vibrator. Lovense Domi 2 changes that! The Domi 2 is a delightfully sized app controlled magic wand that will provide powerful clitoral stimulation delivered from miles away.
The Domi 2 resembles a microphone, with a silicone dual-rotating head and a flexible reinforced neck that allows you to position this wand in just the right spot for maximum clit attention. It delivers very powerful vibrations to your clit and its broad head spreads the vibrations over your entire vulva.
While a wand is primarily for clitoral use, there are attachments available that make the Domi work great as a G-spot or prostate stimulator. Be sure you clean your toy before each use as the head attracts lint and dust.
Use your magic wand alone, or give your partner full control of your climax through the Lovense app. You have access to three intensity levels and ten patterns. Choose from a pre-saved setting or make your own and save it. Or pick from a collection of over 5,000 patterns saved on the app.
You can even program it to your favorite music. Between the LED light show and the pulsing to the music, you'll feel like you're getting kinky in the club.
At 9.21″ long, with a 1.74″ diameter head, you can use the Domi 2 to help maximize pleasure during intercourse. And you have a battery life that can last up to six hours. You're sure to give out before your wand does.
Pros:
The silicone head provides powerful, focused stimulation to clit.
Wand head broadens the stimulation over your vulva.
Attachments are available to modify how you use your toy.
LED lights and music functions make this toy fun.
You can control your magic wand with the app from anywhere.
Cons:
Without attachments it's only for clitoral stimulation
It's too big and loud for discreet play.
Final Thoughts
Our favorite of the bunch is the We-Vibe Chorus. It's great for clitoral stimulation, G spot stimulation, and partnered play. It has a separate remote for reliable connection if you're nearby, and it's app enabled for long distance play. It's adjustable joints mean most people will be able to find a great fit for their body. And its snug fit and low noise make it an excellent choice for discrete public fun!