If you want to skip the reading and get playing here's a quick summary of our best remote control vibrators:
Best Remote Control G-Spot Vibrator


Most Versatile G-Spot Vibrator


Best for Couples and Public Play


Best for Couples on a Mid-Size Budget


Best Cheap Remote Control Vibrator


Best Remote Control Rabbit Vibrator


Mantric Prostate Vibrator

Best Remote Control Prostate Vibrator


Best Remote Control Butt Plug

If you're at all like me, you love the thought of secretly sharing some naughty fun with your partner while dressed to impress at a bar full of unsuspecting strangers or while on a seemingly casual stroll. It's enough to make you want to race out the door for date night.
Perhaps you want to give up control to your partner to tease you until they finally let you enjoy a sweet release. Or maybe you love doing the teasing! A remote control vibrator is a great sex toy to transform these fantasies into reality. For those with difficulty receiving manual stimulation from someone else, these vibrators are a great way to involve your partner in your orgasm. We'll help find the best remote control vibrator to fit your needs!
How to Choose a Remote Controlled Vibrator
Remote Controlled vs App Controlled
First, there are really two types of control systems: remote control and app control. A remote controlled vibrator comes with its own physical remote to control the toy. This means you'll have a reliable connection to the vibrator, but you'll also have to be near the person using the vibrator. "Near" can still often be far enough away for some discrete public fun. But if you're in the United States, your partner's in Australia, and all you have is a remote controlled vibrator: your first step is to purchase a plane ticket because your remote control is not going to help give your partner an orgasm. Don't like flying? There's a second type of vibrator that can save the day: an app controlled vibrator!
These toys are the best vibrators for long distance relationships. They are controlled over the internet with an app. This means an ocean can separate you from your partner, but you can still keep them turned on with some good vibrations. However, with app controlled vibrators you're more likely to occasionally lose connection to the toy. If you're just looking to give control to a nearby partner, or find it a bit distracting to reach down between your legs to press the buttons on a buzzing vibrator: a remote controlled vibrator may be a great choice for you. If you want to be able to play at a greater distance go for the app controlled sex toy.
Another difference between these two devices is the extent you can customize the vibrations. Remote control vibrators often come with a few preset vibration patterns. The controller lets you cycle through patterns and adjust the intensity of the vibrations. Some remote controls will also let you tap or squeeze the control to send a burst of vibration. With an app controlled vibrator the range is limitless. You can create and store your own patterns, send bursts of vibrations, match vibrations to music, and even sync your vibes to erotica with toys like the Vibease (review here).
There is one other interesting control feature worth looking for. Some vibrators can be controlled by other sex toys! As your partner gets revved up and increases their intensity, your toy will increase in response. This can be a great way to share the experience and feel even more connected to your partner at a distance.
Wearable
Another important feature to consider is whether you need a wearable vibrator or can make do with one that requires you to hold it in place. Wearable vibrators are meant to stay in place even as you move around so you can wear them under your clothes anywhere you go.
The best vibrating panties will secure with a strong magnet to any pair of underwear to vibrate on your clit even as you go about your day.
Others can even stay in place hands-free during sex as your partner stimulates other areas. You can find a wearable vibrator to stimulate your clit, G spot, both, or for anal play.
If you're wanting a vibrator for public play or so your partner can surprise you as you go about your day: you'll need a wearable vibrator. Since you'll be wearing your vibrator out for who-knows-how-long it's important to find one that's comfortable, stays in place easily, and is discrete! Since the other people at the store haven't consented to join your naughty fun, you'll want to make sure they don't hear or see it. The secret is the fun!
Teaser or Pleaser
You already know if you're using your vibrator in public you want it to be quiet. Some vibrators achieve a quieter sound simply by reducing their power. At first thought, this may seem like a bad idea until you remember just how great teasing can be! If you're looking to keep your partner worked up all through date night until you seal the deal back home, a less powerful vibrator may be a good solution. The less powerful motors also tend to be less expensive. But if you don't want to trade away the powerful vibrations capable of bringing you over the edge for the quietest vibrator: look for a deep and rumbly vibrator (as opposed to a buzzier one). These will pack a punch while remaining quiet. It's also worth keeping in mind that your body and clothes will dampen an insertable vibrator's noise. This helps vibrators achieve good power at a reasonable noise level.
The Best Remote Control Vibrators Reviewed
Now that you know how to pick the best remote control vibrator for you, let's take a look at some!
Best Remote Control G Spot Vibrator: Lovense Lush 3
When most people imagine a long distance remote control vibrator, the Lush 3 is the first idea that comes to mind. It's become really popular with couples and even cam performers. The Lush 3 is an app-controlled wearable G-spot vibrator for nearby or long distance fun.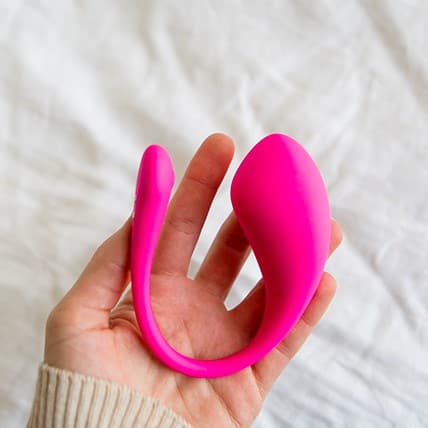 Now, is the Lush 3 for you? First, this toy is basically ALL G spot stimulation. If G spot stimulation is your jam, the Lush 3 might be too.
The app itself is great. It's easy to control the vibrations in real-time, create or choose from customized patterns, or set the vibrations to music. You can video chat or text your partner in-app which means you won't be distracted trying to balance several apps at once. For this reason it makes a great cell phone controlled vibrator. However, being app-controlled, it will be more prone to disconnections than a vibrator with its own remote. If reliable connection is the most important feature to you, you may want a vibrator with a dedicated remote. Disconnections will occasionally be an issue for any app-controlled vibrator. Still, I rarely run into troubles with the Lush losing connection.
The Lush 3 has a smooth silicone exterior making it easy to insert and most found it comfortable to wear for extended periods. The antenna is fairly rigid though which some found made it less comfortable in their underwear. Some also found the rigidity made the antenna prone to break if things got too hot and heavy. If this happens, don't fear: the Lush 3 has a 1 year warranty and customers found the support staff swift to replace defective products. Even if your Lush 3 begins to struggle to hold a charge or has battery life issues, your warrenty covers that!
The Lush 3 is the most powerful remote control G-spot vibrator I've found. Some power queens wanted a bit more, but most customers found the vibrations really strong. Since it's worn inside you, your body dampens the sound and the silicone makes it quiet and discrete. It can last 2-4 hours but that time will decrease if you keep it on higher intensities.
Lovense also stills sells its predecessor, the Lush 2 at a lower price tag. The Lovense Lush 2 (review here) is still a great option. It gives almost identical stimulation, but is a bit less comfortable. For more info on the Lush 3 or how it compares to its previous edition head on over to my Lovense Lush 3 review.
Pros:
Strong vibrations for your G spot
Can completely customize vibrations
In-app video chatting
Quiet and discrete for public play
Responsive customer service if it breaks or becomes defective
Long distance or same room play
Fast response time between app and vibrator
Cons:
Can disconnect from the app at times – very rare for me
Very little clit stimulation
If you want to control it with a Window PC you need to purchase a bluetooth adapter
Difficult to target the vibrations since its a wearable vibrator
Most Versatile G Spot Vibrator: OhMiBod Esca 2
This vibrator is the direct competitor of the Lush 2 and 3. It shares many of the same features, but has some key differences. First, the Esca 2 is more naturally C-shaped and the antenna is flexible. This makes it easier to maneuver to a comfortable and hidden position for discrete play. Many also found that it stayed in place better than the Lush 3 so it could require less re-adjusting.
The indicator light on the antenna syncs with the vibrations so your partner can see the intensity and patterns you're feeling. The app also lets you track your orgasms which can be interesting for all us sexy nerds (I must admit I've kept a few excel spreadsheets about my sexual habits)! Your controlling partner can get in on the action a bit more by using another OhMiBod toy on themselves to control your Esca 2. It's a great interactive vibrator since your toy will match theirs, so you feel what they feel!
Like the Lush 3, the Esca app has in-app video calling, or you can send texts and pictures.
Lastly, some customers found the vibrations a bit more teasy than the Lush 3, myself included, and less likely to bring them to orgasm on their own. They are, however, really stimulating and quieter than the Lush 3 so they're still great for some night on the town teasing. You can compare the Lush 2 vs Esca 2 more on our post here and check out our in-depth OhMiBod Esca 2 review.
Pros:
Flexible antenna for increased maneuverability and comfort
Quiet rumbly vibrations for your G spot
Can be controlled by your partner's sex toy
Interesting data tracking
Cons:
Vibrations a bit weaker than Lush
Little clit stimulation
Some noted slower response times between app and vibrator
Best Remote Control Vibrator For Public Play and Best Couples Vibrator: We-Vibe Chorus
If you want a wearable vibrator that stays in place for public play to stimulate your clit and G spot, it's hard to beat the We Vibe Chorus. This U-shaped vibrator has a smaller insertable end to hit your G spot and a broader external end that vibrates against your clit. It's adjustable joints allow you to customize its shape to best fit your anatomy, stay in place, and hit your spots just right. It is designed first for clit stimulation with the larger motor in the external end. You can control the clit and G spot motors separately to find the right balance for you. The We Vibe Chorus delivers powerful rumbly vibrations that most customers found surprisingly quiet for its power.
The We Vibe Chorus can be worn during penetrative sex to provide hands-free clit stimulation. What I love most about this feature is that it can help me orgasm from clit stimulation during sex while staying mentally engaged with my partner. It removes the distraction of holding a vibrator to my clit during sex to finish.
Another great feature is that it's app-enabled but also comes with its own remote. So if you're concerned about a spotty connection for a wifi controlled vibrator, you can use the remote instead. Just stay within its range. The only weird thing is that the app connects to the toy through the remote. If you want to control the vibrator with the app, the wearer will need to have the remote with them. So don't forget to pack it in your purse when you head to the bar.
We have a full We-Vibe Chorus review here for more info.
Pros:
Vibrations for your clit and G spot
Separate controls for clit and G spot motors
Quiet remote vibrator for its power
Adjustable joints enable it to hit your spots better and stay in place while moving
Can deliver hands-free clit stimulation during penetrative sex
Has a physical remote if you'd rather not connect with the app
2 year warranty if anything stops working
Cons:
Remote is battery-powered so you'll have to buy batteries
Have to have the remote near the vibrator to connect with the app
Can be a learning curve to find the right adjustment to best hit your spots.
Some found the broad external part uncomfortable to wear out for long periods of time
On the higher end of the price range
Best Remote Vibrator for Couples Play on a Mid-Size Budget: We Vibe Unite
The We Vibe Unite is similar to the Chorus. It's also U-shaped with a broad external part making it a good remote control clit vibrator and an insertable end for G spot stimulation. It is remote controlled rather than app-controlled so there are only 10 vibration patterns to choose from. If more customizability is important, the Chorus may be a better choice for you.
The Unite's motors are also less powerful than the Chorus so if your clit is sensitive to strong vibrations this may be a good solution. Unlike the Chorus, the Unite's shape is not adjustable. This meant some people found it moved around more easily while walking or during sex. Some men also found the Unite more uncomfortable during sex. Though less versatile than the Chorus, the Unite is less expensive and most customers were satisfied with its vibrations and public play capabilities.
Pros:
Remote control is good for nearby public play without disconnections
Provides clit and G spot stimulation
Quiet and discrete vibrator
Good battery life
Less expensive than Chorus
Cons:
Not adjustable so it may not hit the right spots for you or may move around more during play
Less powerful vibrations
Some men found it uncomfortable during penetrative sex
The Lovehoney Thrillseeker is a waterproof remote control egg vibrator that works up to 15 feet away. It can provide clit or G spot stimulation and its smooth hard plastic shell makes it easily insertable.
The Thrill Seeker has 10 patterns and 6 speeds providing a good range of vibrations for a toy in its price range. It's battery operated so you don't have to worry about it losing its ability to hold a charge. It will work a reliable amount of time, but you'll have to keep batteries on hand. Some also commented that the toy delivered better power once they switched out the batteries that come with the Thrillseeker.
This toy delivers quiet rumbly vibrations at lower intensities but is a bit on the buzzier end at the high intensities. If you want a toy to tease your partner while out, this could be a good choice – but wait to reach the finish line once you're back home!
Pros:
Inexpensive option to test the waters of remote control vibrators
Smooth hard plastic for easy insertion
Good teasing vibrator
Reliable working time
Cons:
Limited distance between controller and vibrator
Fans of silicone toys may not enjoy the hard plastic texture
May not hit the right spot inside you
Vibrations are buzzier on the higher intensities
We've reached the last toy on our list intended for G spot or clitoral play. The We Vibe Nova is a smooth silicone app-controlled rabbit vibrator. You can control the clit and G spot motors separately to deliver the right balance for you. The Nova's G spot arm has an accentuated curve which most people found made it easy to maneuver the toy to stimulate their G spot and have reliably strong orgasms. The clit arm is flexible enabling it to stay in position against your clit as you move the G spot arm inside you.
The vibrations are strong, especially from the G spot arm, though some wanted more from the clitoral arm. The silicone does a good job dampening the noise so it is still relatively quiet. Though it's a rabbit vibrator, its accentuated curve helps it stay in position so you may have luck using it as a semi-hands free toy. This vibrator is by no means wearable so public play is out, but if you're looking to let your partner take control of a toy with strong G spot vibes and clitoral stimulation this may be a great choice for you!
Pros:
App-control allows customized vibrations
Separate G spot and clitoral motor control
Accentuated curve for comfortable and reliable G spot stimulation
Flexible clitoral arm for greater likelihood of adequate stimulation to both your G spot and clit
Cons:
Some found the clitoral arm didn't fit their clit well even with the flexibility. Rabbit vibrators have some dependence on your personal anatomy
Physical buttons on the toy can be hard to press if you're not using the app to control it
Not wearable
The Mantric is a firm silicone vibrator that has a curved shaft with a bulbous head to target and massage the prostate. Most found this is where the Mantric excelled. It's flared base also provides vibrations against your perineum. It has 7 vibration modes providing different mixes of stimulation to the perineum and prostate making it one of the best remote control sex toys for men.
It's about 1.4 inches in width and 4 inches of insertable length making it large enough to provide a full feeling but not so large to be scary. Many found it stays in well during sex, though not as easily as a butt plug making public play a bit more difficult but still possible for many. The vibrations can be a bit noisy, especially from the perineum motor which is used in all but one vibration pattern.
If you're looking for one of the best anal vibrators for reliable prostate stimulation, this may be a good toy for you.
Pros:
Targets prostate very well
Strong vibrations to perineum and prostate
Medium size for easy insertion but a full feeling
Stays in during sex
Easy to clean
Firm silicone delivers good pressure to P spot
Cons:
A bit too powerful for some
Average size may be on the large size for beginners
A bit too stiff for some
Vibration intensity is directly linked to the patterns so you can't increase strength without changing the pattern
Perineum motor can be loud
More difficult to keep in place than a plug
Best Remote Control Butt Plug: Lovense Hush
The Lovense Hush is an app-controlled vibrating butt plug. The exterior of the main bulb is completely smooth silicone for easy and comfortable insertion.
At the base of the bulb, the plug has spiral ridges which keep lube trapped to provide painless removal after play. The bulb comes in two sizes: a 1.5 inch width or a 1.75 inch width so if you're new to plugs go for the smaller width – it's still pretty substantial.
Many love the pressure from the larger plug even without the vibrations. The base of the Hush is flared, but on the smaller size to increase comfort for extended wear.
The silicone exterior is applied over a hard plastic so if you're used to silicone plugs this may feel a bit harder. However, most found it quite comfortable to wear out for an extended time. The vibrations are really powerful and quiet. And with little material outside the body the Lovense Hush is one of the best hidden vibrators for public play. You can find more info at our Lovense Hush review.
Pros:
Stays in very easily
Comfortable for extended wear
Designed for men and women
Quiet public vibrator
App-controlled for long distance and customized vibrations
Delivers deep soothing vibrations
Substantial charging life
Small and large sizes available
Cons:
Doesn't directly target P spot
Fans of completely silicone plugs may find it a bit hard
Not the most powerful vibrations
Smaller base made some people feel conscious of the plug's positioning
Final Thoughts
Giving up control to a partner or stranger, in public or at home, and getting swept away in surprising secret fun are excellent ways to explore your fantasies. If you're like me you want the best of both worlds – for that I want a vibrator that I can use at home or in public, close-by my partner or when we're apart. For that reason I love the We Vibe Chorus.
It's slim design allows for use during sex but its external clit motor gives me the clit stimulation I need to get off on my own. Because its adjustable joints keep it firmly in place, and it can be controlled by app or remote, it's one of the best remote control vibrators for public use and one of the best vibrators for long distance couples.
Whatever your flavor of vibrations, one of these vibrators is sure to satisfy!