I'll always remember the birthday my wife gave me one of the greatest gifts of all. In the middle of some sexy play she reached for a vibrator. But unlike the times before, this time the vibrations made their way to me. After some ample prep (lots of lube), she slowly slid the vibrator in me and I suddenly learned there was a whole world of sensations available to me that I had never experienced! And that was my introduction to prostate play and the start of my search for the best prostate massager!
Best App-Controlled Prostate Massager

Best Hands-Free Prostate Massager For Deep Stimulation

Best Remote Control Prostate Vibrator

Best Prostate Stimulator for Beginners

Most Versatile Prostate Massager

Best Prostate Massager for Beginners

Best Prostate Dildo for Experienced Users
Why Massage Your Prostate?
Though there are potential health benefits of prostate massage, I won't pretend that any of them are on my mind when I'm reaching for my favorite prostate vibrator. I'm reaching to experience OUT OF THIS WORLD orgasms!
The P spot (your prostate) is sometimes called the male G spot because it can work similarly. By massaging inside your anus, you can directly stimulate the prostate and indirectly stimulate internal parts of the penis. This combined stimulation of often overlooked erogenous regions produces much stronger and deeper orgasms. Many men experience the orgasmic sensations of a P spot orgasm throughout more of their body than a typical orgasm. P spot stimulation can also be a key for men to experience multiple orgasms without a refractory period!
If you need more convincing that a prostate massage (sometimes referred to as prostate milking) is for you, check out this great infographic. For the rest of us, read on!
What Is A Prostate Massager?
A prostate massager is one of the best anal toys for men! Though it's possible to stimulate your P spot with a finger, these toys are designed to simplify the process and usher you easily and powerfully through the gates of orgasmic bliss!
P spot massagers are anally insertable sex toys. They are designed specifically to reach your prostate and provide pleasurable stimulation directly to your P spot: either by vibrating, applying firm pressure, or both!
Learning how to milk a prostate takes experimentation. You can try any of these methods with a prostate massager:
Thrust the massager by hand with long consistent strokes
Keep the massager inside and consistently nudge your P spot to apply pressure
Hold a vibrating prostate massager in place and let the vibrations carry you over into orgasm
Combine the sensations with traditional masturbation
Hold the massager in place and rock your weight back onto it
Voluntarily tense and release your anal muscles around the massager until you feel your orgasm building
There are infinite ways to play. Let's start by learning how to choose the best prostate toys for you!
How to Choose The Best Prostate Massager
Prostate massagers vary widely. Choosing the best one for you depends on your needs and your body.
Pressure
If you enjoy firm pressure on your prostate a stainless steel massager may be a good choice for you. Their heavy, rigid construction yields substantial internal pressure. The extreme hardness has little forgiveness. The toy won't bend with your body, so you've got to know where to deliver the pressure. Stainless steel toys have a strong learning curve, but don't worry: they will never break so you have a lifetime to figure them out! And once you learn they often give amazing results!
If pressure is your jam, but metal is a bit beyond your comfort zone, try a silicone prostate massager with a bulbous head. The bulbous head will place ample pressure on your prostate, while providing more comfort for longer play. Add in vibrations for extra pleasure!
Vibrating
You may find consistent strong vibrations do more for your prostate than manually applying pressure. Vibrating prostate massagers take the effort out of your hands (so to speak) so you can sit back and enjoy the sensations! Most prostate toys curve upward to target your P spot, but another feature you may want to look for is a vibrating base to stimulate your perineum!
If you're new to prostate massagers, you may want to start with a vibrating massager. You can let the toy do the work while you easily explore a range of sensations.
Wearable or Handled
Wearable prostate massagers provide unique fun! You can wear them anally during sex for additional stimulation. Or you can wear them out and open up the fun and naughty world of public play. There are even remote control prostate massagers so your partner can tease you throughout date night.
The main drawback to a wearable prostate massager is it's lack of maneuverability. It tends to sit where it sits and maneuvering it to target a particularly pleasurable spot can be difficult.
This is why many prostate massagers come with a handle! With these massagers you can insert the end and use the handle to pinpoint the sensation exactly where you want them. Just use the buttons on the handle to adjust the intensity and vibration pattern to suit you. These toys are great by yourself or handled by a partner!
Size
The last feature to look out for is the sex toy's size. If you're new to anal we recommend beginning with a slimmer toy, about 1 inch or less in diameter. This will help your beginning explorations go painlessly. As always, apply a lot of lube to both the toy and yourself before inserting it. If you're experienced with anal play and want to increase your sensation of fullness, perhaps it's time to step up to a large prostate massager!
The Best Prostate Massager Reviews
Best Long-Distance Prostate Massager: Lovense Edge 2
The Lovense Edge 2 is a wearable prostate massager that can be controlled by app from anywhere in the world. It also happens to be my personal favorite sex toy.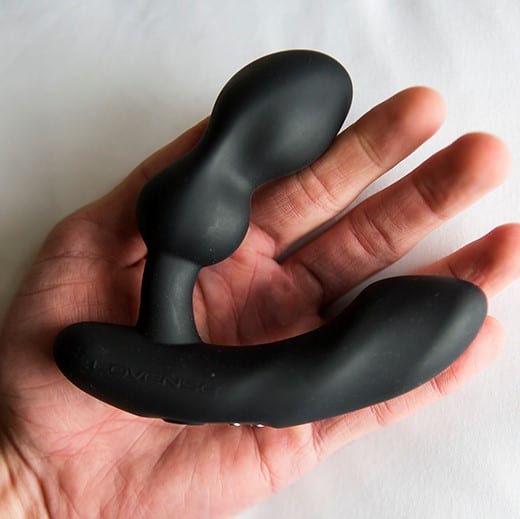 It has two powerful motors – one in the prostate arm and one in the perineum arm. And you have complete control over each motor separately through the Lovense app. No need to reach down to change patterns or intensity – just keep your phone nearby when playing!
With the Lovense Remote app, you can create and save your own patterns, choose from popular patterns others have created, use the touch screen to create a quick looping patter, or set each motor at a constant intensity.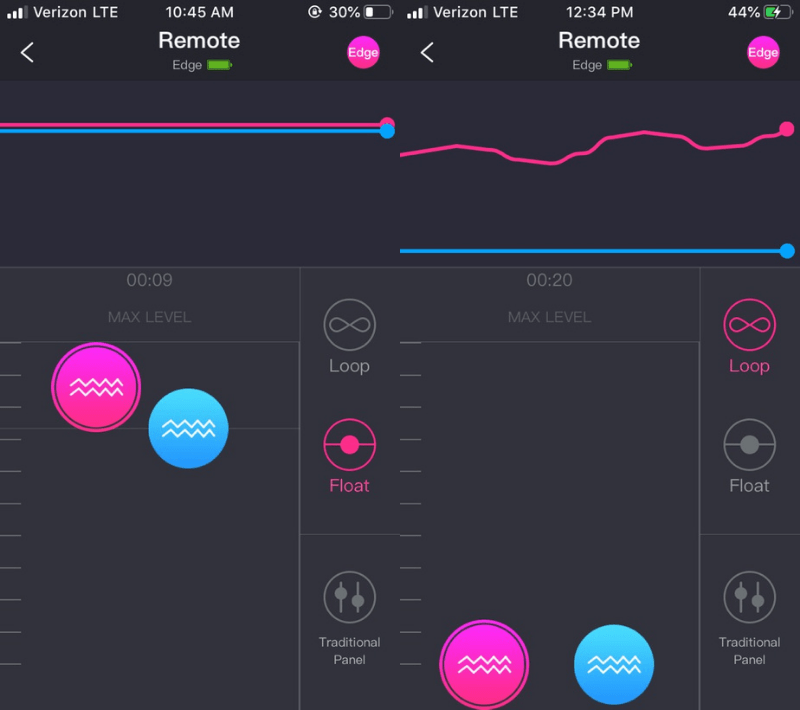 Most importantly, you can give control of the Lovense Edge 2 to a partner, no matter if they're in the same room or across the world. You each simply create an account and then send your partner an invite to control your toy. While your partner controls your toy (and you control theirs too), you can video chat, voice chats, and texts – all in app.
The Edge 2's insertable length is 3.59 inches and it's max diameter is 1.38 inches. This is a great size for easy insertion and comfortable wear. If large sizes intimidate you, the Edge 2 is a great option. People who prefer deeper penetration though may find it lacking.
It's prostate arm is also completely adjustable so you can find the angle that works for your body. I love this feature because if I'm dishing out cash for a toy, I want to be sure it'll fit my body right.
Speaking of cash – Lovense stays pretty reasonably priced for such a feature-rich product. It's definitely not for those on a tight budget, but it's typically less expensive than some of the other quality non-app-controlled massagers.
Check out our Lovense Edge 2 review for more detailed info on this prostate massager.
Pros:
App controlled for long distance play or simple control during solo fun
Two powerful motors you can completely control
Adjustable arm helps this toy fit most people
Video chatting in-app
Good size for easy insertion and comfortable wear
Cons:
A bit loud – definitely not for public play
Not for people who love deep penetration
Can occasionally be pushed out
The Aneros Vice 2 is a remote control silicone prostate plug for both perineum and prostate stimulation.
Using aneros is easy with the remote control enabling you to focus on the pleasurable sensations without the need to reach back and adjust the settings. It also provides fun play for couples looking to experiment with public play or with giving up control.
The Aneros Vice has a smooth tapered head for easy insertion and comfortable wear for an extended time (I hear public play calling my name). It has a beaded shape for added stimulation and texture. A wide flared base stimulates the perineum and helps keep the plug in place.
It's average width is about 1.25 inches which provides a full feeling and ample pressure from a silicone plug.
The Vice has a versatile pattern selection for a preset plug. The perineum and prostate motors have 18 patterns and 4 speeds. The remote also has a joy button so you can deliver vibrations on demand. Overall the Vice's vibrations are rumbly and strong.
Lastly the vibrating bullet slips out of the silicone for easy cleanup.
Pros:

Stays in comfortably and easily for public play or during sex
Average width provides fairly full feeling
Powerful rumbly vibes
Good bang for your buck
Easy cleanup
Cons:

May be a bit long for beginners
Difficult to maneuver once inserted
Hard to pinpoint particular spots if it doesn't naturally hit them
Perineum stimulation is not always strong
The Lelo Hugo is a luxury remote control vibrating prostate plug.
The Hugo is made from extremely smooth silicone with a tapered head for easy insertion. As a plug, the Hugo is another hands free prostate massager. It's subtle curves make it very comfortable, though more difficult to keep in place than a more bulbous or textured toy. Its base also presses and vibrates against the perineum.
It is average thickness at about 1.25 inches width for a fairly full feeling. Though perhaps a bit thick for some beginners, it's insertable length of 3.4 inches make it a good starting massager for some. However, if you enjoy deep anal stimulation, this may not be the best toy for you.
Hugo has 6 vibrating patterns with adjustable intensity. It's powerful rumbly vibes are unlikely to disappoint.
Hugo has a unique remote control which responds to your motion. Tilting it will increase the vibration intensity. Bumping or shaking the remote will send a string of vibrations in rhythm. You can also operate the toy using the remote's buttons, though its circular shape makes using the buttons a bit clunky.
Pros:
Very powerful rumbly vibrations
Extremely smooth, slight taper provides comfortable feel
Broad head provides full stimulation while not being too large for some beginners
You can control the toy with your body motion rather than button mashing
Easy cleanup
Cons:
Remote takes getting used to
Remote's shape is not the best for using the buttons
Doesn't stay in place as easily as a toy with more accentuated curve
Widest part may be too wide for some beginners
Shorter insertable length may not satisfy those who enjoy deep penetration
This is a great non-vibrating beginner prostate butt plug. With this toy you can test the waters of prostate play at a very low cost.
It's made from smooth silicone for easy insertion and comfort. It's accentuated curve directly targets the P spot. Its flattened tip broadens the stimulation over a greater area for comfortable wear while it's T-shaped base rests against the perineum to provide additional stimulation.
This is a small prostate massager at only 3.5 inches of insertable length and a little under 1 inch width. It's not too filling and you don't need to worry about it pressing too deep. And at a price this low, there's little risk to your explorations.
Pros:
Cheap prostate massager
Slimmer width and shorter length make it great for beginners
Easy insertion
Comfortable wear for extended time
Applies good firm pressure to pleasurable spots
Great added sensations during sex
Easy to clean
Cons:
Smaller size and smooth texture may make it slip out more easily during vigorous movement
May not reach deep enough for some people
May not provide very full feeling
No vibration so you may need to pair it with other forms of stimulation
Can't maneuver easily to adjust pressure points
Most Versatile Prostate Massager: Lelo Loki Wave
The Lelo Loki Wave is a curved silicone vibrating massager with a handle for easy solo or partnered play. The Loki Wave is an updated version of the original Lelo Loki (and in my opinion is a big improvement).
It has a few key differences that make some major differences. First it has a vibrating perineum arm too for more stimulation and a more secure fit.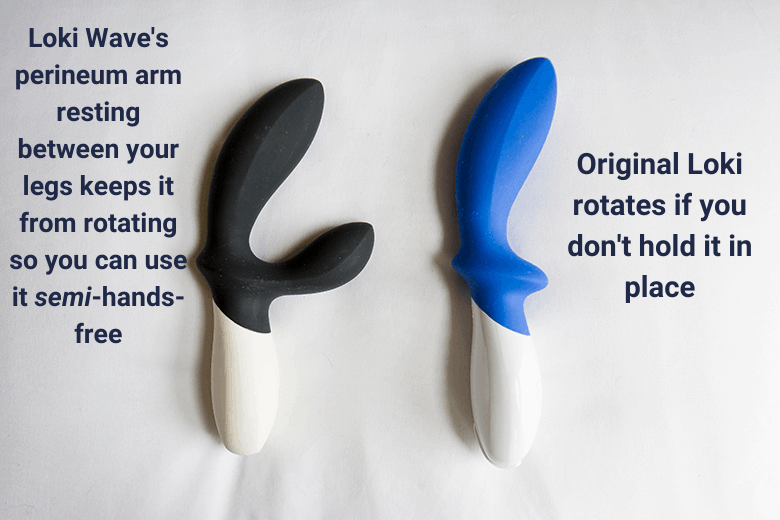 But more importantly the Lelo Loki Wave's prostate arm also moves in a come hither motion for some really great automatic prostate pressure!
The Loki Wave has an elegantly curved bulbous head to provide internal fullness and direct pressure to the P spot. It narrows at the neck to allow for more relaxation at the opening. The flared base transfers the vibrations to the perineum and prevents the massager from sliding too far in.
The Lelo Loki Wave's handle makes it easy to use alone or with a partner. By maneuvering the handle, you can adjust where you apply the Loki's pressure and vibrations. If you know your body and where you need pressure and vibes, the ability to direct the stimulation to particular spots is great.
It has an insertable length of 4.5 inches. Since you can maneuver with its handle, you can easily adjust between deep or shallow stimulation. The Loki is just under 1.5 inches diameter at its widest point providing full pressure to your P spot. Though its average width may be too large for some beginners, many found that its extreme smoothness provided great comfort which made up for its average girth.
This prostate massager offers so many ways to stimulate your P-spot!
Vibrations, prostate pressure, fullness. It's hard to find a more versatile toy.
Pros:
Powerful rumbly vibes for strong orgasms
Larger bulbous end provides full sensation and firm pressure to P spot
Narrow neck is comfortable at entrance
Slight curve helps it naturally and comfortably target P spot
Easily target deep or shallow
Great maneuverability for pinpoint targeting
Base provides good vibrations to perineum
Easy to use alone or with a partner
Cons:
Some may find it too girthy for their comfort
Handle can be hard to manipulate if it gets lube on it
Has a tendency to rotate if you don't hold the handle
For more info, you can head to my full Lelo Loki Wave review!
Best Prostate Massager For Beginners: Lelo Billy 2
The Lelo Billy 2 is a hand-held vibrating silicone prostate massager with a slight curve.
Unlike the bulbous shape of the Loki, the Billy 2 has a consistent slender width along the entire length of the shaft, making it a great toy for beginners. It also has a flared base to stimulate the perineum and provide additional safety.
Its insertable length is only 4 inches so you're less likely to press it too deep. At just over 1 inch diameter, it's easily insertable and comfortable. Though not as wide as the Loki, it's consistent width provides good pressure along its entire length.
Like the Loki it's handle makes it a good option for solo or partnered play.
Pros:
Slim, slightly curved shape makes it one of the best beginner prostate massagers
Easy insertion
Not too stretching
Strong rumbly vibrations
Easily target the vibrations by maneuvering the handle
Cons:
Minimal contouring can provide less stimulation and varied sensations
You'll likely need to hold the toy in place
May be too short for those wanting deep penetration
Control pad on handle can be hard to manipulate while in use
Best Prostate Dildo for Experienced Users: Njoy Pure Wand
If you're looking to flood your P spot with heavy pressure over and over again, it's hard to beat the njoy Pure Wand!
The completely rigid and heavy construction of this stainless steel dildo allows it to deliver some of the most substantial pressure to your P spot of any toy. And it's extremely durable! You can really put its weight to work without worrying that too much pressure or movement will break it.
The steel is completely smooth and is compatible with any lube making this an excellent anal toy since you will be using a lot of lube. Since the Pure Wand is steel you can also experiment with temperature play by heating or cooling the toy before use.
This toy is substantially curved so the bulbs at each end easily hit your P spot. The two ends allow you to choose between two levels of fullness. The smaller end is 1 inch in diameter so you can experience substantial pressure from the weight of the toy without feeling overly stretched. But if fullness is part of your pleasure the larger end may satisfy you with is 1.5 inches in diameter. And remember, since this toy is completely rigid, you'll likely feel more fullness than from a silicone toy of the same size.
The njoy Pure Wand will likely require a bit of learning. Unlike a vibrating toy, you or your partner are manually delivering all the stimulation and targeting. This is a top rated prostate massager for fans of pressure, but you'll need to learn where to deliver that pressure and how much to apply.
Pros:
Substantial curve targets P spot very well
Good dildo for men and women – G spot or P spot
Heavy steel provides firm, full pressure
Elegant design
Very durable
Two ends gives you a choice in size
Good toy for those who prefer pressure to vibration
Good for temperature play
Compatible with any lube
Easy cleanup
Cons:
Heaviness of the toy may wear you out
Requires a learning curve
You'll likely need to warm the toy a bit first if you don't want a cold touch
No vibrations
Complete rigidity may feel too full for some and won't adjust to your body
Likely not a great choice for beginners
Final Thoughts
Prostate massagers are some of the best anal sex toys for men. And my personal favorite of the bunch is the Lovense Edge 2. I prefer toys that I can use with my wife or by myself. The Edge 2 fits the bill while providing really strong vibrations to the P spot and perineum. It's a great hands-free option so my hands can roam elsewhere. I do occasionally want a bit deeper penetration, but the comfort, powerful vibes, and great app-control make up for it to me.