Egg vibrators have become a favorite for both sex toy enthusiasts and those new to the fun world of adult toys. We'll help you sort through the clutter and find the best egg vibrator for you!
But what are egg vibrators? They are small, compact egg shaped vibrators. Like a bullet vibrator, they are smaller than other vibrators. This makes them especially easy to maneuver into position to work on your favorite spots. Their size also makes them more discrete to store in an inconspicuous place!
Overall Best Egg Vibrator


Quietest App Controlled Egg Vibrator


Best Egg Vibrator for Clitoral Stimulation


Best Motion Control Love Egg


Best Budget Remote Control Love Egg


Fifty Shades of Grey Relentless Vibrations

Best Small Vibrating Egg for Beginners


Best Unique Clitoral Egg Vibrator

For an in-depth review of our favorite egg vibrator check out our full Lovense Lush 3 review
7 Best Egg Vibrators
Here are our picks for the 7 best egg vibrators!
My personal favorite is the Lovense Lush 3 wearable egg vibrator. It's predecessor, the Lush 2 (review here), was the first G-spot vibrator to teach me that I can, in fact, squirt. So the Lush sisters will always have a place in my heart.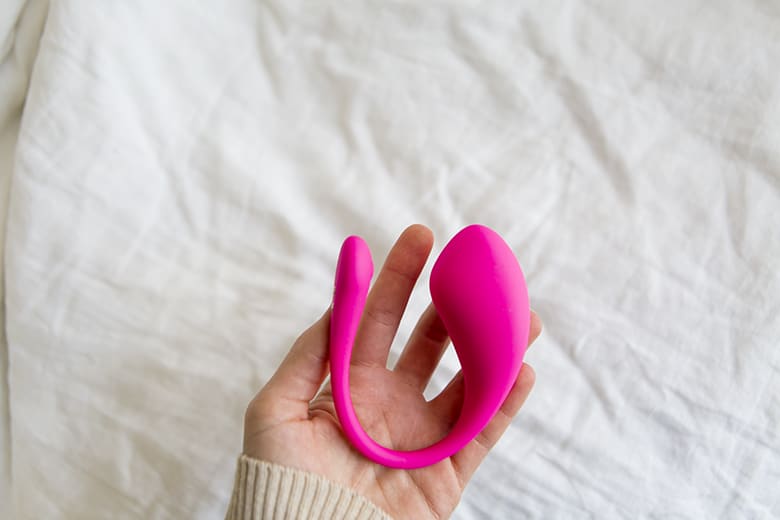 I find a lot of internal love eggs aren't very powerful compared to handheld toys that often pack larger motors.
But the Lush 3 egg vibrator delivers some of the most powerful G-spot vibes I've found yet.
Best of all, it's an app-controlled egg vibrator. So I can play with my partner from anywhere in the world – even though usually he's in the same house.
Or I can just use the app myself to control the love egg as I'm out and about to work myself up before I get home.
Even while delivering powerful rumbles, the egg vibes are quiet enough to go unnoticed dampened by my body and clothes.
If I want good clit stimulation I do have to adjust the exterior arm of the egg vibrator so that it's still vibrating against my clit. So if I'm wanting consistent clit stimulation I need to be home or in a place I can maneuver the exterior arm easily.
The app itself is fairly intuitive and very feature-rich. It lets you adjust the patterns, intensities, sync it to music or even the ambient sounds around you. And if you are playing long distance you can live video chat while enjoying the vibes. And if you're feeling really risque you can even hand control of your love egg over to an anonymous stranger.
The main drawbacks are that it is primarily a G-spot vibrator. As with most wearable egg vibrators, you'll get very little clit stimulation.
If you need a lot of clit stimulation to orgasm, the Lush is probably not the best love egg for you. I'd actually steer you toward a clitoral panty vibrator like the Lovense Ferri (my personal favorite wearable toy). Or you could try the We-Vibe Chorus if you're looking for a wearable that offers both clit and G-spot vibes.
Secondly you will occasionally have to deal with disconnections. That's the case with any app-controlled egg vibrator. But we've found the Lovense toys to be the best app-controlled toys for connectivity.
Disconnections are rare, and connecting has been quick and easy for me.
Check out our Lovense Lush 3 review for an in-depth look at the Lush egg vibrator. Lovense also still sells the Lush 2 at a discounted rate. The Lush 2 is still a great egg vibrator in its own right. Its slightly less comfortable than the Lush 3, but it gives just as strong of stimulation.
You can head to my Lush 2 vs Lush 3 comparison to see if you want to save a few bucks and grab the previous version.
Pros:
Strong G-spot vibrations
Exterior arm gives some clit stim
Completely customizable vibrations
App-controlled for long distance fun
Quiet vibes for public play
Video chat in-app while playing
Cons:
Not intended for much clit stimulation
Occasional disconnections from app-control
Quietest App-Controlled Egg Vibrator – OhMiBod Esca 2
The OhMiBod Esca 2 is the direct competitor to the Lovense Lush egg vibrator and each shines in different ways.
The Lovense Lush delivers the more powerful vibrations that I need to orgasm. However, the Esca 2's vibrations feel really teasy, rolly, and interesting. I actually prefer using the OhMiBod Esca if I'm just using the egg vibrator out in public as a bit of foreplay before rushing home with my partner.
It's vibes don't quite get me there on their own but they definitely get me worked up. And the Esca is a more comfortable egg vibrator to wear out. It's arm is more flexible so it's easier to find a comfortable position.
And more importantly for public play – it's a quiet egg vibrator. If you're really concerned about going unnoticed – go with the Esca egg vibrator.
Even though the OhMiBod app isn't as heavily loaded with uniquie features, it's still got all I need – and I think it's simpler to use. If you want simple app control of your egg vibrator the Esca is a great choice.
Find out more about the Lovense Lush vs OhMiBod Esca in this article where we compare the two. Or check out our OhMiBod Esca 2 review.
Pros:
Simple and intuitive app control
Very comfortable egg vibrator
Quiet for public play
Cons:
Not intended for a lot of clit stimulation
Not as powerful as the Lush 3
Best Egg Vibrator for Clitoral Stimulation – We-Vibe Touch X
The We-Vibe Touch X clitoral egg vibrator is next on our list. It's an upgrade to the previous We-Vibe Touch. This is a great toy for those who just need strong, rumbly vibes right to their clit – and want to get them in a small, easy to use package.
This powerful love egg is only four inches in length so it fits easily into the palm of your hand. The soft silicone and ergonomic shape are comfortable to hold and the slight cup-shaped tip fits really well over your clit for some great stimulation.
The ease of holding this toy and it's great maneuverability make it a perfect fit for those who enjoy using a clitoral vibrator during sex with their partner. You'll be able to keep this toy easily honed in to vibrate on your clit even with other vigorous activities going on down there! It's not the right toy for those looking for a G spot egg, but hey – why not have the We-Vibe Touch X on your clit and another vibe working your G spot!
The We-Vibe Touch X is made of medical-grade silicone and has a smooth finish that will provide comfortable shifting against your intimate areas. Only use water-based lubrication with this product.
This nifty vibrator has seven vibration patterns to enjoy (including constant vibes). Unlike the original We-Vibe Touch, the Touch X egg vibrator has both + and – buttons so you can increase and decrease the power level of every pattern. Each pattern has 8 intensity levels to play with!
And all of the vibrations are deep and rumbly so you can use the Touch X for a long time without becoming numb.
You can get two hours of playtime on one charge. When the battery is dead, simply hook up the USB using the magnetic connector and wait 90 minutes for it to fully recharge. The connector can be a bit finicky at times so you may want to check on it to make sure it hasn't dislodged from the toy.
For external clitoral stimulation, you can't go wrong with the We-Vibe Touch X. It's a great sex toy for both beginners and experienced users!
Pros:
Comfortable shape to hold
Excellent maneuverability
Great during sex with a partner
Concave curved tip wraps around the clitoris to vibrate the whole area really well
Great selection of vibrations
One of the most powerful egg vibrators
Smooth silicone egg vibrator provides deep, rumbly vibes
Easy to clean
Cons:
Not for internal use
Still have to cycle through vibration patterns
The Lelo Insignia Lyla 2 is a luxurious insertable love egg for G-spot and clitoral stimulation!
This remote control vibrating egg has just over 1.25" width and 3.5" insertable length. It's compact shape and completely smooth silicone exterior make maneuvering it around your clit or inserting it vaginally a breeze. But don't use it anally, there's no flared base. It's size and texture also make it comfortable to wear for a long time – great if you intend to use it for a night out!
This pink egg vibrator is even waterproof so you can use it while relaxing in a hot tub. You can charge it using the included USB cable, in just 90 minutes. And you get up to two hours of use.
The Lyla 2 comes with a small size wireless remote control that allows you complete control of your (or your partner's) love egg.
Use it to change through eight vibration modes such as steady buzz or heartbeat. Sync the wireless remote control so it vibrates in the same rhythm as the vibrator. This is great if you hand the controller to your partner so they feel what your body is feeling! Or keep the remote on silent for more discretion.
This small love egg vibrator is quiet, but powerful – making it a discrete vibrator for public play that can lead to some great G spot orgasms! The remote works up to 12 meters away from the vibrator so you can be in separate rooms or seated across the bar and still play together. The connection can get lost at times which can be frustrating so you may not want to push the range too far.
A unique feature of the Lelo is that the remote has SenseMotion, which means you can control the frequency and intensity of the vibrations simply by moving the remote. Held horizontally, you'll get gentle vibrations. For stronger intensity, turn it vertically. You can also turn this feature off and control it normally with the buttons.
Pros:
Both clitoral and G spot egg vibrator
Remote control egg vibrator controlled by buttons or motion
Quiet for public play but still a powerful egg vibrator
Smooth silicone exterior provides comfort and simple insertion
Includes strap for quick removal
Waterproof and easy to clean
Cons:
Occasional disconnections from remote
Smaller design may not provide "fullness" for some women
Budget Remote Control Egg Vibrator – Alive Egg Vibrator
The Alive 10 Function Vibrating Egg is a great remote control vibrating egg for beginners. It's a relatively cheap egg vibrator for both clit and G spot play. It also has a retrieval strap for when you're done playing!
The Alive love egg is made out of hard smooth plastic, which allows for effortless insertion but can make the vibration a bit buzzy rather than rumbly. It's not quite as discrete as the silicone Lyla 2, but most still found it quiet enough for public play since your body also dampens the vibrations – you may not want to turn it to its highest vibration settings in a quiet restaurant though.
The Alive Vibrating Egg is just a bit wider than the Lyla at just under 1.5" width: great for those who want a bit fuller vaginal feeling and more pressure on their G spot. It's lightweight, at only 1.9 ounces, which is handy for women who haven't mastered kegel control.
This love egg uses AAA batteries so you'll need them on hand. Some found the battery-life a bit lacking. Always remember to remove the batteries after each use, or they will run down during storage.
There are 10 vibration functions to explore, which you change with the two buttons on the wireless remote which can work from about 10-15 meters away!
Pros:
Includes strap for trouble-free removal
Smooth plastic makes for comfortable insertion
Bit wider than Lyla for more full feeling
Hard plastic is good for those who prefer buzzier vibration
Great entry into remote control egg vibrators at a reasonable price
Cons:
Can be loud at higher settings
Not USB rechargeable
Not waterproof
If you're a Fifty Shades of Grey fan, you might enjoy Fifty Shades of Grey Relentless Vibrations, a sleek remote control vibrating egg, which is part of the Fifty Shades product line.
Made of silicone, the insertable love egg vibrator measures at 3" of insertable length, and approximately 1.25" width which is great for beginners. It has two bulbous sections to provide additional stimulation over a completely round shape.
However the Fifty Shades love egg operates louder than the others we've mentioned so we don't recommend public use.
Use the retrieval strap to pull this vibrator out after having some G spot fun. The strap is also silicone for additional comfort and is flexible to conform easily to your body or clothes while you're wearing it. The round wireless remote control fits comfortably into your hand and there's two buttons to toggle the different settings, between two speeds and five vibration patterns. Though the remote doesn't vibrate, it does have lights that sync with the vibrations to give the controlling partner a visual indication of what the wearer is feeling.
The Relentless Vibrations is a great option for those who want to give up control and prefer a more varied shape to a traditional egg.
Pros:
Silicone retrieval strap provides additional comfort
More varied shape for extra stimulation
Remote is comfortable to use
Narrower diameter is great for beginners
Insertable for clit or G spot play
Cons:
Less discrete than some of the other options for public play
Only two speed options
Remote only gives visual feedback
Although the Jimmyjane FORM 2 doesn't boast a traditional egg shape, it has some unique features that make for some amazing and interesting clit stimulation.
This clitoral rabbit egg vibrator has two bunny ears that straddle your clitoris to wrap it in stimulation from both sides! Each bunny ear has its own motor so the vibrations can transfer straight to your clit without losing power traveling through the toy first. The platinum silicone delivers great rumbly vibration to make your body feel great without getting numbed.
The buttons allow you to switch between five speeds and four vibration patterns. Built-in memory allows you to automatically resume the same setting from your last play session. This is one of the strongest egg vibrators – the higher settings may even seem intimidating at first.
It even has a button lock mode so you don't have to worry about accidental powering on. Charging is simple with the USB dock port on the bottom. And use this vibrator anywhere you please, as it's super quiet and completely submersible waterproof. This also makes it super easy to clean!
Pros:
Dual motors provide unique sensations and stimulation to your clit
Button lock mode so there's no accidental power-ons
One of the most powerful egg vibrators
Rumbly vibrations
Quiet vibrator
Remembers your vibrations
Waterproof egg vibrator
Cons:
Designed for external play only – no G spot
No remote
Some users may not prefer the vibration straddling their clit
How to Use an Egg Vibrator
So how do you use an egg vibrator? Some vibrating love eggs are meant to be held and are great for clitoral stimulation due to their compact design and simple maneuverability. Others are meant to be worn internally for strong G-spot stimulation! Their wide, curved design helps to broaden the sensations over all your favorite spots. They tend to be wider than bullet vibrators and less pin-pointy too.
If you're using your sex toy for your G spot, it's important to keep in mind you won't be able to easily adjust where the vibrations hit – this means not all eggs will hit every woman's G spot quite right. If targeting the vibration is important to you look for a vibrator with a handle like the Lelo Mona 2 for maneuverability!
Some egg vibrators are also remote controlled or can even be controlled from your phone.
Important Features of an Egg Vibrator
Egg vibrators have a variety of different features and it can be confusing to know what type of egg vibrator you would want. Trust me, there are a ton out there!
To help you make an informed decision, we're going to teach you about some common things you'll want to consider before making a selection for your egg vibrator.
Type of Material Delivering Your Vibes
These small egg vibrators can be made from a variety of materials. But the best egg vibrators are usually either:
Hard Plastic – harder feel, buzzier vibration
Silicone – softer feel, more flexible, more rumbly vibration
The material of the vibrating eggs affects how the vibes feel in your body. Hard plastic vibrators can give off powerful vibrations that aren't dampened through layers of silicone. The vibrations will transfer straight to your skin. They are higher pitched and "buzzier." These vibes tend to feel more isolated to the surface of your body rather than moving very deep.
Some people tend to feel numbed after a long session with a buzzy vibe while others love it.
Silicone on the other hand will feel softer against your skin. Silicone helps to dampen the vibration a bit (don't worry they'll still feel very powerful) which makes them feel more deep and rumbly. You're less likely to be numbed after a long time playing with your vibrating egg and you'll feel the vibrations deeper in your body.
Which option you pick depends on your personal preference. From my experience most people prefer rumbly, but decide for yourself because some swear by buzzy vibrators.
Size of Your Egg
Like a bullet vibrator, egg vibrators are small. They're great travel companions since they're often shorter than other vibrator styles. But unlike a bullet vibrator, a love egg vibrator is typically wide at some part.
When reading the product description for egg vibrators, you'll see a few size measurements:
Insertable length – how far the vibrator can be inserted
Product length – the actual length of the product
Circumference or diameter – how thick it is
Find a size that works for your intended use. If you want to easily maneuver the vibrator around your clit, a small size will likely be better. If you want to use your egg vibrator to work your G spot you've got some options:
If quick insertion is important to you, go with a smaller size.
If feeling a bit more pressure against your G spot is what you need, choose a larger love egg.
If you're going to be using your sex toy in public, you'll certainly want a smaller size. They'll be easier to hide and they'll likely be quieter so your secret remains a secret!
Power Source of Your Vibrator
Egg vibrators often work with batteries, typically AAA or small watch batteries. Or you can get love eggs that are re-charged through a USB port.
Battery-operated toys can be nice. If your toy starts to die during use just pop in some new batteries instead of waiting an hour for it to charge. But you'll have to keep buying batteries (especially if you plan on having a lot of fun with your toy). Be wary about leaving your batteries inside your egg vibrator, as some brands have been known to drain power even when not in use.
Most of the high-end toys are USB rechargeable. Remember to recharge it after use! No one wants to reach for their egg vibrator only to find it's become about as useful as a regular egg.
If you value discretion, you might also want to search for a vibrator that has a key lock. This will make sure your toy doesn't accidentally power on when you have it put away.
Manual or Remote Control Vibrators
When you're considering your egg vibrator choices, you might notice that some are remote controlled. Others are controlled with buttons on the toy itself.
Remote control sex toys are a lot of fun to use with your partner! Surprise your date with the vibrator and a night out on the town for some secretive public play. A vibrating egg is a lot better for public play than a bullet vibrator too. Or keep it in the bedroom and enjoy the power play from giving control to someone else.
Manual vibrators on the other hand have their buttons on the vibrator. If you're playing solo this is great since you likely already have one hand on the egg vibrator. Then you can let the other hand wander rather than needing to hold a remote.
Products Needed with Egg Vibrators
Many users of egg vibrators prefer to use lube, which lets your love egg glide effortlessly along your skin. If you are using a silicone-based egg vibrator, you'll want to avoid using a lube that is silicone-based lube. Instead, pick water-based lubrication. If your sex toy is hard plastic, you can use either type of lube.
Always be sure you clean your sex toys before and after each use and keep them safely stored when not in use. Many egg vibrators come with elegant velvet drawstring bags to store your toys.
Waterproof Egg Vibrators Add More Fun
Who doesn't like to have some fun in the shower? If you plan to use your sex toys in the water, you'll need to look for a waterproof egg vibrator!
Final Thoughts
My favorite of the bunch is the Lovense Lush 3. For me, I use egg vibrators mostly for fun public play and giving up control. So the Lush is perfect with its intuitive app-control and quiet, powerful vibes. And unlike a lot of wearable vibrating love eggs, it still gives me a bit of clit stim I need to finish. If you need a lot of clit stimulation, then I'd recommend the We-Vibe Touch X.