Dual-density dildos are an excellent choice for both experienced users and beginners who are wanting to explore with dildos, whether vaginally or anally.
These types of dildos have two layers. The center is firm so the dildo keeps its shape. But the firm inner core is covered by a soft outer layer for better comfort and realism! A dual layer dildo means you have the softness and flexibility for easy insertion but the firmness to keep the toy in place for pinpoint precision, no matter how hard you want to play.
We want to help you enjoy the wonderful world of sexual exploration by helping you pick the best dual-density dildo for you!
Why Choose a Double Layered Dildo over a Single Layer
When silicone dildos first came out a single layer of material was your only option. This meant you had to choose between soft or firm. Those that wanted that extra squishy feel only had the choice of soft all the way through. That meant the toy was often too flimsy for fast and hard play since it would easily bend away from the spot that felt just right. The other option was to choose a firm dildo which kept its shape well – but many dildo users want a softer feel for the dildo to be comfortable inside them.
Dual-density dildos have an especially squishy outer layer wrapped around a firmer core to provide both stability and comfort. Often the outer layer is even softer than a soft all-the-way-through dildo. Many people say it feels much more like the real thing!
If you've been unable to find that sweet spot between firm and soft, dual-density might be a great solution for you! They're also great with a strap-on harness or suction cup for hands-free play.
What to Know about Picking a Dual Density Dildo
It can be overwhelming trying to figure out which dildo is the right choice. There are tons of options out there. You can read all the reviews to see what other users like, but the bottom line is you need to pick a toy that meets your individual needs.
We'll teach you the factors to consider so you can make the best choice for your body. Going dual-density is the first great choice – now there's a few other features you'll want to consider!
Material
The type of material is a huge part of picking the right dildo. Dual-density dildos are usually made from silicone, thermoplastic rubber (TPR), or thermoplastic elastomer (TPE).
We recommend you choose silicone over TPR or TPE materials. The thermoplastics TPR and TPE are porous, meaning they are likely to accumulate harmful bacteria – even after they're cleaned thoroughly. If you have TPR and TPE toys, you can use them with a condom after proper cleaning. But why take the risk? Go with silicone!
Keeping your toys clean is a necessity for healthy playing. Silicone is non-porous, meaning bacteria can't grow under the surface. But these types of toys also have a sticky feel, which can lead them to attract lint, dust, hair, and other debris floating through the air. You'll want to clean them before and after each use and store them where they won't attract as much lint.
Size
Size is also a significant factor to consider when choosing your dildo. If you're new to playing with dildos, you don't need to begin with a considerable length or girth (thickness). Start smaller until you learn what you enjoy in a dildo!
If you're trying to select a dildo to experiment with anal play, you'll also likely want to pick one that is thin and short. Choosing a toy that is too large can be uncomfortable, painful, or even cause injury. When you're ready to size up, start slowly by picking a toy just slightly bigger than you're used to!
More experienced users might prefer to pick a dildo that is larger than an average penis (6+ inches long). These can help you reach deeper spots more easily and give you a greater feeling of fullness and pressure which many enjoy! If this sounds like you, there are plenty of options available. Most manufacturers list the dimensions in their product description, including if the toy is ideal for beginners or advanced users.
Texture
The ridges and veins on some dildos are not just for looks – they add extra sensations and more "grip" on your body. Some of these ridges are specially placed to help hit certain pleasure-points.
If you crave a rougher feeling inside or more friction, a dildo with these textured ridges might be a great fit. For a smooth gliding sensation, go with an untextured, smooth dildo.
Design
When it comes to appearance you can find almost anything. There are dual-density dildos in bright colors with a non-anatomic shape. These toys are as pleasurable to look at as they are to use. Or you can go for an all-natural look that resembles the real thing.
Some users prefer a dildo that's anatomically correct with a retracted foreskin (a circumcised penis tip), bulging veins, and even testicles that you can caress or grab. Many find toys with testicles are easier to maneuver by hand. The balls do take away from the insertable length of the toy so you may want a bit longer dildo if you prefer deep penetration.
Safety
Safety is one area where you don't want to skip doing your research. Make sure you pick a toy designed for your desired use.
If you're looking for a dildo for anal use, it is crucial to make sure your choice has a flared base so you don't have to worry about over-insertion or the toy getting stuck.
Extra Features
Some dildos have a suction cup at the base which can mount to hard surfaces such as a table, desk, door, or even the shower so you can have hands-free penetration.
You can also find dildos compatible with strap-on harnesses that let you enjoy couple play. Many of these require you to use a compatible device – just check the dildo manufacturer for compatible harness size requirements.
Our Recommendations
Vixen Creations Dildos are known for their high quality and very realistic feel. The Vixskin line takes this to a whole new level with their highly-flexible outer skin layer. The Mustang Vixskin Realistic Dildo was made to satisfy those seeking the middle ground between their larger models and a shorter favorite.
This dual density silicone dildo has a body-safe non-porous VixSkin outer layer and a firm core. At 7.5" total length, you get the pleasure of 6.5" of insertable length with 1.6" circumference.
The VixSkin Mustang has one of the most realistic textures without pulling several hundred dollars out of your wallet. The outer layer of silicone is especially soft and squishy. It's one of the most realistic and comfortable textures you can find in a dildo.
The mustang is waterproof dildo and flexible enough to maneuver into all the right places while being tough enough to withstand tearing or breaking. You can use this dildo as hard as you want during playtime without fear of damage.
The non-slip base makes this toy easy to mount to hard surfaces for hands-free play and fits into most harnesses. The suction cup isn't super strong, so you'll likely have the best luck mounting it to a floor rather than a wall.
The flared shape provides the necessary safety for fun anal play. Plus, the curved design of the shaft provides delicious G spot simulation and makes it one of the best prostate dildos.
Due to the flesh-like texture, this toy does have a slightly sticky feel that attracts dirt and lint. That stickiness means this toy loses lubrication quickly, so be ready to reapply a water-based lube frequently while playing. Without lube, the detailed veins and ridges can cause discomfort.
For more info check out our full Vixen Mustang review.
Pros:
Many found this to be the most realistic-feeling toy they own
Great realistic look
Amazing soft outer VixSkin layer unique to this line
Great for fast, hard thrusting
Awesome quality
Doesn't cause pain like harder dildos
Cons:
Can be uncomfortable without a lot of lube, which needs frequent reapplying
Sticky silicone collects contaminants.
Not the strongest suction cup
Overall, a good medium sized dildo. Its medium size and texture mean it's not a warm-up piece, and probably not for beginners either. It's got a larger head that can feel divine to those ready for an extra stretch and some fun pointed at that g/p-spot.
I have yet to find another realistic-feeling dual-density dildo that can match the quality of the Blush Neo Elite at such a low price tag – about $30. If you're just getting into dual density dildos this is the toy I would start with.
The Blush Neo Elite has several models to give you a range of size and color options. Lengths range from 6 to 7.5 inches and you can choose a model with or without balls. The Blush Neo Elite also has a slight upward curve for good G-spot or prostate stimulation.
All the Blush Neo Elite models are brightly colored. If you want an affordable option in realistic flesh tones, you may prefer the NS Novelties Colours Dual-Density Dildo – which also gives a few more size options.
The outer layer of silicone is soft, but not quite as soft as the more realistic VixSkin Mustang. This helps the veins to feel a bit more pronounced than on the Mustang. If you enjoy feeling more of your dildo's textures, you may enjoy the details of the Blush Neo Elite. But those who want their dildos extra squishy would be better suited with the Mustang.
The Neo Elite's suction cup is also very strong. It's a better suction cup than the Mustang's so if riding hands-free is really important to you, the Neo Elite is a great choice.
Pros:
Most affordable high quality dildo we've found
Several size and color options available
Strong suction cup for hands-free play
Good G-spot or P-spot stimulation
Cons:
Outer layer isn't as squishy as some more expensive toys
No realistic flesh-tones available
Overall – if you're on a tight budget: this is the toy to get.
Tantus is a favorite brand in the dildo world, and their O2 line focuses on a variety of shapes, all dual density. This toy, the Cush O2 provides a less realistic dildo appearance. It has hot pink or purple matte ultra-premium silicone outer shaft, firm brightly colored inner core, and a more tapered, non-anatomical tip. Instead of veins or a head, there is a small ridge wrapped around the top half of the dildo for extra texture. This was actually the first dildo that got me intrigued about fantasy dildos.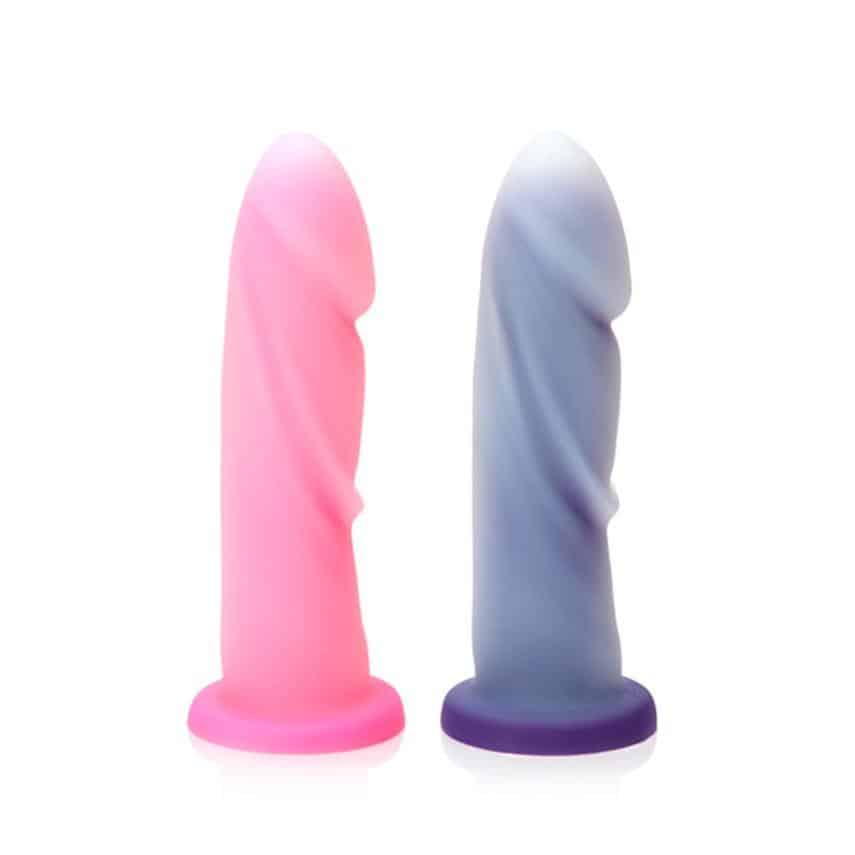 This one measures 6.5" of insertable length and 5.5" girth – a surprisingly full girth for a dildo this length. Although there is some flexibility, the straight shape could make this toy's head challenging to maneuver into the usual position for perfect G or P spot stimulation. However, this one is designed to hit those spots with the well-placed ridges instead. If you've never had success with the curved options, this might be your solution!
The extra-soft exterior means a high level of comfort, with stability from the firm core. It's outer layer isn't quite as soft as the Mustang, so if you're a beginner you may prefer to start there. It's large base makes it safe for anal play and it's compatible with a harness for partnered fun. There's no suction cup though, so your hands-free play is a bit more limited.
Be sure you use plenty of water-based lube as the sticky texture can pull and pinch your skin during dry use. And always be sure to wash (or boil) it before and after use, as this toy is notorious for collecting dust and lint.
Pros:
Awesome quality of materials
Tapered head makes for easy insertion
Ideal for anal or vaginal use
Textured ridges add interesting stimulation
Can be used in a harness
Beautiful coloring
Extra width for it's size
Cons:
No suction cup base
Can be tacky without lube
Too rubbery of a feel for some
This uniquely shaped and colored toy is a great choice for something a little out of the ordinary. Great for those looking for some large ridged textures and a fair width.
The Blush Helio Silicone Dildo is made of 100% non-porous, hypoallergenic pure platinum silicone for more comfortable gliding and safety.
This wickedly curved 7" dildo has a broad bulbous head to help provide pinpoint stimulation to your G-spot or prostate gland. It has 6" insert length and a 1.5" width, making it slightly smaller than the average dildo. Though it's curved to hit your favorite spots, the texture is smooth across the whole toy to reduce any internal drag.
The Helio is one of the most versatile dual-density dildos available with a flared suction cup base that can attach to any hard surface for hands-free play or that connects to a harness for strap-on sessions. It's waterproof so you can use it anywhere, including the shower.
Pros
Squishy broad head for maximum stimulation
Unique curve to hit your favorite spots
A flared suction cup base
Quick to pick up body temperatures
Cheaper option than most dual-density dildos
Cons
Sticky texture collects debris
This might be geared more towards those seeking a smoother ride or even beginners. Great size for those wanting to feel full, but not stretched over the edge.
Most Realistic Dual-Density Dildo – Realcock 2 Dirk
If you're looking for the next best thing to a real penis, it's hard to beat the Realcock 2, affectionately named Dirk. It's considered dual-density, but actually we may need to call it tri-density – it has THREE layers!
The realistic details are astounding, from the veined shaft and retracted foreskin (circumcised) head to the free-moving testicles. Looking at this piece, it's almost hard to believe it's not real. Covering the firm core is a flexible skin-like – and very sticky – silicone made with Sil-Slide tech. This material has a bit of movement to mimic the motion of a real penis' skin as it slides in the body.
The third layer comprises the bulgy veins, textured ridges, and grooves. It also includes the spongy retracted foreskin coronal ridge (head of the penis). Due to the texture, you need to use lots of water-based lube for comfortable playing.
This triple-layered dildo has exciting dimensions of 7.25" insert length and 1.8" girth. The slight curve offers G or P-spot stim. And the suction cup base with a Vac-U-Lock hole connects to any compatible harness or sex-machine.
Pros:
Incredible realism
Sil-slide technology for realistic movement
Triple-layered real-skin feel and look
Curved shape for maximum stimulation
Cons:
The sticky surface requires lots of lube
Collects debris on the surface
Expensive
If you're ready to take the jump into the world of premium dildos, check this one out. Not for those trying their first dual-density dildo. Level up to this one when you want ultimate realism.
The Colours line from NS Novelties is very well-liked and very affordable. It offers a variety of realistic-looking dildos in bright pops of colors! This version, the NS Novelties Colours Dual Density 8", has the softest exterior out of any Colours dildos, but the firmer core to make sure it can go where you want it.
If you need a larger size realistic dildo, we recommend this one – it measures in at 7.3" of insertable length and 1.8" of width (check out the 5" if you prefer a smaller version). This dildo is made with platinum silicone, with a firm core topped with a flesh-feeling texture.
The curved shaft provides sensual G-spot or prostate stimulation with a squishy, pronounced coronal ridge. Some love the feeling of the ridge while others find it a bit too stimulating, especially anally.
This dildo is quite realistic with bulgy, pronounced veins and attached testicles making it easy to hold and maneuver. It has a very strong suction cup base so you can mount your toy to play anywhere – including in the shower, since it's waterproof. Or attach it to a compatible harness for partner play. Use lots of water-based lube for comfort.
This toy has a total length of 10" so its large size can be difficult to hold and maneuver for smaller sized hands. And the enlarged veins, which provide extra sensations, can cause uncomfortable friction for some users.
Pros:
Curved for delicious stimulation
Larger size
Strong suction-cup base
Easy to clean
Lots of great texture along shaft
Flexible yet firm
Reasonable price tag
Cons:
The sticky shaft will pinch and drag without lots of lube
Enhanced veins can be uncomfortable for some users
This is definitely not a beginners toy. The large size of this and intense textures may be too much for more sensitive users. If you're wanting to take it to the next level with quick thrusting, a full feeling and lots of internal drag – this is a great option! It's hard to beat the pricing of the Colours line when it comes to dual-density options.
Final Thoughts
If you're looking for a firm, stiff dildo with a soft outer layer to absorb some of the impact, we think you're ready to jump aboard the dual-density bus. We've given you five great options to take for a test drive. Figure out what needs you have and base your selection on those criteria.
Our top recommendation for the average user is the Mustang VixSkin. It's mid-sized, with an awesome reputation for realism, comfort, and hitting the right spots!