Dildos make a great addition to your sex life, whether you're using them for solo masturbation or spicing things up with a partner.
Choosing correctly when buying your first dildo is a crucial part of ensuring you have a pleasurable experience with sex toys. There are a variety of features to consider that will play into how enjoyable it is.
A dildo is often the first sex toy someone buys! We've created this guide to help you know how to select a dildo by explaining the criteria you should look for and providing five of our favorite picks.
Here's a quick list of our top choices. Keep scrolling to get the full breakdown in our Beginner Dildo Review Section!
What to Look for in the Best Dildo for Beginners
It's easy to get overwhelmed by the wide variety of dildos available. If you make a quick decision without knowing what you need, you could waste your money on a toy that doesn't satisfy.
A few things to consider when finding the best first sex toy for you – think about comfortable and safe materials, ideal texture, best shape, size and more. Fear not – we'll tell you the safest materials out there! We'll also cover which needs are met by different types of dildos.
Many people starting with sex toys, feel uncomfortable asking for advice or recommendations. Guides like these make it easy for you to learn everything you need to know! You can be an expert without having to divulge your naughty side. OR you can chat it up with your partner and decide on something together!
Criteria for Beginner Dildos
To help you pick the best dildo for beginners, there are a few different criteria you'll want to factor into your decision. Let's cover these before we jump into our favorite dildos for beginners. 
Material
One of the most critical factors you want to consider before picking your dildo is the type of material. Some manufacturers use the label "body-safe" to describe the toy, but that doesn't always guarantee your safety from dangerous substances.
Look for dildos made out of silicone, which is completely body-safe, non-porous, hypoallergenic, and wickedly comfortable. These types of toys are the easiest to keep clean and are healthier to use.
Plastics like TPE (thermoplastic elastomer) and TPR (thermoplastic rubber) are considered safe for inserting into the body, but are fairly porous materials.
Porous means there are tiny holes in the material, which can allow bacteria to grow underneath the surface and lead to infection. These are harder to clean and shouldn't be shared between partners or used for both anal and vaginal penetration.
Type of Stimulation
Next, to decide what type of dildo to select for beginners, you'll want to figure out what kind of stimulation you're craving.
Do you need targeted stim to your G-spot (for people with vulvas) or prostate (for people with a penis)? If so, you'll want a dildo that has a curved design. Bulbous – wide and thick- heads provide a fuller sensation and an extra stretch at insertion.
If you want a dildo that you can use hands-free or with a strap-on harness, look for something with a suction-cup base for mounting, or a flared base to fit into the harness. Dual-density dildos are great for quick thrusting or anal penetration as well. They have a firmer inner core with a softer outside layer similar to the real thing.
If you want to get used to inserting objects and require a lot of flexibility and softness, you can pick a single layer dildo that's soft all the way through. This may be more flimsy, so don't expect to use this type for hard penetration.
Size
Size matters when it comes to what type of dildo you choose. Think about what you're already accustomed to from your sexual experiences. Don't try to jump to a larger size immediately. You need to work your way up with smaller toys.
Next, get a ruler and compare different objects. An average erect penis is around 5" long, while most dildos are around 7". Which length appeals to you? Now, measure girth – how wide the object is – so you'll know what diameter you'll want.
Do you prefer a girthy dildo for extra pressure on the walls, or do you prefer length? Of course, you can always find a dildo to accommodate both preferences. Do you want a tapered design, which means it starts broad and goes narrower (or vice versa)?
It's best to start with a dildo that has a width of 1" to 1.25". However, you can go as large as 1.5," but it's not recommended to go any larger than that for your first toy, especially with anal. So, what size dildo suits you? If you already know you're going small, we've got some favorites in that department too!
Appearance
The great thing about dildos is that you can find them in various looks and styles. Some are rather unique shapes while others are quite anatomically accurate, including bulging veins, flesh tones, and testicles.
For most beginners, they tend to go for dildos with bright, attractive colors, a non-anatomic appearance, or even cartoonish features.
The toy you pick should appeal to you visually as well as physically. If you feel awkward, looking at your toy, you're probably not going to feel comfortable handling and using it. Pick one that makes you excited and aroused.
Texture
Some dildos have a sleek, smooth shaft, which is excellent for beginners as there's no texture to irritate inner muscles. If you're looking for a dildo for anal exploration, a smooth surface is the best starter type.
Some dildos have grooves, ridges, veins, or even textures like bumps and nodules to provide varied sensations. If you enjoy the feeling of having different stimulations, you might prefer a textured toy over a smooth surface.
Smooth toys are easier to keep clean and sterilized. If you choose a dildo with texture or designs, be sure you follow the proper cleaning procedure, so you don't risk the growth of harmful bacteria. And you should always clean your toys before and after each use.
Safety
The final criteria you need to consider before picking a dildo is safety.
If you're looking for a dildo for anal use, you must pick one with a flared base. This helps prevent the toy from being inserted too far or from getting stuck. That's not an emergency room trip you'd want to make. Yikes!
Regardless of what type of dildo you choose, it is always crucial to use an appropriate lube, especially when participating in anal penetration. The texture of your dildo may make it harder to keep wet, causing irritation or pain during insertion. Dry silicones are notorious for requiring some extra lube.
Most manufacturers recommend water-based lubrication. This type does not degrade the material of your dildo like others might, though you should check what's recommended with your toy.
Best Dildos for Beginners
Now that you're educated on what to look for in a dildo let's take a look at our selection of the best dildos for beginners. Let's find one that meets your criteria!
Blush Neo Elite – Best Average-Sized Beginner Dildo
The Blush Neo Elite is a great dildo for beginners who want to start out with something average-sized. It comes in a few slightly different (though all average) sized models with or without balls.
But most importantly, the Blush Neo Elite is a dual-density dildo. That means it has two layers of silicone – a firm inner core so that it holds its shape, but a softer outler layer or silicone so that the dildo has a bit of squish to it.
The Blush Neo Elite was one of my first dildos and is still a dildo I keep returning to – even though it's inexpensive and sized well as a starter dildo.
Pros
Dual Density – Firm inner core to hold shape, soft outer layer for better comfort
Strong suction cup base
A few sizes available with or without balls, but each is the same dual density silicone
Easy to clean
Slightly curved for G or P spot stimulation
Cons
Some people don't like the feel of the textured veins
Average size may still be too big for some people starting out
The Starter Purple Haze is an excellent choice for beginners who don't have a lot of experience with sex toys. Tantus is a well trusted dildo brand with several awesome beginner pieces.
The is the tiniest of the bunch. With a 1" diameter and 4.8" of insert length, this small, lightweight dildo, is the perfect size to start exploring with. You can adjust to the feel of penetration by a toy without experiencing painful stretching.
The Starter is 100% ultra-Premium silicone with an attractively glossy finish to complement the sleek, simple look AND guarantee a smooth glide. This toy is hypoallergenic, phthalate-free, non-toxic, and odorless, so even the most sensitive users should be able to use it without issue.
It is a bit of a bummer that this toy doesn't have a suction cup for mounting. But we do love the flared base, which makes it safe for vaginal or anal play. It can connect to a harness for strap-on fun too! Plus, the bulbous tip helps to really hit those favorite spots when you get the angle right. It'll help keep it in place if you're using for anal too.
Pros
Many found the size to be perfect for full insertion without pain
Unintimidating look
Very easy to clean – boilable!
The bulbed head gives great stimulation
Flared base
Cons
Not suction base compatible
Head isn't hard angled
Overall, this toy's small size and smooth texture make it great for anything first-time. It's not curved enough for g/p-spot stimulation, and beside the head, it's very smooth and untextured, making it great for some vaginal or anal basics. If you're ready to work the angles or crave more texture, read on!
For this, you don't even have to ask the vibrator vs dildo question – it's got it all! If you're looking for a vibrating dildo, start with the Tracey Cox Supersex toy. Many have discovered the waves of pleasure in external vibrations, but bringing that buzz inside makes all the difference.
An emphasis on user-friendly here – the single button control easily toggles through three speeds and seven patterns of vibration.
This little black vibrating dildo has an unintimidating but pleasurable size, with 4" insertable length and a 4" circumference. This is a great small dildo that's thick so you don't have to sacrifice the full feeling. Some users might need time to adjust to the width, but it's still a comfortable size for most people.
This vibrator has a bulbous tip for some extra stretch at the beginning, but a slender, smooth neck for back and forth gliding.
There are some cons to using a vibrating dildo. For example, this particular toy can't be used in harnesses since it has no flared base. It also has no suction cup, so it's most commonly used hand-held. Although you can get the tip to angle a bit, this vibrating dildo has very little flexibility.
This toy consists of soft ABS plastic material for the shaft, and a hard plastic casing for the motor and battery compartment (requires one AAA battery). Some users did find the motor to be too loud for discreet play.
Pros
Bulbous angled head
Easy to find g-spot
Strong vibration and great variations
Can be used for internal or external stimulation
Cons
The rigid form doesn't give much flexibility for precise stimulation
The motor might be too loud for discreet play
This toy is great for those looking to try out the world of internal vibration. The curve means great opportunities for g-spot stimulation too! If you're needing something with a slimmer width, more squish, or intend to use this toy anally, this may not be the toy for you.
We're back to Tantus again, this time with The Curve. This is another fabulous dildo for beginners with a twist… or rather, a curve. This very angled toy with a pointed tip and bulbous head is excellent for prostate or G-spot stimulation.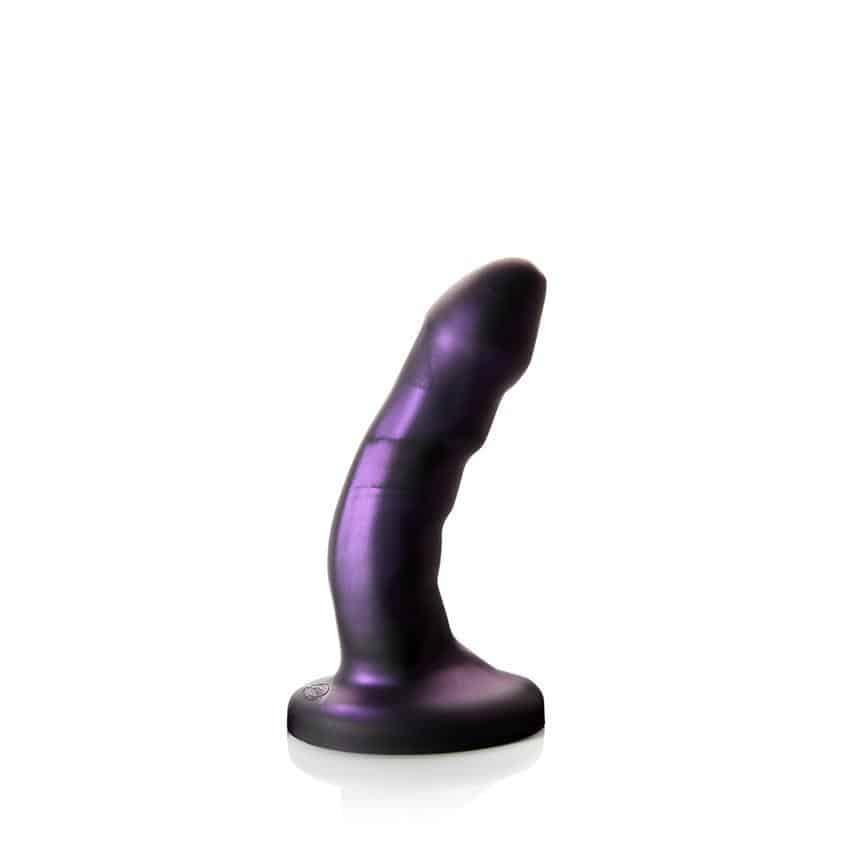 Made of smooth, matted Ultra-Premium silicone, the Curve has a ribbed underside and a tapered shaft with a flared base, making this toy safe and comfortable for vaginal or anal play.
The slight squishiness means you won't feel discomfort if you're going for hard penetration. We'd also like to mention that this same design comes in an even softer, squishier version if that's your jam – The Curve Super Soft.
This toy has dimensions of 6" length with a 1.37" diameter – sliding in just a bit shorter and thinner than a medium sized dildo. This toy doesn't have a suction cup base, but it can attach to a harness, and the unique tear-drop shape of the base makes for an ideal grip.
Pros
Easy to find g/p-spot with this toy
Base is easy to hold even when lubed up
Great squish and texture
Easy to clean
Great quality
Cons
Requires a lot of water-based lube
Can collect dust
No suction cup base
This toy is great for shorter thrusts and g/p-spot play. The size is just a bit smaller than the average dildo, so if your goal is extra-small this may not be your top pick. Make sure you're up for the soft ridges, which add extra internal stimulation.
NS Novelties has a variety of amazing dildos, but their Colours line is a quality-favorite! The NS Novelties Coloursoft 5" Dildo differs from others in the line because it's specially designed for a softer, squishier feel all the way through.
It's made of medical-grade silicone that's hypoallergenic, free of phthalates and latex is non-porous. Despite the various bright color options (this choice is bright purple), it's obvious this toy is crafted in the exact shape of a penis.
This phallic toy has a pronounced coronal ridge, enlarged bulging veins, and attached testicles. Though soft in density, the enhanced texture might be uncomfortable for some users. And the flexible shape provides an always erect length of 7" with 5.25" of insertable length and a width of 1.5".
The bottom doubles as a suction cup base. Suction cup dildos can mount to the wall or other hard surfaces for hands-free play. This one's compatible with some strap-on harnesses as well.
Be sure always to use lots of lube to make playtime more comfortable. Water-based lube is the best recommendation, but with this toy, you can also use other types too.
Pros
Great quality
Strong suction cup base
Great squish – softer feel is very comfortable
Cons
Ridges might be uncomfortable for some people
Needs a lot of lube
This toy is a great choice for someone that finds the average dildo a bit too firm. Some find this toy a bit too soft for their liking – it may not be your top choice if you are looking for some hard and fast thrusting. The textures can be divine if that's your craving – veins all along the shaft! Not for those looking for a smooth, seamless glide though!
Cush O2 – Best Small Soft Dildo
The O2 line from Tantus is dual density through and through! If you're new to the dual-density realms – this means a firm, erect core with a layer of softer squish over top. This toy, the Cush O2 has an even softer outside than some others in this line.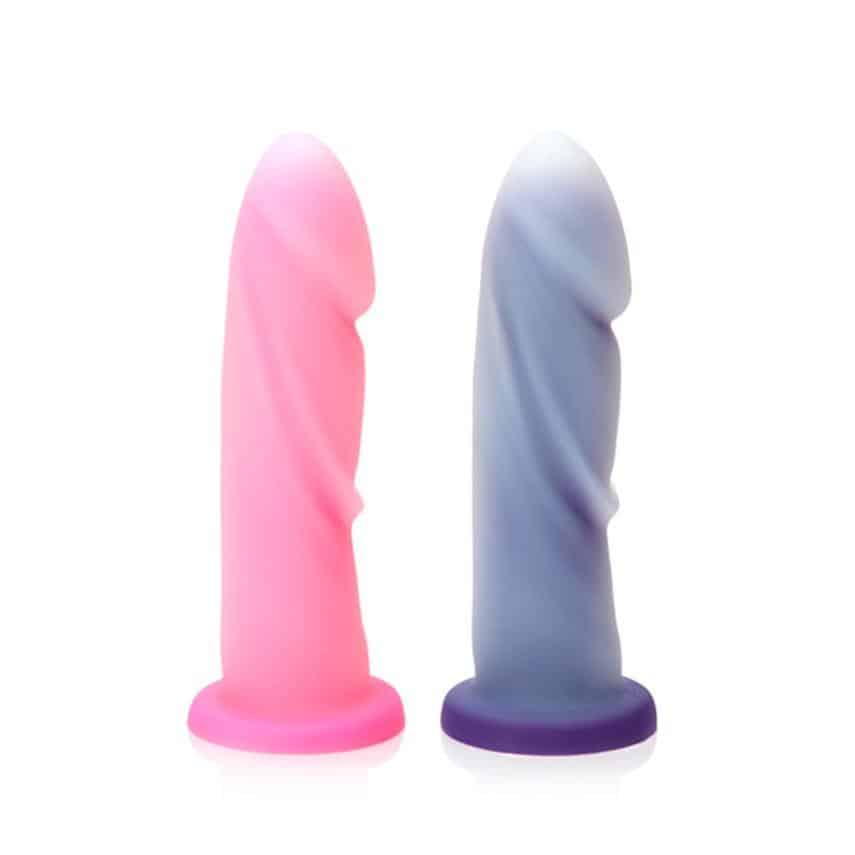 This beautiful toy has unique shape and color and it's made of 100% Ultra-Premium Silicone – all high quality here! This toy is not compatible with a suction cup, but it can work with strap-on harnesses.
The pointed tip, slight head, and size dimensions of 7" length and 1.75" diameter make this dildo a fairly average size. It's awesome for beginners though, because of it's heavenly softness.
This toy is great for G-spot or prostate stimulation for different reasons that usual! Most toys are curved for this sort of stimulation, but this toy has two perfectly placed ridges to gently caress your g or p-spot as it glides in and out. No need to perfect the angles with this toy – lots of give and well-placed pleasure points.
Even though this dildo is made of soft, hypoallergenic, non-porous silicone with a bit of a squishy feel, you still need to use water-based lube for comfortable inserting vaginally or anally.
Pros
Harness compatible
Swirled ridges and a pointed tip for extra sensations
Dual-density Ultra-Premium silicone makes for great feel
Very comfortable
Great for p-spot or g-spot
Cons
Needs a lot of water-based lube
Attracts hair or dust
This toy is great for hard and fast thrusting OR slow and steady. Many are surprised by the softness of it in a good way. We don't have many reasons this WOULDN'T be a great choice unless you're looking for something longer or at a lower price-point.
Pick the Best Dildo for Your Needs
Congratulations on making it to the end. We feel that you're now ready to join the ranks of happily satisfied sex toy users. Use our helpful information to weigh the different options to come up with a dildo that meets all your needs.
The great thing about beginner dildos is that even when you graduate to a larger size, you can keep your smaller ones to use as a warm-up before jumping into your bigger toys.
The Starter Purple Haze is as simple and straightforward as can be when it comes to your best dildo for beginners. I personally have a soft spot for the Blush Neo Elite, but any of these options are great! Make your selection and have some fun!